Thanks to PupBox for sponsoring this post. I received a free PupBox in exchange for my honest review. This post contains Amazon affiliate links.
If you have been following this blog, you know my family recently adopted a puppy! His name is Mochi, and he is a sweet 10-month-old Shih Tzu. He's a great fit for our family! I was thrilled when I was given the opportunity to review PupBox, a fun subscription box service geared especially for puppies! Mochi has been enjoying his PupBox for a few weeks now. Every time a PupBox arrives on our doorstep, it's a good day. Our pup just loves his PupBoxes!
My husband and I are newbie dog owners. I grew up with cats, and my husband's only had goldfish as a child. So, we have no idea how to raise a puppy! (I was actually surprised when we house trained our puppy!)
PupBox is perfect for my family. Their goal is to help dog owners navigate the joys of owning a puppy. When you subscribe to PupBox, you fill out a profile about your puppy with details like the puppy's birthday, sex, target adult weight and type of coat. PupBox encourages you to note little extras about your pet's personality, likes and dislikes, etc.
Each box you receive will be geared toward your puppy's growth stage — so the box we recently received was filled with items that would suit a pup in his adolescent stage of life. We have a teenager now!
All dogs are "puppies" in PupBox's eyes, so you can even order a PupBox for your adult dog, and have the box tailored to him.
If you would like to try PupBox for your puppy, be sure to use Mom Home Guide's PupBox referral link to get 50% off the first PupBox for your puppy with the purchase of any multi-month subscription.
PupBox has 4 pricing plans. You can order a single month's box for $39, $34 a month for a three-month subscription, $32 a month for a six-month subscription and $29 a month for a yearly subscription. (Shipping within the U.S. is free.)
What's In Our PupBox
At 10 months old, my family's sweet puppy is moving into adulthood. He still has some of his puppy ways, but he's also a lot more easy to handle than when he was a puppy.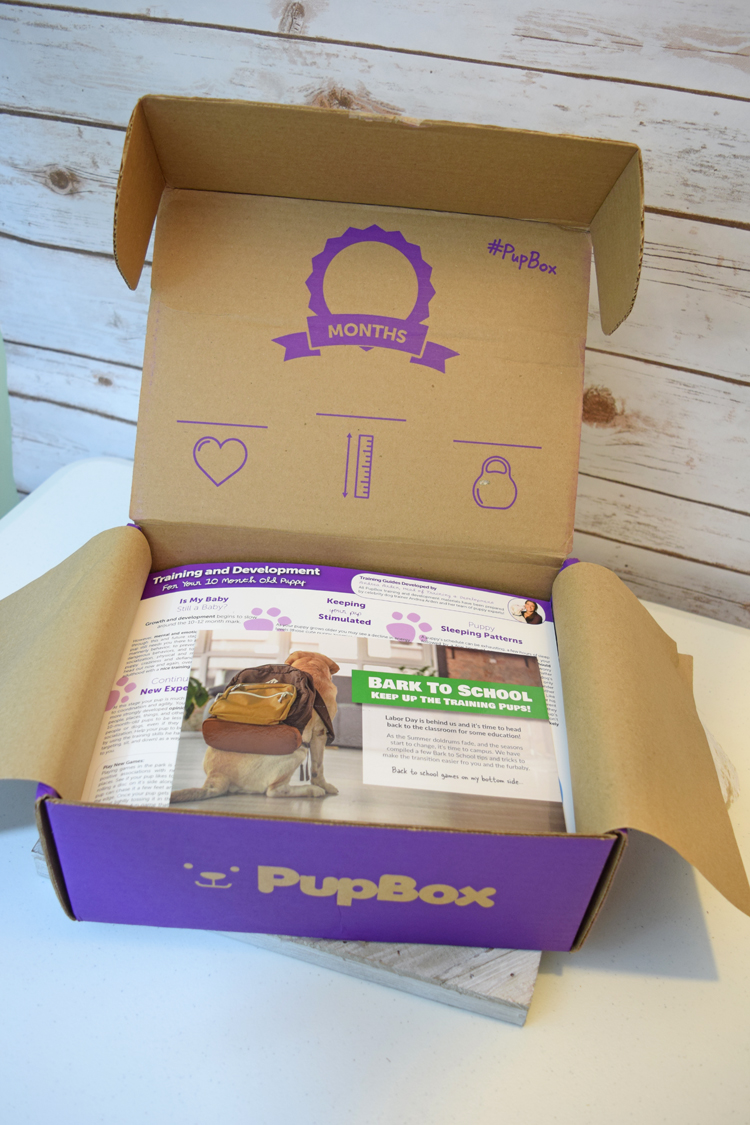 He loves his PupBoxes! He always seems to know his PupBoxes are just for him!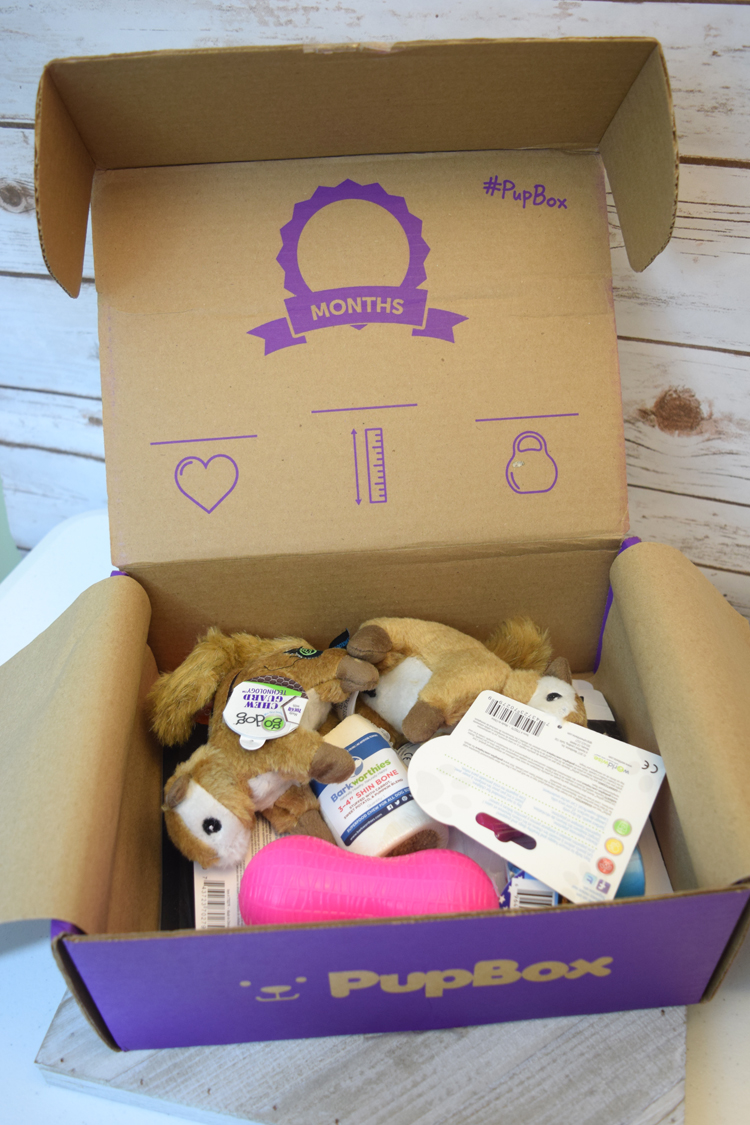 GoDog Wildlife Chipmunks ($8.45 each)
I'm happy that my puppy still enjoys a lot of play! He absolutely adores the 2 GoDog Wildlife Chipmunks
that he received in his recent PupBox. For example, when we go upstairs to bed at night, our puppy will often grab one of the chipmunks in his mouth and carry upstairs with him. So cute!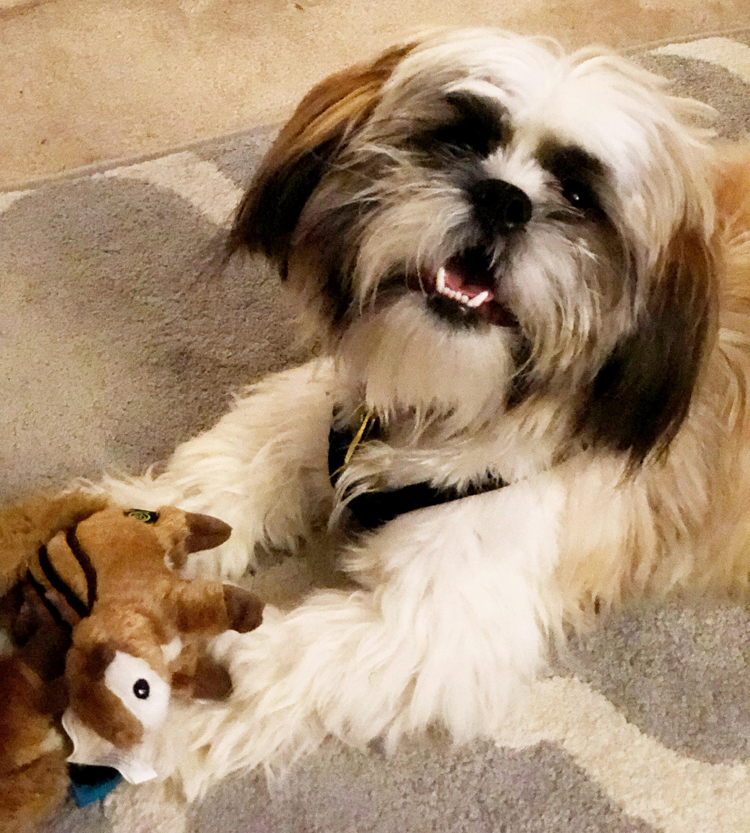 The chipmunks include a puncture-proof squeaker (pups love squeaky toys) and is made to withstand tough play.
Spot Farms Full Moon Chicken Jerky ($7.99)
We went through our bag of Full Moon All Natural Chicken Jerky
in less than a week. We don't usually give our puppy so many treats, but it was hard to resist feeding this treat to our puppy. He loves it so much! I mostly used the treat to reward him when he went into his crate (for when I had to leave the house) and to reward him when I got home. I like that the chicken jerky is all natural and has 100% human grade ingredients, so I know it's good for my pup.


Ruff Dawg Weenut ($11.00)
Mochi likes to chew on things, so I'm always looking for chew toys that he can sink his teeth into. (So preferably, he won't chew the furniture.) The Ruff Dawg Wee-Nut
is perfect for him — it's just the size for my little Shih Tzu! It bounces when one throws it, and can also be filled with small treats to keep him extra busy.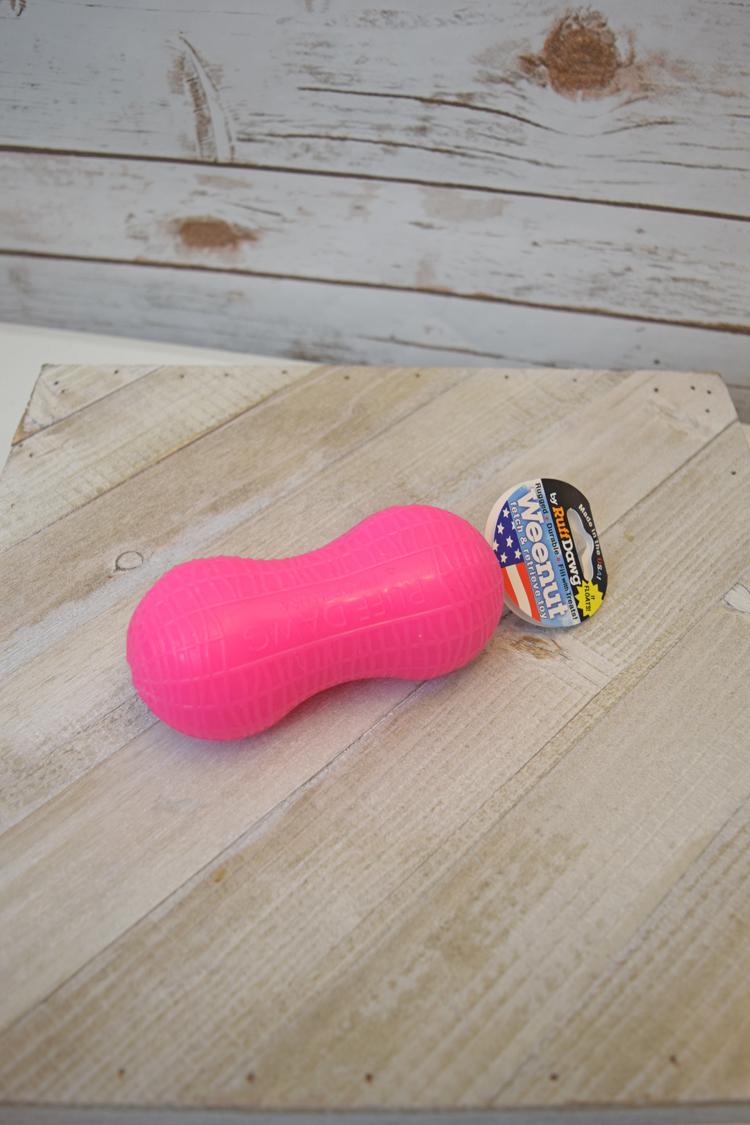 So Phresh Bone Shaped Dog Bag Dispenser ($6.99)
I keep a dog bag dispenser attached to my dog's leash. We keep the leash by the front door, but I've been thinking of keeping a leash by the back door, too. (We are always hunting around for Mochi's dog leash!) The So Phresh Bone Shaped Dog Bag Dispenser
that came in Mochi's recent PupBox would work perfectly. I like that it's shaped like a bone.


Barkworthies Pumpkin Stuffed Shin Bone ($10)
I like when PupBox includes seasonal items like the Barkworthies Stuffed Shin Bone (stuffed with pumpkin, carrot & sweet potato)
in Mochi's PupBox. Mochi really likes the all-natural filling that's stuffed into the shin bone. I have to be honest that he hasn't quite figured out how to get out all of the stuffing, so we will have to work on that one. (He likes to chew, but isn't a vigorous chewer.) I like that the bone can be re-used and re-stuffed. I have topped the bone off with cheese stuffed into the middle to keep him busy on occasion.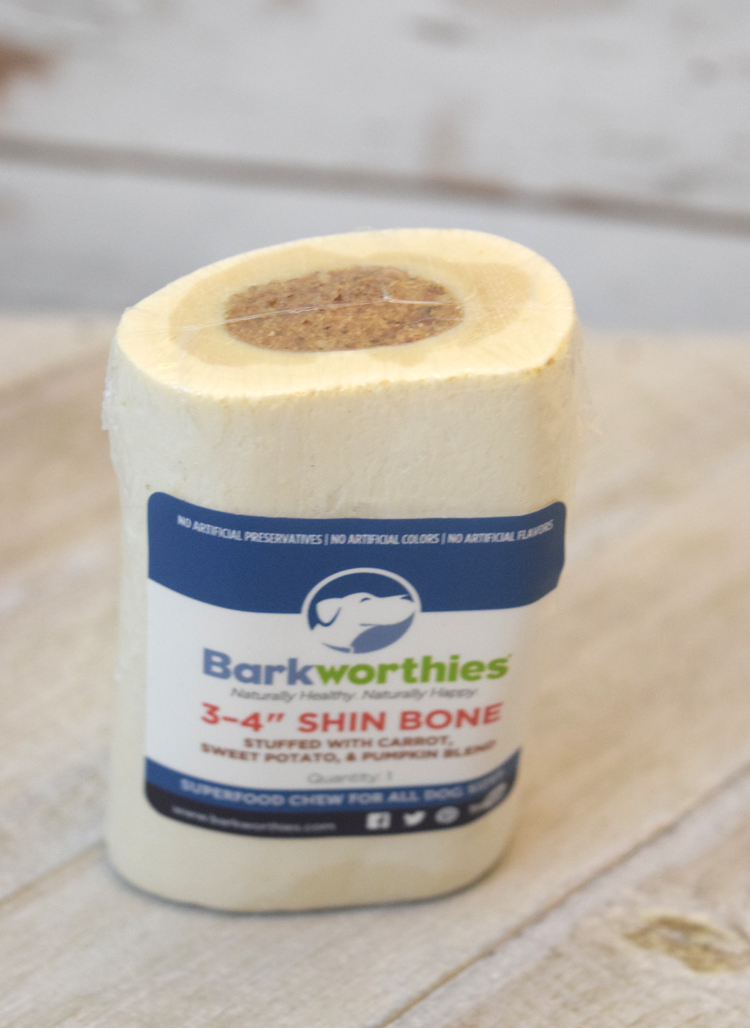 Vital Essentials Beef Liver ($8.00)
My puppy especially loves beef, so he adores the Vital Essentials Freeze-Dried Beef Liver Dog Treats
. Free of added hormones and antibiotics, the treats are great training aids.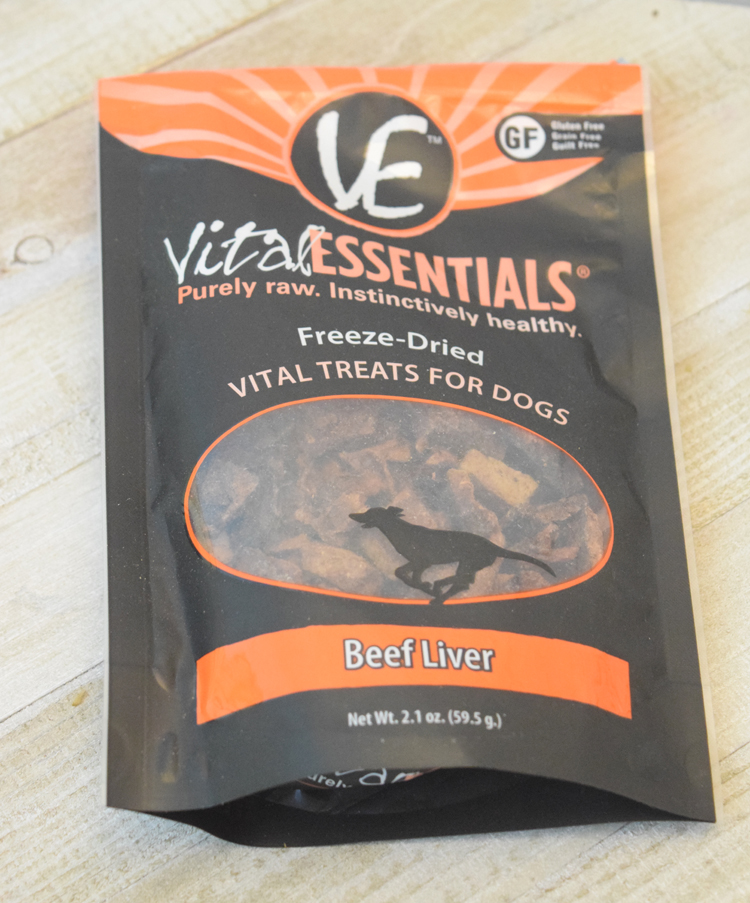 When I'm leaving the house and need to put Mochi in his crate, he runs into his crate if I bring out one or two of these treats.

One thing I love about PupBox is that it introduces me to products I might not know about or haven't tried before. As a new dog owner, I sometimes I don't know about products that would suit my puppy. With PupBox, I'm constantly discovering products that are perfect for my puppy! I also like that the PupBox makes a point to choose all-natural and healthy treats for my pup.
If you would like to try PupBox for your puppy, be sure to use Mom Home Guide's PupBox referral link to get 50% off the first PupBox for your puppy with the purchase of any multi-month subscription.