Thanks to Mellanni Fine Linens for sponsoring this post. I received free linens in exchange for this review. All opinions expressed in this post are 100% my own. This post contains Amazon links. If you click on an Amazon link and make a purchase, I earn a small commission that helps to fund this blog.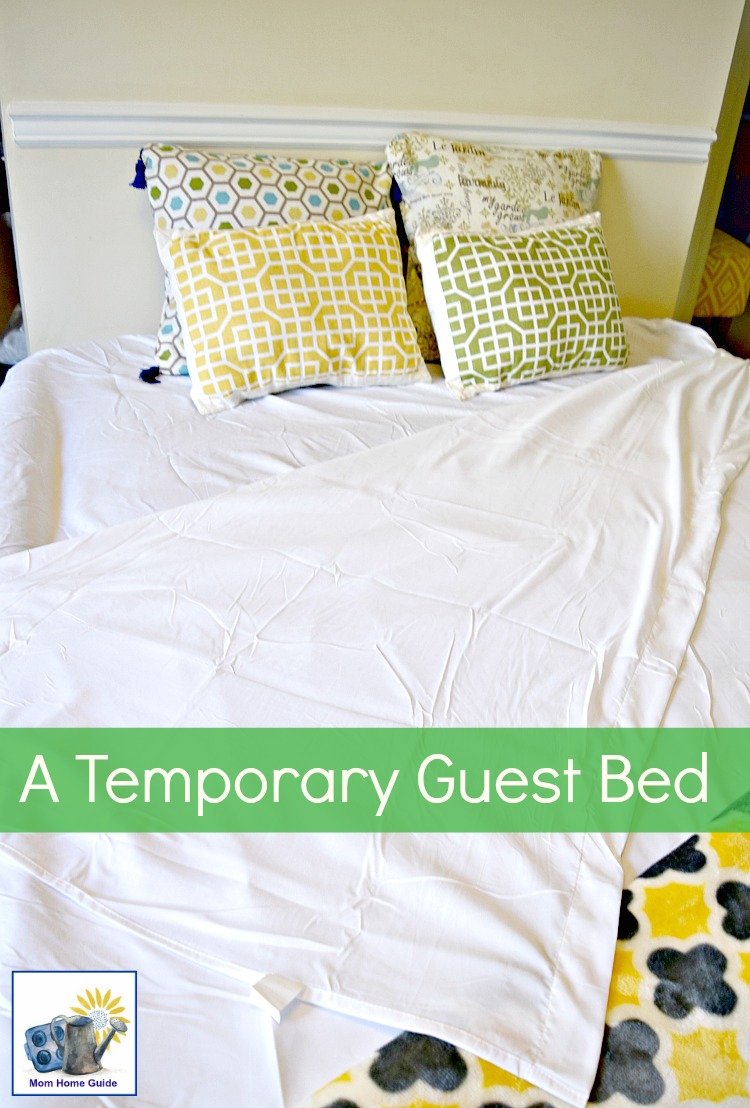 Summer is when my family likes to get together with friends and relatives, so a guest bed is needed! The problem is that there isn't a dedicated guest bedroom in my home. The extra bedroom in my home is serving as my home office / craft room, so it can be quite messy! I hope to get that under control at some point, so the room can also serve as a guest room. But for now, my family and I are very happy with a temporary guest bed that we have been using.
My family has been using an Intex Dura-Beam Series Raised Downy Airbed with Fiber-Tech Construction and Built-In Pump, Queen, Bed Height 22″
which I purchased on Amazon. We usually set this guest bed up in my home's living room. Since the inflatable bed is a full 22 inches high, we've found that it stays plump throughout the night, even if it loses a little air. We love our air bed!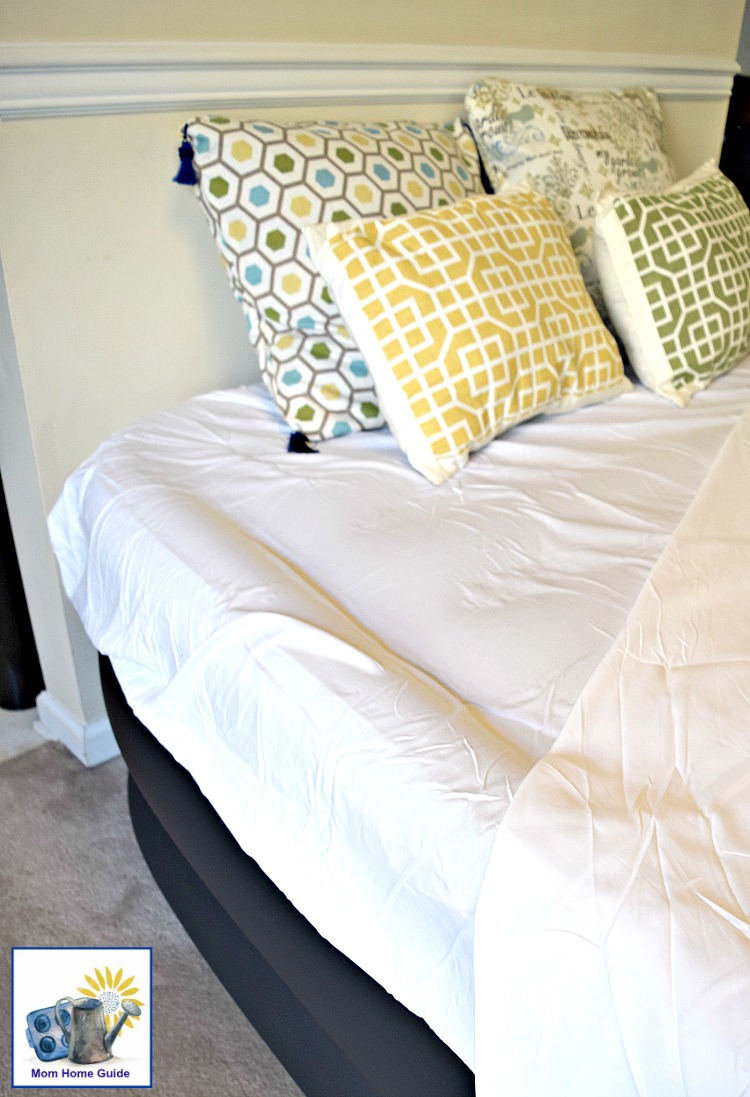 My family and I actually think the Queen-sized inflatable air bed is more comfortable than the regular full-sized bed in our "guest room." The bed in my office / guest bedroom is a mattress that I purchased in my 20s, and the guest bed is rather uncomfortable! (I wasn't an educated shopper back then!)
This photo gives an idea of how firm the inflatable air bed is — since the air bed is so high, even it if loses some air overnight, the bed is still firm when our guetss wake up.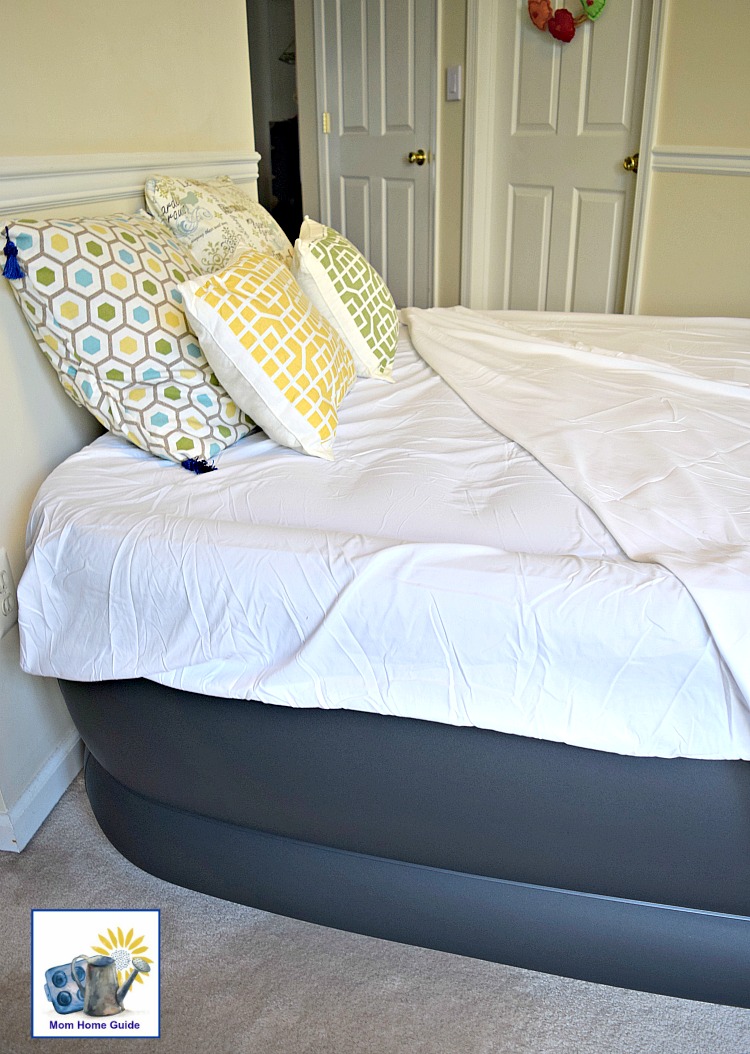 My daughters like to use the air bed for impromptu sleepovers with each other during summer vacation. Sometimes, I even leave the bed inflated during the day, because they like to flop on the bed on a hot summer day to do some reading on our cooler first floor. Inflating and deflating the bed is super easy with the pump that's within the bed. All I do is plug in the bed, turn the dial to either inflate or deflate, and the bed is set to go in minutes!
Light and Silky Sheets
For the air bed, I have been using the Mellanni Bed Sheet Set – 4 Piece (Queen, White). The sheets fit the air bed perfectly. Plus, the white microfiber sheets have been wonderful for summer. The sheets are light and silky, so they help us to stay cool when the weather gets hot! I used to always sleep with cotton sheets, but after using these sheets, I prefer mcirofiber sheets for the summer. The sheets are also easy to wash, and because they are so light, dry really quickly.
I have the Mellanni Bed Sheet Set – 4 Piece (King, White)
on the king-sized bed in my home's master bedroom. I love having those sheets in my master bedroom, too!