Inspired by the New Year's Prize Organizing Resolution Prize Challenge that some of favorite bloggers are hosting (like A Bowl Full of Lemons, Ask Anna, and Organizing Made Fun) I decided to add some extra storage in my kitchen for my spices.
I took an old piece of furniture that was in my home's basement (I think it used to be a night stand). The wooden night stand has one long drawer that would be great for holding spices. But, the piece, with dark black spots in some places and a worn oak finish, could use some TLC. Plus, the stand had an old large handle on it that gave it a really rustic vibe.
My kitchen already has a bit of a rustic/country look going on (with its oak cabinets, table and china cabinet), so I wanted to add a modern element to it. Plus, I wanted the hardware on the cabinet to match the round oiled rubbed bronze cabinet knobs that are on my china cabinet.
Refinishing Wood Furniture
To start my project off, I first removed the old cabinet pull and plugged up the holes with wood putty. (The old pull required two holes, while the new knob only needs one.)
I then sanded the cabinet with a few pieces of coarse sandpaper, so my paint would adhere better to the cabinet's surface. I then carefully wiped off any sawdust off the cabinet.
I decided to use Krylon Dual Paint and Primer in Ivory for my project. I figured that using the paint/primer combination product would save me time, and that by using spray paint instead of a brush and regular paint, I could avoid having messy brush strokes on my piece.
The paint dried in only about 30 minutes, so after applying a few coats of paint, I had my project done in a few hours. With my handy cordless drill, it only took a minute or two to install the cabinet's new oiled rubbed bronze knob. I think my new spice cabinet looks pretty good!
Decorative Scotch Shipping Tape
This morning, I decided to fill my new space cabinet with some spices. I first wanted to line the drawer to jazz it up a little bit, so I used regular white construction paper, and topped it with some Scotch Shipping Tape that I picked up while grocery shopping this morning. The pretty red and white chevron pattern really adds some spice of its own to my new spice cabinet!
What do you think of my latest project? Please share your thoughts in the comments.
This post was entered into the New Year's Prize Organizing Resolution Prize Challenge. Check out my entry and other kitchen organization entries!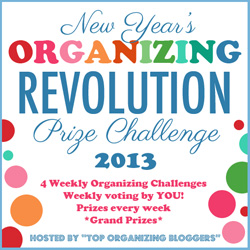 I also shared this post at the Before and After party at Thrifty Decor Chick:
Other Posts You Might Like
Storage for Children's Bedrooms
Creating a Playroom in an Unfinished Basement