*I received a promotional item for participation in this campaign. All opinions expressed in this post are 100% my own.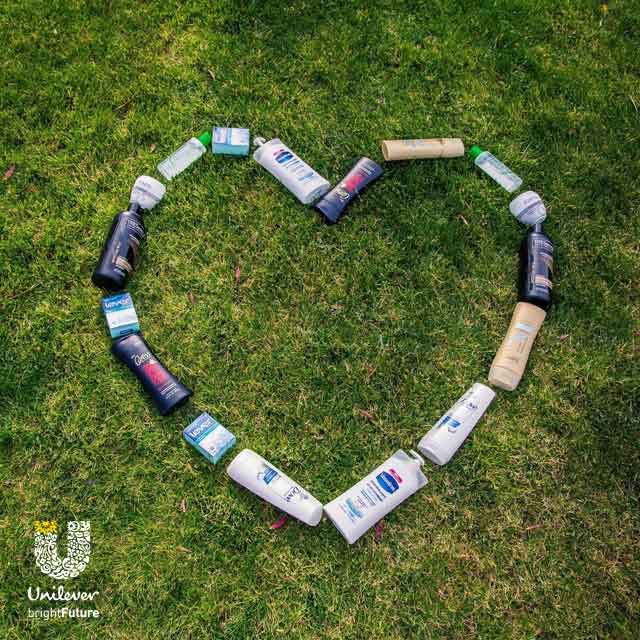 I am big about recycling, but I have to admit that when I am cleaning my home's bathrooms, I tend to toss the empty beauty product containers in the trash. (I mean to recycle them, but it's quicker to throw them in the trash.) That's why I am happy to share with you "Rinse. Recycle. Reimagine," a new Unilever program in partnership with Keep America Beautiful and the Ad Council. The program is designed to educate people about recycling in the bathroom. The #ReimagineThat Sweepstakes — with a grand prize of a $500 gift card — will help kick off the program. (See below for how to enter the sweepstakes.)
Unilever is the maker of products including Dove®, Suave®, St. Ives®, Caress® — all products that can be found in my home's bathrooms!
Most Americans know that their empty bath and beauty bottles are recyclable, but less than half (34%) report always bringing empty bathroom items to the recycling bin.
On the other hand, 86% of Americans say they always recycle in general, and nearly half (46%) say they always recycle kitchen recyclables.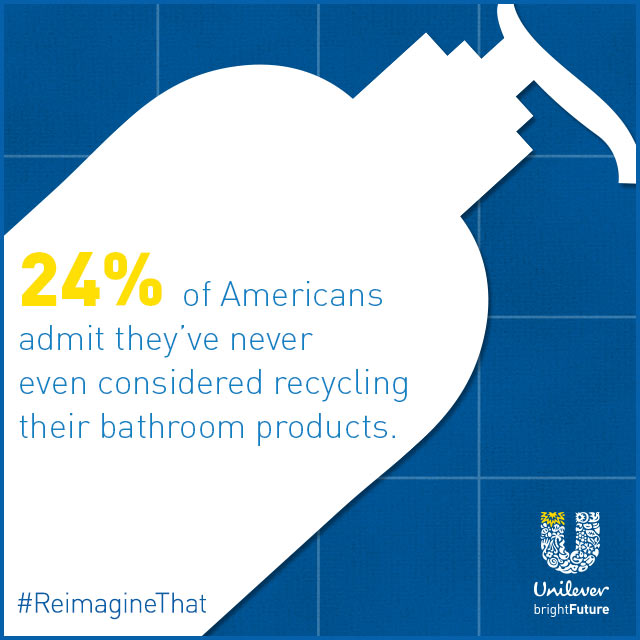 Recycling your empty bathroom product containers does more than just keep containers out of our landfills.  If you rinse and recycle your containers, they can take on a new life and return as hairbrushes, backpacks or even a backyard play set. I love that by taking just a few simple steps at home, Americans can help the environment and address climate change — two topics that literally keep me up at night!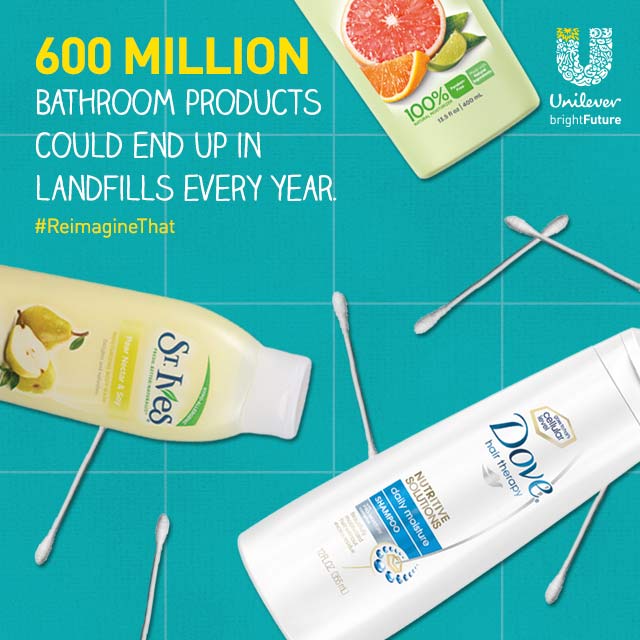 Best and Worst Recyclers
While I am not the best about recycling my bathroom recyclables, I am happy to learn that my metropolitan area leads the way when it comes to recycling bathroom recyclables. I live in the middle of the Philadelphia and New York metropolitan areas, and 52% of Philadelphia residents report recycling their empty bathroom containers, while 48% of New Yorkers report recycling their bathroom recyclable containers. That puts them in the top two spots for bathroom container recycling! Falling at the bottom of the list when it comes to bathroom recycling are Detroit and Atlanta, with Detroit residents recycling 26% of their bathroom recyclables and Atlanta residents recycling just 23% of their bathroom recyclables. (According to the new "Unilever Bathroom Recycling Index," an online survey commissioned by Unilever and conducted by KRC Research.)
Unilever #ReimagineThat Sweepstakes
To help promote the "Rinse. Recycle. Reimagine," campaign, Unilever is hosting  the  Unilever #ReimagineThat Sweepstakes, with a grand prize of a $500 gift card. To enter, upload a photo on Twitter or Instagram that shows how you recycle in the bathroom with the hashtags #ReimagineThat and #sweeps and tagging @UnileverUSA. For each photo uploaded, you will receive  one (1) entry into that day's Daily Sweepstakes Drawing and the Grand Prize Sweepstakes Drawing . The sweepstakes begins April 29, 2015 at 8:00 a.m. Eastern Time ("ET") and ends June 9, 2015 at 11:59 p.m. ET.
Daily prizes (42 in total) include Unilever products and goods made from recycled plastics like an umbrella or a backpack.
Open to legal residents of the 50 United States and the District of Columbia, 18 years of age or older as of date of entry. For more, check out the sweepstakes rules.
Visit BrightFuture.Unilever.us to learn how you can help bridge the gap in bathroom recycling.
*Mom Home Guide is not responsible for the fulfillment of this prize.