This post contains Amazon affiliate links. These links don't cost you anything, but it may earn a small commission that helps to fund this blog.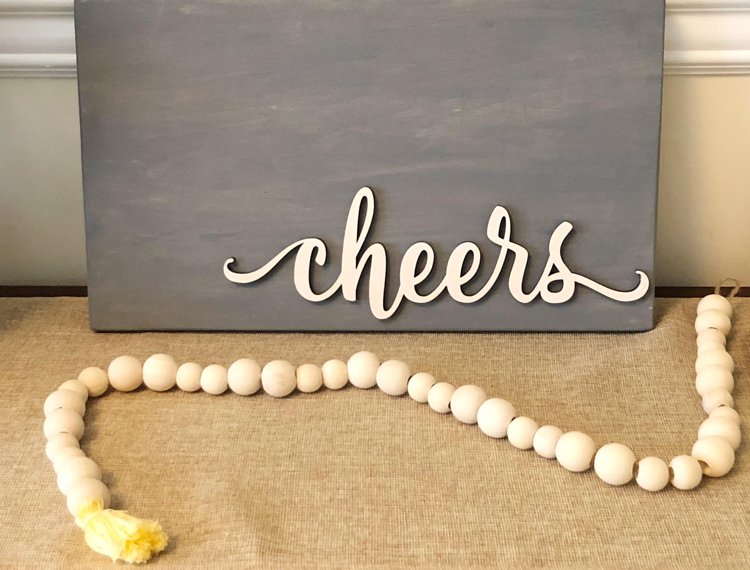 I returned from the Haven DIY and design blogging conference just a few weeks ago. I had a great time! I got to meet many new blogging friends, took some classes, tried out some great DIY and craft products, met with brands and toured Charleston, S.C. I also got to meet my blogging friend, Carrie of Curly Crafty Mom, in person for the first time! I'm still unpacking and organizing all the free swag that I brought home from the conference! (I have a huge suitcase full of the stuff!)
DIY Cheers Sign
One of my favorite hands-on classes at the conference was the Make and Take with Rustoleum class, hosted by Katie Bower of Bower Power and Rachel Pereira of Shades of Blue Interiors. Katie and Rachel were both great instructors and gave me some much appreciated blogging tips after the class, as well.
This is a photo (from Rachel's blog) that was taken at the class — you can see me in the top left of the photo.

To stain our DIY signs, we used Varathane Premium Fast Dry Wood Stain
by Rust-Oleum. We didn't need any special prep work to work with the stain, and the stain dried in about 1 hour. To make our signs, we each chose a board to stain. We separately stained a laser-cut word (I chose "cheers") and glued our words to our signs with hot glue. (Rachel has a sign making tutorial on how to make a really beautiful upgraded version of the signs we made on her blog.)
I thought my newly made cheers sign would be a happy addition to my DIY painted and stained console table in my home's living room.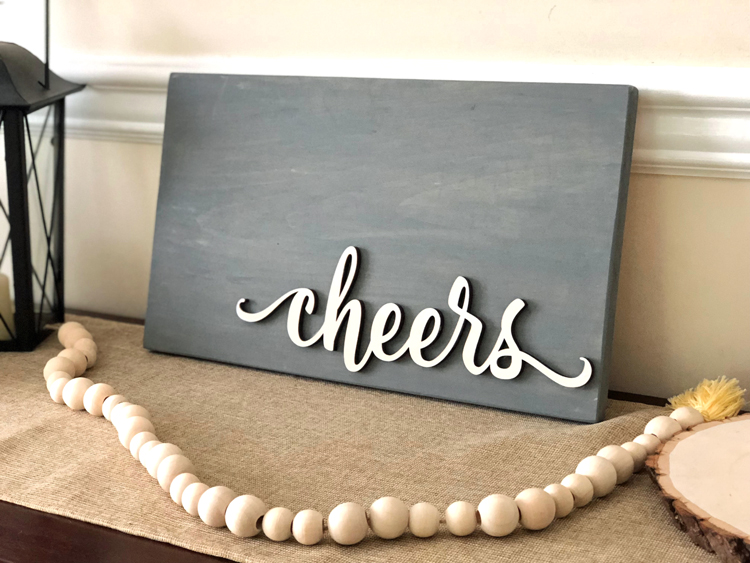 Another item I added to my console table is a gorgeous wooden farmhouse beaded garland
that my friend Carrie made for me. She gave me the garland our first night at Haven. Even though we weren't roomies at the blog conference, we brought each other roomie gifts. (The tutorial on how to make this beautiful beaded garland is on Carrie's blog, Curly Crafty Mom.)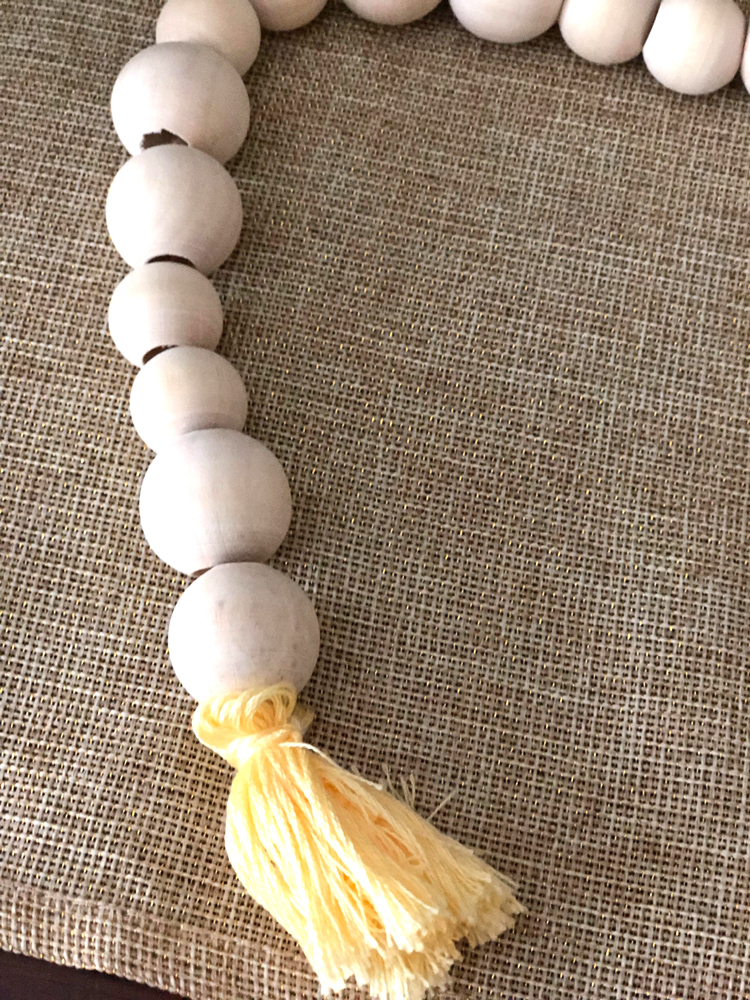 I have wood rounds
that I like to keep on my console table for their rustic flair. On one of the rounds I placed a DIY fabric-covered pot Carrie gave me a few months ago, and a "Thanks for Always Making Thyme for Me" sign Carrie gave me as part of my Haven roomie gift.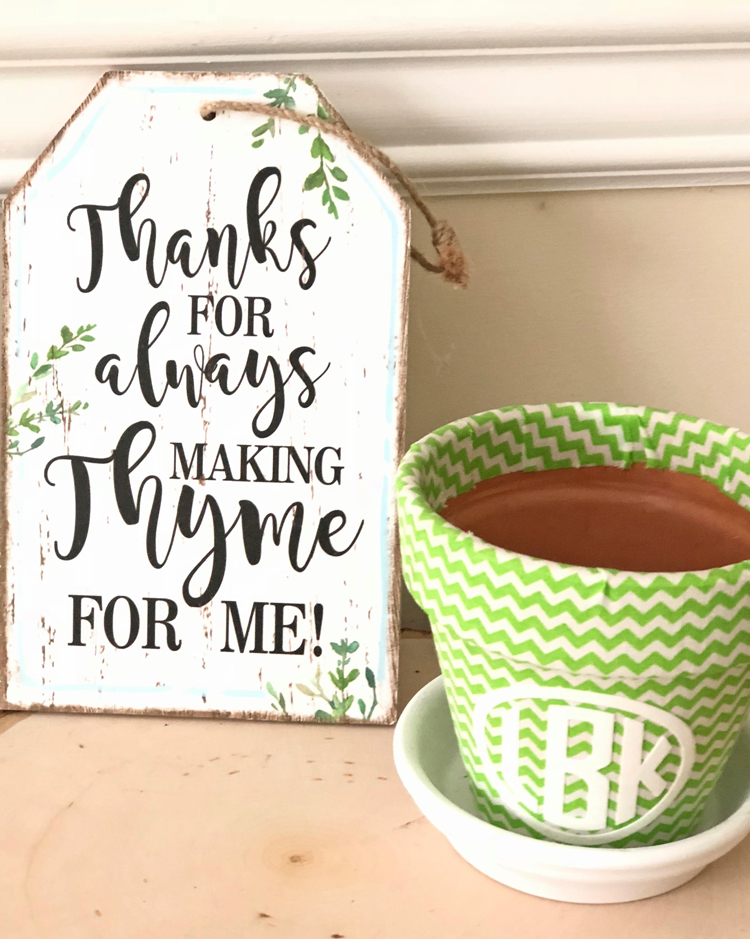 Another element I added to my console table is a black metal lantern
— I used the lantern on my fall console table two years ago. I really do like lanterns! The copper candle is from the fall console table with copper and wood accents that I put together last year.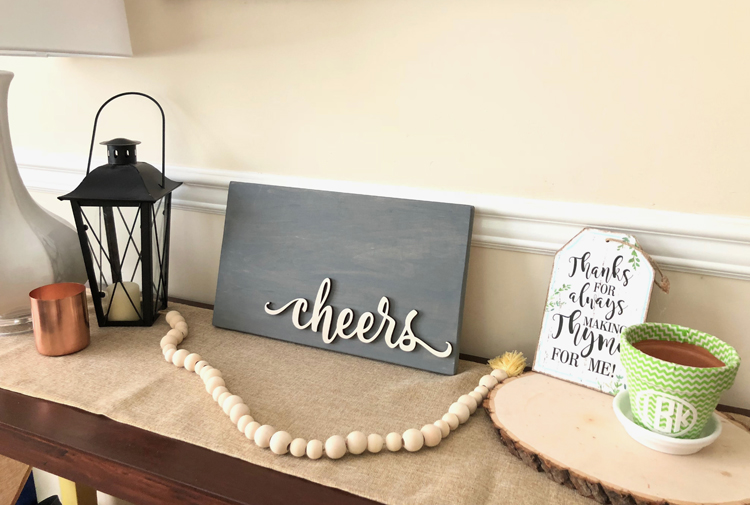 I am glad to have finally decorated my console table. I haven't styled the table in months! It's also wonderful to have found a home for at least a few of the items I brought home from Haven. (I received so many gifts and free products that I have to figure out where to put them all!)
While I hope to get better about switching out the decor on the console table the next few months, I think this decor is suitable for the fall, too. It's hard to believe, but the fall season isn't too far off!