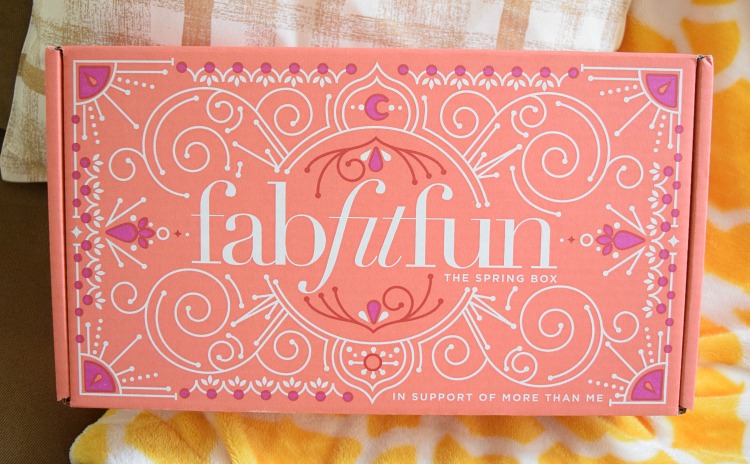 I recently received my Spring FabFitFun box and am loving the items I received! The spring FabFitFun box is my second FabFitFun box so far. FabFitFun is a subscription service where you receive full-sized beauty, cosmetic and jewelry items seasonally, or 4 times a year.
Part of the fun is waiting for your box to arrive to see all your items! The box is great for someone like me, who doesn't do a lot of shopping — this way, I can receive all the latest and best products at my door. If you think FabFitFun might be for you, check out all the fun items I received this time in my Spring FabFitFun box. (You can sign up for your own FabFitFun box here.)
Check the bottom of this post — I'll be giving away one of the items from my Spring FabFitFun box!
The FabFitFun box features a different look and pattern each time. It's fun to see what the box will look like!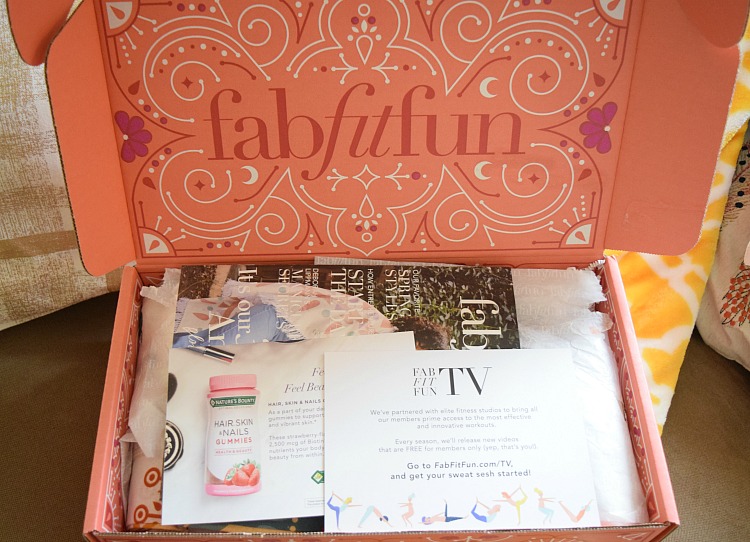 In the box I found a color brochure about all the brands and products included in this month's box. There's also a card with the details about free FabFitFun TV exercise videos for FabFit Fun members. I could use those! There is also card about the Nature's Bounty Hair, Skin & Nail Gummies that are included in this month's box. The gummies include antioxidants and biotin to help me look my best! They have a delicious fruity taste – yum!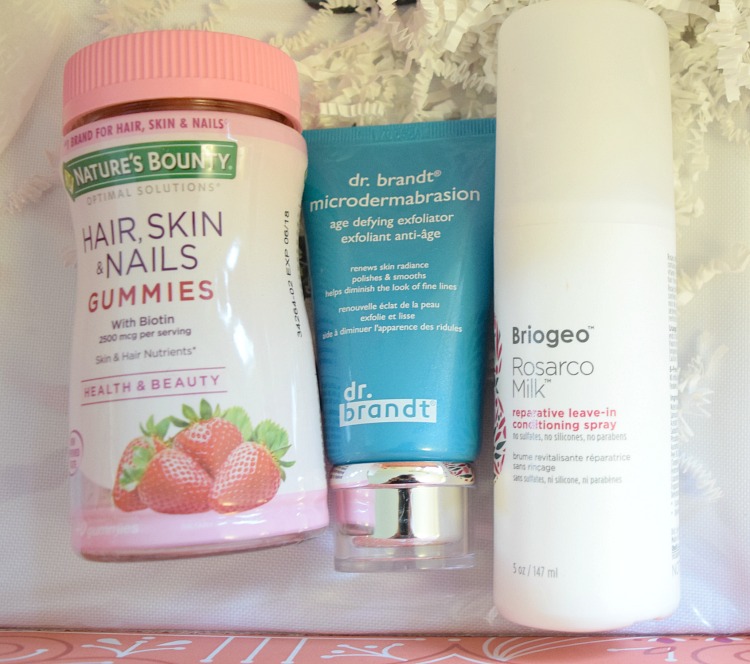 Among the items in my box is Briogeo Rosarco Milk Reparative Leave-In Conditioning Spray ($20). This lightweight spray has a blend of rosehip, argan, and coconut oils to soften, moisturize and strenghten hair. I was excited at first about the leave-in conditioning spray, but I'm pretty sure I've had an allergic reaction before to a hair product with argan oil (derived from a tree nut) in it before. It's hard having allergies and sensitive skin! I'm bummed I can't use this conditioning spray (I love conditioning sprays.) But…
I'll be giving away my Briogeo Rosarco bottle away at the bottom of this post — use the Rafflecopter widget to enter!
The dr. brandt Microdermabrasion Age Defying Exfoliator ($79) in my box has soothing botanicals to clear away dead skin skills to reveal healthier looking skin.
One of my favorite items in the box is the Gypsy 05 Roundie ($50). This picnic blanket is beautiful, and lightweight, too!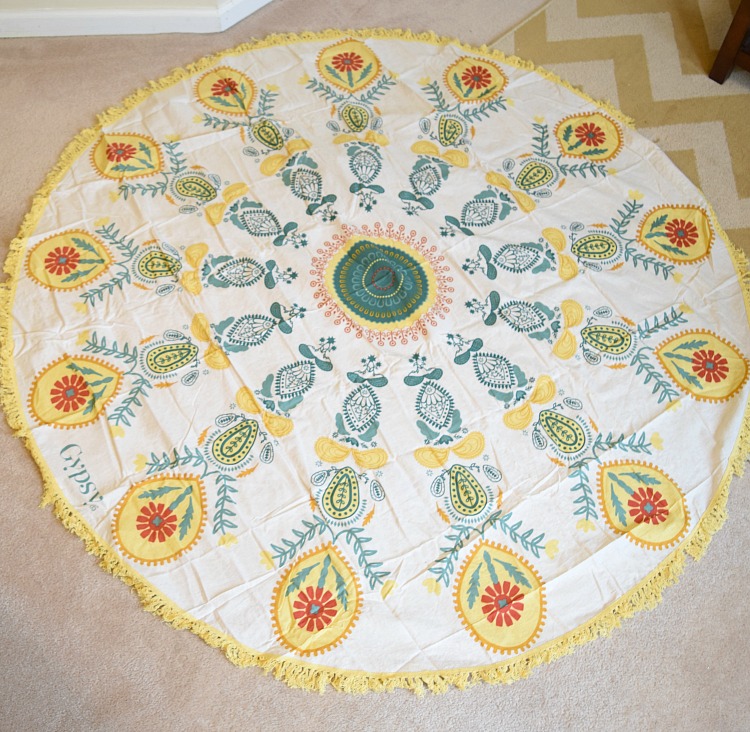 The roundie also looks great on the accent chair in my home's living room!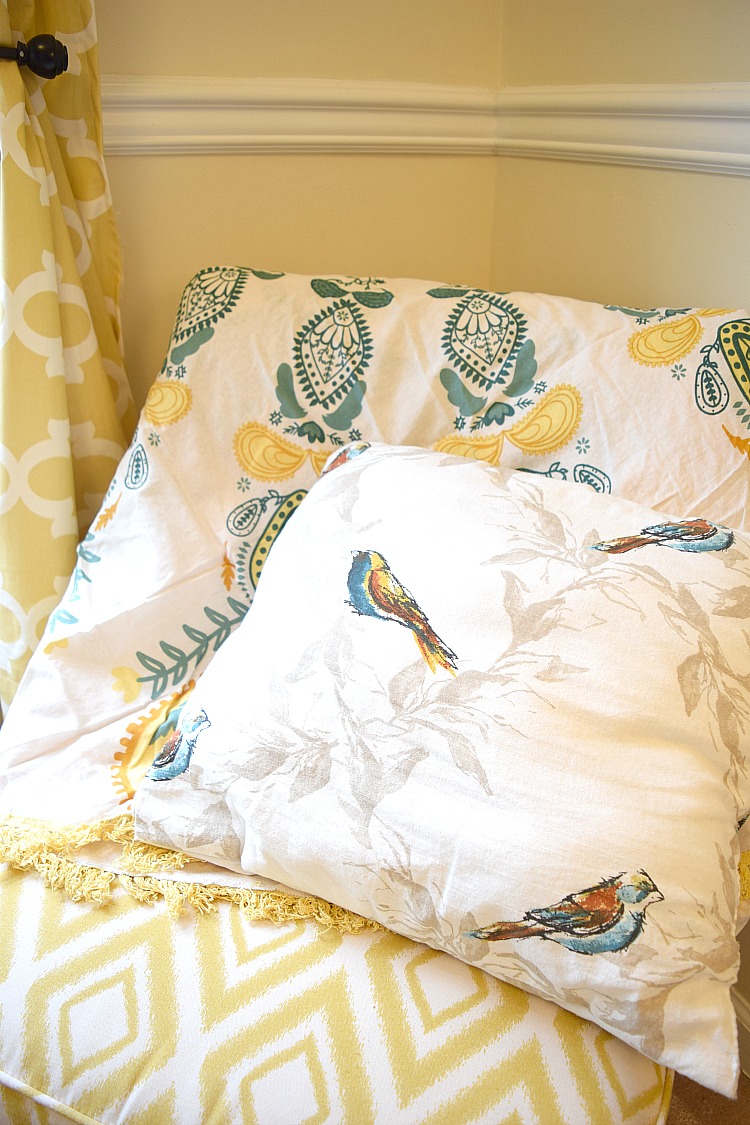 Also in my box is are Karuna Hydrating Face Masks ($28) for nourishing and hydrating the skin. The Deborah Lippmann nail polishes ($19) look like a lot of fun – I love the light colors I received for spring. The polishes are "7 Free," meaning they are free of several harmful ingredients that may be found in other polishes.
I'm looking forward to using the Bronze ISH Shadow Stick ($18) that I received. I used to use a bronze shadow fairly frequently so I am looking forward to trying this! I purchased the Shadow Stick as an add on with some FabFitFun points I had. I only paid $3 for the stick!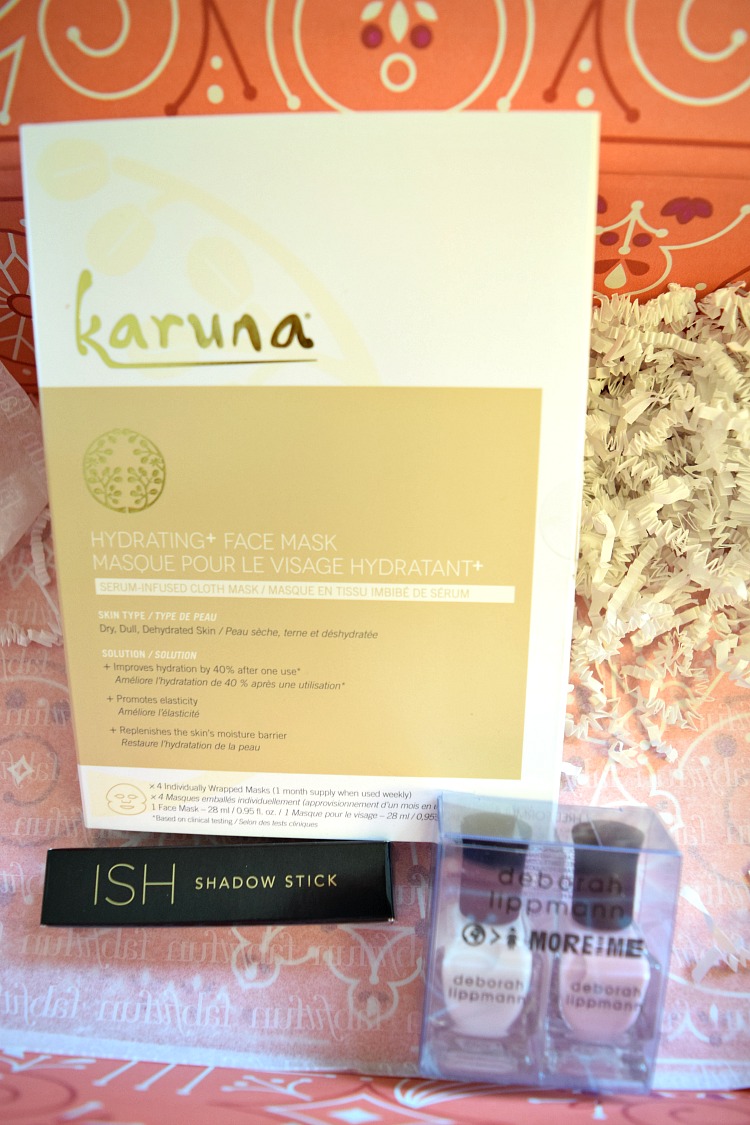 I also found the RealHer lip kit, with a liquid lipstick, plumping lip gloss, and lip liner ($48). I'm glad that my kit is in a deep nude/rose-colored hue, what I normally wear.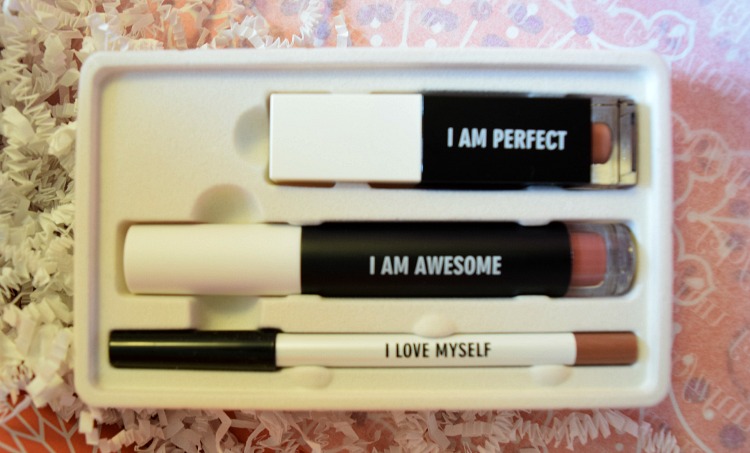 I like the Luv AJ Diamond Kite Crawler Earring Set that came in my box. It's actually made from 14K rose gold and is adorned with sparkling stones — the earring set alone is worth $85!
Finally, I received a "Slay All Day" Milly Zip Pouch. The bag is waterproof and will be great for packing either my bathing suit or cosmetic or bath supplies when out and about this spring and summer.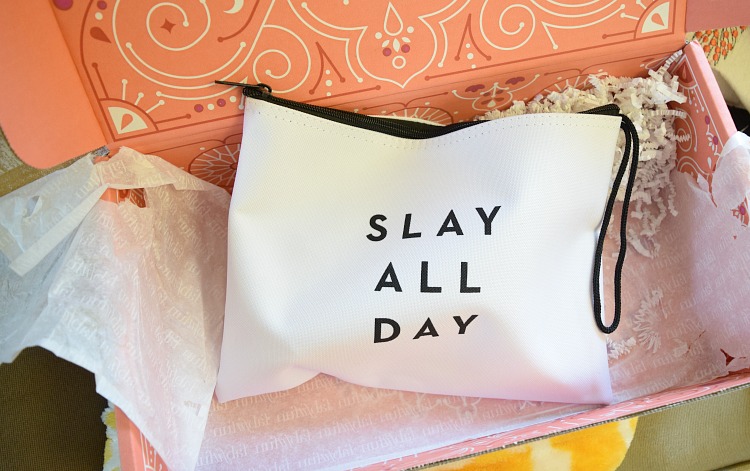 In, all the total retail value of the items I received is $369-$374, a great value considering that the monthly FabFitFun subscription box is just $49.99.
The next FabFitFun box will be the Summer FabFitFun box, which will be shipped in June. To have the Summer FabFitFun box arrive at your door, sign up for a FabFitFun subscription.
Giveaway (Open to U.S. residents only.)
Now it's time to enter the giveaway — good luck!
a Rafflecopter giveaway