*This post contains Amazon affiliate links.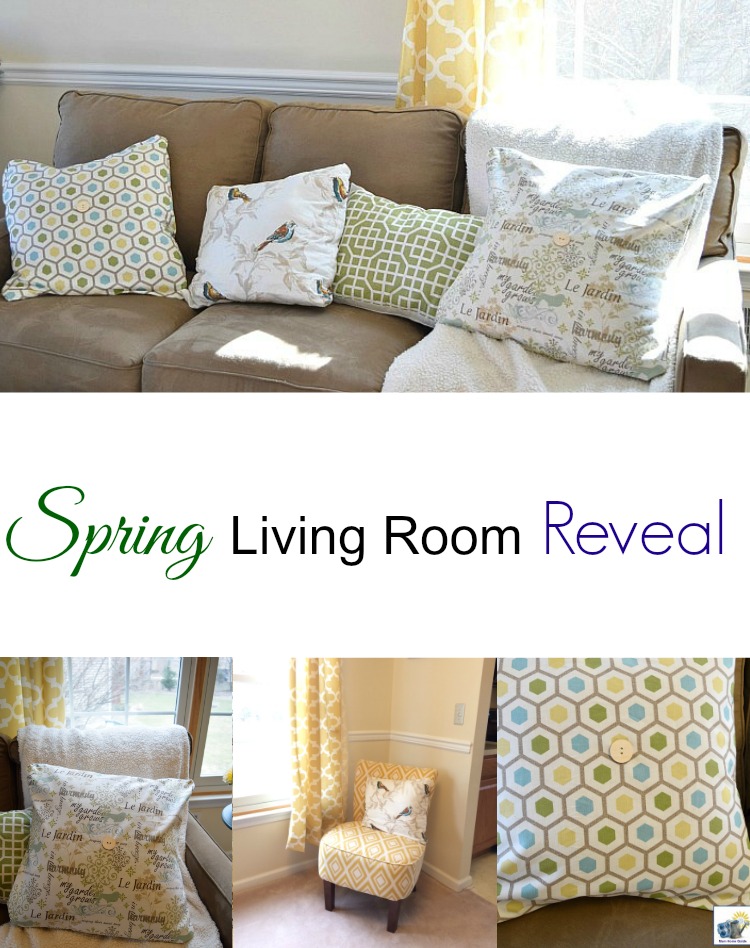 Today I am participating in Hometalk's DIY My Spring home and garden blog hop! Throughout the day, bloggers from across the Web will be sharing their spring home tours, DIY projects and home-related crafts through this fun blog hop! I will be showing my spring living room reveal — complete with new DIY curtains, decor and envelope pillows!
You can also find DIY My Spring projects on the Hometalk website. My project will also be available at my Hometalk profile, if you would like to check it out!
Spring Living Room Decor
With spring approaching, I wanted to give a lighter and brighter look to my home's living room. Several years ago, I had custom drapes made for my living room. The drapes are pretty, but they darkened the room and gave it an overly fussy and dated look. You can see how the room looked with the room's original curtains in the photo below. I had them up for about 10 years. It was time for a change!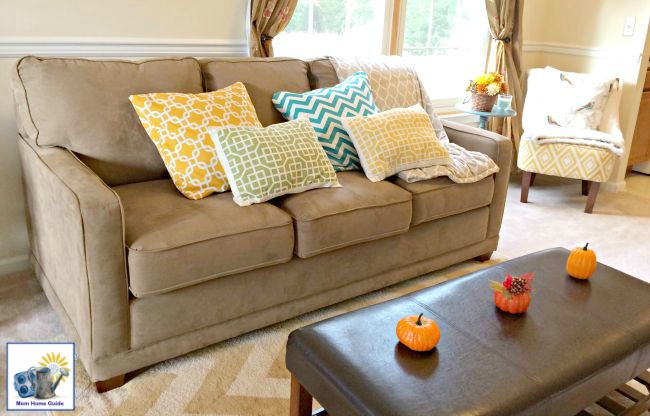 The above photo shows how I decorated my living room for fall. The original formal curtains that I had in the living room looked lovely during the day, but at night they had a strange gold/green hue. Not very pretty.
My living room has both southern and eastern exposures, and I wanted to capitalize on all the sunshine that can be in the room! The old drapes blocked much of the light. Plus, the living room's old drapes were more formal, where I've been wanting a more fun and modern look for the space!
DIY Curtain Panels
It's hard to find store-bought curtains that I like, and custom made ones are v-e-r-y pricey, so I decided to make my own curtains! I decided to make panel curtains, since they are quite simple to sew and can be hung with simple curtain clips. (There's no need to make a pocket for the curtain rod.)
For my curtains I chose Premier Prints Fynn Macon Saffron Yellow Fabric
. I love the modern print and the bright and happy yellow color! To see more on how I made my curtains, check out my No Sew DIY Curtains Tutorial. (The steps in that tutorial are similar to what I did for my new living room curtains, except for the living room curtains I sewed the hems instead of using Stitch Witchery.)
Panel curtains are just about the simplest curtains to make — if you hang them with
curtain clips
, you really only have to sew hems on each side of each panel curtain.
I love how my new DIY panel curtains let sunlight stream into the room! The new curtains also go well with my living room's accent chair. They match perfectly! (By the way, I made the home pallet sign shown in the photo below. Check out my tutorial for the home sign if you would like one of your own! The pillow is also homemade — from cloth napkins bought on clearance! Check out my cloth napkin tutorial.)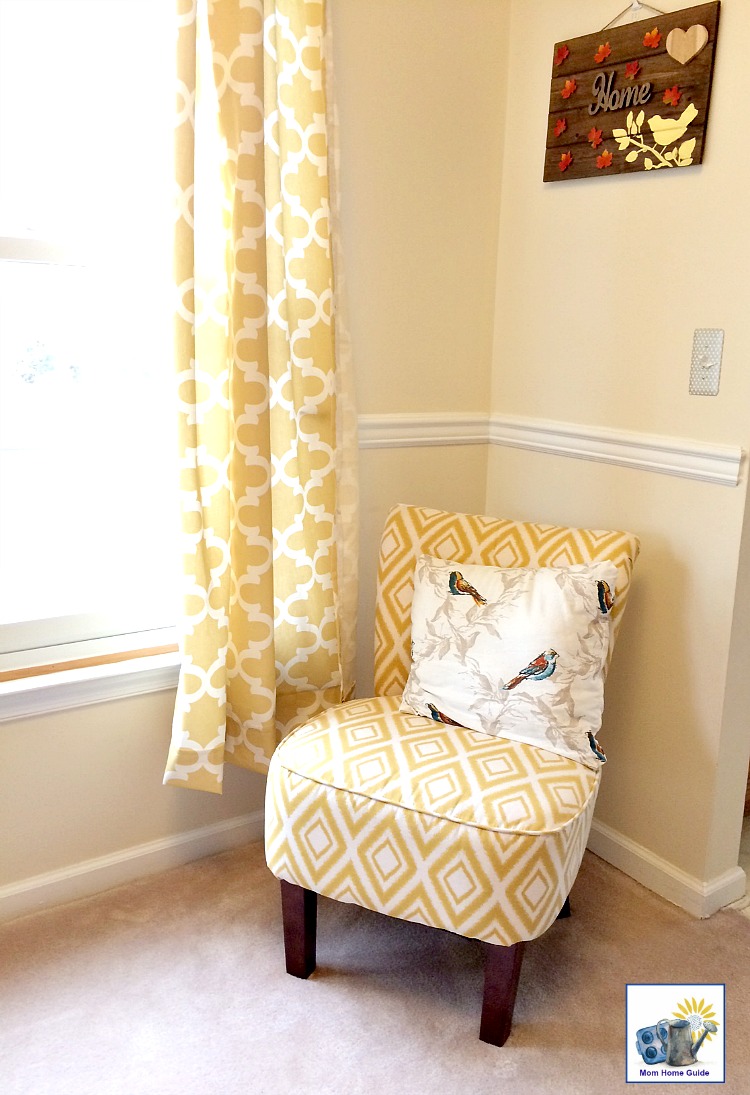 Simple Envelope Pillow Covers
For my spring living room, I made two new envelope pillow covers for the large throw pillows that came with my living room's sofa. Making the envelope pillow covers was really simple — I completed both in only 2-3 hours.
For the fabric for the envelope pillow covers, I chose two prints from Jo-Ann Fabrics in yellow, green and blue by Richloom Fabrics Group. I love the French/garden theme on the one print, and the clean geometric print of the other.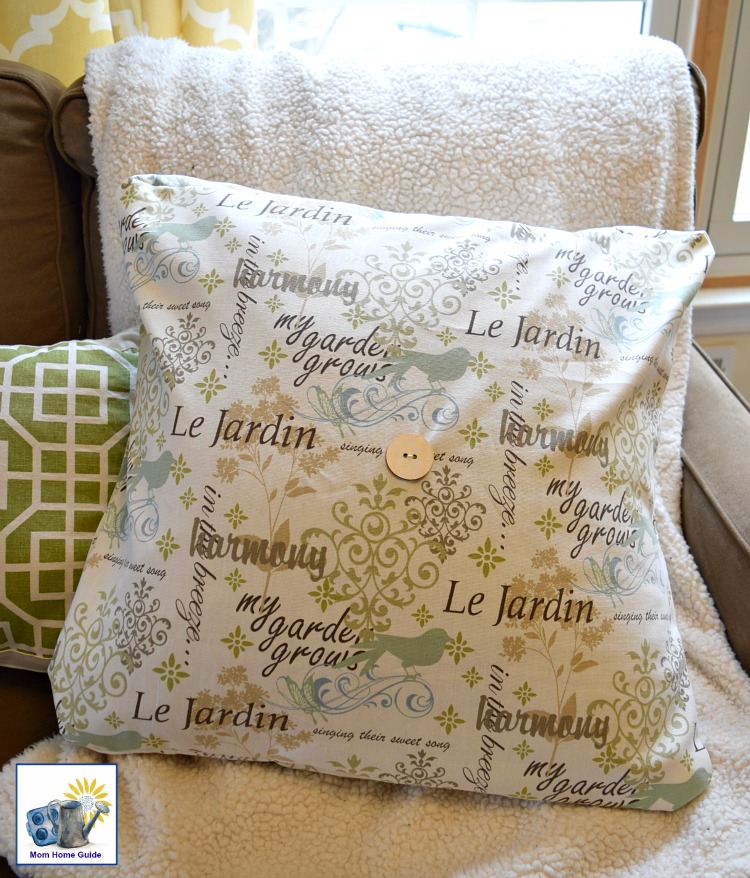 Plus, the two prints coordinate so well together!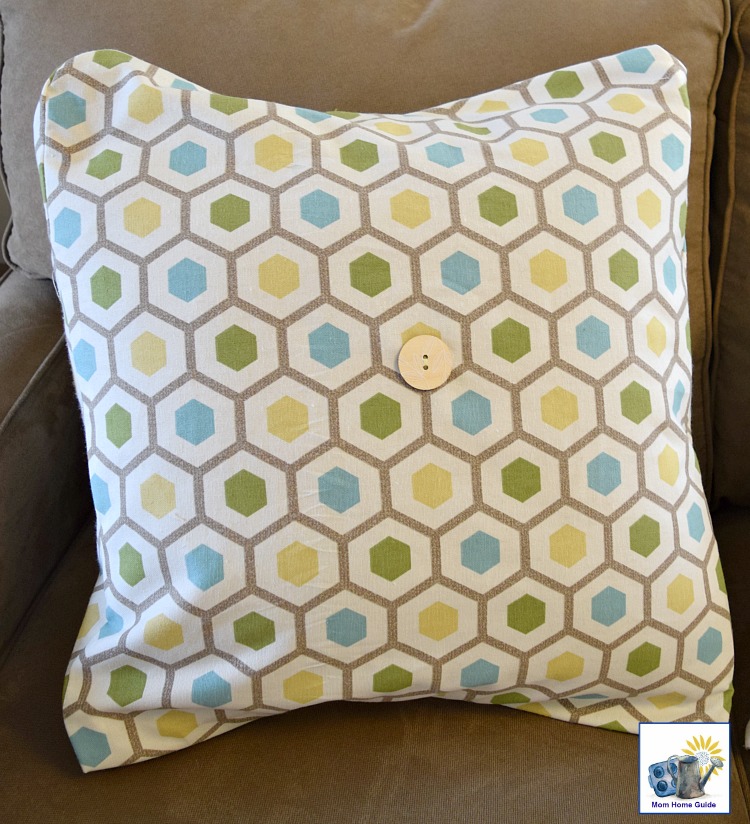 In all, I like how the room turned out! The room really feels bright and happy like spring — I can't wait for spring to arrive. I hope you enjoyed my spring living room reveal!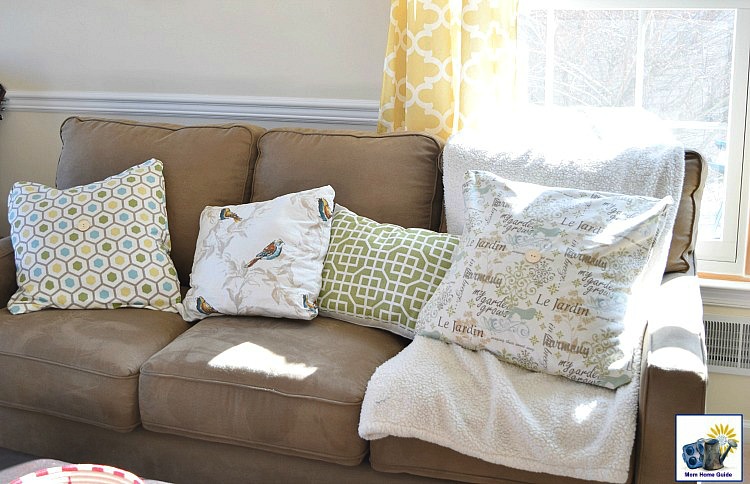 Check out other the other #DIYMySpring projects below and follow along with the hashtag, #DIYMySpring


This post was shared at DIY Challenge Party, The Creative Corner Link Up, This Is How We Roll Link Party, the Creative Corner Link Up Party Party in Your PJS, and the Project Inspire(d) Link Party