This post contains Amazon affiliate links. If you click on a link and make a purchase, I earn a small commission that helps to fund this blog. Thanks!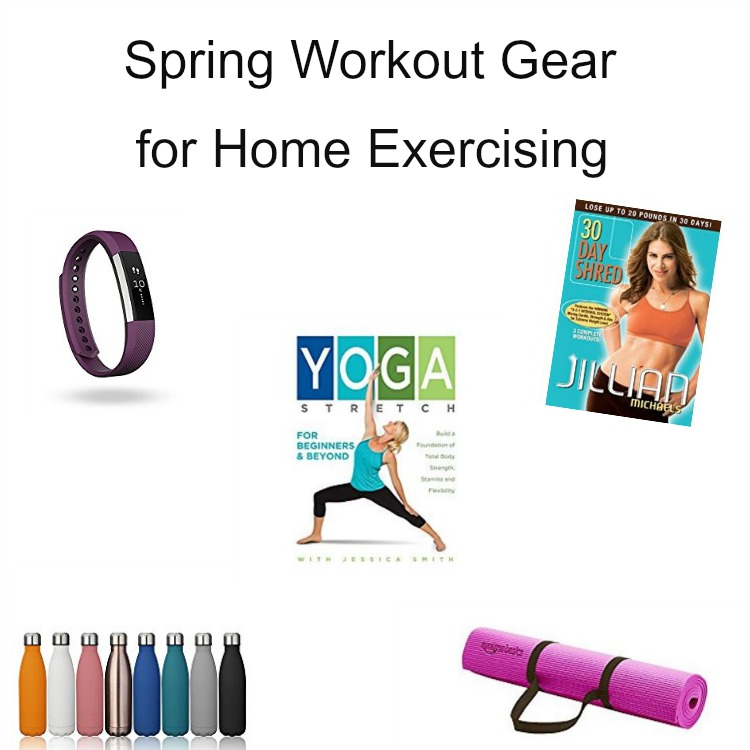 Now that spring is here, I really want to get moving, exercise, get fit, and shed some winter pounds! If I can, I'd like to get in shape by exercising in my home or around my neighborhood. So today I am sharing some great exercise-related home workout gear on Amazon that I have my eyes on.
Yoga Stretch for Beginners
Ever since I had bunion surgery about a year and a half ago, the muscles in my opposite leg have been really tight and sore. So, I am hoping to try some yoga to remedy that situation. My friend, Carrie at Curly Crafty Mom, suggested this Yoga Stretch for Beginners and Beyond
DVD for me, so I'd like to give it a try. Reviewers of the DVD note that the DVD offers moves for both strength and flexibility, and the only gear that's needed is a yoga mat.
Yoga Mat
If you plan to do a lot of workouts or yoga at home, a yoga mat will come in handy. This
Yoga and Exercise Mat
, with a textured non-slip surface and a carrying strap, by Amazon Basics has a lot of good reviews. I've purchased other Amazon Basics products over the past few months and have been happy with my purchases.
Jillian Michaels — 30 Day Shred

I got this Jillian Michaels – 30 Day Shred
video a few weeks ago at the recommendation of my friend, Carrie at Curly Crafy Mom, and I have to admit that I haven't tried it yet! With this DVD, you can start with Level 1 and advance to Level 3 to suit your fitness needs. The DVD workout includes strength, cardio and abs for overall fitness.
Vacuum-Sealed Stainless Steel Water Bottle
I like to keep a water bottle on hand when exercising. I prefer vacuum-sealed stainless-steel water bottles for their ability to keep water cold and because they are BPA free. These
KINGSO 17oz Double Wall Vacuum Insulated Stainless Steel Water Bottles
keep water cold for up to 9 hours and come in a variety of colors.
Fitbit Alta Fitness Tracker
My daughters and husband gave me an
Fitbit Alta Fitness Tracker
for Christmas, and it has been great for motivating me to put in more steps each day! The Fitbit also has been great in helping me to get more sleep each day — with the Fitbit, I can set an alarm to remind me to start getting ready for bed, and I can chart how much I've slept each week. With the Fitbit, I've been able to reach 7 hours of sleep — my goal — more nights a week. (Before I was averaging only 4 to 5 hours of sleep a night — I am a big night owl!)