Hi! Today is the second post in the mini summer entertaining blog hop that I am participating in with two of my blogging friends, Tee of Beauteeful Living and Reesa of Momma Lew. 
Today, Tee of Beauteeful Living is sharing how she decorated her dining room, and will be revealing her summer tablescape. Tee and I have a similar decorating style — we both love bright and happy colors! I hope you enjoy this beautiful dining room reveal!
I'm so thrilled today to share how I decorated our dining room and created a tablescape for summer entertaining. Since I'm partial to bright and cheery colors, I couldn't help but decorate my dining area with my favorite island-feel hues: turquoise, coral, green and yellow. Let's take a look at the 5 colorful elements that made my summer entertaining complete:
Coral + White Striped Curtains
Out of all the curtains I've purchased for my home through the years, I think these may be my favorite purchase to date! At first, I was worried that the coral and white striped curtains would be too eye-catching for our dining area, but after 5 minutes, I knew these curtains were staying put! Without these curtains, the summer tablescape I created would not have been the same.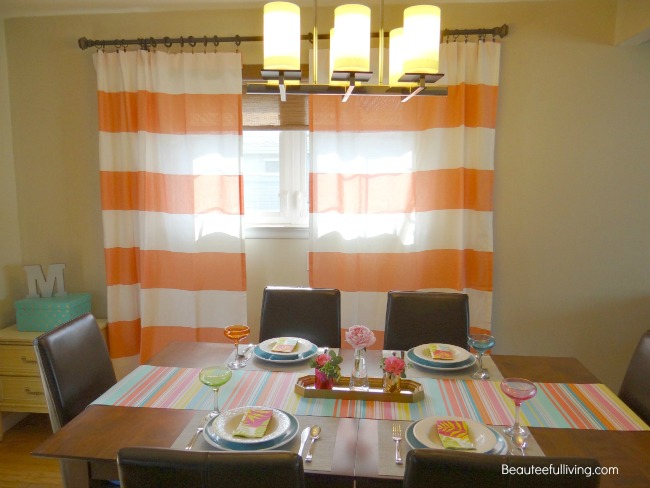 Pendant Light 
You'll notice that our pendant light is unlit in the photo below. You can see the pendant shades much better when unlit. The "turquoise" rims on the shades were created with Scotch Expressions masking tape. They peel off easily! I have a habit of customizing the look of the shades based on the occasion. You can see examples here and here.
Striped Table Runner
I purchased this runner from Target a few weeks ago. I love all the happy colors on this runner and especially because the turquoise and coral stripes went perfectly with my curtains and dinner plates! This runner was certainly a key component in my summer tablescape.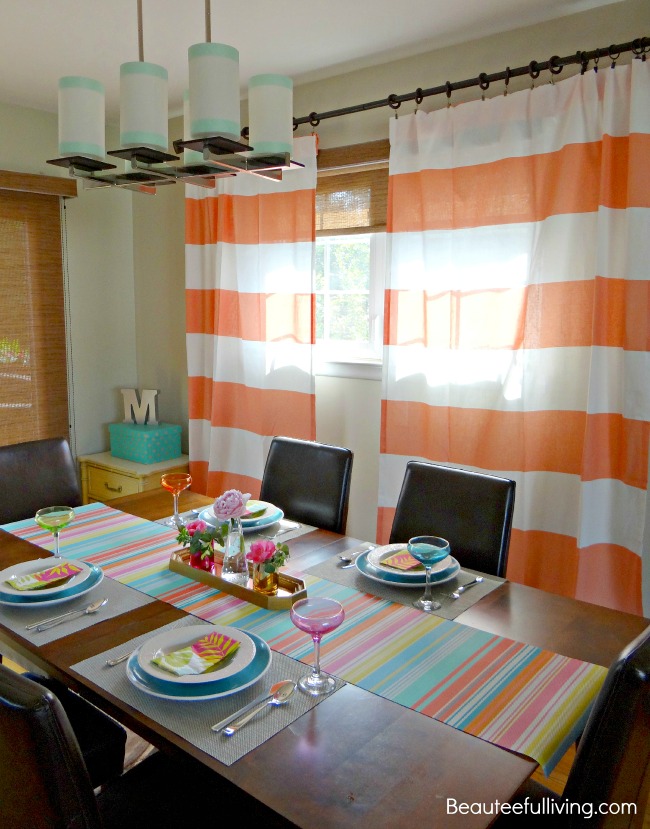 Dishware, Drinking Glasses, Utensils, and Napkins
The best part of creating this summer tablescape was using items that I already owned at home! My drinking glasses were from the Lilly for Target collection. The turquoise plates I used were melamine plates. They are awesome because they are unbreakable! 🙂 I paired them off with my white porcelain salad plates.
For easy summer entertaining, I used silver "plastic" utensils. You can't even tell they're plastic until you hold them! To further complete this "no hassle" set, I used paper napkins instead of cloth napkins. I purchased these tropical paper napkins a month ago. So glad they will be put to good use. Then again, I've never heard of paper napkins just sitting around, collecting dust. 😉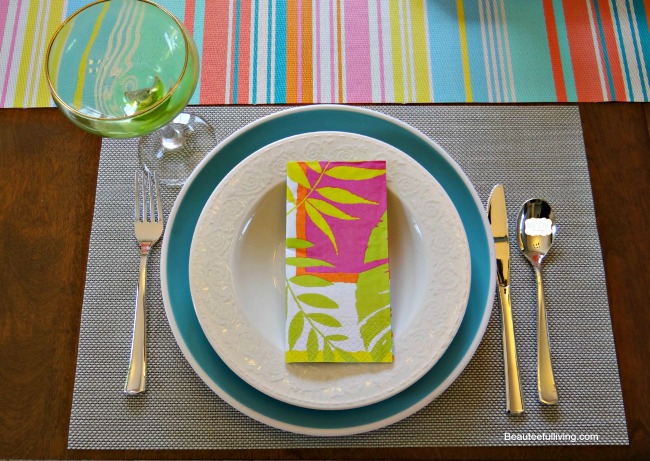 Floral Centerpiece
When it comes to centerpieces, you cannot go wrong with flowers. The flowers and plant clippings in the photo below all came from our garden. Too bad peonies aren't readily available in the summer. Hydrangeas and roses make great substitutes. For this look, I placed my vases on top of a vintage gold mirror. Can you believe I paid $1.00 for this mirror at a flea market? Best purchase of the month!
Thank you joining me on my summer entertaining tablescape tour! Summer is my favorite season to have friends and family over for meals and gatherings. I hope you have fun creating your own summer tablescape look for your get-togethers this season!
– Tee @Beauteefulliving.com
Thanks, Tee, for sharing your gorgeous dining room with us! Please be sure to visit Tee's blog at Beauteeful Living, Beauteeful Living on Facebook, and Beauteeful Living on Twitter.