This post contains Amazon affiliate links. If you click on an Amazon link and make a purchase, I earn a small commission that helps fund this blog. Thanks!
I love to switch up the pillows on my living room sofa. I find that just by changing out the pillow covers on the sofa, I can give the living room a whole new look. I often make my own throw pillow covers, but I was recently happily surprised to find super cute and inexpensive throw pillow covers on Amazon — all for less than $6! A total find! Since I'm not one to hog great information to myself, I thought I'd share some of my best finds with you all! These throw pillow cases would be a fun way to your update space, or to gift to a friend!
I think I might have to change out some of the pillow covers on my living room sofa soon. This is what my living room sofa currently looks like – I would love to update it for fall!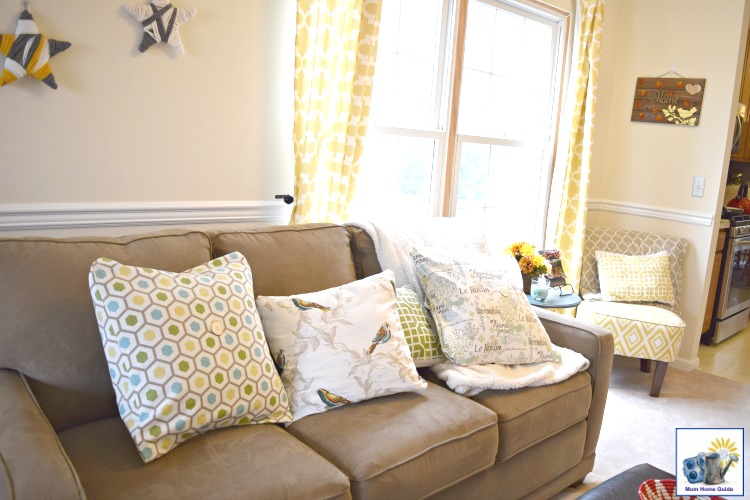 You Are My Sunshine Statement Pillow
Pillows with text on them are popular these days. Also, I have decorated my home's living room in a bright and sunny theme, and this You Are My Sunshine Pillow Case
(for just over $3) would fit right in!


Compass Arrow Pillow Cover
I love reading home decor blogs. From some of my favorite home decor blogs, I've noticed that arrow motifs are popular these days. I love the look of this Cotton Linen Square Decorative Throw Pillow Case (Compass), 18″x 18″
(for about $2).

I Love You to the Moon & Back Pillow Cover
I think anyone looking to decorate a baby nursery or kid's room would just adore this I Love You to the Moon and Back Cotton Throw Pillow Case 18 " x 18 "
(for about $2)!
Home Sweet Home Pillow Cover
The sentiment on this Home Sweet Home Square Pillow Cover
(for about $2) couldn't be sweeter and would look great on anyone's sofa!
Rustic Deer Pillow Cover
Farmhouse decor is all the rage this year, and this
Square Burlap Decorative Throw Pillow Case Cover (Rustic Deer)
(for about $2) would fit right in! This deer pillow cover would be a great holiday accent for Christmas, too!
Plaid Pillow Cover
Plaid is popping up all over the place this fall. To add some plaid to your space, check out this Linen Black & White Checkeed Plaid Throw Pillow Cover
(for about $5).
Pillow Inserts
There is an explosion of pillows in my home, so I have plenty of pillows to cover. But if you don't have any pillow inserts, these Square Poly Pillow Insert, 18″ L X 18″ W, White
look like a good choice.
Related articles across the web