Disclosure: I was compensated for this post and was given a  VTech CareLine SN6197  system to review. The opinions expressed here are 100% mine own.
When I was invited to try out the VTechCareLine phone system, I was glad to do so! I have an older parent, and while my sister lives with him, she and I often worry about his safety when he is at home alone. My dad also needs a phone that is simple for him to use, so I am happy that I can provide him with this great safety phone system.
The VTech CareLine SN6197 is a simple-to-use home safety and telephone system for seniors that makes it easy for older adults to live independently while keeping in touch with family, friends and emergency contacts. The system includes a portable pendant with one-button or voice-activated calling when help is needed.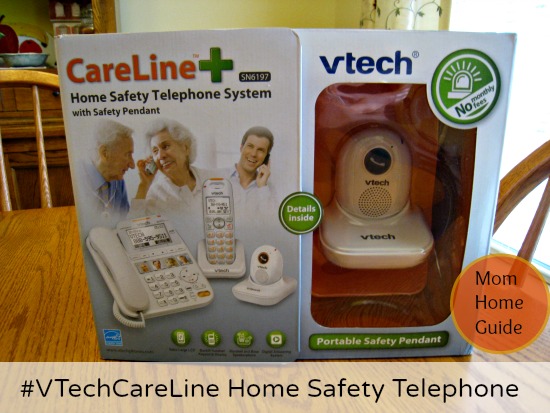 My sister and I have tried getting my dad a cell phone to keep with him for safety reasons. My dad isn't that comfortable with new technology, however, so he never uses the cell phone.
Home Safety Telephone System
The VTechCareLine phone system, on the other hand, is so easy to use, it's almost OLD SCHOOL. That is a good thing: My Dad prefers  simple technology — he doesn't want all the bells and whistles of the latest iPhone. One thing I have certainly learned from my dad is that sometimes simpler is better!
The VTechCareLine phone system comes with a corded and a cordless phone, so my dad can keep the corded phone in his telephone's usual place and can keep one phone with him as he moves from room to room.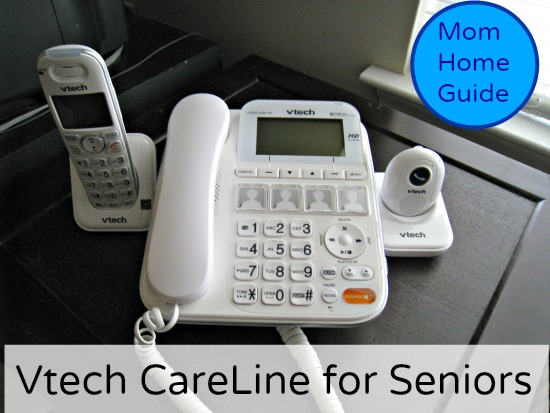 The buttons on the corded and corded phones are large and very easy to see — the large buttons are a great help for my dad. What's perfect is that on the corded phone, there are four photo speed dial keys that we can assign to important family members so my dad can reach us with one touch dialing. (He doesn't have to remember or look up phone numbers.) What I really like is the the portable safety pendant that my sister and I can program for one-touch dialing to our phone numbers, so he can contact us quickly if needed.
The system has no monitoring fees, so my family doesn't have to worry about extra costs. It has a digital answering system, so my dad can easily access his phone messages, without having to dial into a central service. The Voice Announce Caller ID makes it easy for my dad to know whether a call is one he wants to receive, or in the case of the many pesky sales calls he gets — ignore! The Voice Amplification is also really helpful — my dad can boost the sound on his phone by 40 decibels, to make conversation much simpler.
Learn More About the VTech CareLine
Interesting in learning more about the VTech CareLine? Then check out the VTech CareLine online and on Facebook, Twitter, Google+ and YouTube:
VTech CareLine Website – http://bit.ly/1sgQt7p
VTech Facebook Page – https://www.facebook.com/VtechPhones
VTech Twitter Account – https://twitter.com/VTechPhones
VTech Google+ Account – http://plus.google.com/+vtechphones
VTech YouTube Account – http://www.youtube.com/user/vtechphones411