I received  BISSELL Boost free from BISSELL Homecare, Inc. — the Company sent this to me and did not charge me for it.  That being said, I am under no obligation to write a good review or to write any review about this product, and what I'm writing here are my own opinions based on my own personal use of the product.
* This post contains affiliate links.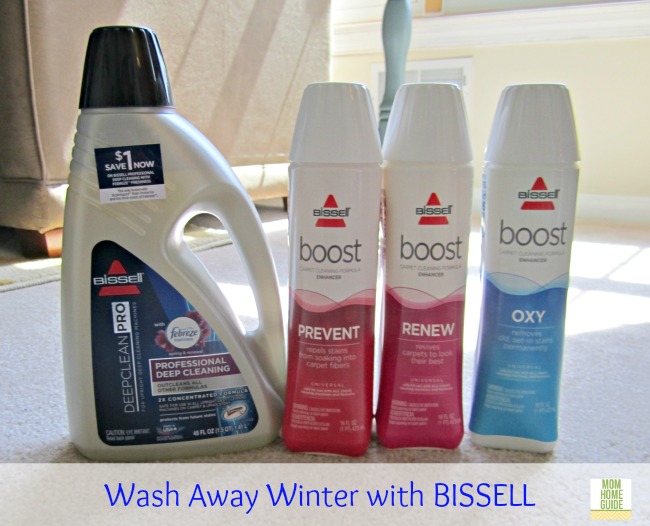 My home is filled with two floors of wall-to-wall carpeting. That's a lot of carpet! So it's essential that I stay on top of the carpets and keep them clean! So, I've developed a few tricks and habits to keep my carpets clean! One of those methods is carpet deep cleaning with BISSELL. I think my family's system works well, since we're always told how new our carpeting (which was installed 10+ years ago) looks! Spring is a great time to take special care of your home and your carpets — you'll want to clean out all that rock salt and dirt you've tracked in during the winter season! (Comment on your favorite spring cleaning methods below for a chance to win a BISSELL spring cleaning package!)
1. Take shoes off! My husband, kids and I ALWAYS take our shoes off when we enter our home. We keep our shoes in a mini mud room area I've created by the front door. Not allowing shoes on carpeting is essential to keeping it clean. By not walking on our home's carpeting with our shoes, my family and I keep the dirt and germs that is tracked onto our carpeting at a minimum.
2. Vacuum Frequently. I am not always the best at keeping up with this step, but when you have carpeting in a home, you really need to vacuum it frequently (at least 1-2 times a week) to keep it clean. If you don't, the dirt that does get into your carpet will get ground in and will be more difficult to remove.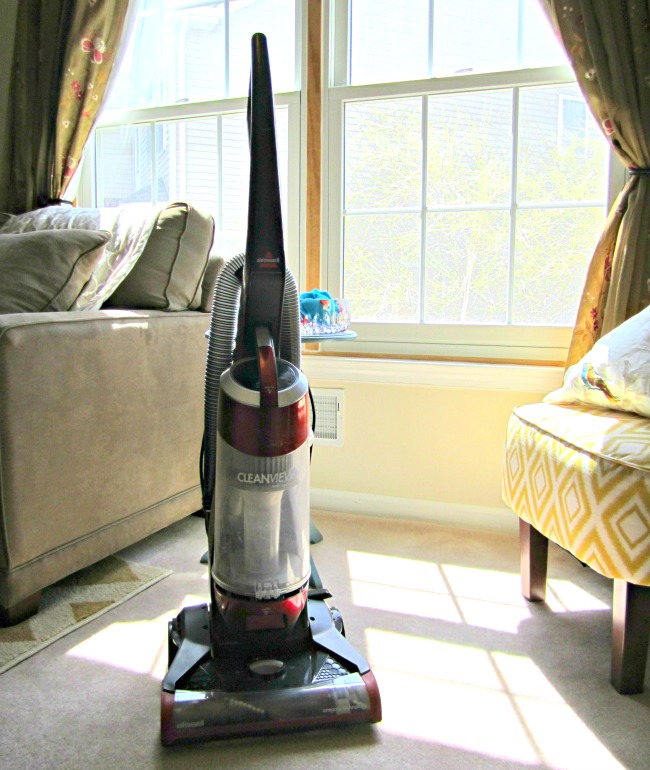 I use my new BISSELL CleanView Complete Pet Bagless Upright Vacuum , which I love! I like that the vacuum is bagless. I find that using a bagless vacuum is much easier that using one where you have to use vacuum bags. I've always found the vacuum bags hard to insert, and they are sometimes difficult to find in my local store! Plus, seeing all the dirt in the vacuum's canister is a great motivator for me — it really shows how much cleaner my carpets are getting as I clean!

3. Spot Clean. Clean up spills and stains as soon as they happen. By cleaning up messes ASAP, you can make sure that they will  be gone and not linger! When there is a spill, blot it up quickly by covering the area with a paper towel and pressing down on the paper towels to lift up the liquid. If there is a stain, you could use a few drops of clear liquid hand dish detergent in water. Apply some of your diluted solution to a paper towel and rub out the spot. Blot with a clean (not soapy) wet towel to rinse out your soap solution.
4. Deep Clean. I used to think that all I needed to do to keep my carpets clean were to spot clean and vacuum. I was wrong! I received a beautiful new BISSELL PROHEAT 2X PREMIER FULL-SIZE CARPET CLEANER
 last year and was surprised to see how much dirt it got out of my carpets! My kids love it when I use the BISSELL Proheat Carpet Cleaner on our home's carpeting — the carpeting feels so soft and fluffy right after it is cleaned! I adore my BISSELL Carpet Cleaner — it is so easy to use and I don't have to pay for an outside service to get my carpets really clean! I like using BISSELL Professional Deep Cleaning with Febreze® Formula 2515 (value: $21.99) in my Bissell deep cleaner. 
BISSELL Professional Carpet Deep Cleaning with Febreze™ is a 3-in-1 formula that removes deep-down dirt and odors, freshens with Febreze®, and contains Scotchgard™ protection. It keep my carpets protected from future stains! I love that!
I also enjoy my BISSELL Boost products. The Boost products help enhance the cleaning power of my  Professional Deep Cleaning with Febreze® Formula. The BISSELL Prevent Boost Carpet Cleaning Formula Enhancer helps to repel tough stains, BISSELL Renew Boost Carpet Cleaning Formula Enhancer works to revive high traffic areas, and BISSELL Oxy Boost Carpet Cleaning Formula Enhancer can remove set-in stains — the Boost products are all lifesavers when one's house is FILLED with wall-to-wall carpeting!
In fact, I have tried several of BISSELL's upright carpet cleaner formulas, and love them all! I think BISSELL and its carpet cleaner formulas are essential to keeping my home's carpeting clean!
Giveaway Alert!
I LOVE giveaways, so I am excited to share this giveaway with you! 
BISSELL is offering two product bundles (including a BISSELL Deep Clean Lift-Off (valued at $259.99) and BISSELL Professional Deep Cleaning with Febreze® Formula) as a giveaway. Winners will be chosen at random.*
To enter the giveaway, please comment below and share your favorite spring cleaning tips. BISSELL will review all comments and pick two winners (across participating blogs) to receive the product bundles! When filling out the comment form, please share your email address (your email address won't be published) so you can be contacted if you win! Good luck!
*Mom Home Guide is not responsible for the fulfillment of this giveaway. The sponsor of this post will choose the winner of the giveaway and provide the prize.