This post was sponsored in part by General Finishes , which provided me with the General Finishes Milk Paint, primer and top coat for my kitchen project. Thanks! This post contains Amazon affiliate links.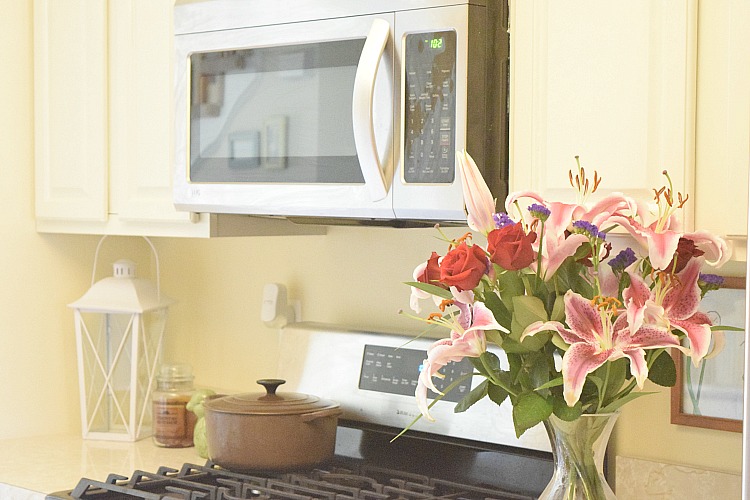 A few weeks ago I started painting my oak kitchen cabinets white. I am about halfway through my project now, and I am loving the look of my white painted oak cabinets! (By the way, my husband surprised me the other day with that huge bouquet of flowers you see above — isn't he sweet?)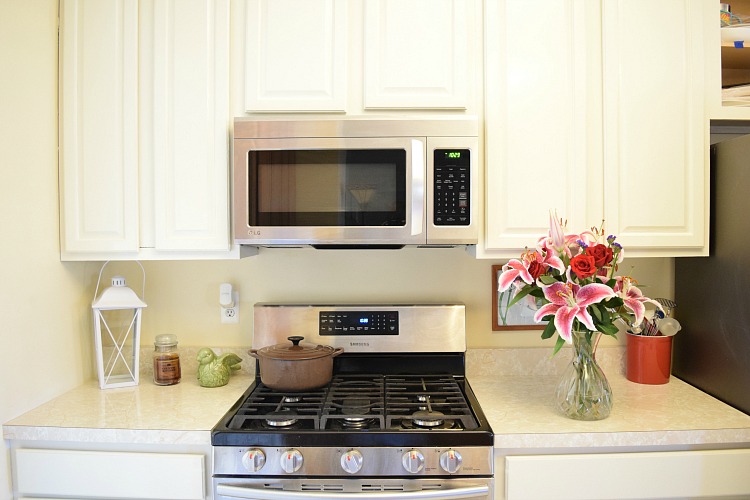 The below photo shows what my kitchen looked like before I started my project. I am glad to have a brand-new, clean and bright look for my kitchen! I think the kitchen counters even look better with the white cabinets. I didn't pay for my primer, paint and top coat, but if I had, my project would have cost me WAY LESS than getting new kitchen cabinets or paying to have them refinished!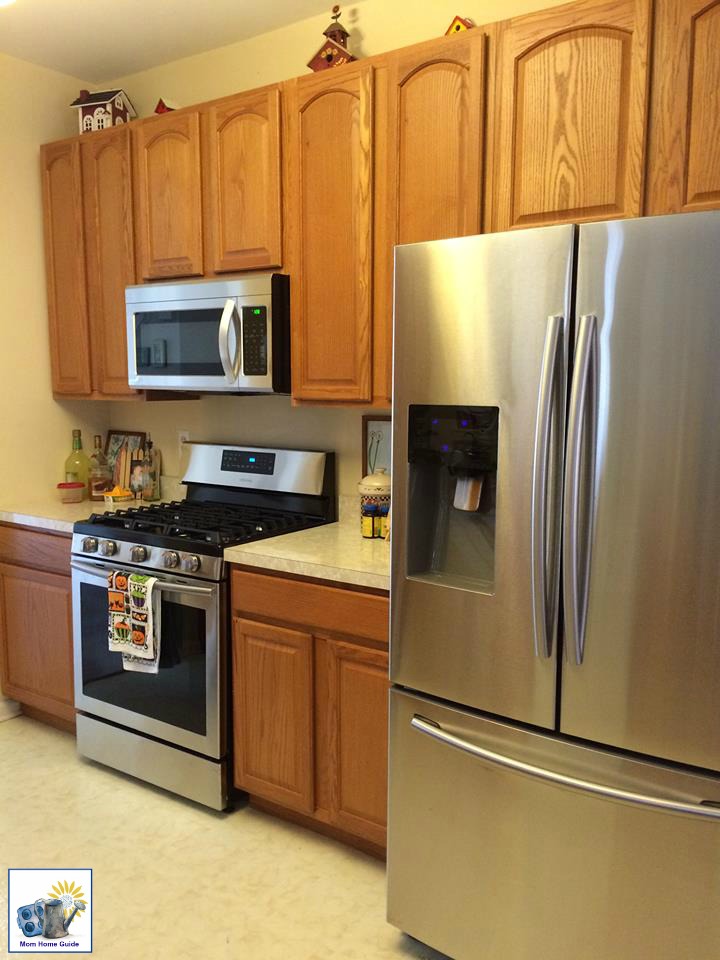 This is a closeup of what the oak cabinets look like on the other side of the kitchen, where I still have to paint!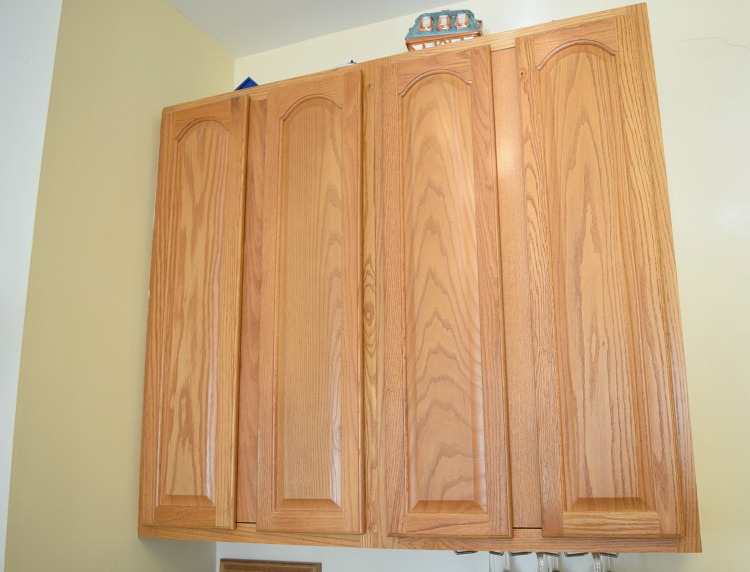 Painting Oak Kitchen Cabinets White
My husband and daughters were on spring break last week, so I didn't get any painting done. Before the break I painted the cabinets around my other projects, when I had time. So far, about half of my kitchen cabinets are done! I am hoping to get back to painting my kitchen's cabinets this week. (You can see the paint cans waiting for me in the reflection in the oven door below. LOL)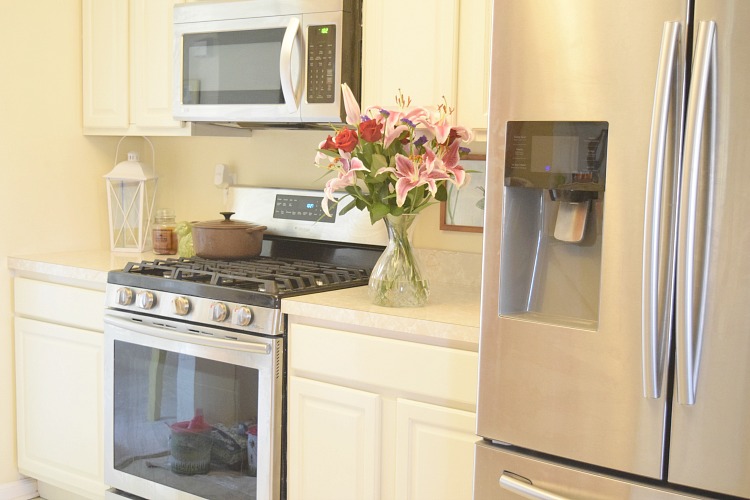 Painting the cabinets has been easy, but time consuming. The time is well worth it! I've been using General Finishes Milk Paint in Antique White, General Finishes Stain Blocker (Water Based) and their High Performance Polyurethane Water Based Topcoat.
Materials
General Finishes Stain Blocker (Water Based)
General Finishes Milk Paint, Antique White

General Finishes High Performance Water Based Topcoat
Foam Brushes

Tack Cloths

Scotch-Brite Sponges
How to Paint Your Oak Cabinets White
To prepare my kitchen cabinets for painting, I first removed the kitchen doors from one side of my home's kitchen. I carefully numbered each door (with a piece of painting tape with a number written on it), and stuck the same number inside the cabinet the door came from. I stored each cabinet's door hardware in the corresponding cabinet in a plastic sandwich bag. It's imperative to keep track of all the door hardware!
I then scrubbed both sides of the doors and the cabinet framing with a Scotch-Brite sponge and a 50/50 mix of denatured alcohol and water to remove any grime. After the cabinets were clean and dry, I sanded all the surfaces with 120 grit sandpaper. I wiped down the cabinet doors and the framing for the cabinets with a tack cloth to pick up all the dust.
I gave each surface two coats of primer, two coats of Antique White paint and two coats of High Performance Water Based Topcoat, waiting for each coat to dry in between each step. I found that I got a better finish when using foam sponge brushes to apply the primer, paint and top coat. This is what my cabinets looked like in the middle of the painting process.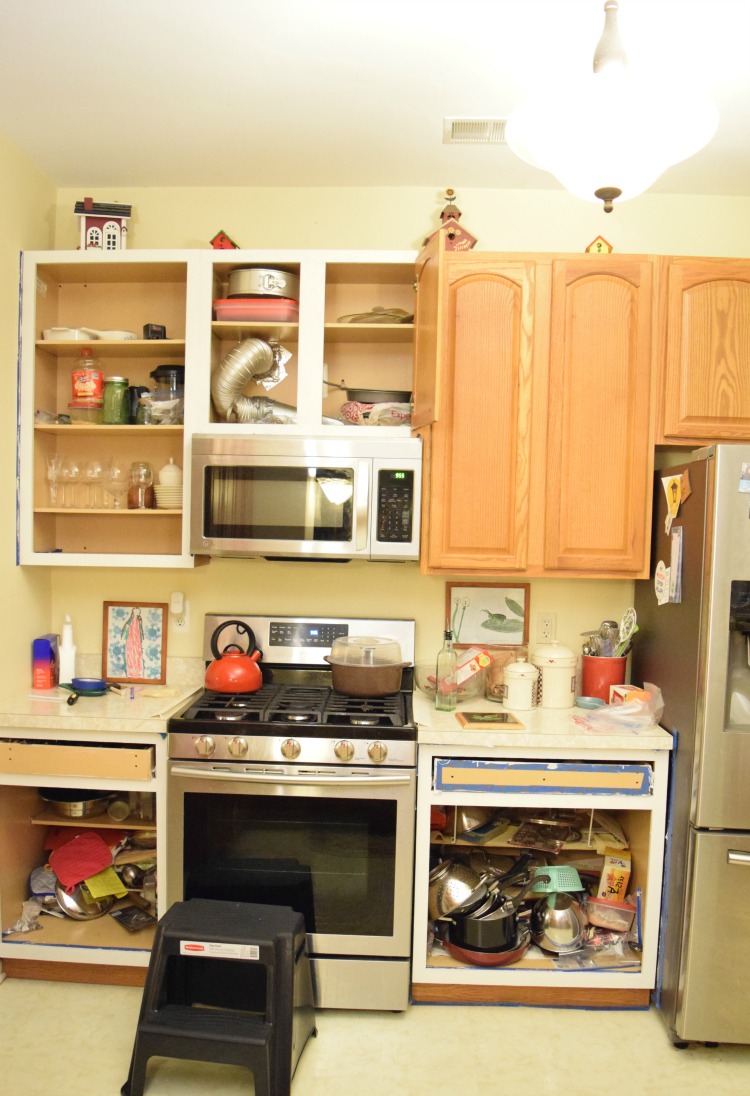 At first I set up a station for painting the cabinet doors in the basement, but I found that I painted better in the kitchen. I worked so much better in the kitchen where I was more comfortable and there is better lighting! I simply set a white kitchen trash bag underneath each cabinet door as I painted.
I can't wait to share my complete kitchen (and possibly, a how-to video) when my project is done!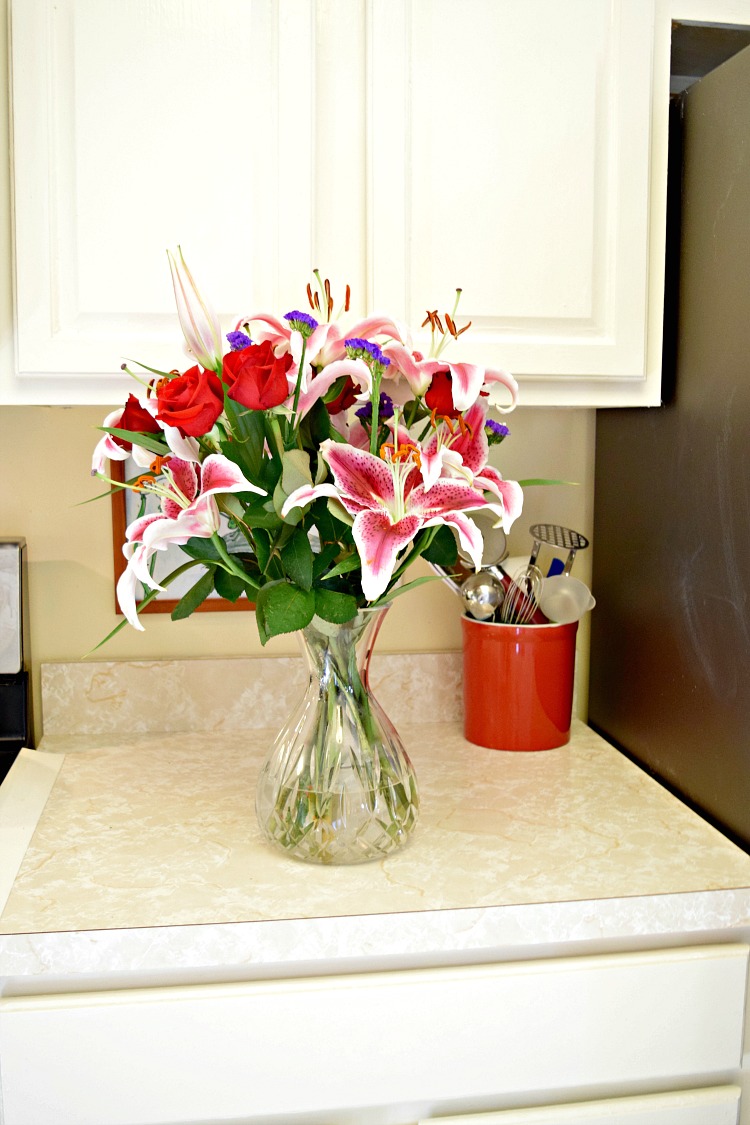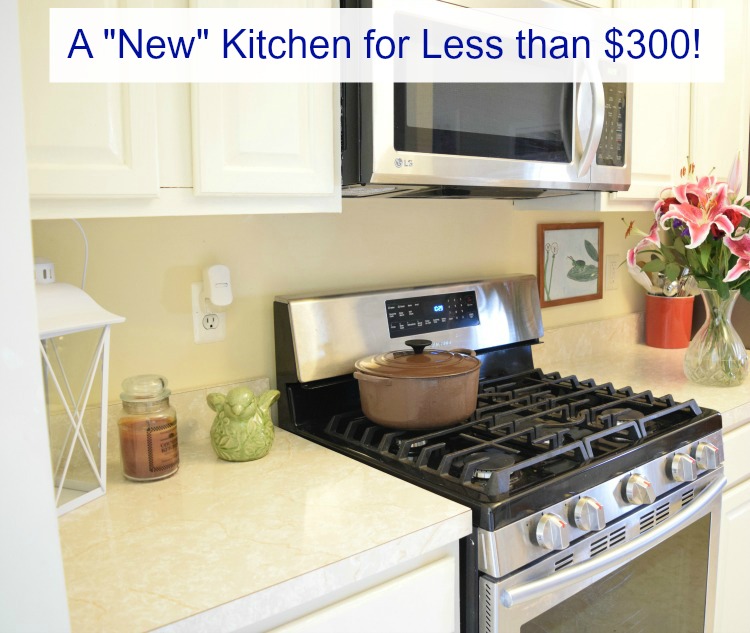 This kitchen reveal has been shared at the Before and After Link Up, The Latest and Greatest Before and After Projects, The Creative Corner Link Up, The Pin Junkie Pin Party and Creativity Unleashed.