Fatigue, sadness and excitement were all on my daughters' faces this morning as they prepared to go back to school today after the Christmas holiday and winter break.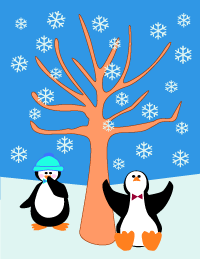 One of my daughters was particularly excited about going back to school, since she sports a new haircut (a haircut that was necessitated by an extremely persistent and large knot in her once long hair) and newly pierced ears today.
I was sad to drop my kids off this morning, as it means Christmas, which I spent weeks preparing for, and a week-long of shared family times, have already passed in a blur. Our New Year's weekend, which we spent at a local hotel (with a pool) with family and friends, has also come to an end. Today probably should be the day that I start taking down the Christmas decorations and Christmas tree – I saw several trees by the curb today as I drove through town to take my daughters to school.
I could follow my neighbors' lead and take down the tree, but what the heck – I am going to buck tradition. I love the warm glow of the Christmas lights, and what's the harm if I keep the tree up until this weekend? Anyway if I go by the reasoning that there are 12 days of Christmas, I have until January 5 – which is Saturday – to take down the tree. Perfect timing.