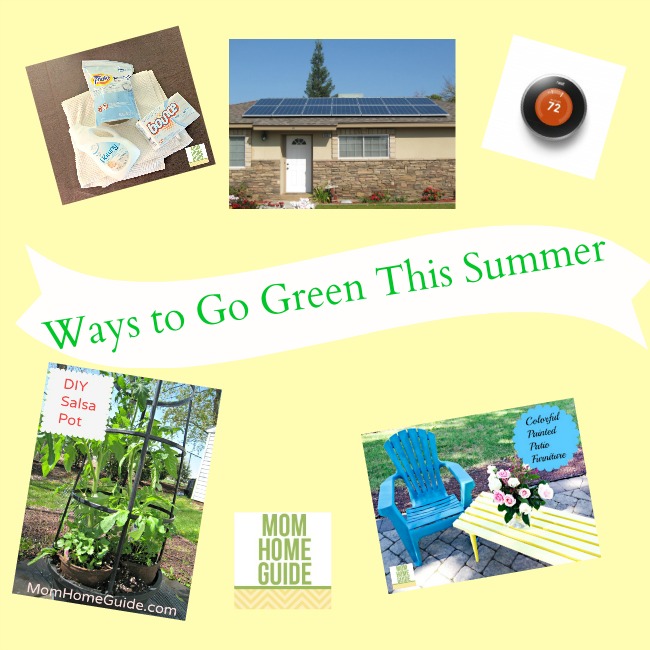 Want to be cool this summer? Look to go green! By going "green" or striving to be more eco-friendly this summer, you can save money on everyday home costs and be kinder to our Earth. Being kinder to the Earth is very important because being it impacts what kind of world our kids will inherit from us! I've found that these 15 ways to go green are both cost effective and easy!
15 Easy Ways to Go Green
Go solar – Many homeowners who go solar save money in the summer when the sun is out the longest and air conditioning costs are high.  E.g., with Sunrun, a solar service company, you can get solar on your roof without high upfront costs and the hassle of owning your own solar panels. With Sunrun, you pay a low, locked-in rate for the electricity that your panels produce. and the panels are monitored and maintained by Sunrun. Sunrun customers save an average of 20% on their electricity costs. See http://clvr.li/1dwHGKc for details. **Actual savings may vary.
Compost — instead of tossing your kitchen scraps in the trash, compost your compost-friendly scraps instead.
Wash laundry in cold water instead of hot water.
Avoid using electric lights during the day — open drapes and blinds instead.
Clean with diluted vinegar and baking soda — vinegar works especially well for cleaning the microwave!
Avoid the oven this summer — incorporate main dish salads into your meals or purchase a store-prepared rotisserie chicken
Take cooler showers.
Avoid using paper towels. Use reusable and washable cloths instead.
Ban plastic bags. Use reusable cloth bags when you go shopping and store your food in reusable/washable containers instead of plastic storage bags.
Use cloth napkins instead of paper ones.
Have a waste bin in your kitchen for recyclables to make recycling easy.
Install a smart thermostat to automatically lower and raise the temperature in your home to save energy and money. (See how you can enter to win a Nest thermostat below!)
Grow your own veggies in a garden or in containers
Repurpose old furniture instead of buying new patio furniture this summer. You will save money and resources. (Check out my DIY beverage cart, spray painted Adirondack chairs and painted outdoor coffee table!)
Use a ceiling fan to circulate air in your home instead of an air conditioner. You will save energy and money.
Enter to Win a Nest Learning Thermostat!
I installed a Nest Learning Thermostat in my home over a year ago, and I love it! The thermostat learns my family's heating and cooling preferences and adjusts the thermostat accordingly. The thermostat can also sense when we are away, and sets itself to "away," so we can save money on energy costs! I also get monthly Nest emails that help me to track my family's heating and cooling costs and usage.
For your chance to win a Nest Learning Thermostat, visit this Nest Thermostat sweepstakes link: http://bit.ly/1J9x4fO
Enter now — there will be 100 lucky entrants!!
* Making energy with Sunrun Solar and using less of it with Nest can help save you money on your electricity costs. To celebrate ways to save money around the home, Sunrun is giving away Nest Learning Thermostats to 100 lucky entrants.
I was selected for this opportunity as a member of Clever Girls and the content and opinions expressed here are all my own.