*This post contains affiliate links.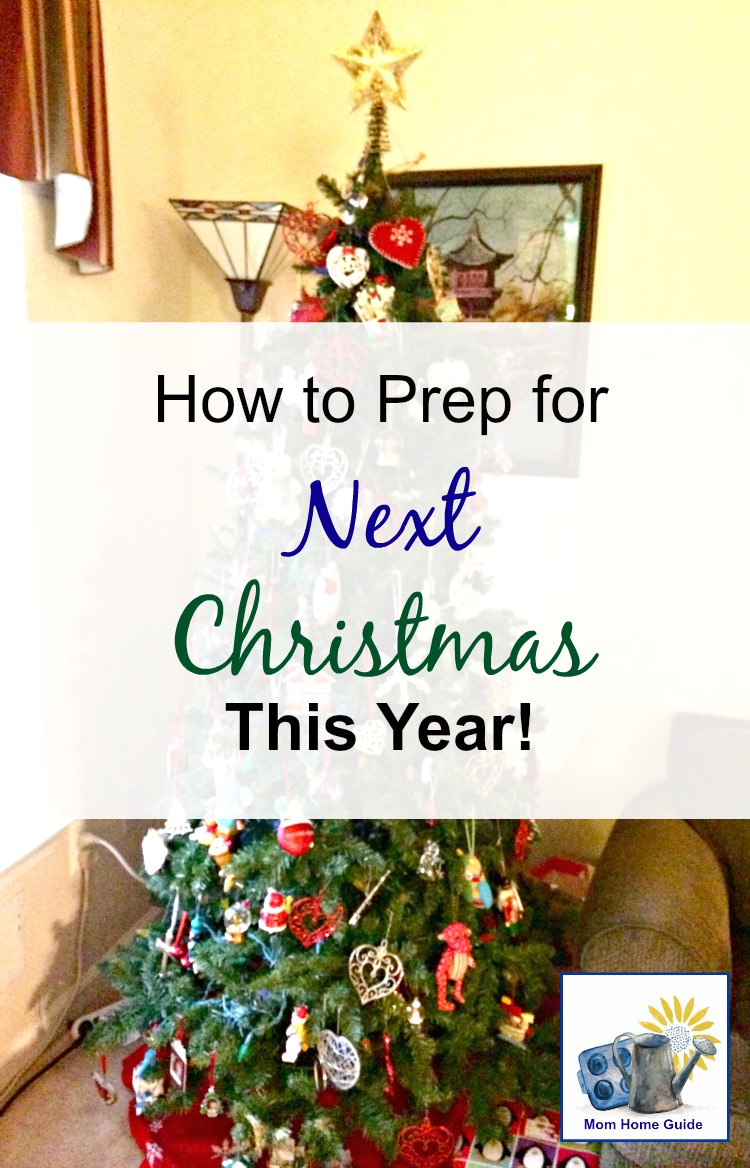 I can't believe that it's already time to take down my family's Christmas organizations! Sometimes in past years, I've thrown my family's Christmas décor into the basement without thought of organizing or preparing for next Christmas. But this year, I plan to work smartly so I can make next Christmas so much smoother! Today I am sharing 5 ways to prep for next Christmas now!
1. Get Organized. When you take down this year's Christmas décor, take the time to organize your holiday decorations. That way, you can easily find your holiday décor come Christmas! In some years, I've deposited my family's Christmas décor in whatever quick and easy spot in the basement I could find. This year, I plan to create one spot in the basement where I will carefully store our Christmas décor in clearly marked boxes! When I go to find out Christmas décor next year, it will be a cinch!
2. Prep Your List and Labels.
Before you put away the Christmas cards you received this year, take the time to prepare your Christmas card list for next Christmas. Be sure to update old addresses and add new folks you may want to send a Christmas card to next year! While you are at it, buy some labels and put your Christmas list into a label format so you can easily print out labels for mailing your Christmas cards next season! (When you create a new document in your Word software program, you can select a label template.)
3. Replace Those Old Christmas Lights. If you need new Christmas lights, or are using old incandescent Christmas lights, now is the time to buy new Christmas lights or eco-friendly ones. You might even be able to get some on sale! My family and I got the new Star Shower for our outdoor Christmas decor this year, and it was great! But because I looked into buying it last minute, the Star Shower laser light system was out of stock locally in my area, and I had to pay extra for shipping. You could easily purchase a Star Shower or other lights for next Christmas now online.
4. Designate Your Christmas Gift Hiding Spot.
If you have kids, you need a spot to hide those Christmas gifts! In past years, I've stuffed Christmas gifts all over the place in closets and drawers. But there was a year where I forgot to give my kids a small gift or two because I stowed it away somewhere and forgot about it! For next Christmas, I am going to create one spot where I can store the wrapped presents for my children. My basement is dry, so I am going to clear off a shelf in the basement so I have a place to put the gifts out of sight! (If you have inquisitive kids, it might be a good choice to hide gifts in a non-see-through bin on a high shelf!) Another option I have is to put a lock on our small guest room door, so I can place the gifts in there and keep the gifts away from prying eyes! (I have to give credit to my kids, though — I left two very LARGE gifts in my home's guest room for them this year, and they didn't peek!)
5. Organize Your Wrapping Paper & Gift Bags.
If your family is like my family, you have plenty of wrapping paper and gift tags left over after Christmas is done. (I tend to buy my gift tags at the dollar store, so I get a lot of tags for not much cash.) Now that it's time to put all those wrapping supplies away, take an inventory of what you'll need next season — you can buy some now at a huge discount! Plus, you might want to get some storage containers to store those big rolls of wrapping paper and gift bags.