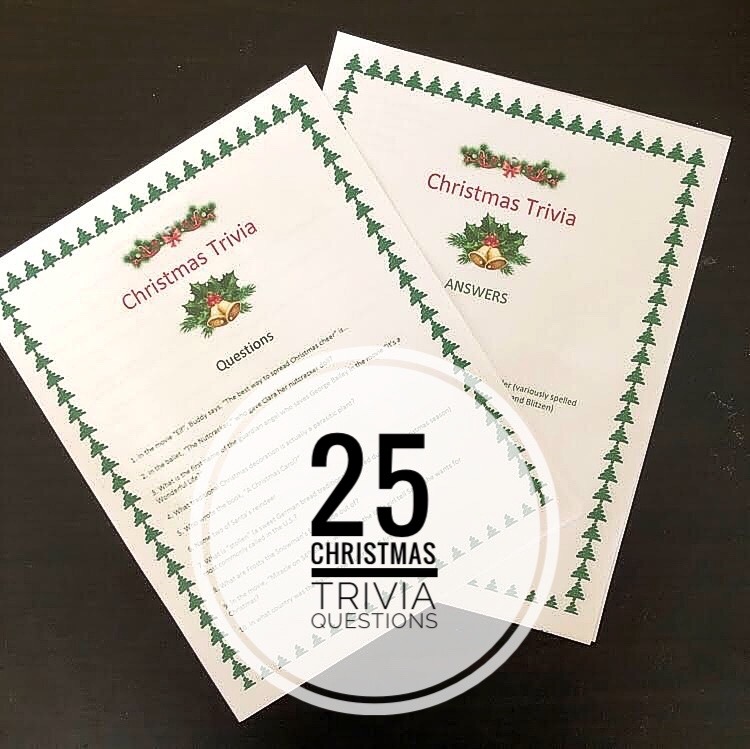 Welcome to the 5th day of the 5th annual 12 Days of Holiday Ideas event, hosted by Shirley of Intelligent Domestications and Erlene of My Pinterventures Between Nov. 11th and December 6th there will be hundreds of new ideas shared by over 55 Co-host bloggers!
Go here to see our kick-off collection of Holiday ideas as well as all of this year's talented participating DIY and Foodie Blogs. Download this years November and December calendars with all of the topics and dates so you can make plans to watch for ideas! Today we are featuring Party Games! Scroll down below to get your Christmas Trivia Free Printables!
We are hosting a BIG GIVEAWAY from our Sponsors this year! Be sure to scroll all the way down for more information and to enter to win!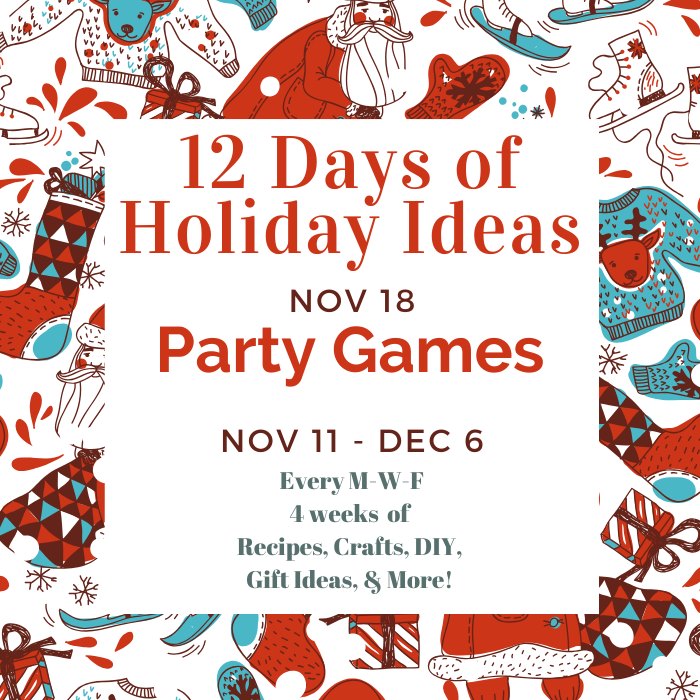 Christmas Party Trivia Questions
I came up with 25 fun Christmas trivia questions that can be used for a family game night or a holiday party. The trivia includes questions about popular Christmas movies, songs and traditions. You can get your free Christmas trivia questions printable here. (The printable are shown in the photo below.)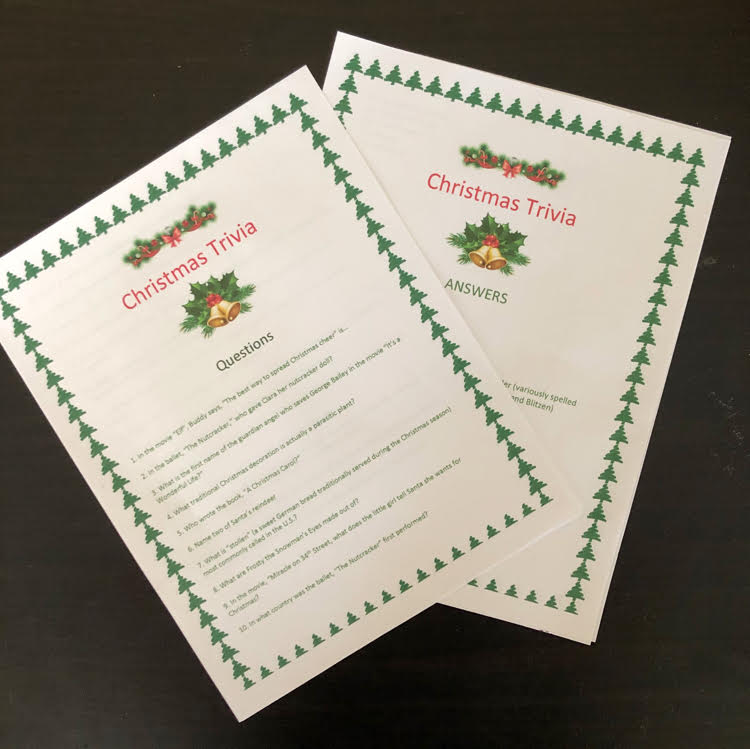 You can also see the questions and answers here:
Christmas Trivia Questions
1- In the movie "Elf", Buddy says, "The best way to spread Christmas cheer" is…
2 – In the ballet, "The Nutcracker," who gave Clara her nutcracker doll?
3 – What is the first name of the guardian angel who saves George Bailey in the movie "It's a Wonderful Life?"
4 – What traditional Christmas decoration is actually a parasitic plant?
5 – Who wrote the book, "A Christmas Carol?"
6- Name two of Santa's reindeer
7 – What is "stollen" (a sweet German bread traditionally served during the Christmas season) most commonly called in the U.S.?
8 – What are Frosty the Snowman's Eyes made out of?
9 – In the movie, "Miracle on 34thStreet, what does the little girl tell Santa she wants for Christmas?
10 – In what country was the ballet, "The Nutcracker" first performed?
11 – Which actor played George Bailey in "It's a Wonderful Life?"
12 – What is another name for Santa Claus?
13 – In "A Christmas Carol," what is Scrooge's first name?
14 – What Christmas song is Bing Crosby best known for?
15 – In the movie, "Home Alone," what city does Kevin's family visit when they accidentally leave him at home?
16 – Which Christmas song by pop band Wham inspired the 2019 movie of the same name starring Emilia Clark and Henry Golding?
17 – What is the name of the 1965 animated Christmas special by Peanuts Creator Charles Schulz?
18 – What Dr. Seuss character tries to steal Christmas?
19 – In the movie, "The Polar Express," Santa gives a boy the first gift of Christmas. What is it?
20 – Who impersonates Santa Claus in "A Nightmare Before Christmas?"
21 – Which famous midtown location in New York City is the spot of the annual Christmas Tree lighting?
22 – In the song, "Deck the Halls," we sing, "Deck the Halls with…"
23 – In the movie, "Family Man" Nicolas Cage's character wakes up as a dad with a family in what state after running into an angel in a NYC convenience store?
24 – "Twas the Night Before Christmas and all through the house, Not a creature was stirring, not even a…" (name the creature)
25 – In what country did the tradition for the modern day Christmas tree originate?
Christmas Trivia Answers
1 – Singing loud for all to hear
2- Her uncle or godfather
3 – Clarence
4 – Mistletoe
5- Charles Dickens
6 – Dasher, Dancer, Prancer, Vixen, Comet, Cupid, Dunder (variously spelled Donder and Donner) and Blixem (variously spelled Blixen and Blitzen)
7 – Fruitcake
8 – Coal
9 – A House
10 – Russia
11- Jimmy Stewart
12- Kris Kringle or Saint Nick
13 – Ebenezer
14 – White Christmas
15- Paris
16 – Last Christmas
17 – "A Charlie Brown Christmas"
18 – The Grinch
19 – A bell from the reindeers' reins
20 – Jack Skellington, the Pumpkin King
21- Rockefeller Center
22- Boughs of Holly
23 – New Jersey
24 – Mouse
25 – Germany
Christmas Trivia Games
These trivia questions can be a fun addition to a family holiday game night or for a holiday party. Participants can answer the questions individually or in teams.
White Elephant Game
If you'd like to use these questions in a White Elephant party, guests can draw numbers between 1 and 25. The guest would then have to answer that trivia question correctly to draw a prize.
A white elephant party is where each guest brings a wrapped gift. Participants have the opportunity to pick one of the wrapped gifts. You can opt whether or not to let guests pick a particular gift as their gift or not after another guest has already chosen it.
If a guest chooses a gift that has already been chosen, the person whose gift was snagged or stolen can choose an alternate gift. The gifts are unwrapped after all guests have a gift. Check out these White Elephant Rules for variations on the game.
I am hoping to have a family white elephant party with my husband and kids this year as a new family holiday tradition. I was thinking we could either make gifts for the party or purchase inexpensive things like chocolate or holiday ornaments, etc.
You are invited to the Inlinkz link party!
MEET OUR GIVEAWAY SPONSORS WHO HAVE GENEROUSLY DONATED FABULOUS PRIZES FOR THE BIG CHRISTMAS GIVEAWAY!
DecoArt winner will receive a prize package valued at $100!
Dixie Crystals/Imperial Sugar winner will receive a Keurig Coffee Maker valued at $100!
Oriental Trading winner will receive an OrientalTrading.com gift card valued at $200!
Cabot Cheese winner will receive a gift basket of Cabot products valued at $75!
Burlap Fabric winner will receive a prize pack of products valued at $50!
Zulay Kitchens winner will receive one Milk Frother and a Lemon Squeezer valued at $21
It's Home To You winner will receive one wooden Santa sign valued at $65
Giveaway begins Nov. 8, 2019 and ends Dec. 6, 2019. Winners will be notified by December 13, 2019. Sponsors will ship each prize to the winner. There will be a total of six winners, one for each prize. Drawing is by random selection using the Rafflecopter widget.
Must be 18 to win. Open to U.S. residents only.
Stop back on Wednesday to see ideas for DIY Christmas Advent Calendars!