*This post includes Amazon affiliate links for your convenience.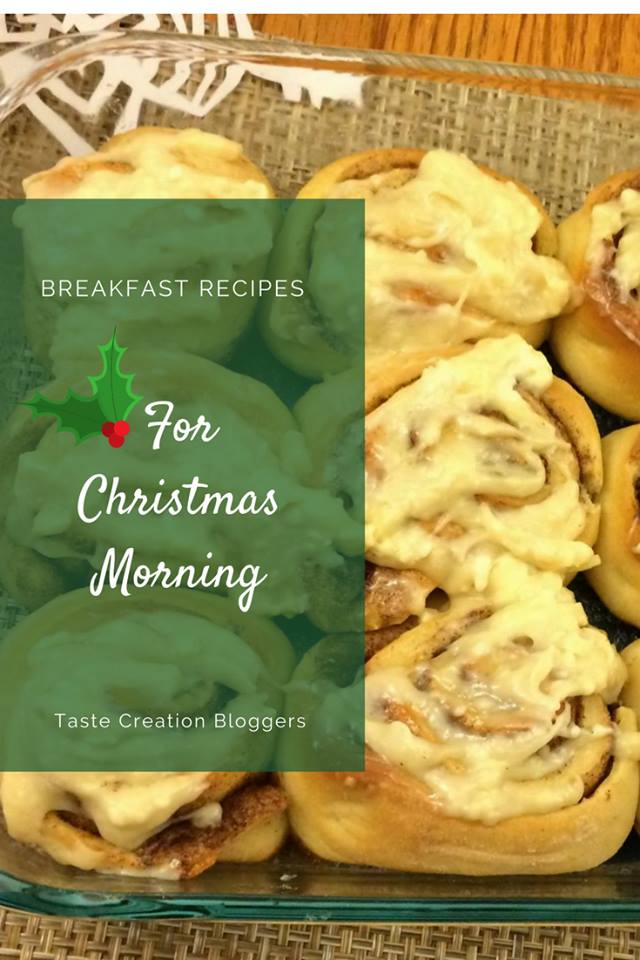 Happy Monday, everyone! Today, my blogging friends and I are sharing recipes for Christmas morning! My blogging friends and I get together the first Monday of the month to share recipes. For my recipe, I'm sharing how to make homemade cinnamon rolls. I usually get the kind of cinnamon rolls that come out of a can, but this year, I'm making my own! My daughters love these homemade, gooey cinnamon rolls. My friends are also sharing their Christmas morning recipes, so check out the links to their recipes at the bottom of this post.

Homemade Cinnamon Rolls Recipe
These cinnamon rolls take more commitment than buying pre-made cinnamon roll dough from the grocery store. They are so worth it, though! They taste so good, are sweet and gooey — and they just require a few simple ingredients, many of which I already had in my pantry.
I made these cinnamon rolls in an afternoon. All in all, it, the rolls took more than 3 hours to make, with the preparation, waiting for the dough to rise, and baking. They'd be easy to make while wrapping gifts Christmas Eve. The rolls reheat well, so they can be baked Christmas Eve and heated up Christmas morning. (We heated ours up at about 250 degrees for a few minutes in the toaster oven.) My family and I love to enjoy cinnamon rolls after opening our gifts Christmas morning.
The day I made these rolls I spent HOURS on the phone with a technician trying (unsuccessfully) to figure out what was wrong with my new laptop. (That laptop is being returned.) The tech hung up on me while new software was downloading, so I worked on the recipe in between dealing with my computer problems. The recipe isn't at all hard, but it takes a little time. If you are willing to put in the time, these rolls are totally worth it!
I got my cinnamon rolls recipe from Natasha's Kitchen. Natasha makes the rolls and keeps them refrigerated (before baking) up to 18 hours for her make-ahead method. The next day, she takes them out of the fridge and lets them rise for 1-1.5 hours at room temp (or in a warm oven 35 minutes) before baking. I've found that the rolls taste fine if you completely bake them the day before and heat them up the next day.
Cinnamon Roll Ingredients
1 cup warm milk (not hot)
1/2 Tbsp active dry yeast
4 Tbsp granulated sugar
3 cups + 2 to 4 Tbsp all-purpose flour
1 large egg, room temp
2 Tbsp unsalted butter, melted (1 Tbsp for batter and 1 Tbsp to grease pans)
1/2 tsp salt
Cinnamon Roll Filling
7 Tbsp unsalted butter, softened (6 Tbsp for filling and 1 Tbsp to brush tops)
1/4 cup granulated sugar
1 Tbsp ground cinnamon
Cream Cheese Icing
4 Tbsp unsalted butter, softened
4 oz cream cheese, softened
1/2 Tbsp vanilla extract
1 cup confectioners (powdered) sugar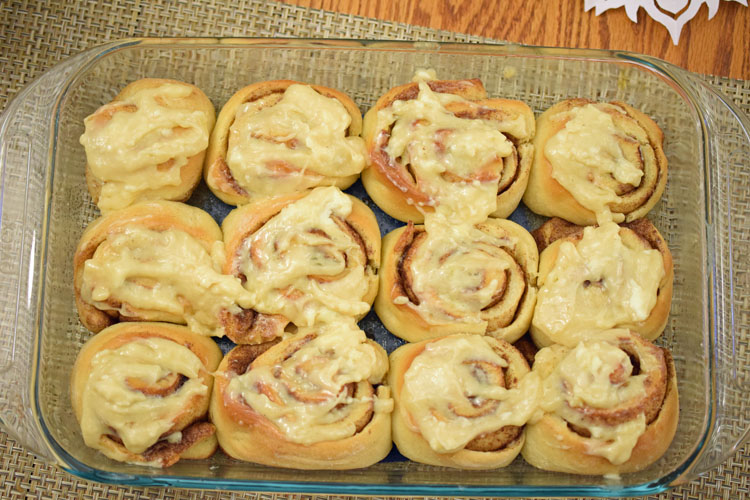 How to Make Homemade Cinnamon Rolls
Measure 1 cup milk in a liquid measuring cup
. Pour 1 cup warm milk in the bowl of an electric stand mixer
. Sprinkle the milk with 1/2 Tbsp yeast. Let the milk/yeast combination sit uncovered for 7 minutes at room temperature. Use dry measuring cups and measuring spoons
to add 1/2 cup flour and 2 Tbsp sugar. Mix until blended. Cover the bowl with plastic wrap and let the mixture rise at room temperature for 35-45 min (or in a 100-degree Fahreinheit oven for 25 min). The mixture will look puffy.
Mix in 1 egg, the remaining 2 Tbsp sugar, 1 Tbsp melted butter and 1/2 tsp salt.
Using a dough hook
on speed 2, add the remaining 2 1/2 cups flour (1/2 cup at a time) . Add more flour 1 Tbsp at a time until the dough no longer sticks to your fingertips or the walls of the bowl as it mixes. Cover the dough with plastic wrap and let the dough rise at room temp 2 hours (or in a 100-degree Fahreinheit oven for 1 hr). The dough should double in size.
Generously dust flour over a cutting board
or clean work surface and place dough in the center. Sprinkle dough with flour (just enough to keep the rolling pin
from sticking) and roll the dough into an approximately 17-inch x 10-inch rectangle. Dot the top of dough with 6 Tbsp softened butter. Spring the butter out gently with a spatula
.
Stir together 1/4 cup sugar and 1 Tbsp cinnamon in a large mixing bowl
and sprinkle all of it evenly over the buttered dough. Roll the dough up starting with one of the longer sides. Make the roll tight. When you have the doll rolled up, push the ends in slightly to make them a little more uniform. Slice the dough into 12 equal-sized cinnamon rolls. (I used a serrated knife
.)
Butter the sides and the bottom of a 9×13 baking dish
with 1 Tbsp butter and evenly space cinnamon rolls in pan, cut-side down.
Brush the top of the rolls with 1 Tbsp melted butter and bake at 350- degrees Fahreinheit for 22-24 mins or until the tops of the rolls are light golden brown. Let the rolls cool in pan 15 minutes. Frost the warm buns with the cream cheese glaze (instructions below). Enjoy!
How to Make Cream Cheese Icing
With an electric stand mixer, cream together 4 Tbsp softened butter and 4 oz soft cream cheese. Beat on medium speed until the mixture is creamy and smooth. Beat in 1/2 Tbsp vanilla then add 1 cup powered sugar and continue mixing until fluffy (3-4 min), scraping down the bowl as needed with a spatula.
Thanks again to Natasha of Natasha's kitchen for this delicious cinnamon rolls recipe!
Don't forget to check out my friends' delicious Christmas morning recipes below!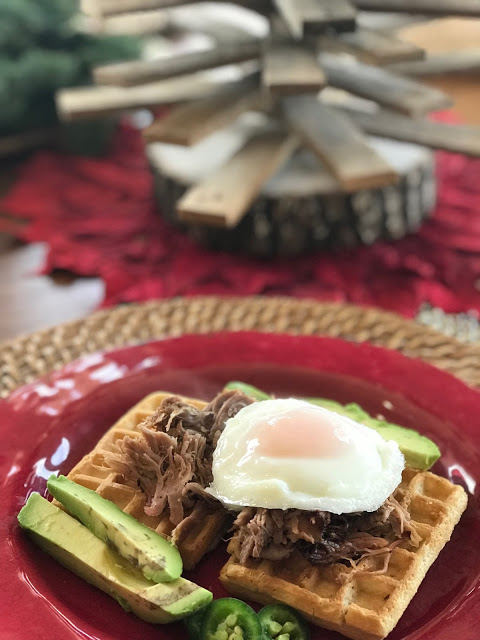 Our Good Life – Savory waffles with pork verde