This post contains Amazon affiliate links.
Welcome to 12 Months of Wreaths – April!
Follow your Hosts and Co-Hosts:
Carrie Curly Crafty Mom Blog | Facebook | Pinterest | Instagram | Twitter | Bloglovin'
Lauren at Mom Home Guide Blog | Facebook | Pinterest | Instagram | Twitter | Bloglovin'
Bethany at The Southern Couture Blog | Facebook | Pinterest | Instagram | Twitter | Google+ | Bloglovin'
April Flowers Burlap Wreath
For March, I decided to make an April flowers burlap wreath. This month I have been seeing flowers bloom everywhere, and I am so excited! Buds have been blooming on trees. In my garden, there are now daffodils and tulips. It's so wonderful to see flowers again after a long, cold winter!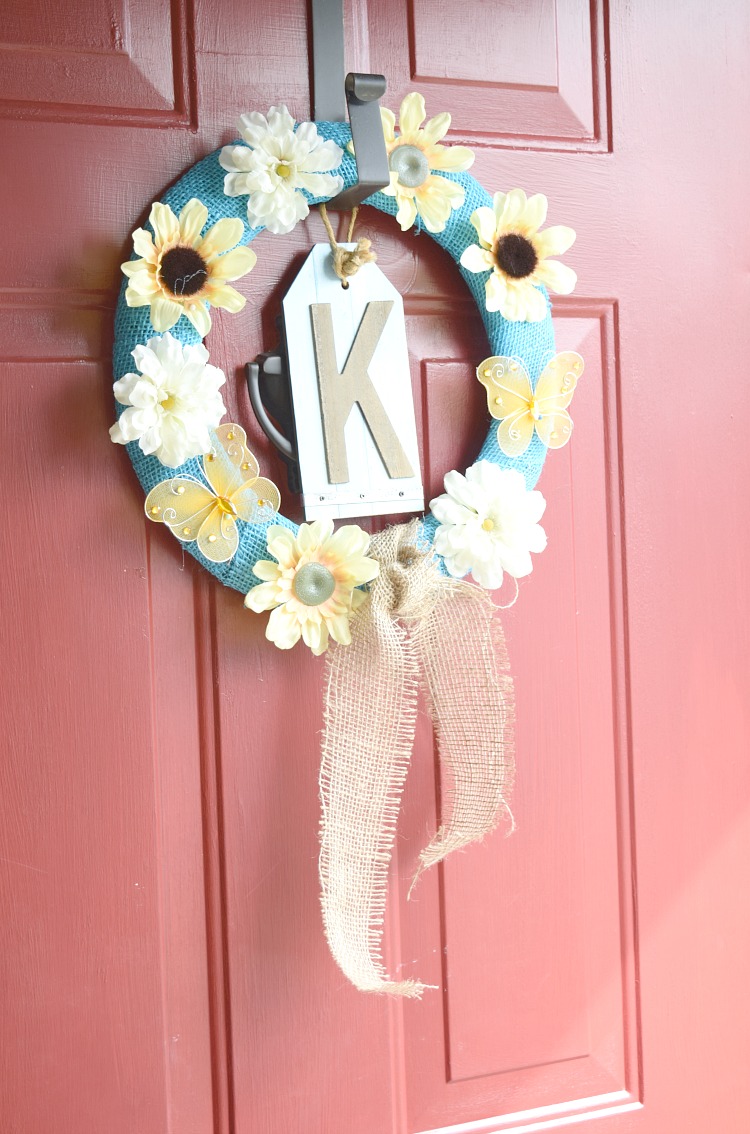 For my April flowers wreath, I bought a few rolls of simple blue burlap ribbon and used some materials from wreaths that I created for previous months.
Wire Wreath Form
(I used my metal wreath form, but kept the burlap on.)
Straight Pins

Scissors

Burlap Ribbon
(I used natural and blue burlap)
Faux Flowers

Nylon Butterflies
To make my burlap wreath, I simply wrapped a metal wreath form in blue burlap ribbon, pinning the ribbon together in the back with a few straight pins.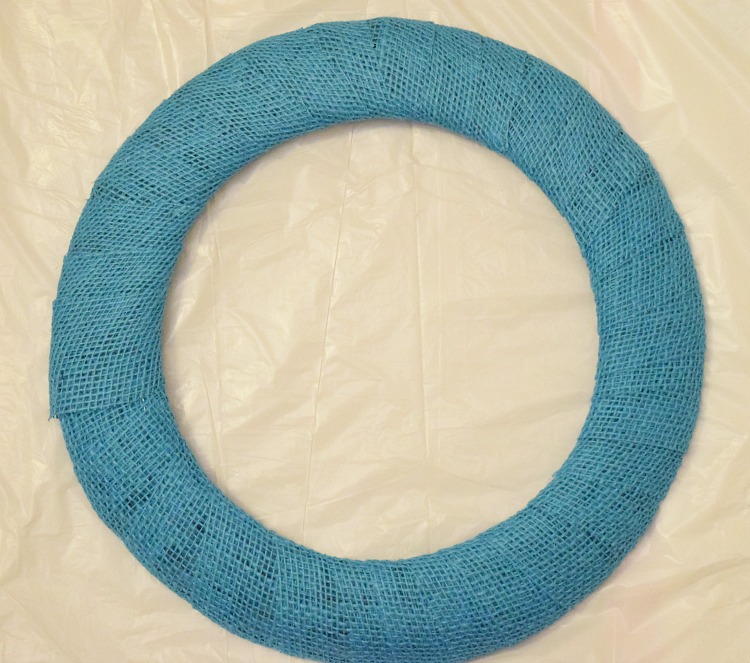 I snipped the faux flowers off their stems. I placed the flowers on the burlap wreath, poking the tips of their remaining stems into the burlap. I pinned the flowers on with straight pins, carefully hiding the pins under the flower petals. I added two craft butterflies that I found at the dollar store. Once the flowers were pinned on, I tied on a simple bow in natural burlap ribbon.
I love the way the yellow flowers and butterflies look against the bright blue burlap ribbon on my new burlap wreath.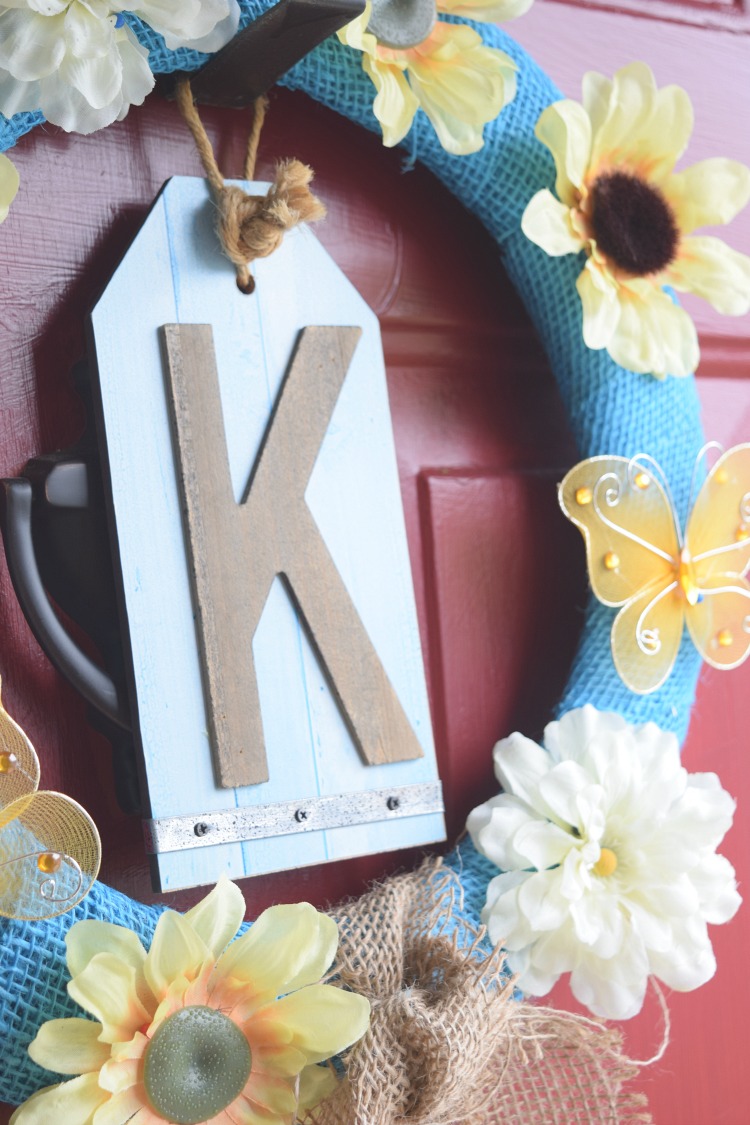 In the center of my burlap wreath is a blue and copper monogram that I picked up at a craft store a few months ago. The monogram has been hanging on my door ever since. I should look into getting a new "K" monogram, but I am quite attached to this one. (If it ain't broke, don't fix it, I always say!)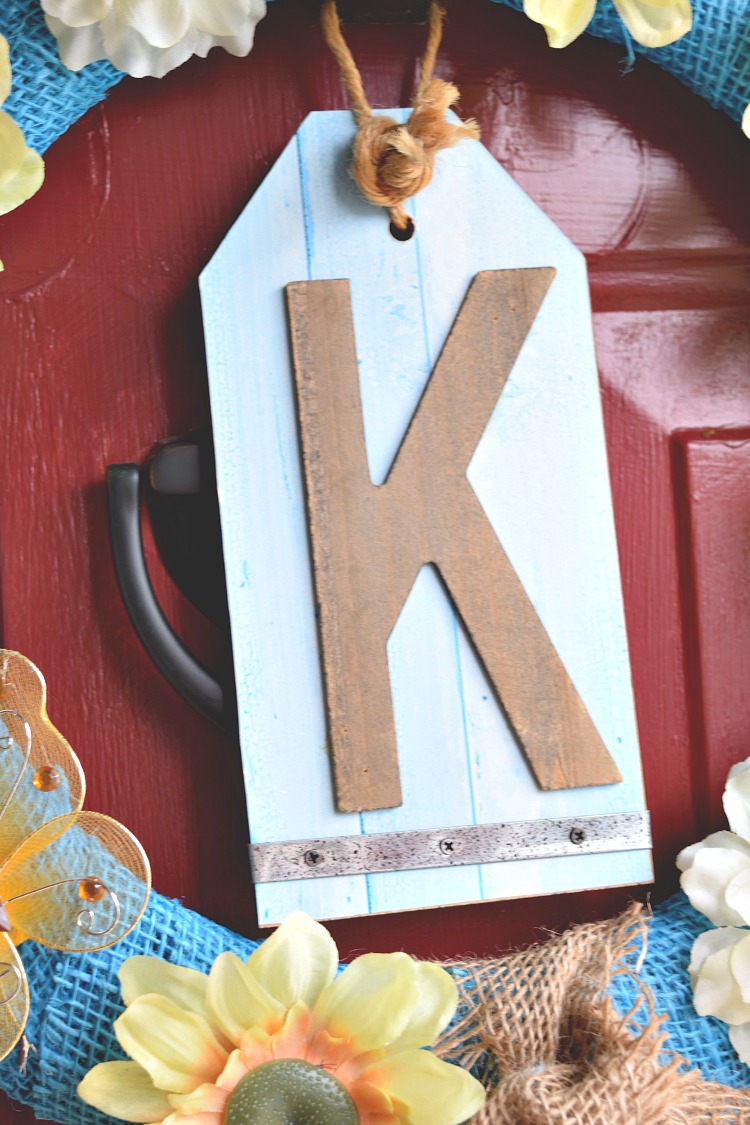 In all, this burlap wreath only took my minutes to make, and the only new material I used were two rolls of blue burlap ribbon.
It's lucky that this wreath was quick to put together because I only had a few minutes on Friday to snap photos of the wreath before heading out the door for a fun day in New Jersey and New York State with my husband and kids. I'll be sharing more about our day trip, and the great places we visited, later!
(Hint: We got up close to the George Washington Bridge, had some great Japanese food while enjoying views of the New York City skyline and the Hudson River, and stopped for some tasty Korean food on the way home. We also walked for about 90 minutes on a jetty that juts into the Hudson River.)
Be sure to stop by my friends' blogs to see photos of their wreaths and to see their tutorials!
Curly Crafty Mom – Simple Spring Wreath on Burlap Wrapped Embroidery Hoop
The Southern Couture – Mother's Day with a Heart Shaped Photo Wreath
Thanks again for joining us! We will be sharing a new wreath once a month in 2017!

Are you interested in sharing a wreath with us one (or more) months? We are accepting guest hosts! Email carrie (at) curlycraftymom (dot) com if you are interested!