This post contains Amazon affiliate links. If you click on an Amazon link and make a purchase, I will earn a small commission that helps to keep this blog running. Thank you!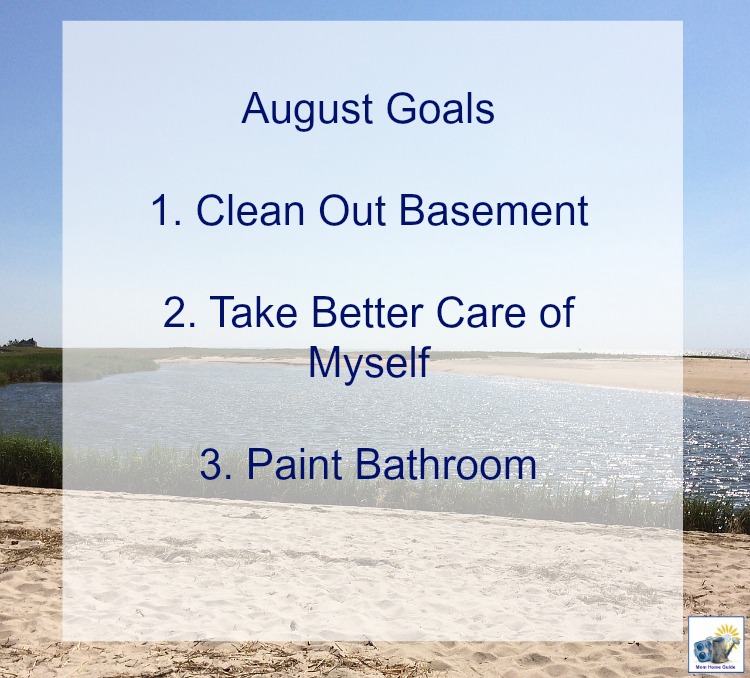 My friend, Carrie at Curly Crafty Mom, got me started on setting small, personal goals each month. Setting these small goals for myself really help to get things done! I set goals for July, but I have to admit that with a two-week family summer vacation, and with my kids out of school for the summer, I didn't get that much done. But, I did make some progress on my goals. Because I know I will be busy this month with my kids at home, I will make my goals smaller (and easier to accomplish) this month.
August Goals
Clean Out Basement
One of my goals for July was to create a basement game room. I made some progress on that goal — I ordered a beautiful new JOOLA Inside Table Tennis Table with Net Set
and a Kettler Advantage 4-Player Table Tennis Set
from Amazon for the basement. I also managed to clean out the basement just enough to fit the ping pong table in there and have a playing space. I also finally replaced the burnt-out overhead light bulbs in the back half of the basement, so we have some light in there! My kids and I have been enjoying playing ping pong together.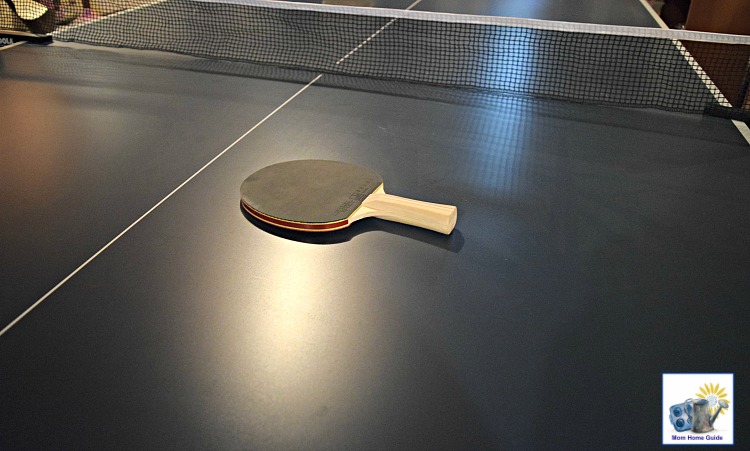 My daughters are in camp this week, so for one of my August goals, I hope to clean out the basement some more to make it into more of a fun hangout space. Now that my kids are teens, they really can use a place where they can spend time with their friends.
2. Take Better Care of Myself
With the school year coming up soon, I need to start taking better care of myself while I can. During the school year, I often manage on 5 hours of sleep or less. I stay up late at night, but then I'm up by 6:30 a.m. to prepare my kids' breakfast. I hope to change that this year and get more sleep! In the meantime, while it's still summer, I want to work on improving my health. I had bunion surgery last summer, and my foot hasn't quite healed yet and is often swollen. I plan to elevate and ice my foot now and then to help my foot complete the healing process. I also want o take the supplements my doctor has recommended (but I haven't been taking), and I plan to exercise more! I even bought myself a jump rope.
3. Paint Bathroom I didn't makeover my master bathroom in July. I didn't even get the project started! This month, I hope to at least use the wall stencil that I ordered for the master bathroom, and paint a feature wall for the bathroom.
How I Did on My July Goals
The below photo shows what I hoped to achieve in July.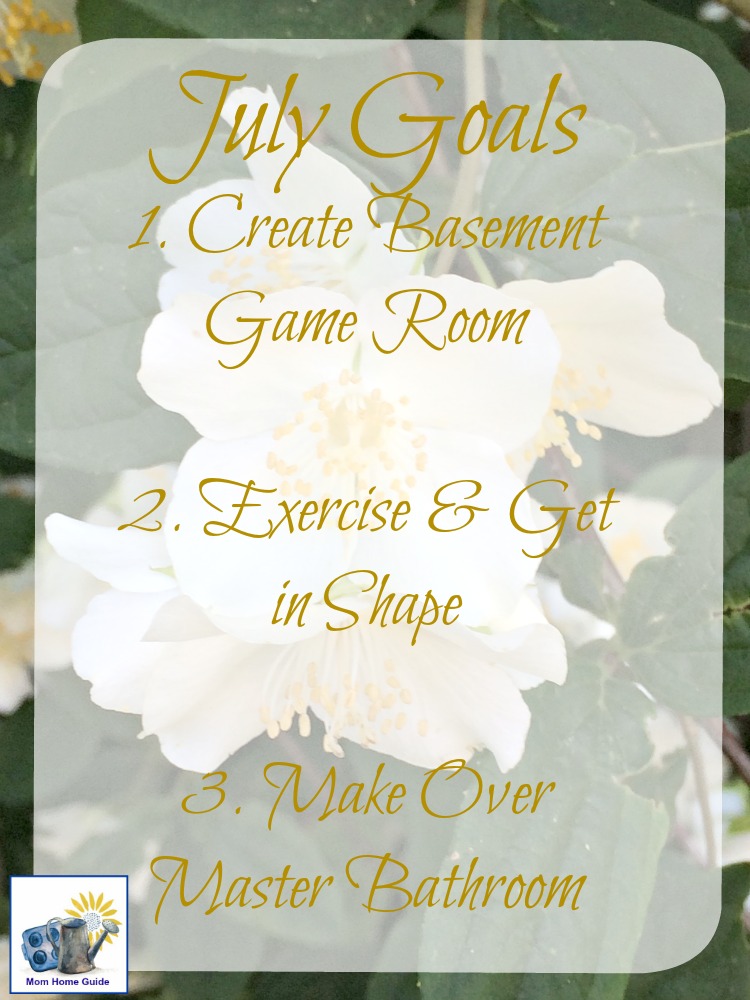 As I mentioned, I did manage to clear out enough space in the basement to make room for a ping pong table. But there's still lots to do to get the basement in shape!
I gained at least 2 pounds in July — it looks like I enjoyed the seafood (especially the broiled scallops!) in Cape Cod too much! But at least, I got some walking and some hiking (e.g., through beautiful marshland and beaches on Cape Cod) in. But, I didn't exactly get in shape last month. I will continue to work on this goal.
Again, I didn't give my home's master bathroom a new look in July. I will continue working on that goal, too!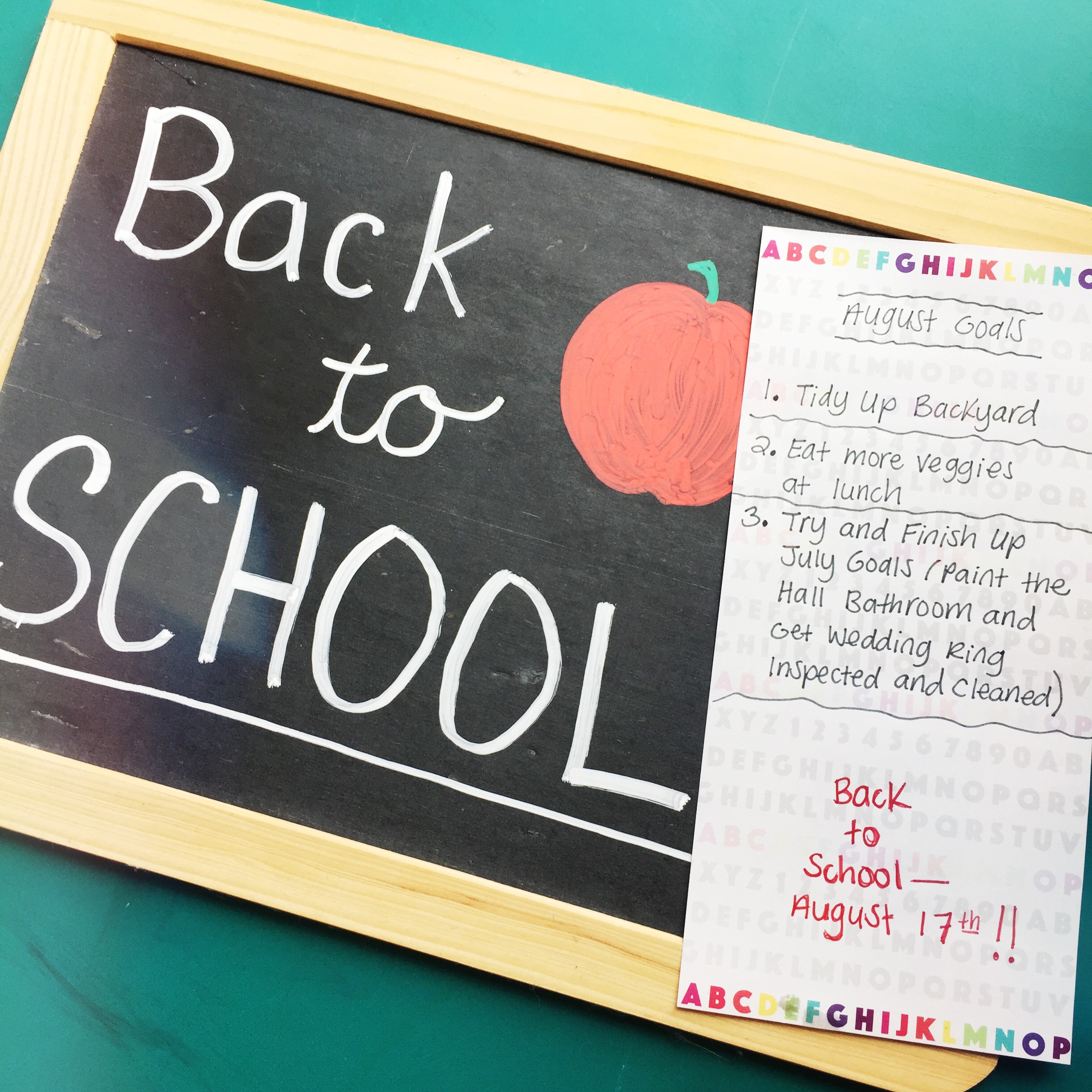 My friend, Carrie, is sharing her August goals, too! Be sure to check out Carrie's August goals at Curly Crafty Mom! She's also running a really fun linky party today, if you'd like to link up your recipe, craft or project!
Do you sent monthly goals for yourself? If so, please share them in the comments!