Create a beautiful and useful DIY wall face mask storage rack for this fall in minutes with pretty chair rail molding and easy to install and sturdy coat hooks.
Thanks to Jack N Drill for supplying the coat hooks used in this post. A thank you also goes to ColorShot for providing me with the spray paint used in this tutorial. This post contains Amazon affiliate links for your shopping convenience. All opinions expressed in this post are my own.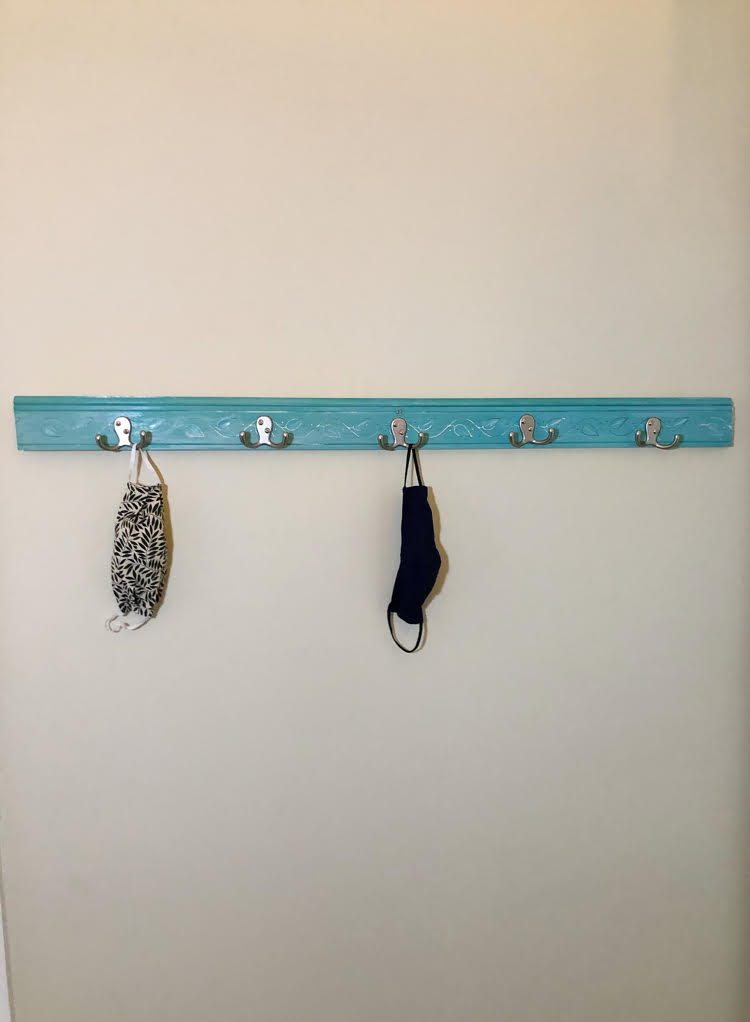 It's time for the August Pin Challenge! The purpose of the Pinterest challenge is to motivate us to not just pin, but to make it happen! This month's theme is fall projects. I chose this DIY face mask rack pin as my inspiration. Since the pandemic didn't disappear this summer, it is imperative to have a place to store masks. So, I created a DIY face mask rack where we can store clean face masks and grab them before heading out the door this fall.
DIY Face Mask Rack Supplies
Jack N' Drill 6 Pack Double Coat Hooks
(screws included)
3-4 Feet of Embossed Ivy Chair Rail Moulding (mine is 42″ long)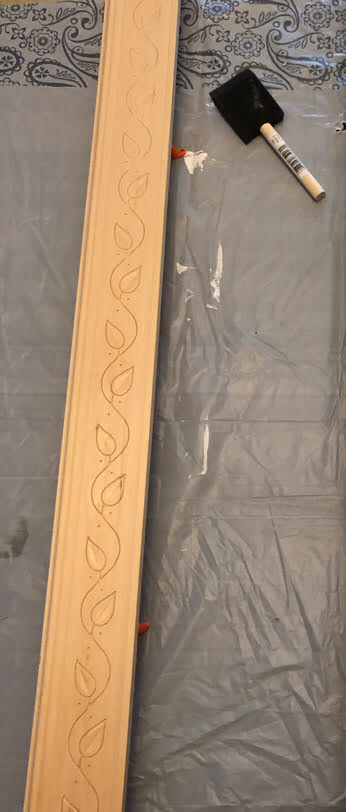 Screwdriver
Cordless Drill
Wood Screws
Colorshot Island Girl Spray Paint (available at Home Depot)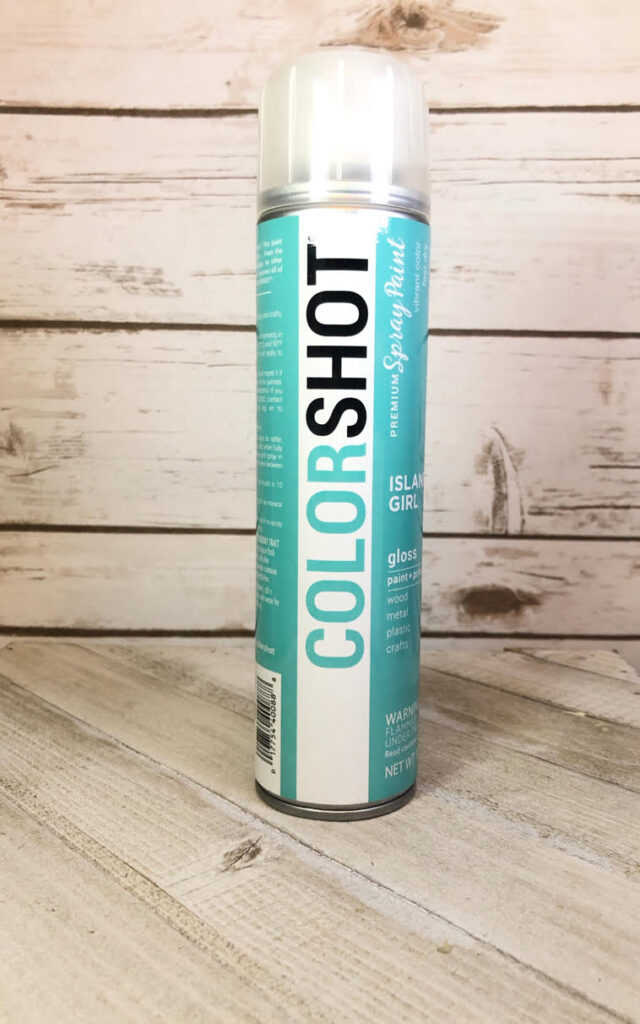 Americana Décor Acrylic Chalky Finish Paint: Everlasting White, 8 oz
Pencil
DIY Face Mask Rack Instructions
This project was super easy and fun to complete. I was able to finish this project in an afternoon.
The first thing I did was spray paint a 42″ piece of chair rail moulding. The piece of moulding I used has a beautiful embossed ivy pattern on it. The moulding was left over from my DIY bathroom mirror frame project from just over a year ago.
I used Colorshot spray paint in Island Girl. (I love using spray paint – check out my DIY spray painted corn hole boards – a project I completed a few weeks ago.)
I found that the UV-resistant Colorshot spray paint covers quickly and is dry to the touch in about 10 minutes. I love that the propellant for the spray paint is made from sugar cane instead of petroleum. The color I used, Island Girl, is a super appealing blue-green color. (My fave!) I like that the spray paint provides a beautiful gloss finish to my project.
Once the spray paint was dry, I moved on to the next step. I spread Americana Décor Acrylic Chalky Finish Paint: Everlasting White over the ivy embossed portion of the molding, so the chalk paint would go into the crevices of the design. I used a wet paper towel to immediately wipe the paint off the flat surface of the moulding, so the paint would only remain in the engraved part of the design. I like how the white chalk paint brings out the ivy design on the length of chair rail molding.
Next, I used the ivy design on the piece of now painted chair molding to determine where the coat hooks should go. You could also use a yardstick or ruler to measure out how to place your coat hooks.
Using a cordless drill, I drilled holes for each of my 5 Jack N' Drill Double Coat Hooks. The hooks I used are study, have a nice look to them, and well made.
I used a pencil to mark where to drill the two screw holes needed for each hook.
I then used my drill to drill in the 10 holes needed to screw in all double coat hooks (each hook takes two screws).
Since the molding is fairly thin, I used a regular hand screwdriver to screw in the 10 screws.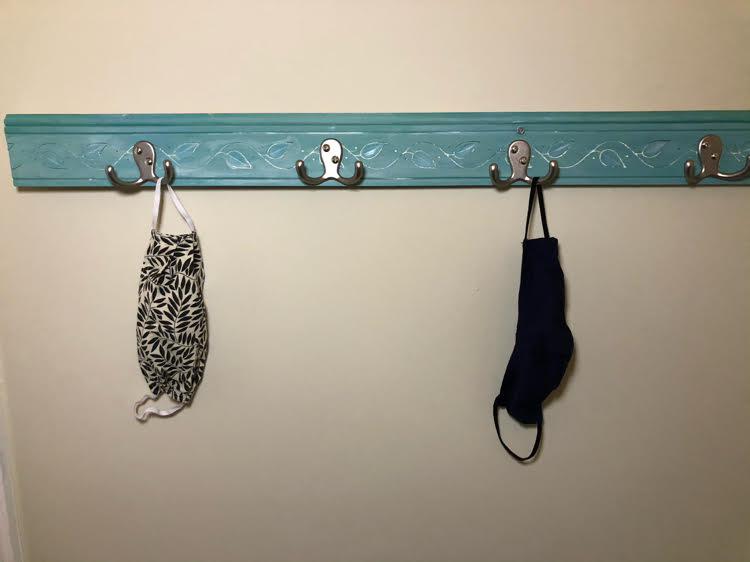 Then, all that was left to do was hang my DIY face mask rack! I was able to screw my coat rack into a stud behind the center of the coat rack, right by the door. I also screwed the coat rack to the wall on each end. (Again, I used a regular screwdriver – not a power one. I still need to try the screwdriver bits on my cordless drill. lol)
I love the usefulness of my DIY face mask rack, and I adore the color, too! This was a really satisfying afternoon project.
For more Pinterest-inspired projects from this month's Pinterest Challenge hosts, check out the links below.
My Pinterventures • Cookies Coffee and Crafts
Farm Girl Reformed • Slices of Life
Decorate and More with Tip • Purple Hues and Me
Life Beyond Kitchen • Mom Home Guide
• Our Good Life
Pretty DIY Home • Elle Marie Home • Create with Cynthia
Check out my friend's projects!