My sister got married this month! Last month, I threw her a bridal shower at my home. The shower was way bigger than what I originally planned on throwing, with more than 40 guests. My home is not that large, so I was lucky that the weather was good. In fact, the weather was PERFECT! It was slightly cloudy outside and in the 70s, even though it was June. Many of the guests remarked how much they loved the backyard and the weather.
My sister's then soon-to-be sister-in-law and niece-in-law were a HUGE help and helped provide the food for the party and helped set up the day of the party. They provided everything from bruschetta to pasta fagioli to Italian cookies and coffee. I made simple tea sandwiches (chicken salad, egg salad, and cream cheese and olives) and created two fun wedding dress-shaped platters of cupcakes for dessert — I got the idea for the cupcakes from Pinterest! Surprisingly, the cream cheese and olive sandwiches were a BIG hit! (Cream cheese and olive sandwiches are a family favorite — but I wasn't sure if other people would like them, too.) My sister's other bridesmaids chipped in as well, bringing appetizers, drinks and decorations.
Putting the platter of cupcakes together was a challenge — none of my platters at home were the right size to hold a wedding dress shape. It turns out a rectangular-shaped platter is necessary to make a wedding dress platter of cupcakes. I was able to find two beautiful turquoise rectangular platters at Walmart. I love them!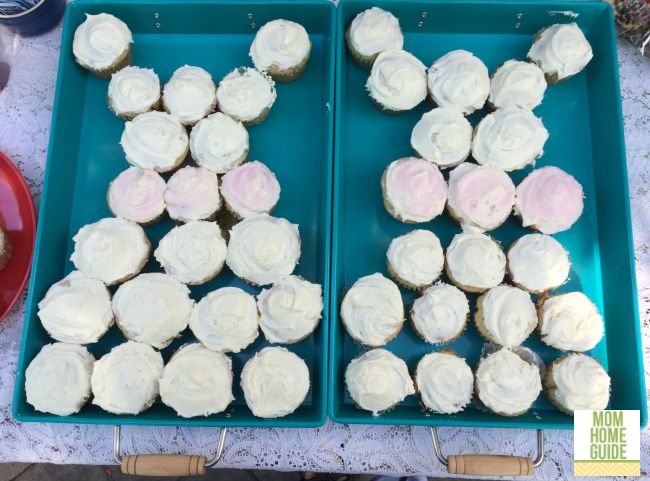 Backyard Wedding Shower
Hosting a backyard wedding shower is an ideal way to go. Since you aren't paying for a catering hall or locale, you can host a pretty nice party at a savings. Plus, it's always nice to be outdoors on a pretty day! Also, you can have more time when you host a backyard shower — my sister's shower lasted for 4-5 hours! Hosting a shower at home gives guests and the bride-to-be more time to enjoy each other's company.
I was able to pull together seating for 40-plus people by using the two patio sets I already had, and by bringing in some folding tables and chairs. My guests were surprised at how much seating I had!
My sister's now sister-in-law provided a really nice folding table and lace tablecloth for our buffet table — the table fit all our food quite nicely! (You can see all the lovely packages of Italian cookies in the photo!)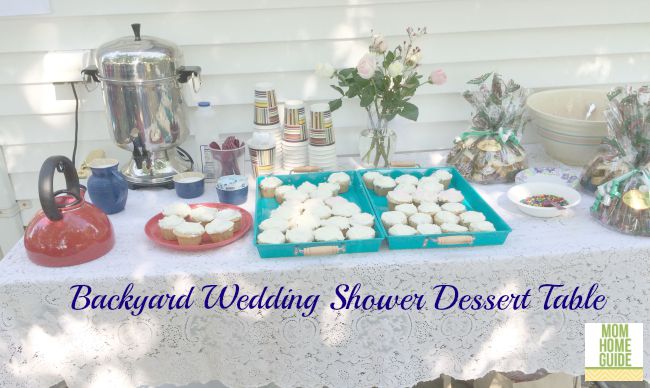 My DIY beverage cart came in handy during the wedding shower! It gave us extra room to put out ice, cups and beverage selections for the guests!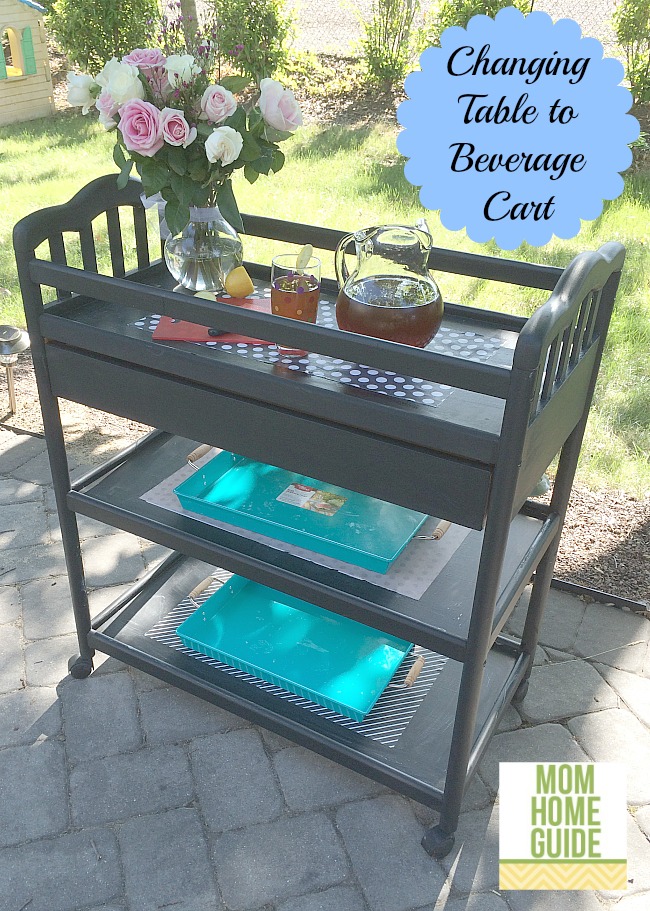 This is what the beverage cart looked during the height of the party!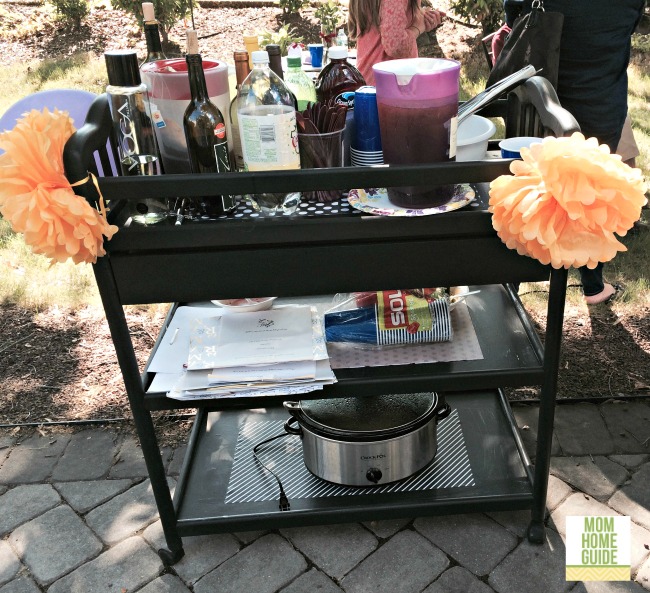 Bridal Shower Menu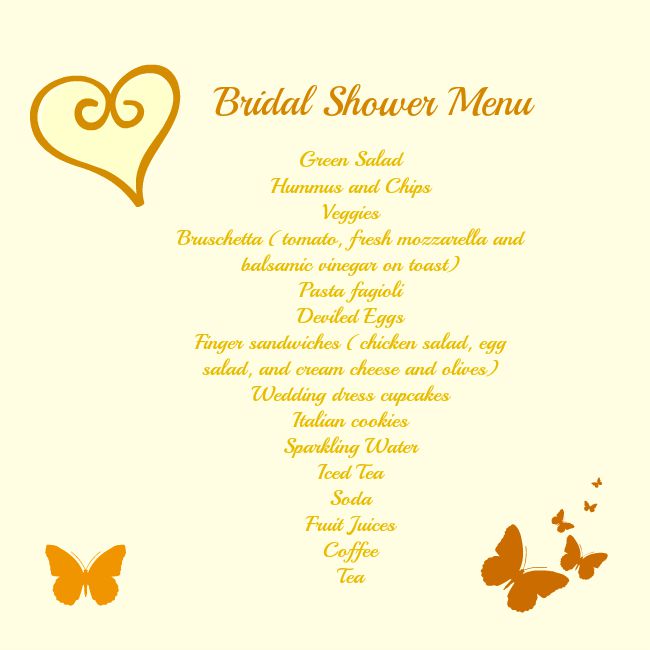 I worked with my sister's bridesmaids to create a menu for my sister's bridal shower, with every bridesmaid contributing something. It was a pretty simple menu, but I think it worked out well. This is what we served:
Bridal Shower Menu
Green Salad
Hummus and Chips
Veggies
Bruschetta (tomato, fresh mozzarella and balsamic vinegar on toast)
Pasta fagioli 
Deviled Eggs
Finger sandwiches (chicken salad, egg salad, and cream cheese and olives)
Wedding dress cupcakes
Italian cookies
Sparkling Water
Iced Tea
Soda
Fruit Juices
Coffee
Tea
Bridal Shower Party Games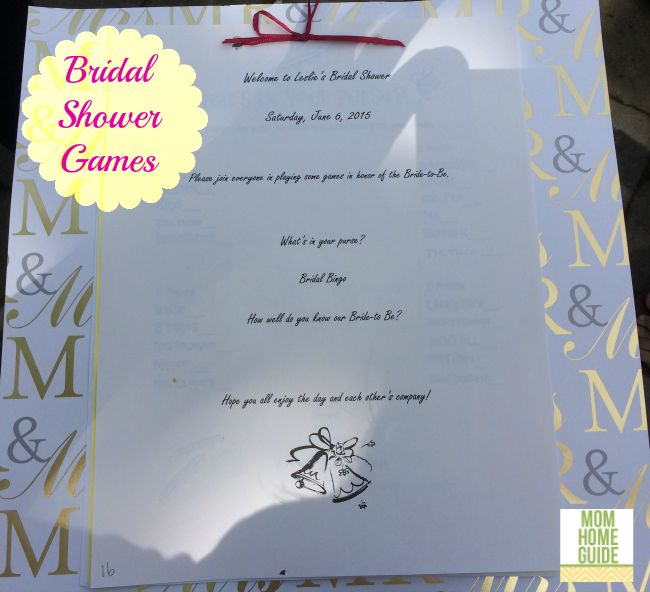 The groom's sister created a really nice assortment of bridal shower party games for everyone to play! She even printed out the games on a pretty ensemble of scrapbook paper. My twin tweens had fun running the games! These are the games we played:
What's in Your Purse?
In this game, the host of the game reads off items that can be found in a purse. (Lipstick, mints, a photo of the bride-to-be, a mirror, etc.) You get points for each item in your purse. The guest with the most points wins a prize.
Bridal Bingo
For this game, there are bingo boards with bridal words on it, like bouquet, ring, wedding dress, etc. The host of the game calls out the bingo words, and the guest who gets five bingo words in a row on their board first wins.
How Well Do You Know Our Bride to Be?
With this game, each game has a game sheet with questions about the bride to be, like, how they met, where their first date was, how the groom to be proposed, etc. The guest who answers the most questions correctly, wins.
Easy Bridal Shower Favors
I was also able to pull together some really cute and simple DIY potpourri sachets together for the bridal shower to give away as favors. I stitched more than 40 of them! You can find the tutorial for these cute potpourri sachets here.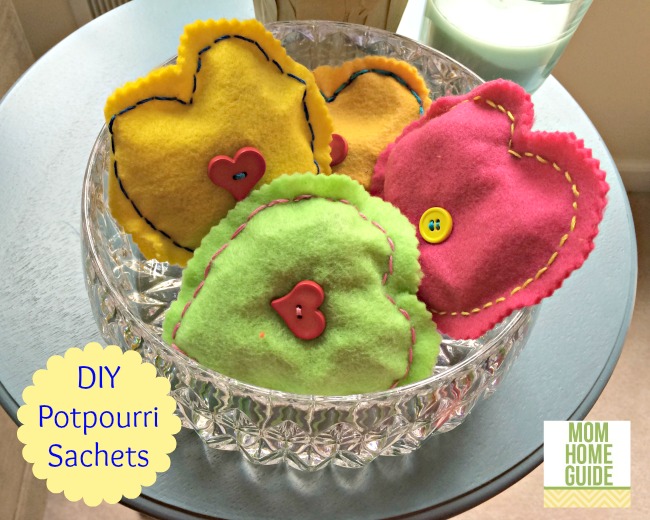 In all, I think everyone had fun at the party. I was so happy when the party was complete and my twin tween girls and I could relax! We spent weeks preparing for that party!
This post has been shared at the Creative Corner Link Up Party!