*This post contains affiliate links.
I still haven't gotten around to clearing out my home's basement (or at least, moving all the junk to just one area of the basement), but I am excited about new DIY finishing a basement on a budget ideas that I've found online.
At the moment, my basement is mostly used for storage. My husband installed a wall of shelving in our basement for me. The shelves do a great job in containing our stuff!
My dream for the basement would be to create a fun game room for my kids, complete with a TV, ping pong table and mini fridge! I have even put my own basement wish list together!
Basement Wish List
These are items that I think would make a simple unfinished basement a usable and fun space:
RCA – IGLOO 3.2 CU FT Platinum Fridge – This fridge would be handy for storing a few cold drinks and snacks!
Large Flat-Screen TV
– With a big flat screen TV, my kids could host get togethers with their friends in our basement and watch movies together.
Ping Pong Table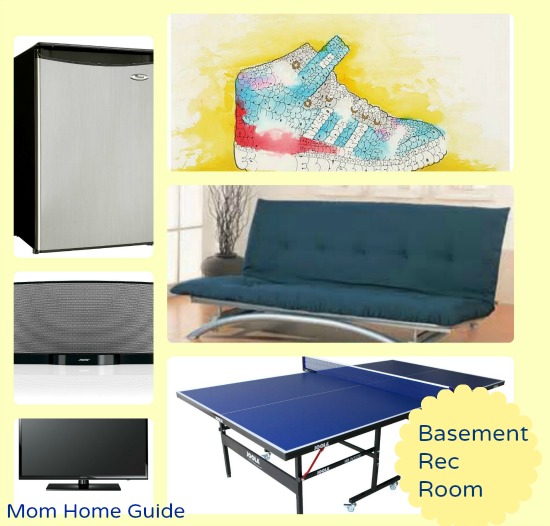 I was thinking of using Rustoleum's basement floor epoxy on the floors and a Rustoleum epoxy on the walls to finish my home's basement on a budget. I would go with either tan on the floors and walls, or gray, but I haven't been able to choose between the two.
Using the epoxy would be extremely cost effective, but it would be a time consuming process, as I would have to first carefully clean the walls and floors (so the epoxy could adhere to the service) and then apply the epoxy. Considering that I might want to turn at least half of our basement into a semi-finished space, there would be a lot of painting to do!
Recently, however, I've found great basement finishing a basement on a budget photos where the wooden ceiling is stained a dark color, the cement walls are painted, and there are faux wood/laminate on the floor. I love that look, and it really makes the basement — which is essentially, still unfinished, look homey. I like the look above with the sofa, area rug and hanging drum light.
I would love to create this finishing a basement on a budget project in my basement! I think Ikea's Ektorp love seat would look great in this space.
On Pinterest, I found some great peel and stick "plank" laminate flooring from Lumber Liquidators. At just over $1 a square foot, it would be a more expensive option than using epoxy on the floors, but it would look great! Plus, I think it would be quicker to put this flooring down than to use the epoxy..
To see some great DIY/remodeling ideas I've found for finishing a basement ona budget, check out my Unfinished Basement Ideas Pinterest board.
Have ideas on how to improve a basement on a budget? I'd love to hear from you!
You Might Also Like