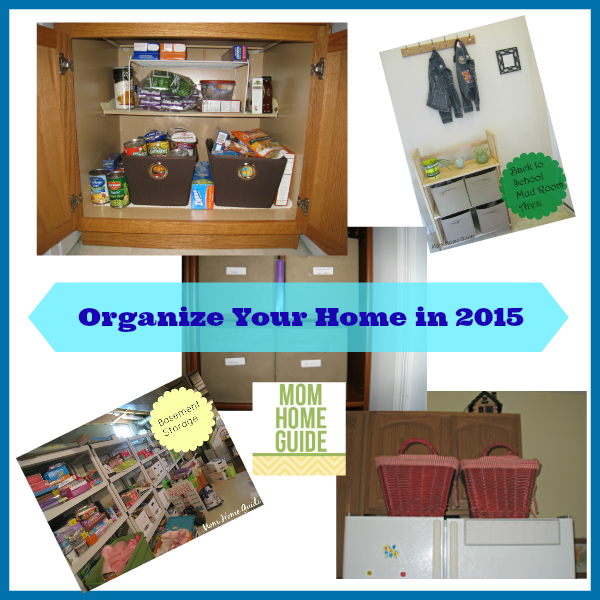 Hey, everyone! How has your weekend been? It's a rainy weekend here in New Jersey, and my family and I are feeling a little cooped up because of the weather! LOL
So, I am here blogging through the rain, and decided to share one of my top goals for 2015 — GETTING MY HOME ORGANIZED! I got a lot done over the past few months in organizing the clutter in my house, so I decided to share a few of the organizing tactics that have worked for me so far.
Organize the Basement
If your home has a basement like mine does, you are in luck! A basement is a great place to store and corral all your stuff! My family has a lot of stuff that we don't know what to do with. Luckily, my husband has put up wall-to-wall shelves in the basement to organize our belongings: Our holiday decorations, our kids' toys and my craft supplies! The shelves are great! This year, I hope to get the basement even more organized, so I can free up some space in the basement for an exercise or rec center! There is a lot of valuable real estate down in the basement that could be put to good use!

Storage Bins
I've found that bins are a great way or organize everything from books, to movies to office supplies! My home's second floor has wall to wall shelves in a second-floor hallway. The bookshelves are filled with books and movies and can look messy at times, so I use fabric bins to make the space look less cluttered. The bins also help me to organize our stuff so it's easier to find everything!
Create a Mud Room Space
If your home is small like mine, it might lack a hall coat closet or ample space to store coats, shoes and hats. So, I've created a mini mud room space in my home's front entrance area, by adding bins and shelves for shoes, a wall-mounted coat rack, a mirror for last-minute touch-ups and a clock for making sure that we get out of the door on time! It's a simple system, but it works! In 2015, I am thinking of perhaps adding some chalk paint to the shelves in the mud room area to add a dash of color!


Organized Pantry
My home doesn't have a pantry, so a large cabinet space has to serve as a pantry instead. I've found that using bins in my makeshift pantry area does wonders in keeping all the canned goods and boxed pasta, etc., neat and organized.
Use Top of Fridge Space
Because my home's kitchen doesn't have a pantry or lots of cabinet space, I've had to use the top of the fridge for more storage space. I've found that using two pretty wicker baskets really works well! In those baskets I store water bottles and extra plastic storage containers that I don't have space for elsewhere.

Stay Tuned!
I have lots of organizing projects planned for 2015, including organizing my home's linen closets, straightening up the master bedroom closet and getting the kids' rooms organized! Check back for more fun organizing tutorials!