*This post contains affiliate links from Amazon.com, but all opinions expressed here are completely my own.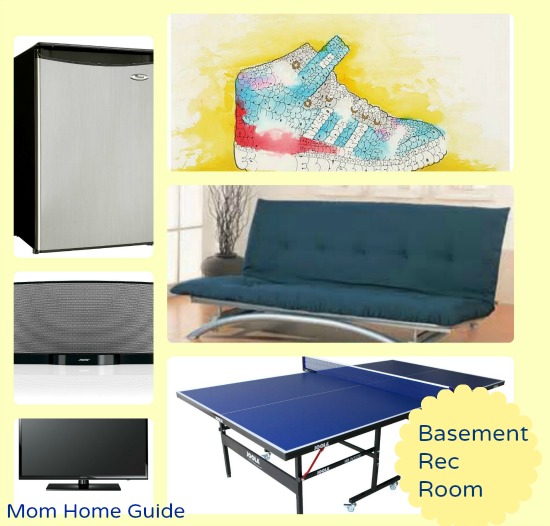 Now that my kids are tweens, I really have been wishing that I could remodel our basement into a clean and fun basement rec room. I don't know if I'll ever be able to create this dream space in my home, but I created this wish list of basement rec room must-haves anyway! I'd also love to hear what you think are essential items for a basement rec room space!
Basement Rec Room Essentials
1. Colorful Artwork. Anyone renovating an unfinished basement into a basement rec room is going to want to add color and playfulness to the space. The painting, "Urban Art," by Tajan, might be out of my budget, but I love it! I found it at Invaluable.com, an online auction marketplace of fine and decorative arts, antiques, collectibles, and estate sales. The watercolor and pencil on paper of an athletic shoe in pinks, blues and purples would be perfect for a rec room space!
2. Ping Pong Table. When I was a kid, there was nothing my dad wanted to get more for our family's unfinished basement was a ping pong table. We never got that table, but for some reason, one of my biggest wishes now is to get my family a ping pong table for our unfinished basement! I could easily envision our family spending fun family nights together playing ping pong tournaments! I think the JOOLA Inside Table Tennis Table
would be a great choice for a family basement rec room.

3. Flat-Screen TV. A flat-screen TV is a basement rec room must have for watching games, sporting events and movies together! I think an LED TV like this Samsung 39-Inch LED TV
would work just fine.
4. Futon or Sofa. A futon or sofa would be the prime spot for settling in to see a good movie! I really like the Coaster Metal Futon Frame (Silver Finish)
with a blue futon. I think the blue would add a nice splash of color to the basement space.
You Might Also Like
Related articles across the web