This post contains Amazon affiliate links.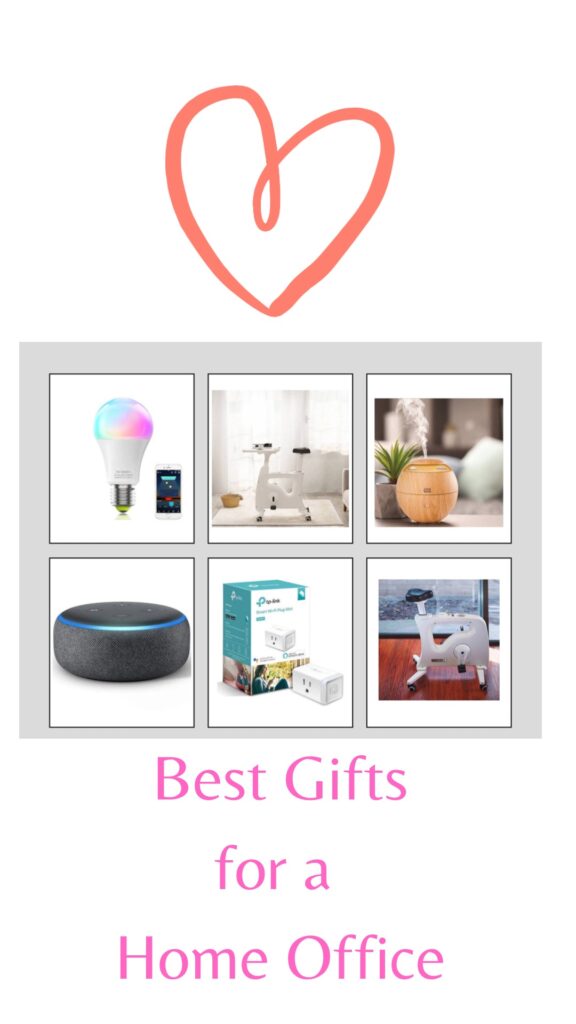 If you follow this blog, you know that I got a new job as a content writer in September. I love my new job! I set up a small spare bedroom as my home office. The bedroom was once my twins' nursery and is decorated in a Pooh Bear theme. I haven't done anything to the decor in the room because my kids' are so attached to it! But I have been adding awesome home office products that make working in my new home office so much more comfortable and fun! I have a snazzy new sit-to-stand desk and several smart-home features that I've added to the space. Check out this list of cool items to add to any home office—or to gift to your Valentine who works from home!
Kana Pro Standing Desk ($349.99) by Flexispot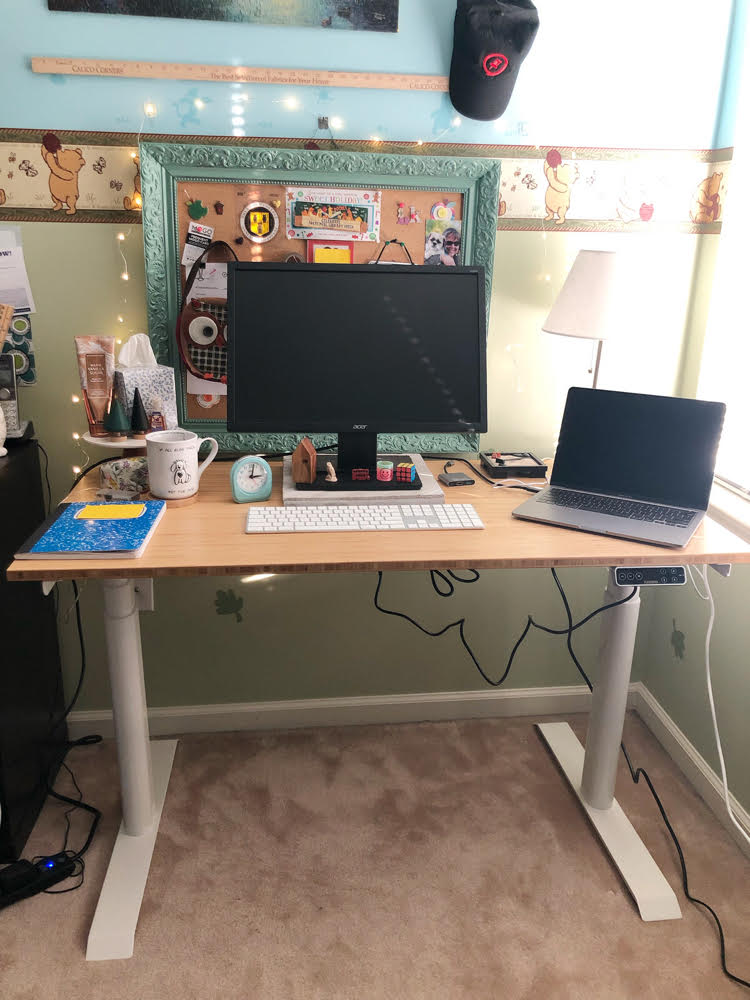 The Kano Pro Kana Pro Standing Desk ($349.99) by Flexispot is powered by a quiet motor and can go from a sitting to standing position with the push of a button. I like the simple white base and bamboo desktop. The control handset has memory functions so I can set it to remember the sitting height I prefer and the standing height I like, too, to make it easier to get the desk at the correct heights for me. The desk can get as low as 23.6 inches and can go as high as 49.2 inches. Because it goes so low, I am thinking that I can probably set it at its lowest position so I can also use a stability ball as my chair—I can work my core while I work!
The 48- x 24-inch desktop has plenty of room to hold my Macbook, Bluetooth keyboard, mouse and external monitor.
I broke my ankle last month and have been laid up/working on the couch, so I am looking forward to getting back to my home office in about two weeks!
Flexispot also makes an under the desk bike, which is the perfect accompaniment to their standing desk—this bike chair is on my wish list! The desk has an seat that can be raised or lowered, and is said to have quiet pedaling. The bike has eight resistance levels so you can adjust the difficulty of the pedaling. The bike chair also has casters, so it can be wheeled away when not in use or be moved to another room.
If you have a smaller workspace or would like an all-in-one stationary bicycle and workspace, Flexispot's All-In-One Desk Bike is perfect. Both the bike's desk and seat can be adjusted to meet your needs. There is a digital display, 8 resistance levels, and easy rolling casters so the bike can be moved from room to room.
I decided to outfit my home office with smart home lighting since once the sun set, I would sometimes find myself sitting in the dark in my office. Switching on the light would often involve stepping over my pup to cross the room to the light switch. To solve the problem, I got a Sengled Smart Light Bulb and added it to one of the lamps in my home office. I can control my Sengled bulb with my Alexa app on my iPhone. I can schedule the bulb to go on an off at certain times and choose from a wide arrange of colors to light my space. It's great because sometime my office is not that well lit in the morning, but I don't want to start the day with bright lights, so I can ease into my day by scheduling my Sengled bulb with a hue of a lesser intensity and let it get brighter as the day progresses. (I am not a morning person.)
Echo Dot ($39.99, 4th Generation)
I also got one of the less expensive Echo Dots to help manage the smart lighting in my home office. With my Echo Dot, I can turn my smart light bulb on and off with my voice command. It is really helpful! I can also play my tunes, check the weather, or have Alexa play me a news roundup so I can keep track on what's going on outside my office each day. It's a helpful connection to the outside world when I work from home! I get helpful emails from Alexa so I am always learning new ways that I can use my Echo Dot. I haven't been using my Echo Dot since my absence from my home office, so I am looking forward to learning new ways to use it once my ankle is healed! (Right now I need to work with my ankle propped up, so I work on my sofa.)
I also got a Kasa Smart Plug Power Strip so I can control my desk lamp and a floor lamp remotely in my home office. The smart power strip has three separate plugs, plus two USB ports that can be controlled remotely. I can use my Alexa app, Echo Dot, or Kasa app to control anything that is plugged into the smart power strip. It's really handy! I broke my ankle last month, so it's really convenient being able to turn the lights on and off without having to hop over to flip a switch.
My job can be really awesome, but I still get stressed every now and then. I thought an essential oil diffuser would help create a more calming influence for me. It turns out my boss gifted me an essential oil diffuser for my home office (I work with a great team!), but I wound up having to give it away. It turns out that essential oil diffusers aren't considered to be safe for dogs. So since my dog is basically my officemate, I decided to gift my diffuser to my daughter in college and give another to her twin, who's also in college. My kids are going to love them—I plan to give the diffusers to them soon, when they return home for spring break. The oil diffuser can be set to glow in various colors, has safety features built in, and is compact for smaller rooms. I've read the diffusers can also be used as humidifiers, which would help with dry dorm-room air and might be beneficial for their plants!
That wraps up my list of awesome gift items for a home office. I hope everyone has a happy Valentine's Day!
Other Great Gift Ideas
Flexispot Kana Pro Standing Desk