This post contains Amazon affiliate links.
Welcome to the Festive Christmas Ideas Blog Hop! This month and in November, my blogging friends and I will be sharing fun holiday and Christmas ideas on Mondays and Wednesdays. This week's theme will be Gift Guides! Today I am sharing a gift guide for moms – Amazon gifts for Moms under $30. My Christmas gift guide features some of the best Amazon products that are sure to please!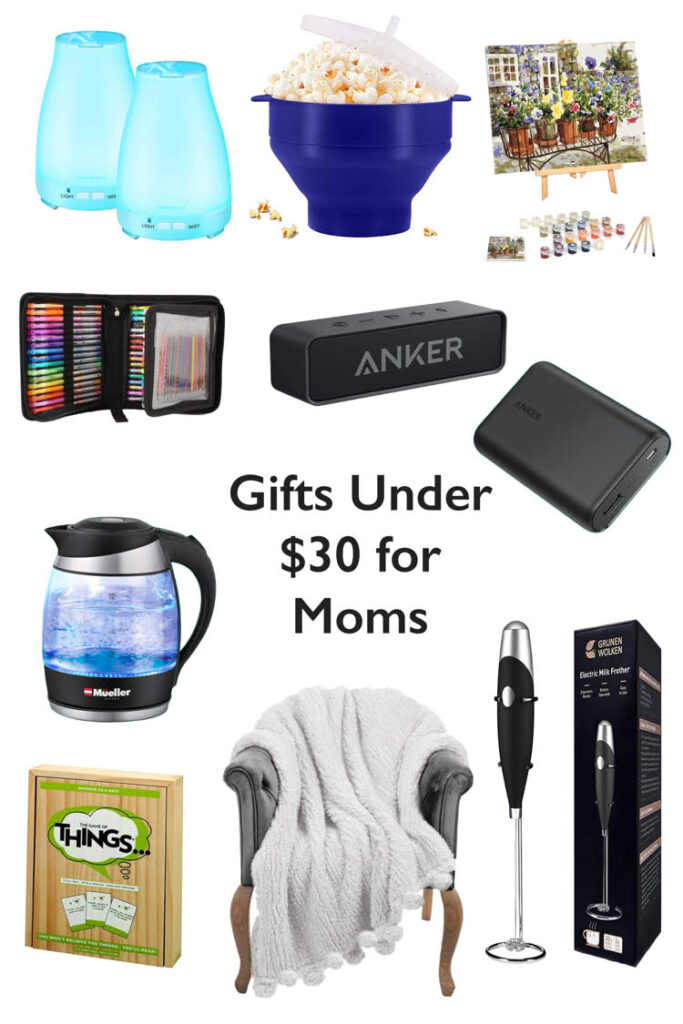 Be sure to check back on Wednesday this week for our second day of Christmas gift guides – there will be lots of holiday and Christmas gift ideas for what to get friends, family, coworkers, etc., for the holidays this year! I will be sharing another guide of some of the best gifts on Amazon for Christmas gifts and the holiday season! (I'll be featuring amazing gifts for home chefs!)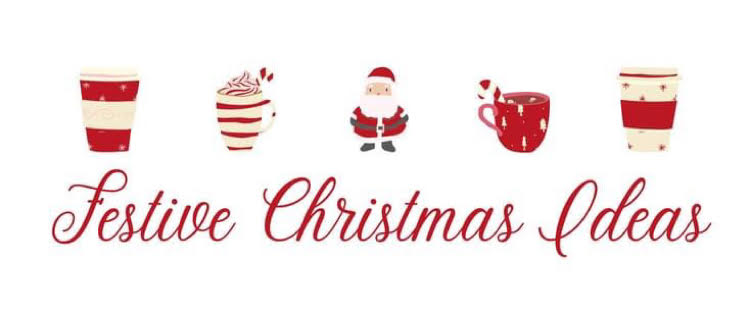 Best Amazon Gifts for Moms Under $30
Most of the items on this gift idea list are Amazon products I own and love myself, are on my Christmas wish list or are Amazon products that I have purchased for friends! I think any of the holiday and Christmas gift ideas on my list of Amazon products under $30 will be a good Christmas gift for moms this holiday season.
This BPA-free oil diffuser set ($25.99) can fill a room (or two) with delicious scents all year round with just a few drops of essential oil. It also has a waterless auto shut-off function so users can run the diffuser safely, too. These non-toxic, BPA-free diffusers/humidifiers have two modes: intermittent mist (30 seconds on/30 seconds off) and continuous mist. The diffusers can run for 6 hours on intermittent mode and 3 hours on continuous mode. These diffusers have 4.6 stars out of 5 and more than 1,283 ratings on Amazon. This Amazon gift idea is a soothing one that's sure to be appreciated.
This Microwaveable Silicone Popcorn Popper, BPA Free ($8.99) is on my Christmas wish list. You can use this silicone popcorn popper (no oil needed) in the microwave and ditch those pre-filled microwave bags of popcorn forever. This popcorn popper is collapsible for easier storage, is dishwasher safe and comes in 4 colors. After you pop your popcorn, you can add butter and seasonings, etc. This Christmas gift idea is a great one for families, too, and will be enjoyed year long. This silicone popcorn popper has a 4.5/5 star rating and more than 3,026 ratings on Amazon.
A paint by numbers kit is a fun holiday or Christmas gift idea. Paint by numbers kits are relaxing to complete and are an enjoyable way to create custom artwork for the home. I recently completed a paint by numbers canvas that I now have hanging in my home's living room. This pretty Paint by Numbers – Ritas Pansies Kit
($29.99) has everything one needs to complete a painting – a paint by numbers canvas, paints, brushes and a wooden easel. This Christmas gift idea is perfect for artistic or crafty moms, or moms looking for a way to relax and cut down on online or "screen" time. This paint by numbers kit has a 4.5/5 star rating with at least 160 ratings.
This 96 Color Artist Gel Pen Set ($20.99)
, which comes with its own carrying case, is a wonderful Christmas gift idea for the mom crafter or coloring book fan. The set includes 24 premium glitter gel pens, 12 metallic pens, 6 pastel pens, 6 neon pens, plus 48 matching color refills. This gel pen set, with more than 3,300 ratings, has been rated 5/5 stars. These pens, which are equipped with a color-coded comfort grips, are easy to use. The pens have a fine 0.8mm – 1.0mm ballpoint tip.
The Anker Soundcore Bluetooth Speaker
($27.99) has a deep bass sound and has a 24-hour battery life. It pairs via Bluetooth and can connect with Alexa. Connect via instant setup to use with with phones, tablets and almost any other Bluetooth-enabled device. This portable Bluetooth speaker is available in black, blue and red. The speaker has a 4.5/5 star rating with more at least 43,599 reviews.
I recently purchased the Mueller Electric Kettle
($25.97) and love it! Plug in the base to this teapot, set the teapot on top of the base, and you can have hot boiling water for a cup of tea very quickly. The kettle is sturdy, BPA free, and is made of Borosilicate glass. The kettle is lit by a pleasing LED blue when it is boiling water. The base has an automatic shutoff that senses an empty kettle, so you won't dry boil your kettle. The unit also automatically turns off once the water in the kettle boils. The no slip handle to the kettle stays cool even as the water boils. This kettle looks great on my counter. I use the kettle to quickly boil water for tea, oatmeal, coffee, pasta and more.This kettle has a 4.5/5 rating with at least 16,443 reviews.
Give the gift of longer cell phone power this Christmas with this Anker PowerCore 10000 Portable Charger
($19.99), a lightweight and powerful charger and power bank. The Anker PowerCore 10000 Portable Charger provides almost 3.5 iPhone 8 charges or 2.5 Galaxy S8 charges, per the product's Amazon description. It comes in black, red, white and blue. This powerful charger has at least 35,511 reviews on Amazon with a 4.5/5 star rating.
For any family that loves games, the The Game of Things
($19.82) is a fun game! The Game of Things is a great game for all ages. In this game, each player writes an answer to a certain prompt, like "Things You Bring to a Picnic." Each player comes up with an answer, and the goal is to figure out who said what. I don't do well at this game, because my daughters can always tell which responses are mine! This game has 4.5/5 star rating with at least 1,957 ratings.
This Soft & Cozy Throw Blanket with Pom Poms
($22.99) is a large 50″ x 60″ and is made from a teddy bear soft and cozy ivory fleece. (It also comes in gray and beige, and is available in a twin bed size, too.) It has a 4.5/5 star rating with at least 1,182 reviews on Amazon. The extra large pom poms on this throw make it a pretty and super cute decor item. This throw looks great when paired with farmhouse style pillows or fuzzy faux fur pillows.
This Milk Frother with Stand & Stencils
($10.90) is amazing for anyone on your holiday list who loves frothy cafe lattes or matcha teas. The frother is super easy to use and can create barista-style coffees, teas and hot chocolates in minutes. My daughters and I use our frother with Sweetened Green Tea Powder
to create delicious hot matcha teas at home. Powered by two AA batteries, the frother's blender portion is made of food-grade stainless steel. The frother comes with its own stand so you can store the frother on your kitchen counter or coffee bar. The 16 stencils included with this frother will help make your lattes, cappuccinos and mochas or hot chocolates both delicious and pretty. The frother, which comes in 4 colors, has a 4.5/5-star rating with more than 4,424 reviews.
Be sure to check out all the other gift guides being shared today!
Festive Christmas Gift Guides
Need help with your Christmas shopping this year? Check out this colllection of gift guides for everyone on your holiday list. Most of these gifts are available online, to ensure e a happy and festive season!