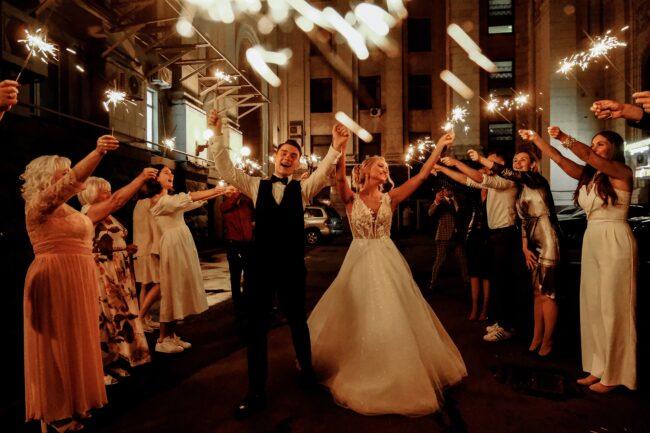 There are lots of ways to style your wedding look, such as taking ideas from your personal tastes, your values as a consumer, and the overall theme of your big day.
If your well of inspiration has run dry, the following looks should refill it and give you plenty to think about as your planning continues.
Vintage Glamour: Channeling Classic Styles for Brides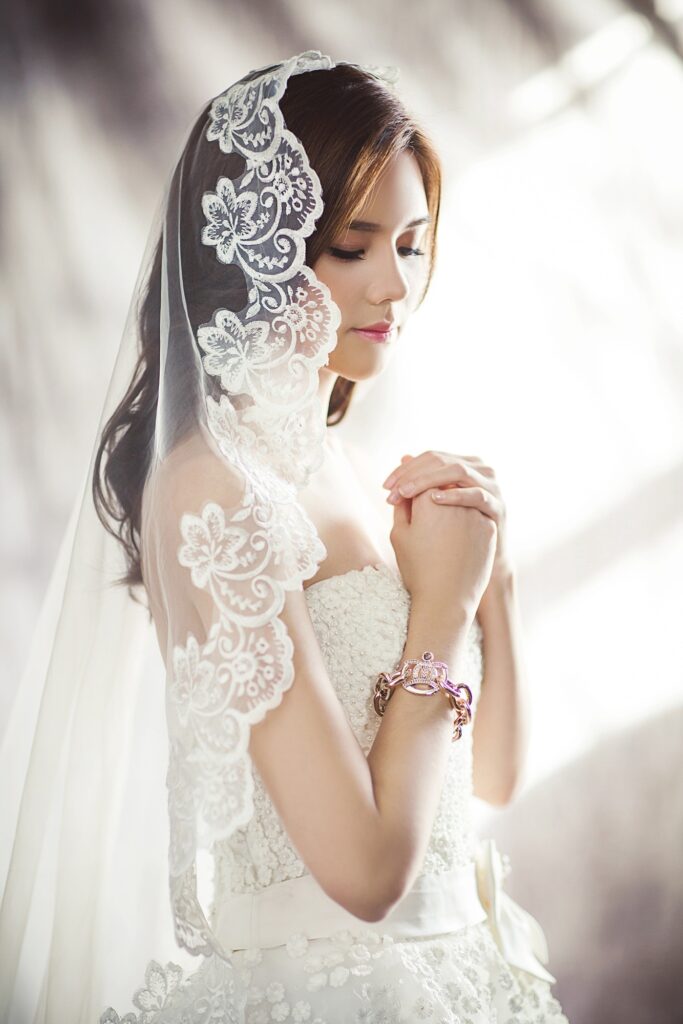 Embrace the elegance of bygone eras with a vintage-inspired bridal look that never goes out of style. From 1920s Gatsby glitz to 1950s Hollywood glamour, these timeless yet modern styles effortlessly can infuse your big day with nostalgia and grace.
To achieve the perfect vintage look, consider incorporating elements such as intricate lacework, antique accessories, family heirlooms, and classic silhouettes that highlight your figure in a flattering way. For example, you could pair a tea-length dress that's reminiscent of Audrey Hepburn with a set of pearl earrings passed down from your grandmother.
For brides who prefer to seemlessly blend modern elements into their vintage aesthetic, opt for engagement rings with a minimalistic design from VRAI, featuring lab-grown diamonds that look incredible and come in over 30 diamond shapes and styles. Combine contemporary simplicity with treasured traditions to create an ultimate old-meets-new look inspired by unforgettable historical icons, giving you a timeless yet modern and elegant bridal ensemble on your special day.
Boho Chic: Effortlessly Stylish Ideas for Free-Spirited Brides
Let your inner bohemian spirit shine through with a relaxed yet enchanting bridal look that truly captures your carefree essence. Boho chic weddings allow for comfortable, personalized touches while maintaining undeniable sophistication and charm in every detail.
Begin by selecting a whimsical gown adorned with lace, floral accents or delicate embroidery, all of which evoke an organic feel reminiscent of outdoor festivals and idyllic countryside escapes. Don't be afraid to play with unconventional accessories like flower crowns, layered necklaces or even barefoot sandals to make the ensemble truly your own.
You could incorporate nature-inspired decor throughout the celebration as well. Think macramé backdrops, hand-tied bouquets brimming with wildflowers, and soft candlelight on tables draped in lush greenery. By embracing elements such as these in your attire and ambiance, you're sure to create a romantic boho vibe.
Minimalist Elegance: Sleek and Simple Bridal Looks for the Modern Bride
For the bride who values subtlety and sophistication, minimalist elegance offers the opportunity for a refined style that captures attention through its simplicity. Clean lines, quality fabrics, and impeccable tailoring can take center stage in this approach to bridal fashion.
When choosing a gown for your minimalistic bridal look, opt for designs with structured silhouettes that showcase your figure while avoiding overly intricate details or busy patterns. Embrace modern styles like sleek jumpsuits, column dresses or even two-piece ensembles that exude a cool confidence.
Select accessories that mirror the streamlined aesthetic of your chosen outfit to complement your attire. Delicate jewelry pieces without much embellishment are ideal choices here. They also won't steal the spotlight when you're wearing your ring post-wedding.
Similarly, keep makeup natural and hairstyles fuss-free to maintain an air of effortless poise throughout the festivities. With thoughtful precision at every turn, you'll easily achieve a chic yet modest bridal ensemble.
Bold and Beautiful: Daring Fashion Choices for Edgy Brides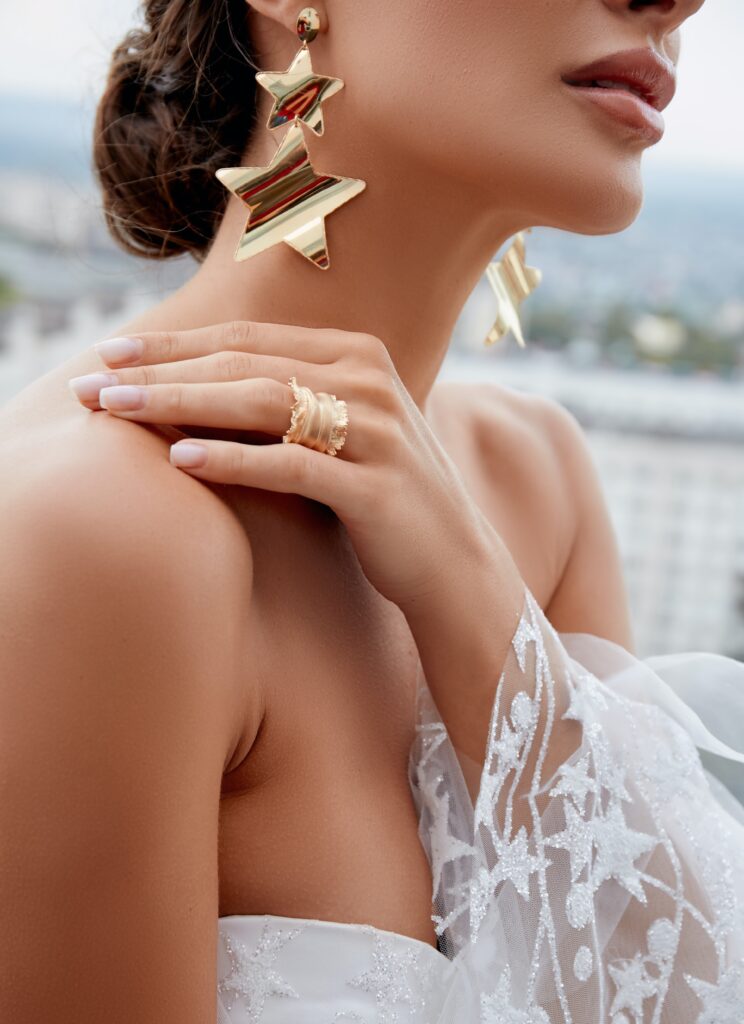 For the fearless bride looking looking to make a statement, you can embrace the bold and edgy aspects of your personality by incorporating unexpected twists into classic wedding attire.
If you love vibrant colors or lavish patterns, consider wearing a non-white gown in luxurious jewel tones or intricate embroidery that showcases your artistic nature. Unconventional silhouettes like exaggerated trains or dramatic necklines can further amp up the wow factor by defying norms while highlighting your unique flair.
Of course, accessories can play a pivotal role in creating daring looks too. Swap out dainty tiaras for embellished headbands or intricate metal crowns for an avant-garde touch. Experiment with bold makeup choices such as dark lip hues, henna tattoos or glittery accents to elevate this powerful statement even further.
By taking risks and showcasing unapologetic authenticity through fashion-forward ensembles, you'll leave guests marveling at both your nuptial celebration's elegance as well as its undeniable edge.
Ethereal Romance: Dreamy Ensembles Perfect for Whimsical Weddings
Immerse yourself in a fairy tale fantasy on your special day by choosing ethereal bridal looks characterized by their dreamy, romantic elements. This style encapsulates the essence of bridal whimsy with an air of enchantment that becomes unforgettable to both you and your guests.
To achieve this heavenly look, explore gowns featuring tulle skirts, delicate lace appliqués or soft cascading layers which appear to effortlessly float around you when walking down the aisle. Seek out designs with subtle shimmering details like beaded capes or iridescent fabric stitching for an added touch of magic.
Your choice in accessories should contribute to this mystical atmosphere as well. Consider gossamer veils adorned with intricate floral detailing or celestial-themed jewelry such as moon-shaped pendants and delicate star earrings. To complete the image, opt for softly lit candles intermingled among pastel florals and flowing fabrics throughout your venue, creating a breathtaking ambiance on your wedding day.
Rustic Charm: Cozy Country-Inspired Outfits Ideal For Farmhouse Celebrations
Celebrate your love amidst the warmth and nostalgia of rustic charm with country-inspired bridal looks perfect for charming farmhouse weddings. Opt for gowns boasting modest lacework, flowing silhouettes or homespun textures that convey a sense of cozy comfort.
Incorporate natural elements like wooden accessories, eucalyptus leaves in your bouquet, and simple leather accents to create an authentically pastoral style. These understated details will resonate harmoniously with a rustic backdrop, ensuring your wedding day's aesthetic feels genuinely heartwarming and delightfully down-to-earth.
Wrapping Up
Selecting the perfect bridal look ultimately comes down to personal style and the wedding atmosphere you want. From vintage glamor to rustic charm, there's a truly diverse array of options at your disposal.
Take inspiration from these various themes as you craft a stunning ensemble to reflect your unique personality for your once-in-a-lifetime celebration.