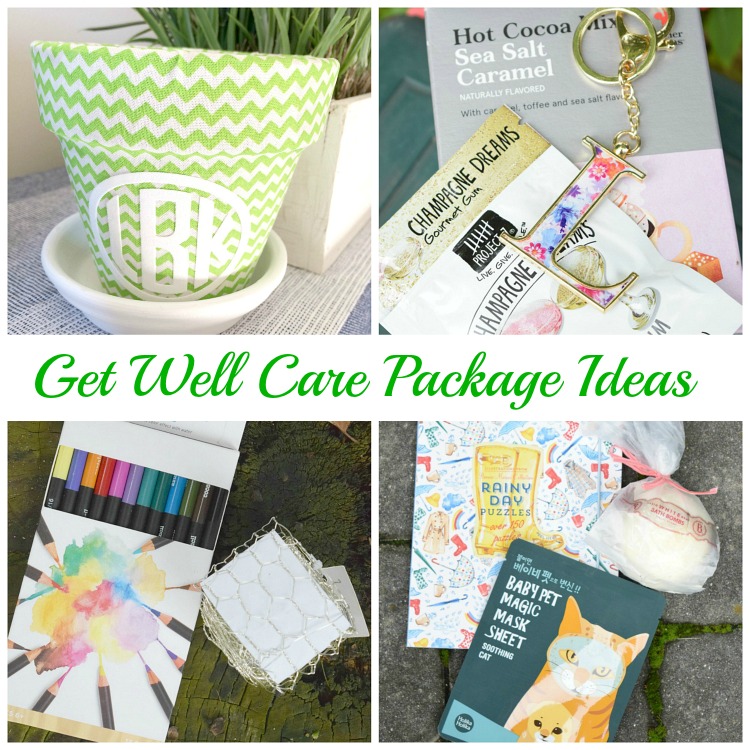 Here at Mom Home Guide, I've been working not as hard as I normally do. I usually have a slew of projects that I'm working on. Since my breast cancer diagnosis in late June and my lumpectomy in late August, however, I've been focusing on my health. One thing that made me smile during all this was a care package from my good blogging friend, Carrie of Curly Crafty Mom! (Read more about my breast cancer journey.)
The package arrived the same day that I got good news from my surgeon — she told me that in all likelihood my breast cancer will be cured with treatment with low chance of recurring. I still need to have some tests to confirm this, so I hope it's true. Carrie's package added to what was a good day amidst weeks of bad ones! Not to mention that I was having a stressful year before the cancer hit. Carrie is a sweet friend — not only are our blogs a good fit together, but we fit together well as friends, too! Carrie often has a good knowledge of the latest and trendy stuff, so her gift packages are always fun! This is a time when you truly appreciate good friends and those people who have your back!
Fabric Covered Pot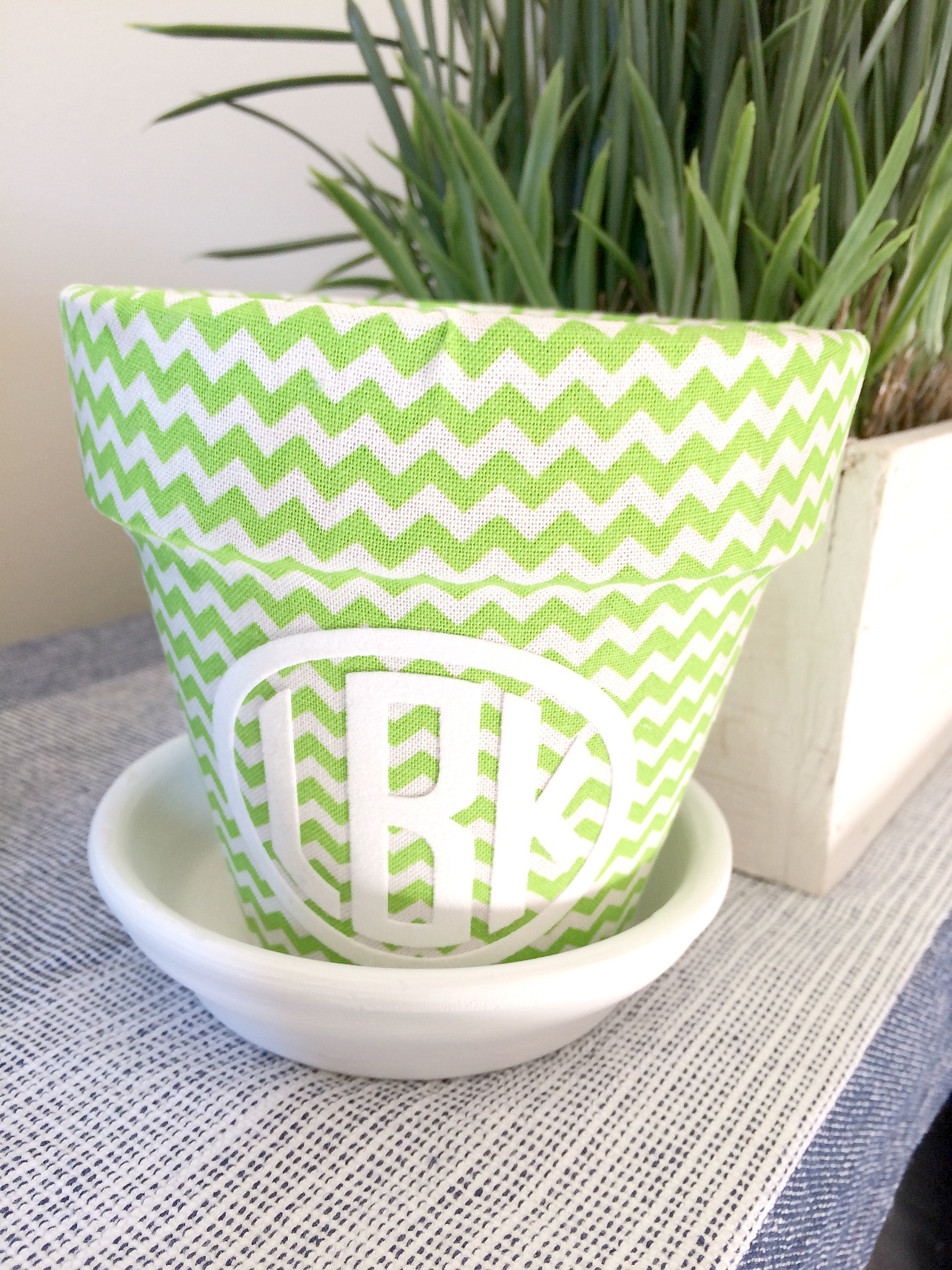 One of the sweetest things in my care package was a custom made fabric-covered, monogrammed pot (and saucer) from Carrie. She covered the pot in my favorite color, green! I'm thinking I might want to place a faux topiary in some moss in the pot. (I wouldn't want to ruin the pot with soil and water.) Carrie suggested putting a succulent in the pot, so I'm considering that, too!
Watercolor Pencils & Chicken Wire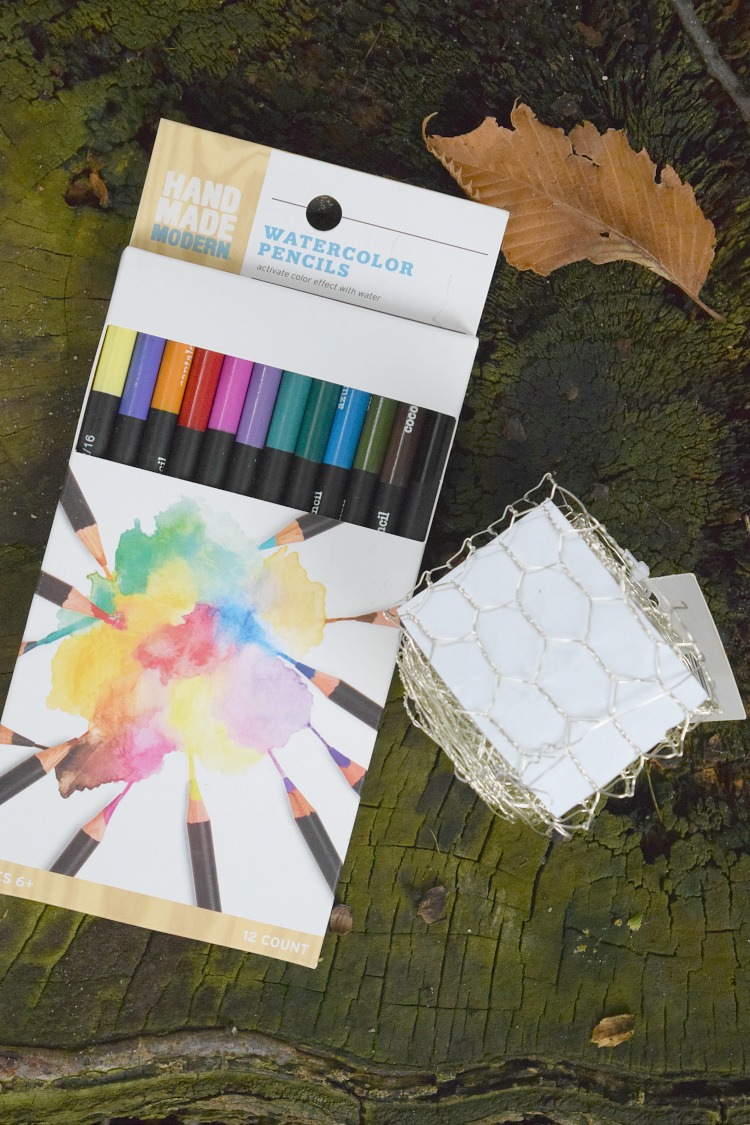 One of my favorite items in the box are some watercolor pencils. I've latched onto the coloring craze, and have a few coloring pages. I've working on a coloring page that came with it's own frame. I plan to hang the page in my home's master bedroom once it's complete.
A fun crafty item Carrie included (since we both like to craft) is a roll of chicken wire. I'm thinking of adding the chicken wire to a frame I'll paint in a fun color for a quick and easy home office organizer.
Bath Bomb, Puzzle Book & Face Mask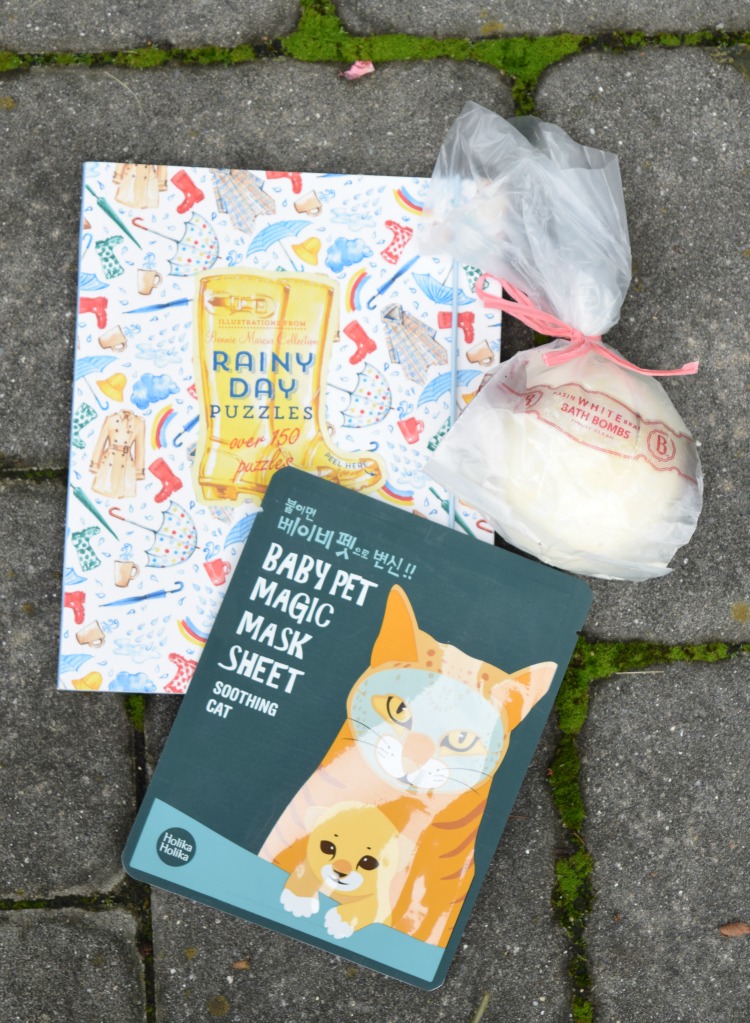 A really thoughtful item included in my gift package from Carrie is a sweetly scented bath bomb from the Grand Floridian hotel at Walt Disney World. My family was supposed to vacation at Walt Disney World this summer, but I had to cancel the vacation because of my diagnosis. Carrie's family vacation was going to coincide with my family's vacation, and we were going to share a tea time at the Grand Floridian. It's so sweet that she thought of me. Hopefully we'll be able to vacation together another time!
Carrie sent three fun soothing cat face masks (one for me and one for each of my daughters). The masks are funny (they look like a face of a cat) and useful. My daughters and I'll have to try these together!
I find puzzles soothing when stress levels are high. So Carrie included a book of "Rainy Day Puzzles' in my care package. The book has a variety of logic and word puzzles. The book will also be a good way to pass the time while waiting for my daughter at her music lessons, too.
Hot Cocoa Mix, "L" Key Chain & Champagne Gum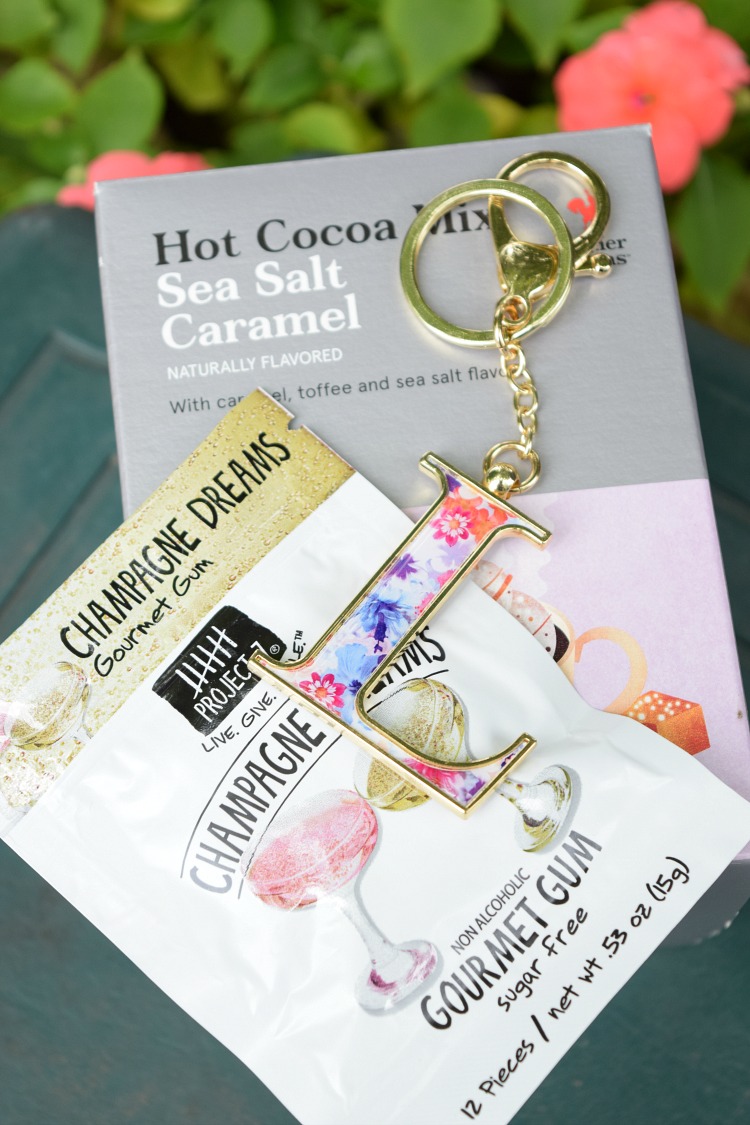 My husband, kids and I have a Keurig that we use very often for making coffee, tea, hot cocoa and other hot drinks. I'm looking forward to trying the sea salt caramel hot cocoa mix that Carrie included in my care package!
Carrie included a cute floral "L" monogram key chain in my package. I love fun key chains and I adore flowers, so I think it's great!
A fun item included is something I can use to celebrate when I complete my treatment – a package of champagne flavored gum! I thought that was really cute! Thanks, Carrie!