*This post contains Amazon affiliate links.
Did you know that March is National Reading Month? My kids and I are really excited about National Reading Month because we are all big readers! My husband, kids and I read traditional (paper) books from the library, but we really love to read on our Kindle e-reader
 and on our Kindle Fire HDs
! We love Kindles so much that there are multiple Kindles in our house!
Kindle e-reader, retails for $79 on Amazon.com
The Kindle e-reader and Amazon FreeTime Unlimited
Lately, my family and I have been in love with our new Kindle e-reader and Amazon FreeTime Unlimited, an all-in-one content subscription for kids by Amazon.
The Kindle e-reader ($79) is so light — we hardly notice it as all when it's thrown into a backpack or purse. The lightness of the Kindle e-reader is perfect for my family, since I can hardly lift my twin tween's backpacks myself because the backpacks are so heavy! With the e-reader, we can have multiple books on hand while we travel, which really comes in handy. My kids can get their reading done in the car while we drive to their after-school activities, and I can catch up on my own reading while they are at their activities!
For their schoolwork, my daughters are required to do at least 20-30 minutes of fiction or non-fiction reading a day. Before, I had to make multiple trips to the library to get the books they need. Now, I can quickly download titles like Harry Potter series, Treasure Island and other ebooks from their local library onto our Kindles for free! That means less driving back and forth to the library for me!
Plus, the Kindle e-reader is great for me because I can increase the font size for easier reading!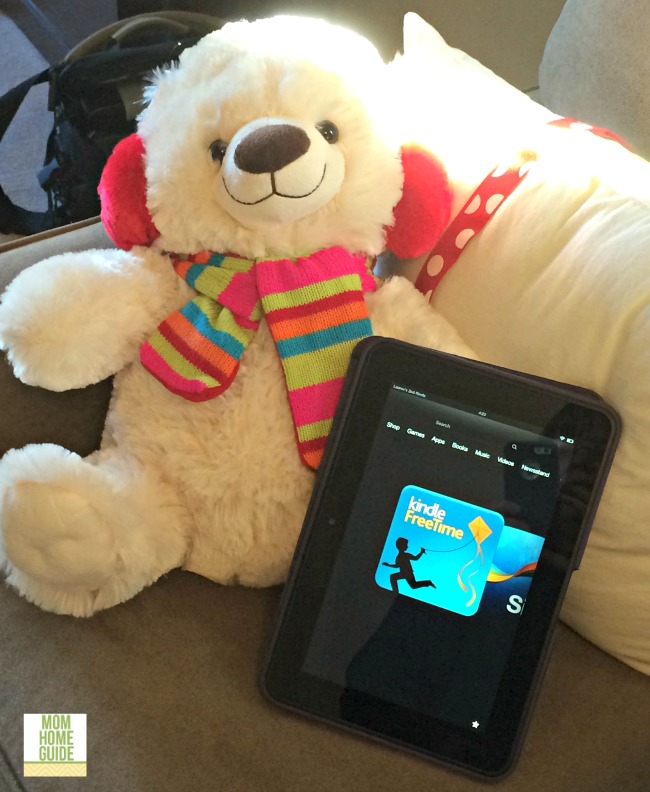 We recently added Amazon FreeTime Unlimited to my Amazon account. That means that I get this really great content subscription service for kids on both my Kindle e-reader and my Amazon Fire. (Amazon FreeTime Unlimited is available across Amazon devices, including Kindle e-readers, Fire tablets, and Amazon Fire TV.)
Through the Amazon FreeTime Unlimited subscription service (which starts at $2.99 a month), my kids get unlimited access to hundreds of hand-picked chapter books and early readers, all curated for age-appropriateness. FreeTime Unlimited includes favorites such as the Harry Potter series, The Borrowers by Mary Norton, Big Nate and Friends by Lincoln Peirce, and Newberry Medal and Honor winning books such as The Sign of the Beaver by Elizabeth George Speare, and Island of the Blue Dolphins by Scott O'Dell.
On the e-reader  and with FreeTime Unlimited, my kids can download free books and get achievement badges, while on my Kindle Fire they can download free books, apps, games, TV shows and movies. One of my daughters is especially loving the unlimited access she gets to kid friendly apps and games through Amazon FreeTime Unlimited! My other daughter is looking forward to reading some kid-friendly reads on the e-reader about nature and science!
With FreeTime Unlimited, I can create personalized profiles for  my kids, and give them access to titles from my collection of books. My kids are rewarded with achievement badges when they reach their reading goals.  I can track their total time spent reading, the number of words they looked up (our Kindles allow my kids to look  up the meaning of words as they read), the badges they earned, and books they read with a handy progress report.
Kindle Fire
My family's new e-reader and our new Amazon FreeTime Unlimited has made getting great books and content a snap for my whole family! (I am currently reading "Harry Potter and the Sorcerer's Stone
" for free on the e-reader through FreeTime.) I actually haven't read the Harry Potter series yet, so I am looking forward to catching up!
Great Tween Reads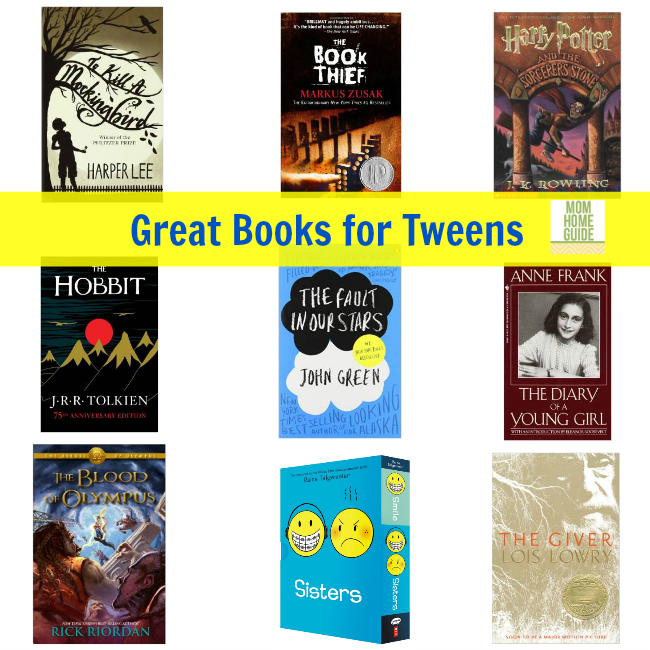 I highly recommend getting a Kindle e-reader for your child! For those of you who have tweens, I thought I'd share a short list of books that they will likely love — these are all books my tweens have read and enoyed!
Harry Potter Series
To Kill a Mockingbird

The Book Thief

The Fault in Our Stars

Anne Frank: The Diary of a Young Girl

The Giver Series

The Hobbit and the Lord of the Rings

The Heroes of Olympus Series

Smile and Sisters (illustrated novels)
I was selected for this opportunity as a member of Clever Girls and the content and opinions expressed here are all my own.