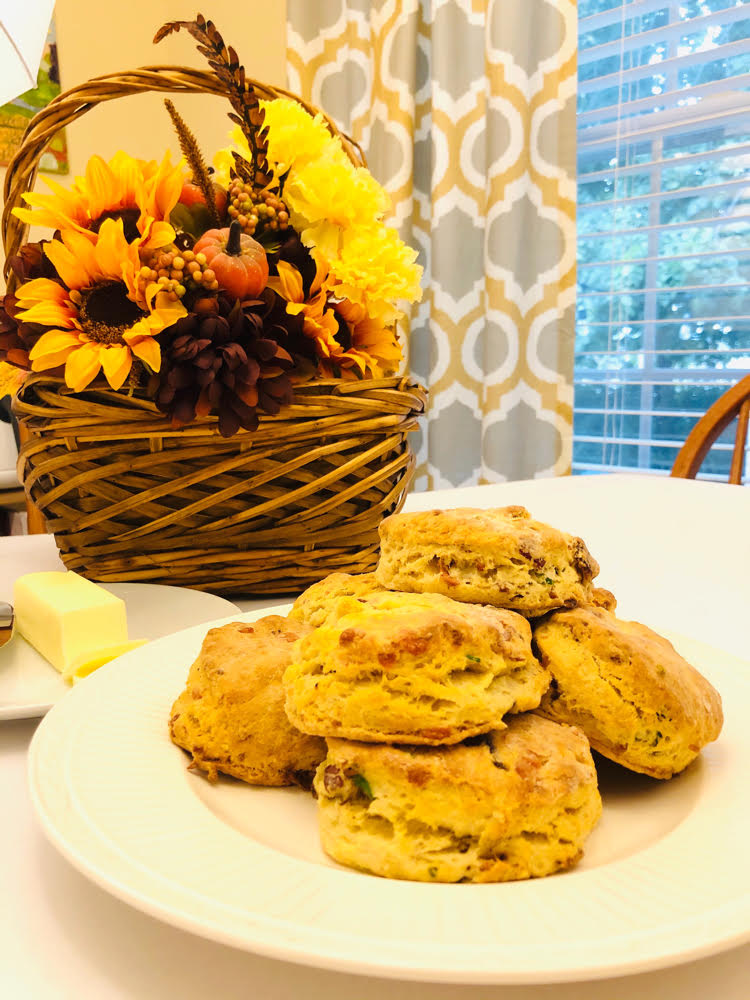 Welcome to the Taste Creations blog hop! On the first Monday of the Month, my blogging friends and I get together to share recipes along a specific theme. Our theme this month is bacon! For my bacon recipe, I chose to make cheddar biscuits with bacon and chives. Yummy!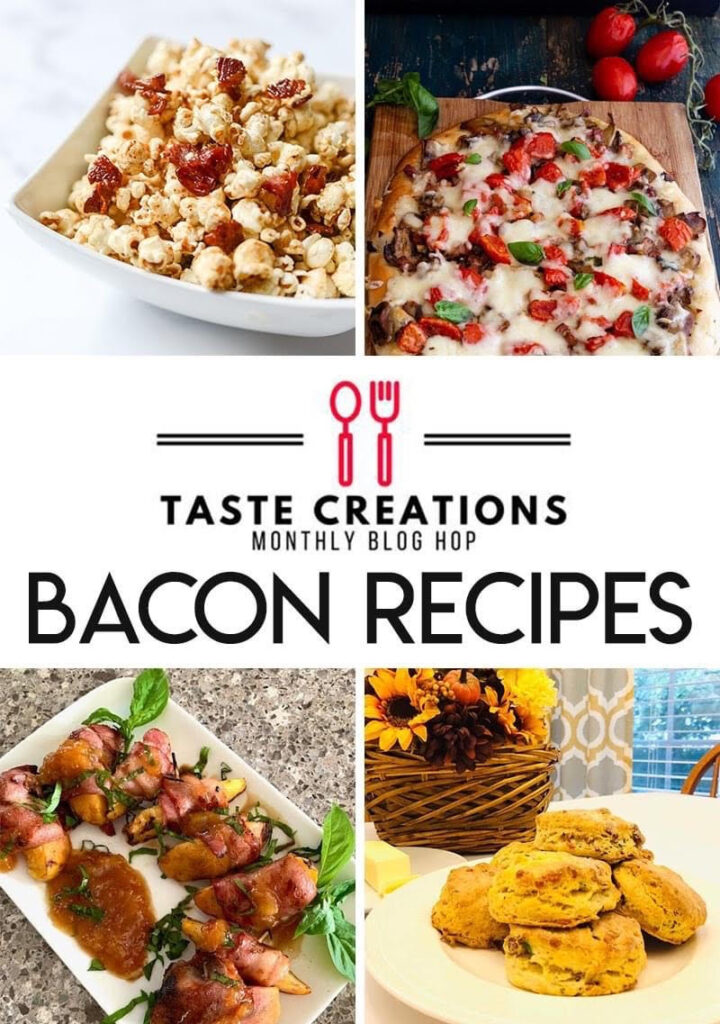 Cheddar Biscuits with Bacon & Chives Recipe
(If you'd like to skip to the recipe at the end of this post, scroll down to the recipe card.)
For my recipe, I chose to use the Bacon Cheddar Chive Biscuits recipe by Damn Delicious. I wanted to make cheddar and bacon biscuits, but I didn't have a recipe of my own. So I chose a recipe by Damn Delicious. Chungah of Damn Delicious has the best recipes. Her blog is a fun read.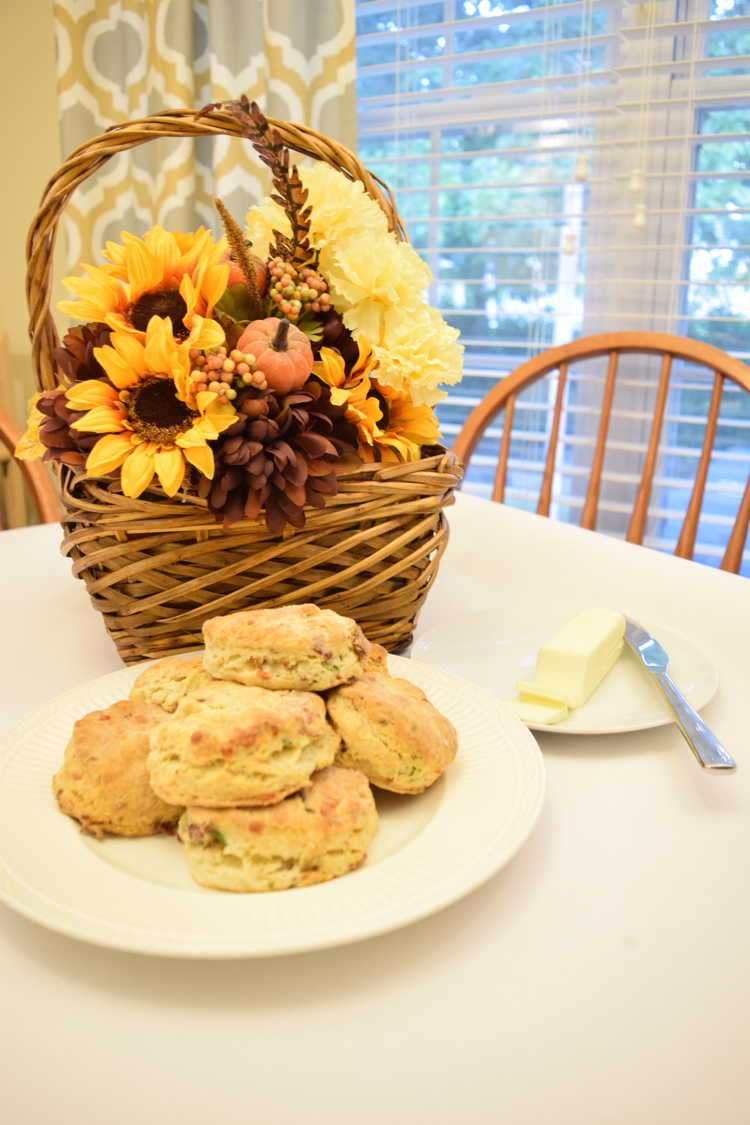 I would up making two versions of this recipe. One daughter doesn't eat bacon. So when I made these biscuits, I took out about a fourth of the dough before I added in the bits of bacon. That way, my daughter could enjoy her biscuits without the bacon.
These biscuits are buttery and flaky, with a hint of chive. The bacon adds a savory element to these mouthwatering biscuits.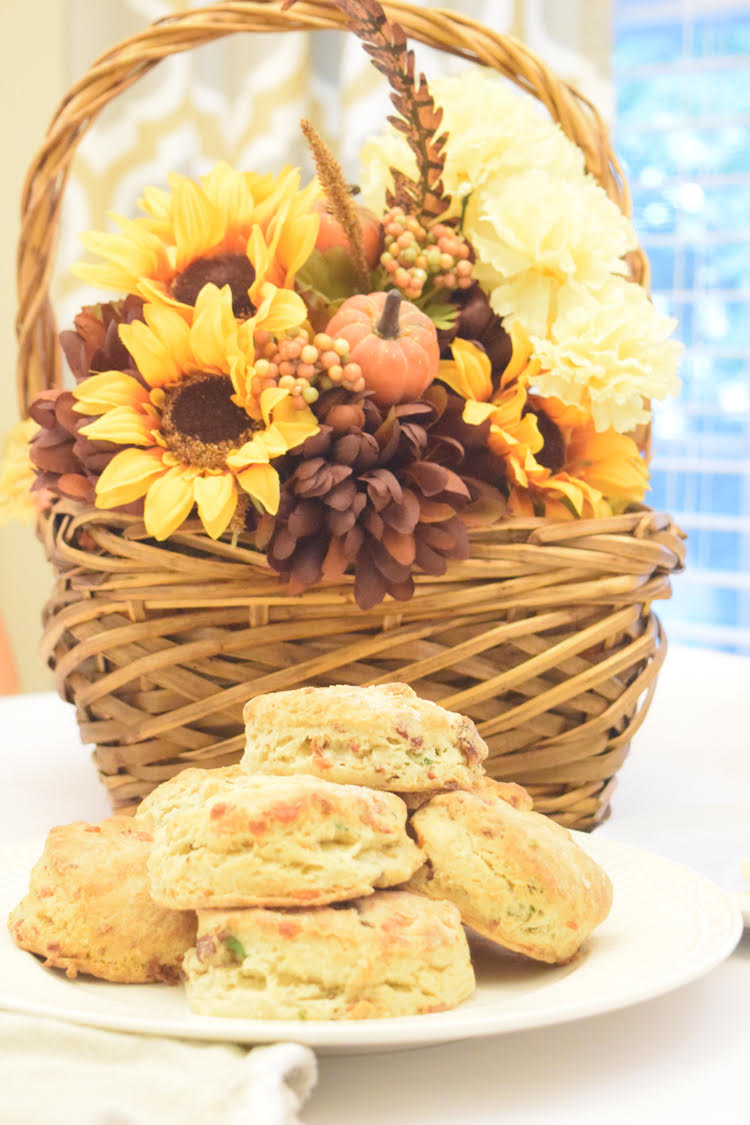 The recipe was easy to make. You do have to plan ahead — I was halfway through making the recipe when I realized that I needed frozen butter. I don't know how I missed that! You also need space in your freezer – after you cut out the biscuits from your dough, you need to freeze them awhile before putting them into the oven. I simply covered my baking sheet with foil and placed the baking sheet (with the biscuit rounds on top) on the top shelf of my freezer.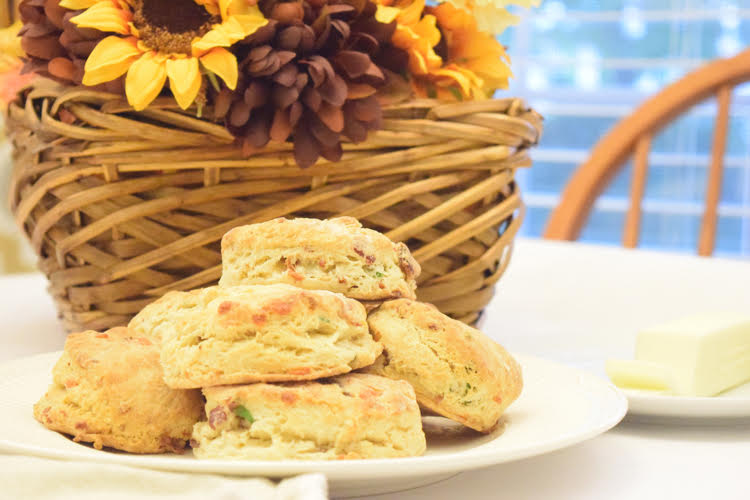 Despite my faux pas, the recipe came out great – my family all happily enjoyed their cheddar biscuits with bacon and chives!
To cut the biscuits, I used the cute stainless steel biscuit cutters that my friend, Carrie of Curly Crafty Mom, gave me. (Thanks, Carrie!)
I forgot to take a photo while using my biscuit cutters this time, but the below is a photo of one of my new biscuit cutters when I baked a super simple biscuit recipe recently. (I obviously love my new biscuit cutters. You can find similar biscuit cutters
on Amazon.)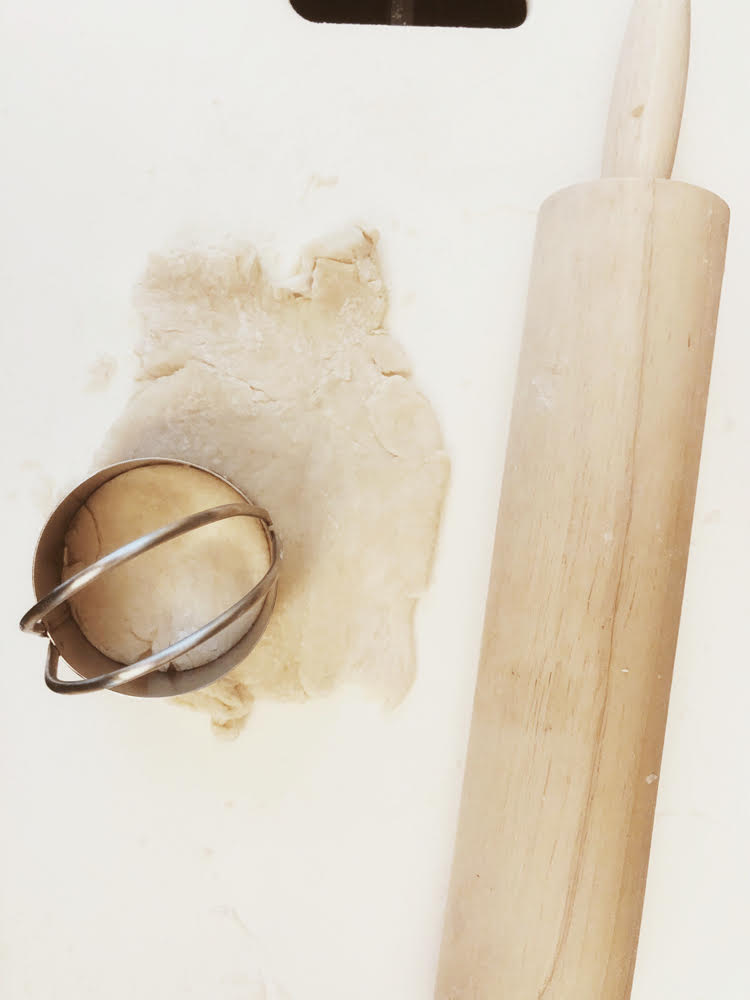 If you don't have biscuit cutters, you could use a round cookie cutter possibly, or a glass.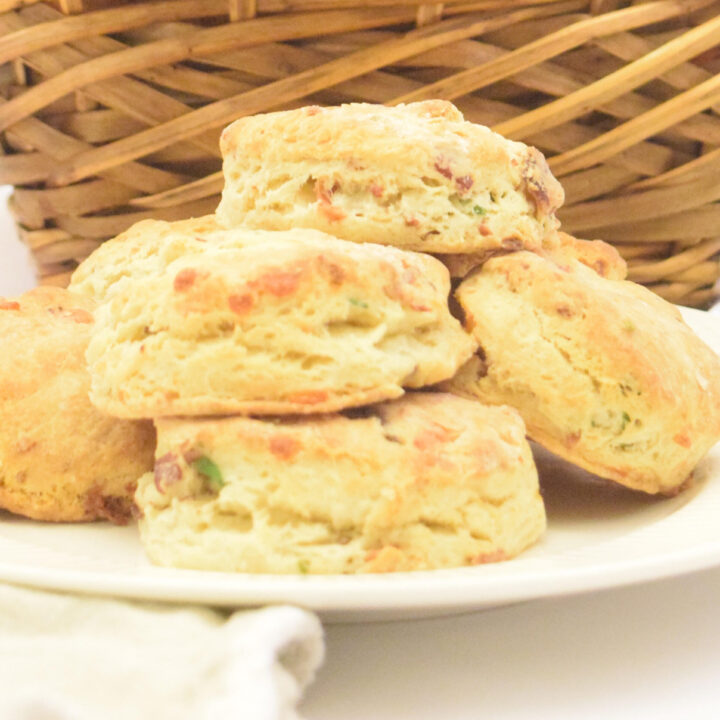 Cheddar Biscuits with Bacon & Chives
Delicious and buttery biscuits with cheddar, bacon and chives.
Ingredients
6 slices bacon, diced
4 cups all-purpose flour
4 ounces shredded extra-sharp cheddar cheese
1/4 cup chopped fresh chives
4 teaspoons baking powder
1 1/2 teaspoons kosher salt
1 teaspoon baking soda
3/4 cup unsalted butter, frozen
1 3/4 cups buttermilk
Instructions
Preheat oven to 450 degrees F. Line a baking sheet with parchment paper or a silicone baking mat. (I used a silicone baking mat.)
Heat a large skillet over medium high heat. Add bacon and cook until brown and crispy, about 6-8 minutes. Drain excess fat. Transfer bacon to a paper towel-lined plate.
In a large bowl, combine bacon, flour, cheese, chives, baking powder, salt and baking soda.
Grate butter using the large holes of a box grater. Stir into the flour mixture.
Add buttermilk and stir using a rubber spatula until a soft dough forms.
Working on a lightly floured surface, knead the dough 3-4 times until it comes together. Using a rolling pin, roll the dough into a 1 1/4-inch thick rectangle. Cut out 10-12 rounds using a 2 1/2-inch biscuit or cookie cutter. Place biscuits onto the prepared baking sheet. Place in the freezer for 15 minutes.
Remove biscuits from freezer. Place into oven and bake for 15-18 minutes, or until golden brown.
Serve immediately.
Be sure to check out my friends' bacon recipes!
Bacon Wrapped Peaches – Our Good Life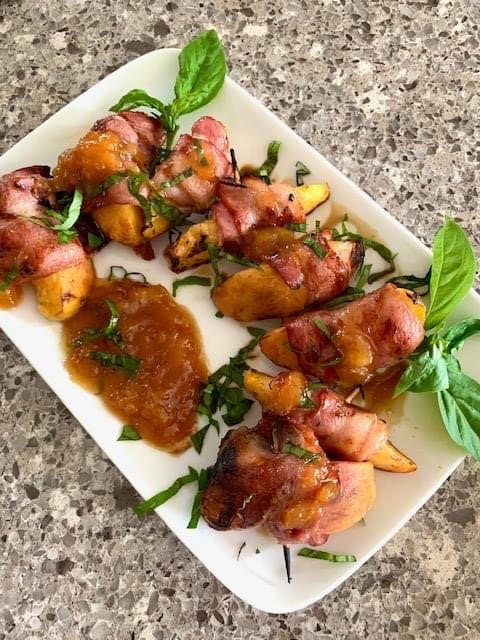 Pizza with Pancetta – An Italian in My Kitchen