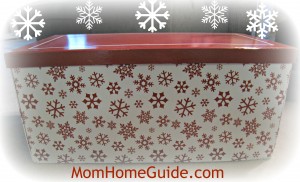 My Recollections ornament boxes makes unpacking the Christmas ornaments so much easier.
It snowed here in New Jersey yesterday. My daughters were so excited! I am trying to wait until after Thanksgiving to decorate for Christmas, but I know at least one of my daughters would like to start decorating for the Christmas holiday NOW! Especially since the snow has put them both in the holiday spirit — one of my daughters has been wearing a Santa's hat to bed every night already!
Christmas Organization
Thanks to some organizing I did just after last Christmas, I should be able to get the Christmas tree up quickly this year. Our Christmas ornaments and tree are usually stored haphazardly here and there in the basement without any apparent rhyme or reason, but luckily, I took time last year to organize our Christmas decorations.
My dad had given me two large divided Christmas ornament boxes last year (thanks, Dad!), which are a great help. Because of those Christmas ornament boxes, I am able to fit my Christmas ornaments into just two boxes, instead of packing them with wads of newspaper into several storage boxes.
Christmas Storage
Last year I also assembled two sets of plastic storage shelves in the basement, and on those shelves, I stored the rest of our Christmas holiday decorations in labeled boxes, making everything easy to find. And since we use a fake Christmas tree (because of a family member's allergies), finding the tree only means going into the basement, locating the Christmas tree stand and branches, and putting the tree together. Easy peasy!
Christmas Countdown
Now, my girls are counting down the days until December, which is the day they can start marking the days until the holiday on our Christmas advent calendar. We use a felt advent calendar with buttons that we velcro on to count down the days until Christmas. We have different buttons in various shapes and sizes – green fabric Christmas trees, brightly colored buttons and gold stars – and deciding who gets to put up which buttons is very serious business for my kids!
More Christmas Decorating
My children especially love the Santa hats (from the dollar store) that I use to decorate the chairs in the kitchen. I love the bright, festive look that the felt hats lend to the chairs!
I would love to update our Christmas mantel this year. The below is what our fireplace mantel looked like last Christmas, with our traditional mantel decorations. But after checking out Sarah's Magnolia Christmas Mantel at Thrifty Decor Chick, I'd love to have a more classy look this season! Stay tuned to see what I come up with this year!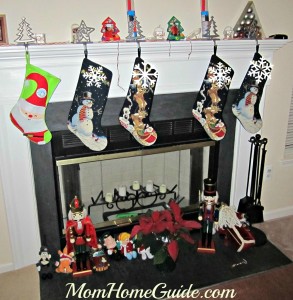 We'll see how long we can wait to decorate for Christmas this season! When do you start decorating for Christmas in your home?