* This is a sponsored post written by me on behalf of Joe Boxer pajamas available at Kmart. I received a promotional item in exchange for my participation in this campaign. All opinions expressed in this post are truly my own.
With Christmas just around the corner, my kids and I have started our holiday countdown! For our holiday countdown, I am letting the kids open one small gift every day this month as a prelude to the big day! Each day's gift is tagged with a number that notes how many days left until Christmas. My kids are having so much fun opening up a gift each day! Most of the gifts are things they need, like socks and school supplies, but the biggest holiday countdown gift is reserved for Christmas Eve – when our whole family will open a new pair of Joe Boxer pajamas from Kmart!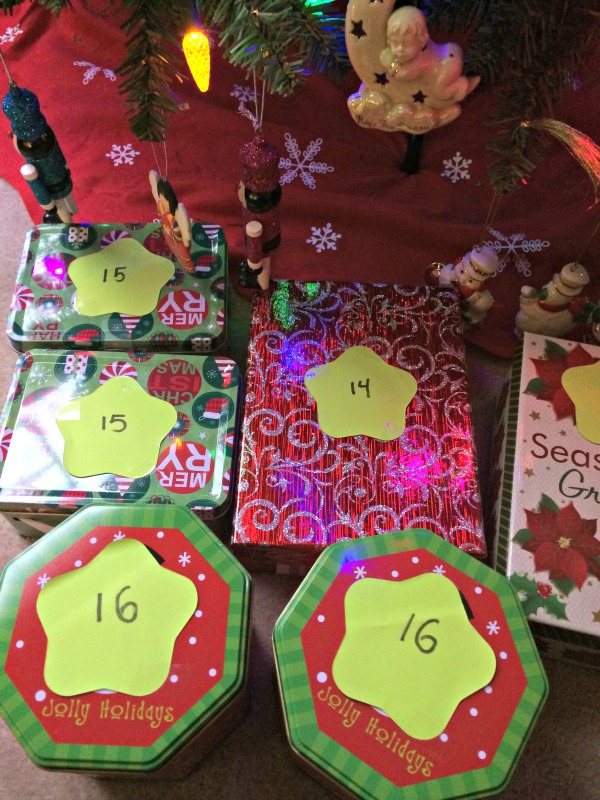 (The photo above shows some of the gifts under the tree for my family's holiday countdown. Check out how my family and I counted down in the past to Christmas in this post about seven DIY advent calendars.)
Christmas PJS
In recent years, my husband, kids and I have been reserving Christmas day just for us — we get together with family and friends over the extended holiday week or weekend. On Christmas Day, my kids love to spend the WHOLE DAY in their pajamas! So, one family Christmas tradition is that the kids receive a wrapped pair of Christmas PJs under the tree for the holidays. Recently, I went shopping for Christmas pajamas at Kmart. There was such a great selection of Joe Boxer pajamas available at Kmart that I got my husband and me a pair of Christmas pajamas, too! There is a great variety of Joe Boxer pajamas available at Kmart — there are footed pajamas, boxers, pajama pants and short sets, and what my kids love the most … soft and warm fleece pajamas!
I lucked out that when I went shopping for my family's Christmas pajamas, because everything was at least 30% to 40% off. I was so pleased! (I am so glad that I didn't order our Christmas pajamas through a catalog, like I've done in past years!)
I would share with you exactly which pajamas I got for my husband and kids, but I can't, since it will wreck the surprise! (My kids love to read my blog!) But you can see the pajamas I picked out for myself in the below funny Santa Baby ad. (My pajamas are the blue penguin pajamas that the woman on the left is wearing.)
My husband is a little bit more, err…
reserved
then the men in the below
Jingle Bellies
holiday spot, so instead of a colorful pair of Christmas jammies, I got my husband a more sophisticated holiday plaid. But there are Joe Boxer PJs for men at Kmart that are quite lively for guys who want to flaunt their holiday spirit! (But hopefully your significant other doesn't want to flaunt his holiday spirit as much as these men did. LOL!)
The Joe Boxer pajamas from Kmart are so adorable and affordable that I bought two pairs of boys' PJ pants and wrapped them up to donate to a local church's holiday gift drive for needy families. I figured: Who wouldn't love a soft and warm pair of Joe Boxer pajamas available at Kmart? I am glad that I picked up some this year!
This post was shared at: DIY Sunday Showcase
This is a sponsored post written by me on behalf of Joe Boxer available at Kmart.
You Might Also Like