Thanks to BurlapFabric.com for sponsoring this post. I was provided with colorful cotton bandanas in exchange for my honest review. This post contains Amazon affiliate links. If you click on a link and make a purchase, I earn a small commission that helps to run this blog. Thanks!
Welcome back to 12 Months of Wreaths!
Hi everyone! Welcome back to our seventh month of 12 Months of Wreaths! Today I'm sharing a colorful summer bandana wreath. Plus, my friends have put together some really awesome wreaths, too!
Welcome to 12 Months of Wreaths – July

Curly Crafty Mom – DIY Magnolia Wreath
Mom Home Guide – Colorful Bandana Summer Wreath
The Southern Couture – Back to School Themed Wreath Using School Supplies
Dazzled While Frazzled – DIY Denim Nautical Ocean Wreath
Follow your Hosts and Co-Hosts:
Colorful Bandana Wreath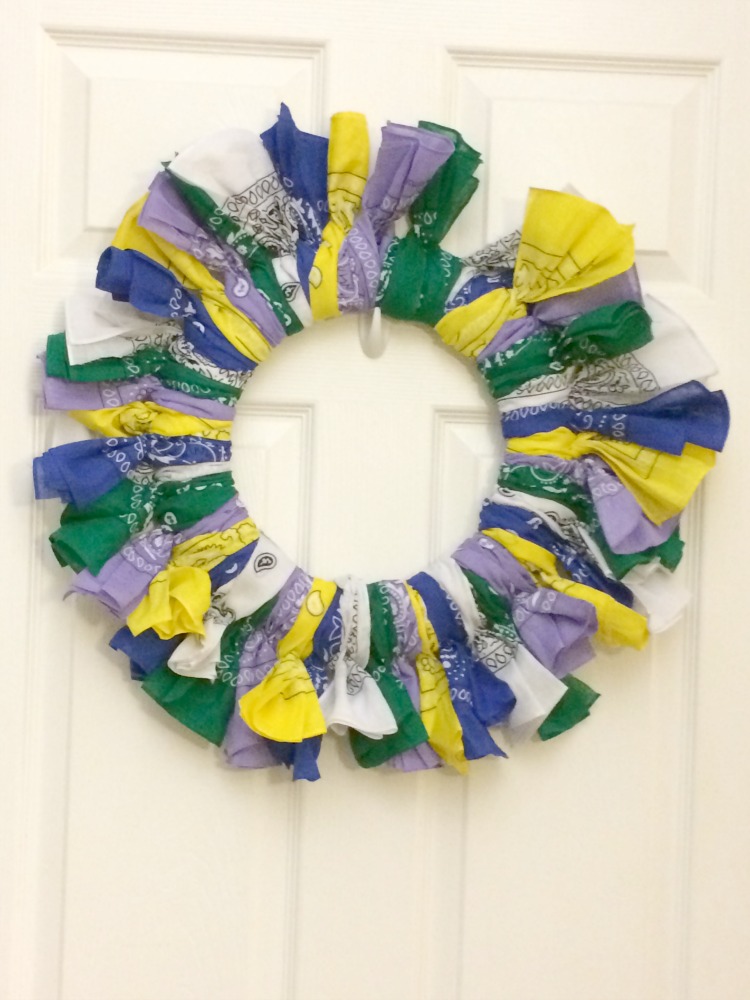 For this month's wreath, I chose to craft something easy, yet fun and colorful.
This wreath is inexpensive to make and can be put together quickly. It's awesome that I have some fall-colored bandanas left over from the packs of bandanas I chose for this project, so I hope to make a bandana wreath in September, too.
I got my bandanas from BurlapFabric.com. They sell 12-packs of quality, 100% cotton paisley bandanas at a great price. (They also sell burlap fabric and ribbon that work perfectly for any number of projects.) Just check out last month's Patriotic Red, White & Blue Bubble Wreath , which I made with burlap fabric and ribbon from BurlapFabric.com.

Bandana Wreath Instructions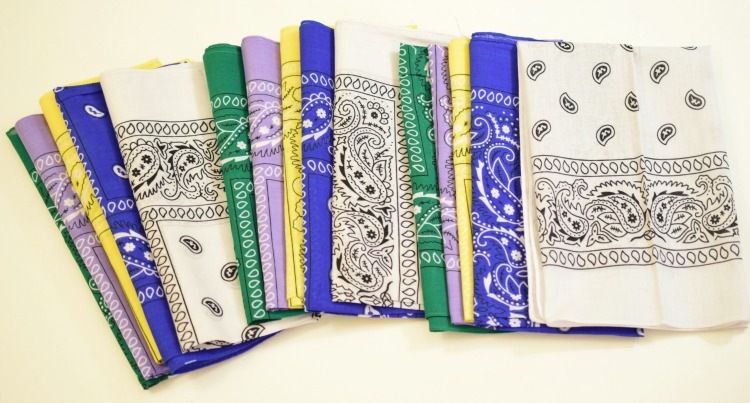 Supplies
15 colorful bandanas — I used 5 different colors for the bandanas
(I got 3 packs of bandanas from BurlapFabric.com. From the packs, I was able to get three of each color bandana
.)
14″ Wire Wreath Frame
Multi-Purpose Scissors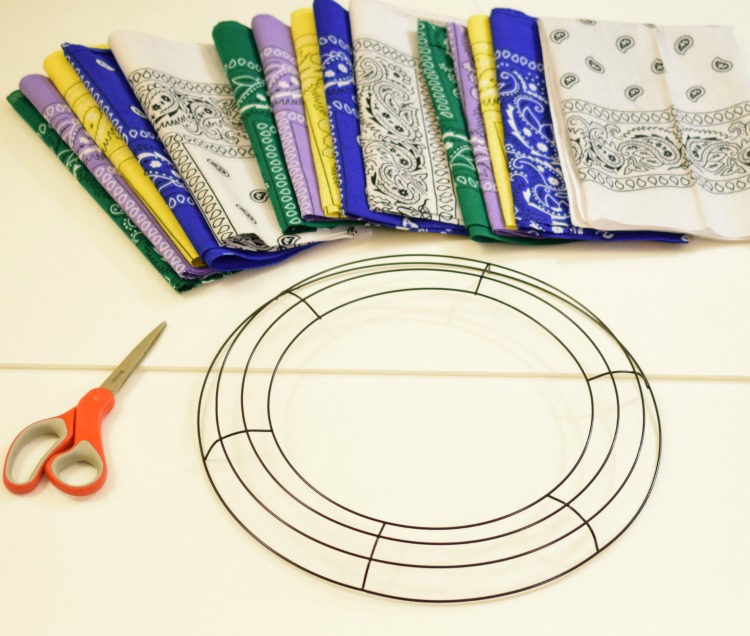 How to Make a Bandana Wreath
Fold each bandana into thirds. Cut each bandana into three equal parts. Fold a bandana strip into a loop and place the loop under the wreath form. I found that the wreath looks best when the loops are tied on with the curved up portion of the wire wreath form facing up, not down.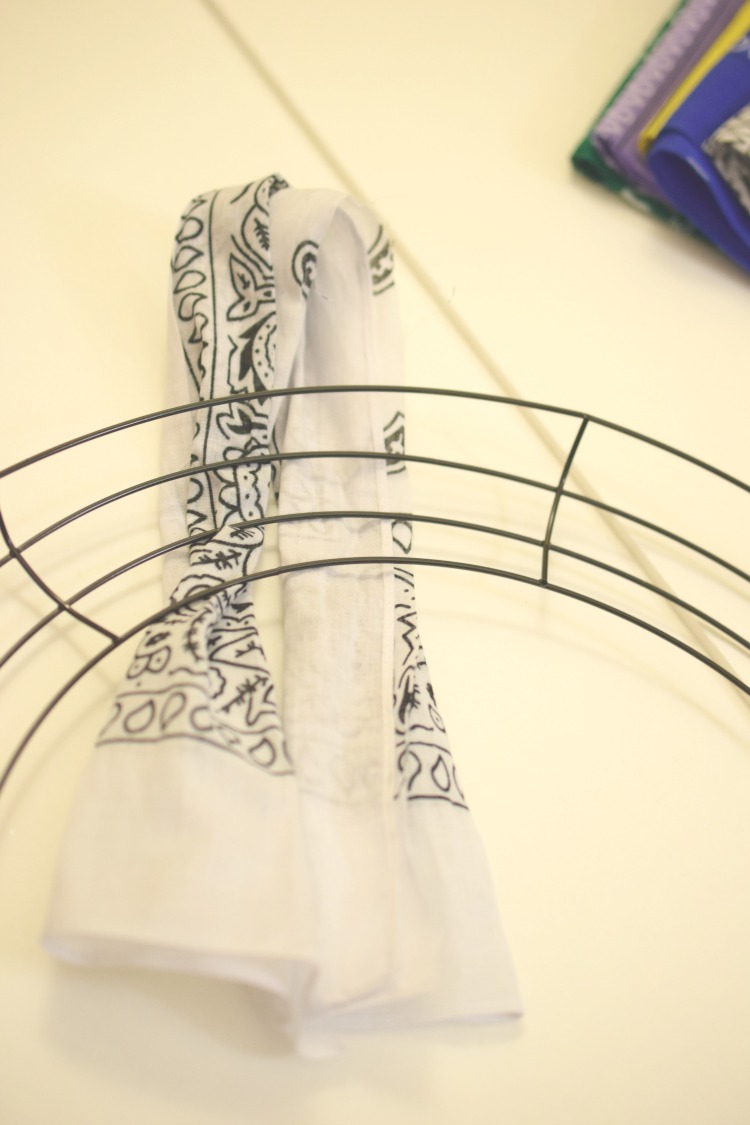 Take the ends of the loop and pull them through the upper looped portion of your bandana loop. Pull tightly.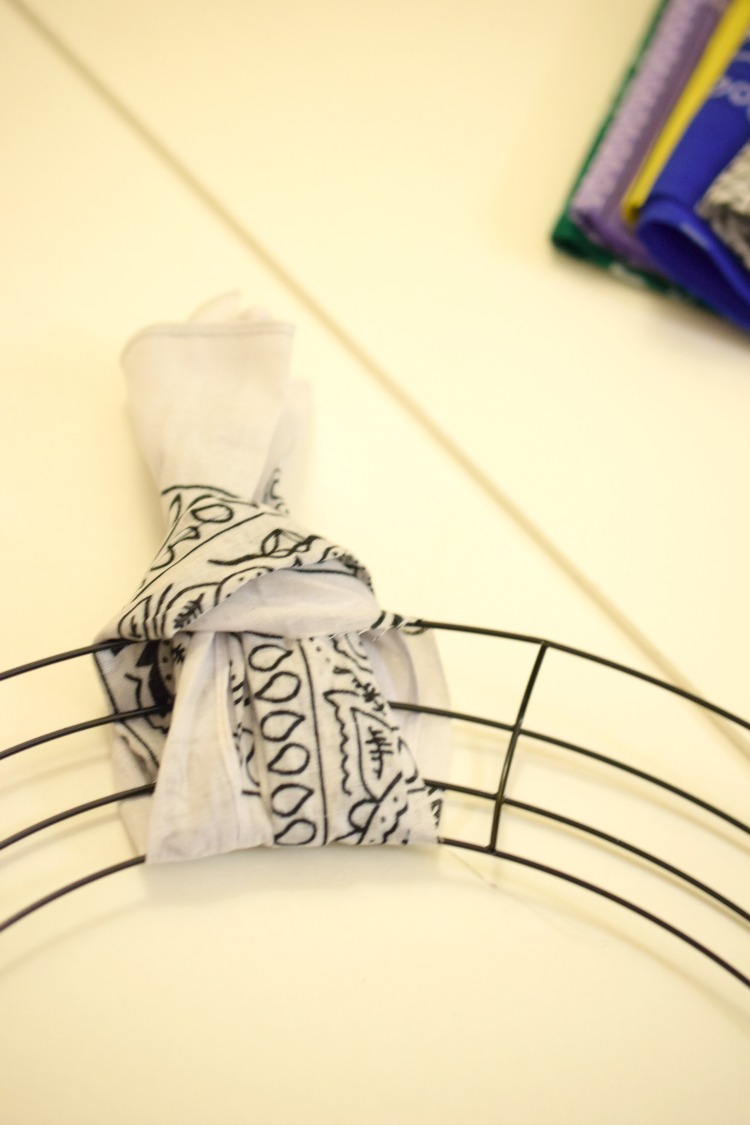 This is a closer look at how to tie on a bandana loop.
Repeat until all the bandanas are tied on the wreath in a pattern of your choice.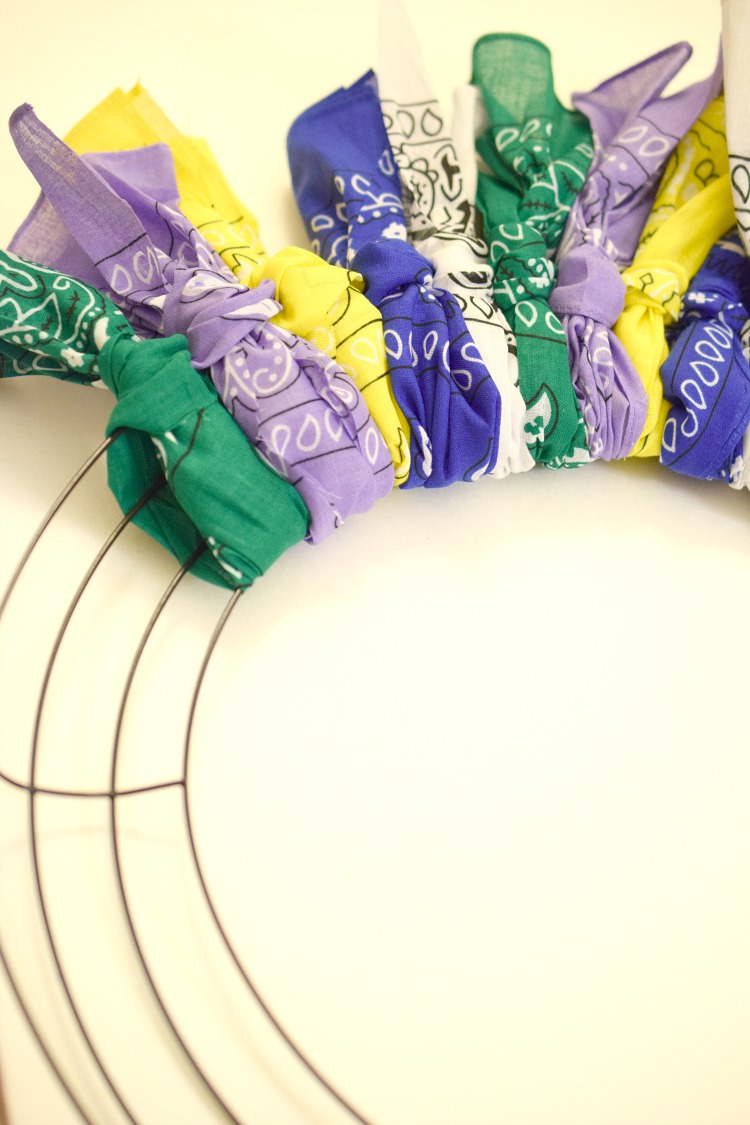 This craft was so easy that my wreath was finished in about an hour!
Paisley Bandana Wreath
At first I hung my new bandana on my vibrant red front door. I added a cute "L" monogram that my friend, Carrie, so sweetly gave me. It looked nice. But the morning sun fades all my wreaths, so I moved the wreath inside instead. I like this wreath too much to let it fade.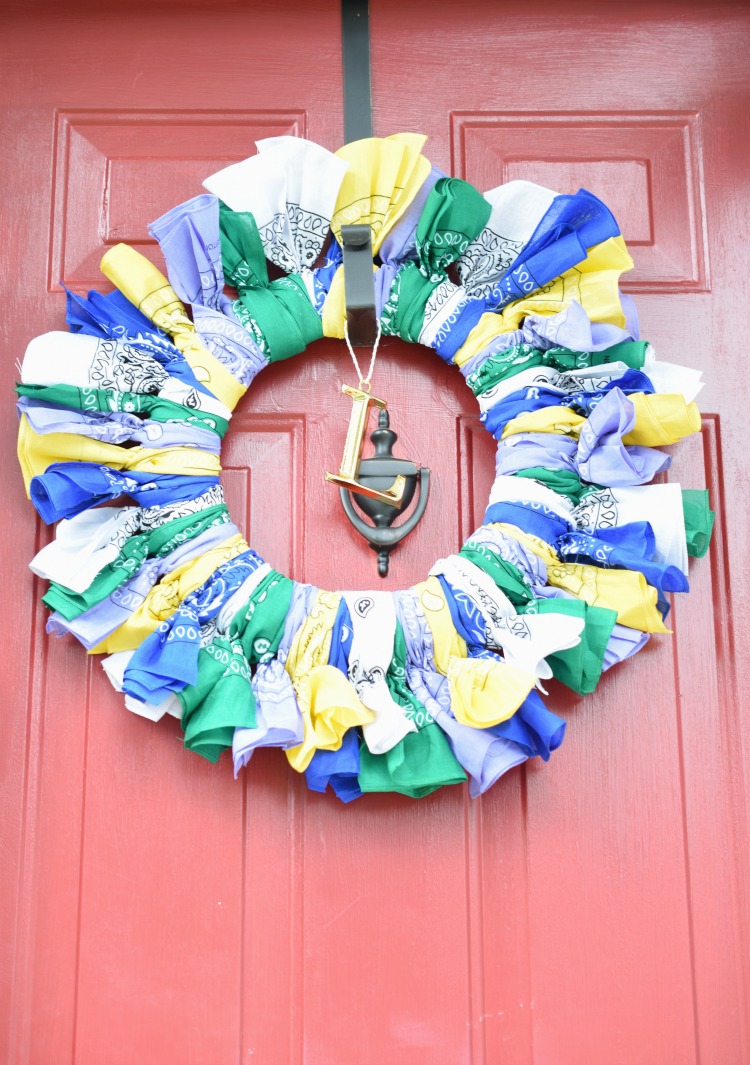 I hung the bandana wreath in my home's family room, which is also our billiard room!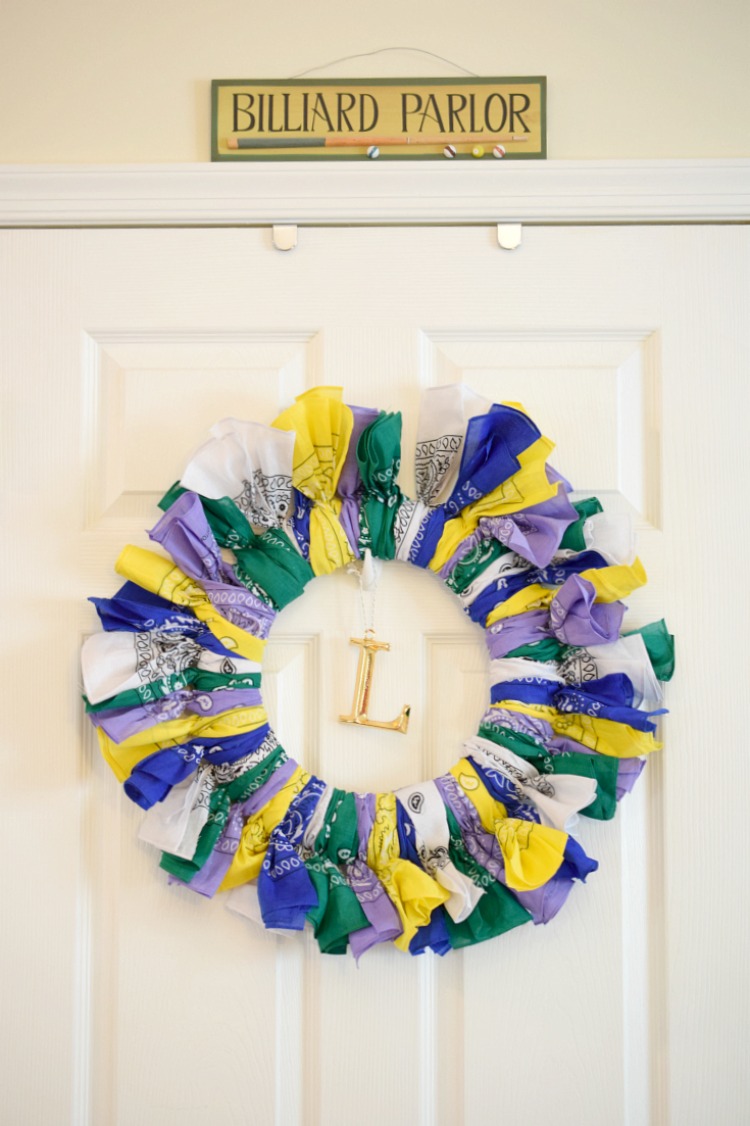 The below shows what the wreath looks like from across the pool table in our family room.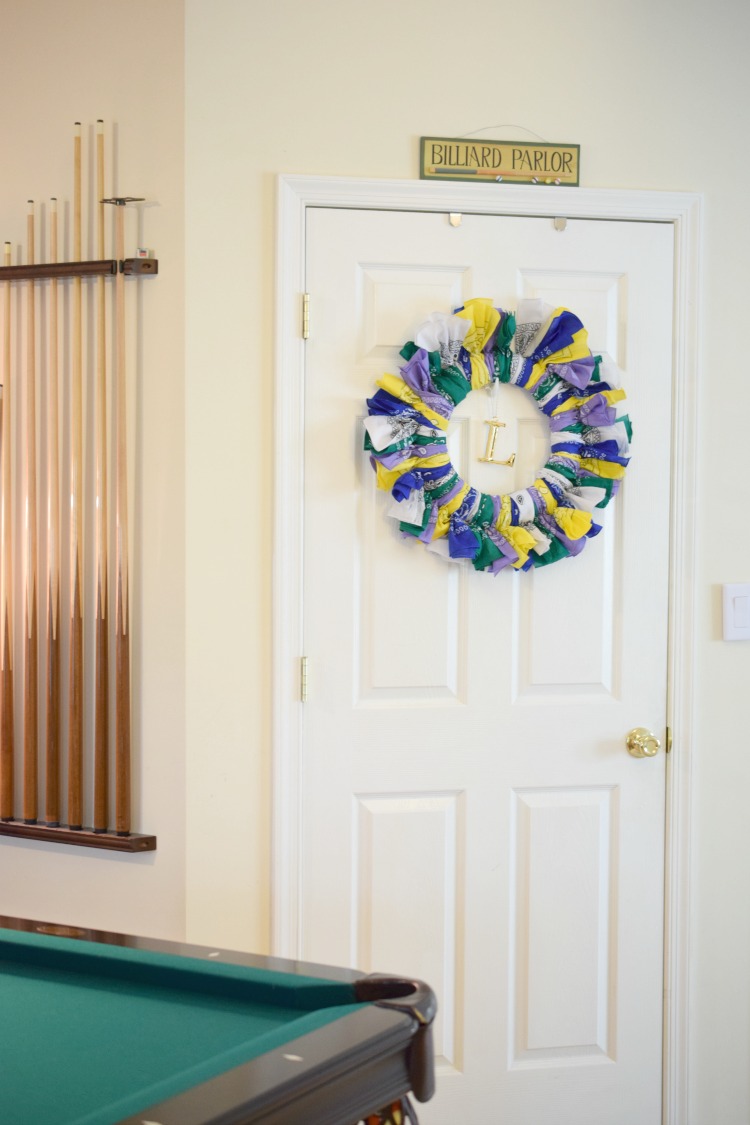 My bandana wreath is a new favorite of mine! I can't wait to start on my fall bandana wreath.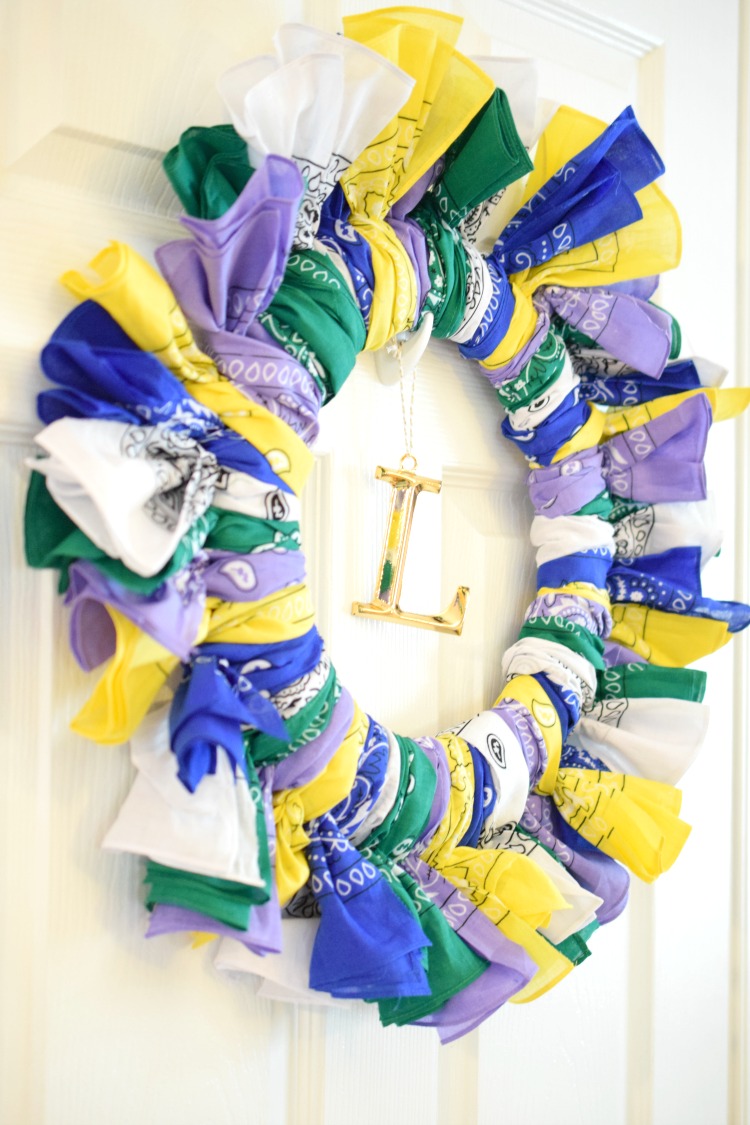 Don't forget to stop by to see next month's wreaths!
Thanks again for joining us! We will be sharing a new wreath once a month in 2017!
Are you interested in sharing a wreath with us one (or more) months? We are accepting guest hosts! Email carrie (at) curlycraftymom (dot) com if you are interested!
This tutorial has been shared at the Homestyle Gathering party at My Wee Abode.