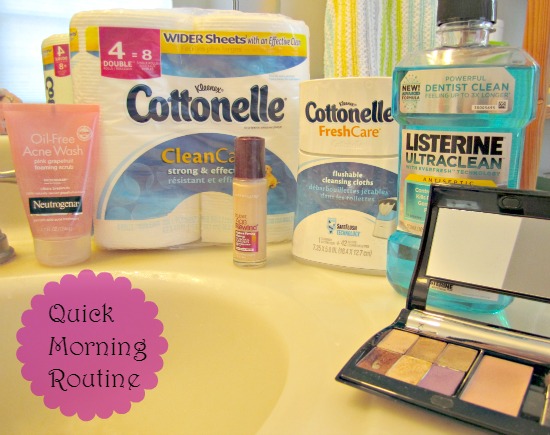 This post is sponsored by Cottonelle.
I bet this sounds like a lot of moms' early morning routines. Your morning schedule starts early, so you get dressed in 10 minutes or less and throw on sweats before seeing your kids off to school. That's my routine this year! My husband and I are night owls, and I get up at 6 a.m. to make breakfast and help my kids out the door, so I've been very sleep deprived!
So, I've developed a quick routine to make myself presentable enough to walk my kids to the bus stop. Now, I don't actually have to walk them to the bus stop (none of the other parents do), but this is my kids' first year taking the bus, so I am having a little trouble letting go!
Quick Early-Morning Routine Products
These are my favorite products for getting myself ready in 10 minutes or less on school mornings — in just over one week of school so far, I've gotten it down to a science! (Thank goodness I can take a leisurely shower later once the kids are in school.)
1. Neutrogena Oil-Free Acne Wash, Pink Grapefruit Foaming Scrub: Part of my early morning routine includes washing my face with Neutrogena's Oil-Free Acne Wash, Pink Grapefruit Foaming Scrub. I just love this scrub — it is gentle on my sensitive skin, but also helps take care of blemishes. The pleasant grapefruit scent also helps to wake me up in the morning!
2. Listerine Mouthwash: Listerine mouthwash gets ride of any morning breath I may have, so I don't worry if I run into a neighbor or two on my way to the bus stop! I also like that it does more than freshen breath — it helps prevent gum disease.
3. Maybelline Instant Age Rewind Makeup: I love this makeup — it does a great job in evening out my often red and blotchy skin, is kind to my sensitive skin and helps protect my very fair complexion from the sun! This base is also practically scent free – the scent in other brands bothers my sensitive nose/allergies.
4. Mary Kay Compact with eyeshadows and blush: I adore my Mary Kay compact. I can fill it with the eye shadow and blush colors of my choice and is not pricey at all! I also love that I can try on my color choices at home with my Mary Kay consultant and return whatever doesn't work for me!
5. Cottonelle Clean Care Toilet Paper and Cottonelle Flushable Cleansing Cloths: Because I don't have time to shower before stepping out of my house in the morning, I want to be extra sure that I am as clean as possible. I like the softness of Cottonelle Clean Care Toilet Paper and the extra security of the Cottonelle Flushable Cleansing Cloths. The wipes are alcohol-free so they are harsh on one's skin, and they are sewer and septic safe, so I don't have to worry about my home's plumbing.
Rite-Aid Cottonelle Coupon
I got my Cottonelle products for $1 off at my local Rite-Aid, and you can, too. Visit the Rite-Aid website and watch the 30-second video. After the video, you can log in to receive a coupon to download for $1.00 off your purchase of Cottonelle Flushable Cleansing Cloths and Cottonelle Clean Care toilet paper.