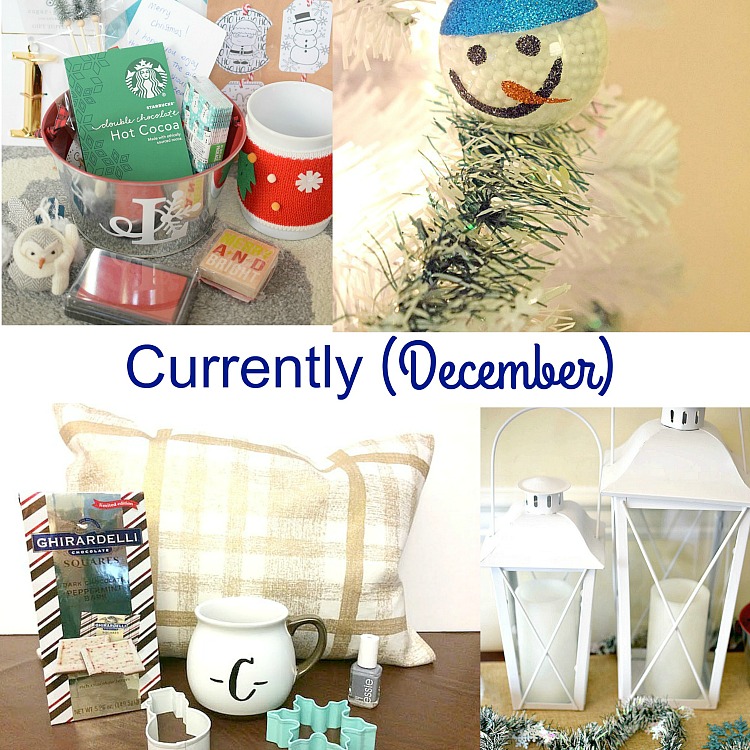 Happy Monday, everyone! I can't believe that Christmas is only a few days away – I still have so much to do to prepare for the holiday!
Today Carrie of Curly Crafty Mom and I are sharing our "Currently" posts – in these posts, we step away from our regular crafting, décor and other posts to share little tidbits about what's going on in our lives. If you have a "Currently" post, please share your link in the comments. We would love to read what you have been up to!
Christmas Gift Exchange
Carrie of Curly Crafty Mom and I decided to exchange gifts this year. (We actually met during a Secret Santa gift exchange.) We decided that we wanted to give each other at least one handmade item. For Carrie's gifts, I made her an easy, but pretty placemat pillow (check out my tutorial here) and added some fun cookie cutters, nail polish, a monogrammed mug and some chocolates.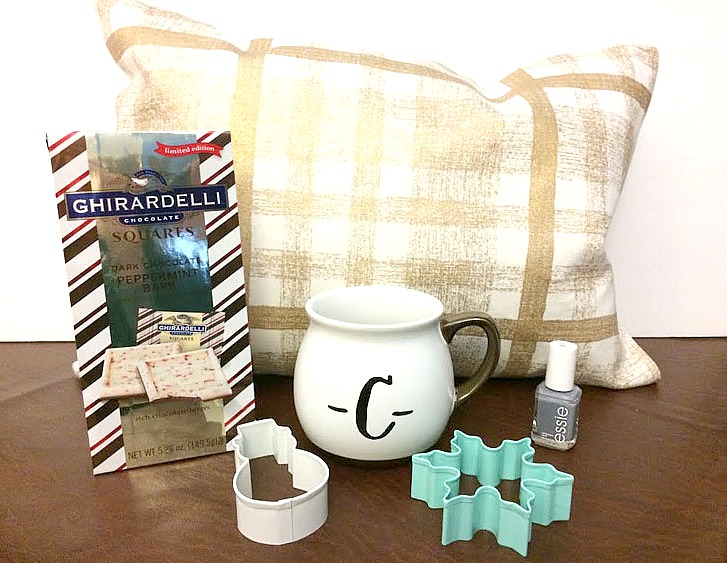 For my gift, Carrie monogrammed a holiday tin for me. The tin looks great on my living room console table, which I decorated for Christmas.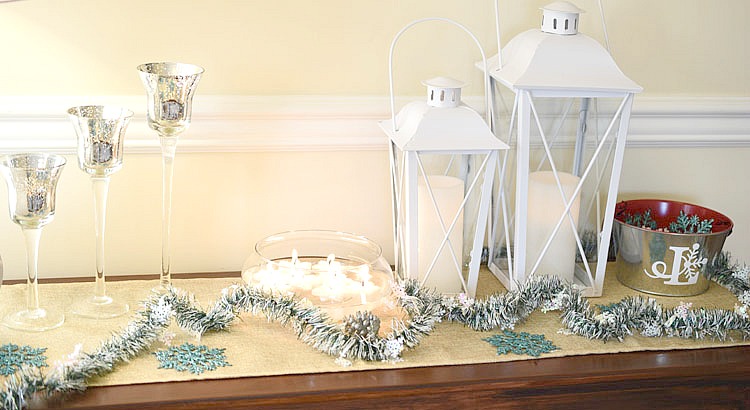 I love all the sweet and thoughtful gifts Carrie sent. In addition to the tin, she sent some gift tags that I can color, some Christmas tree stirrers for my kitchen's coffee bar, an L monogram, an adorable bird ornament, a mug, a holiday stamp set, a mug and a pack of tissues with a holiday print on it. I've already put most of the items to use already!
New Laundry Room
My family's washer and dryer both decided to give out at the same time. The dryer wasn't working well for at least a month or two (clothes were taking forever to dry), but when I went to run the dryer about a week ago, it made a horrific noise! Not do be outdone, the washing machine decided to regularly stop mid cycle without draining. Since the dryer is more than 8 years old and the washer is about 16 years old, my husband and I opted to replace them.
I fell in love with a top-loading washer and an EasyLoad dryer, both by LG. The machines are in a new color called graphite steel. They're gorgeous! I don't need a new project before Christmas, but I am hoping to paint the wall in the laundry room that's behind where the new appliances will go. I painted the laundry room about a year ago, but never painted the wall behind the appliances. The other walls are a cream color. I'm thinking of painting the wall behind the new washer and dryer navy blue. We will see. I hope to clean out the laundry room and add some décor, since the room is a mess. I hope to share a laundry room reveal with you next month!
Blog Projects
Carrie and I have a fun series planned for next year – 12 months of wreaths! Every month, each of us will be sharing a new seasonal wreath that we've made. Check back in January to see our first wreaths for the New Year! In January we will also be sharing our list of 12 goals that we each plan to tackle in the New Year. I've found that goal setting has been a great way for me to accomplish the projects around the house and other things I want to get done during the year.
I hope everyone has a wonderful holiday!