*This post contains Amazon Associate links. If you click on a link and make a purchase, I earn a small commission that helps to run this blog. Thanks!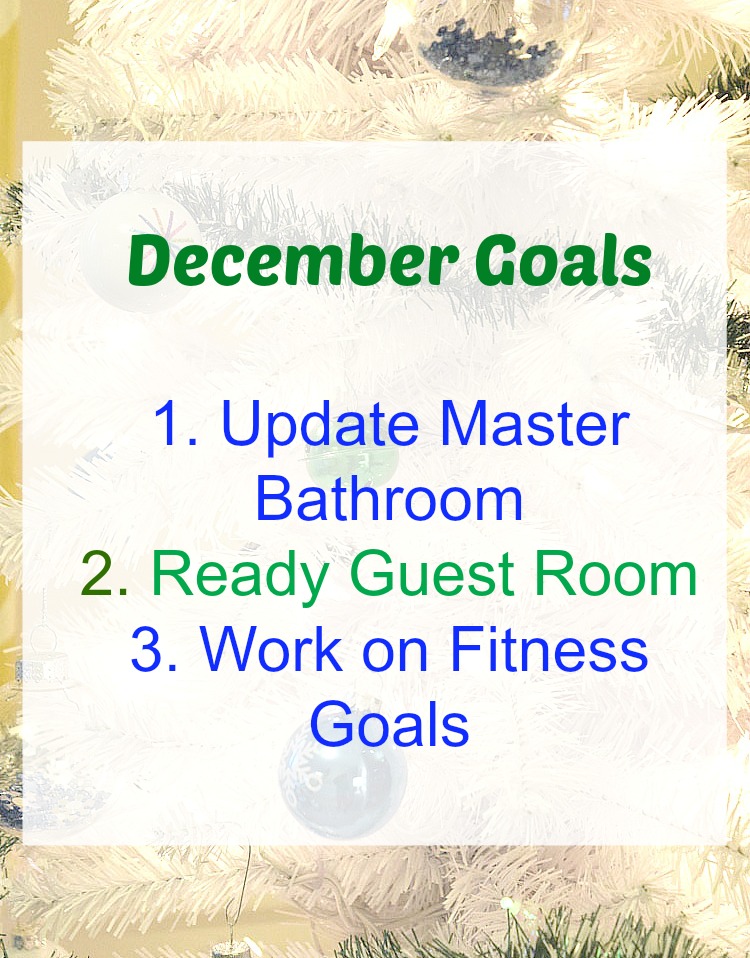 Today I am sharing my monthly goals for December. Every month, I set three monthly goals for myself. These goals are smaller things I hope to achieve or accomplish in the next few weeks. I've found that goal setting, or establishing small goals each month, helps me to get things done! My friend Carrie at Curly Craft Mom got me started on this helpful habit of goal setting! The recap of my November goals are at the bottom of this post. These are my December goals:
Master Bathroom Update
This fall, I started updating my home's master bathroom by stenciling an accent wall. The funny thing is that I still need to finish it up! The wall is mostly done, but I have a few touch-ups to do. (Next time I pick a wall to stencil, I'll pick a smaller wall!) But I do love how the wall looks so far!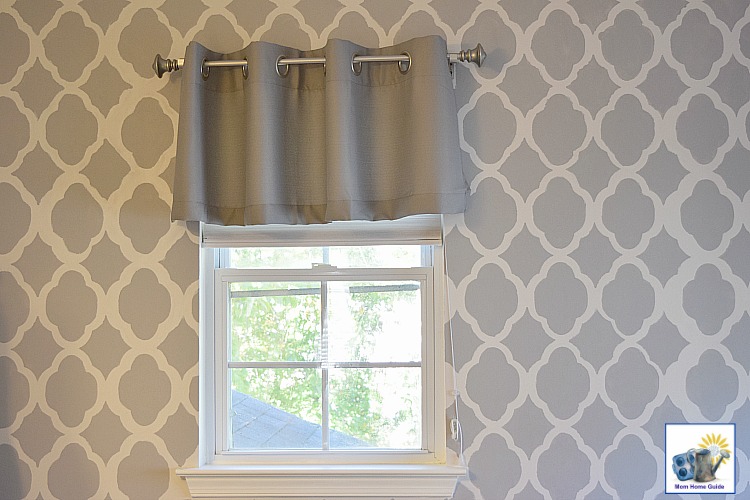 Among the things I'd love to do is paint or gel stain
the master bathroom's vanity (the vanity is oak) and make a DIY frame for the master bathroom mirror. I am debating whether to paint the vanity gray or to stain it with General Finishes Gel Stain in Java. What do you think?
Ready Guest Room
My home has a guest room, but it's often too messy for anyone to actually sleep there! I recently cleaned up about half the room when I created a computer command center in the guest room. That computer command center has been quite helpful — my daughters use that computer all the time when doing school work or editing photos they've taken.

I'd love to do a deep clean of that room (wash all the linens, curtains and carpet clean the carpeting) and get either a new full mattress or a foam memory topper for the full bed in the room. That bed is really uncomfortable! I have my eye on a Casper mattress. I like that the Casper mattress
is eco-friendly, and it looks super comfortable! I do have a problem — my gas dryer recently broke! Our washing machine is old, so I might need both a washer and dryer. I am wondering if the GE Duet System might be a good pick.
Work on Fitness Goals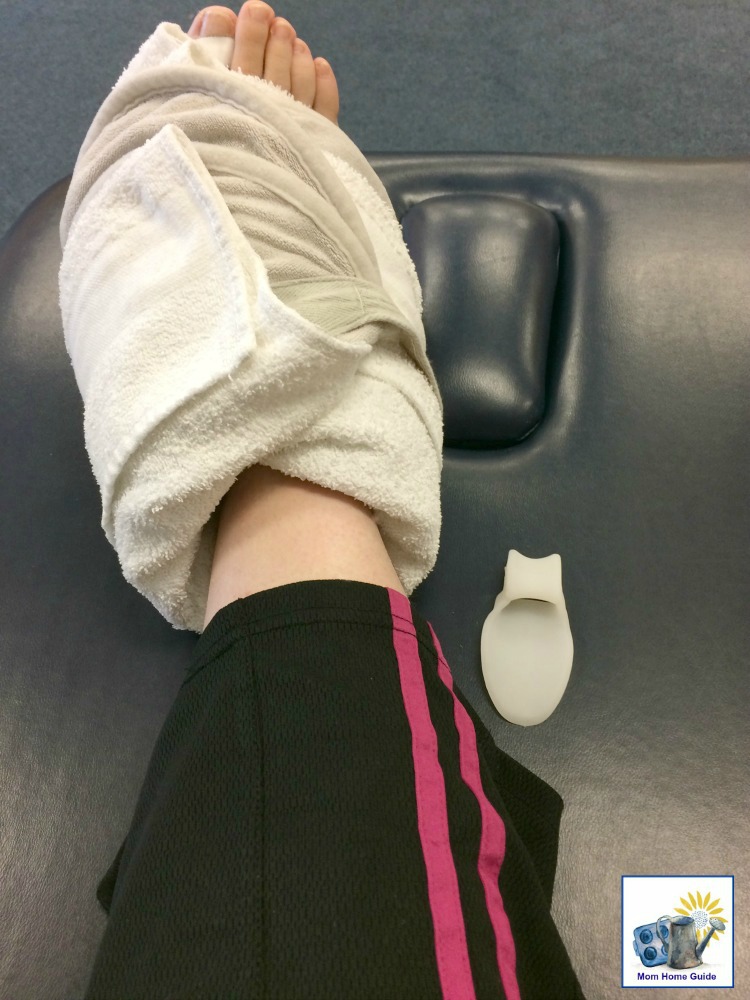 I had bunion surgery in July 2015. I've had two rounds of physical therapy, but my foot still hasn't healed properly. (My toes are often stiff and swollen.) As a result, I don't exercise as much as I should.
I hope to maintain my own physical therapy routine at home (my physical therapy sessions ended earlier this month) and develop an exercise routine! I'd love to maybe get a Fitbit to at least start tracking my steps each day. I've heard that the Fitbit One Wireless Activity Plus Sleep Tracker
is the best for people like me who have nickel allergies (I have trouble wearing watches with metal in them). A plus is that the Fitbit One
also tracks sleep! I don't sleep as much as I should because I am a night owl. I should also join a gym or figure out where I can do my physical therapy exercises — in physical therapy I used both a treadmill
and an Elliptical Machine
.
How Did I Do on My November Goals?
It's time to see how I did with my November goals!
Start Decorating for Christmas – Decorating has started in full swing at my house! My family and I have put up our Star Shower Laser Christmas Lights ,
decorated our downstairs powder room for Christmas, decorated our new white Christmas tree and put up our artificial green Christmas tree. I still have lots to do (like go Christmas shopping and decorate our fireplace mantel), but it's nice to have at least something done so far! (But I do wish that I had the new Star Shower Motion Lights instead of the static version that I got last year!)
Hang New Art in Master Bathroom- I have one print up that I made for the master bathroom, but because I am still touching up the bathroom wall, I still need to hang my coloring page I plan to put up in the room, as well as a large print that I made from one of my family's trips.
Start Using Breadmaker Again – I am happy to say I have been using my breadmaker again! I have a Zojirushi1-Pound-Loaf Mini Breadmaker
, and it's so easy to use. I like baking a fresh loaf of bread when I make homemade soup for my family.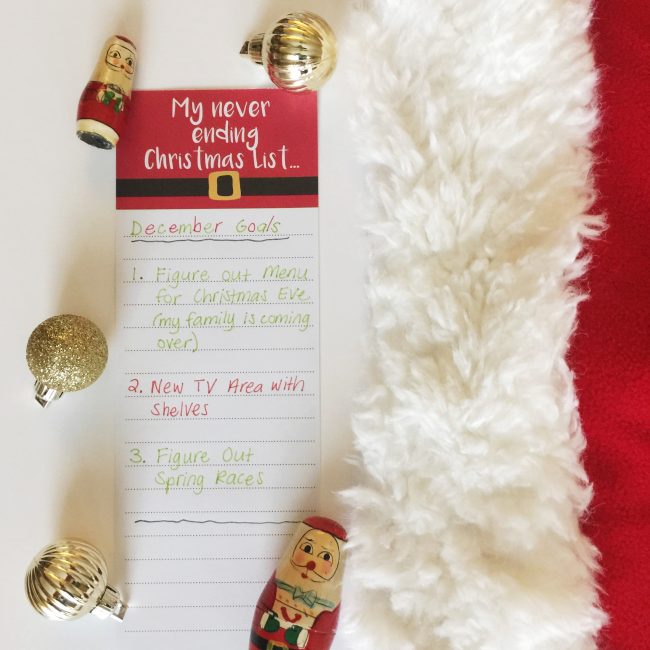 Be sure to check out Carrie of Curly Crafty Mom's goals for December!