Thanks to Dino Safari for sponsoring this post.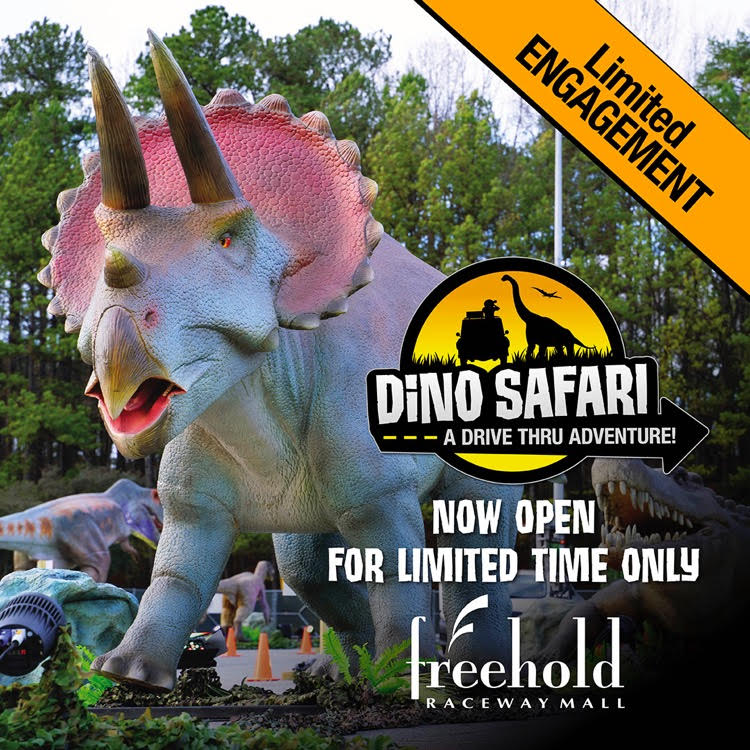 Grab a prehistoric passport and join over 40 giant moving dinosaurs on a globetrotting expedition at Dino Safari, a completely drive-thru dino adventure for the whole family.
This fun, interactive experience for the whole family will run from July 10 – August 1 at Freehold Raceway Mall.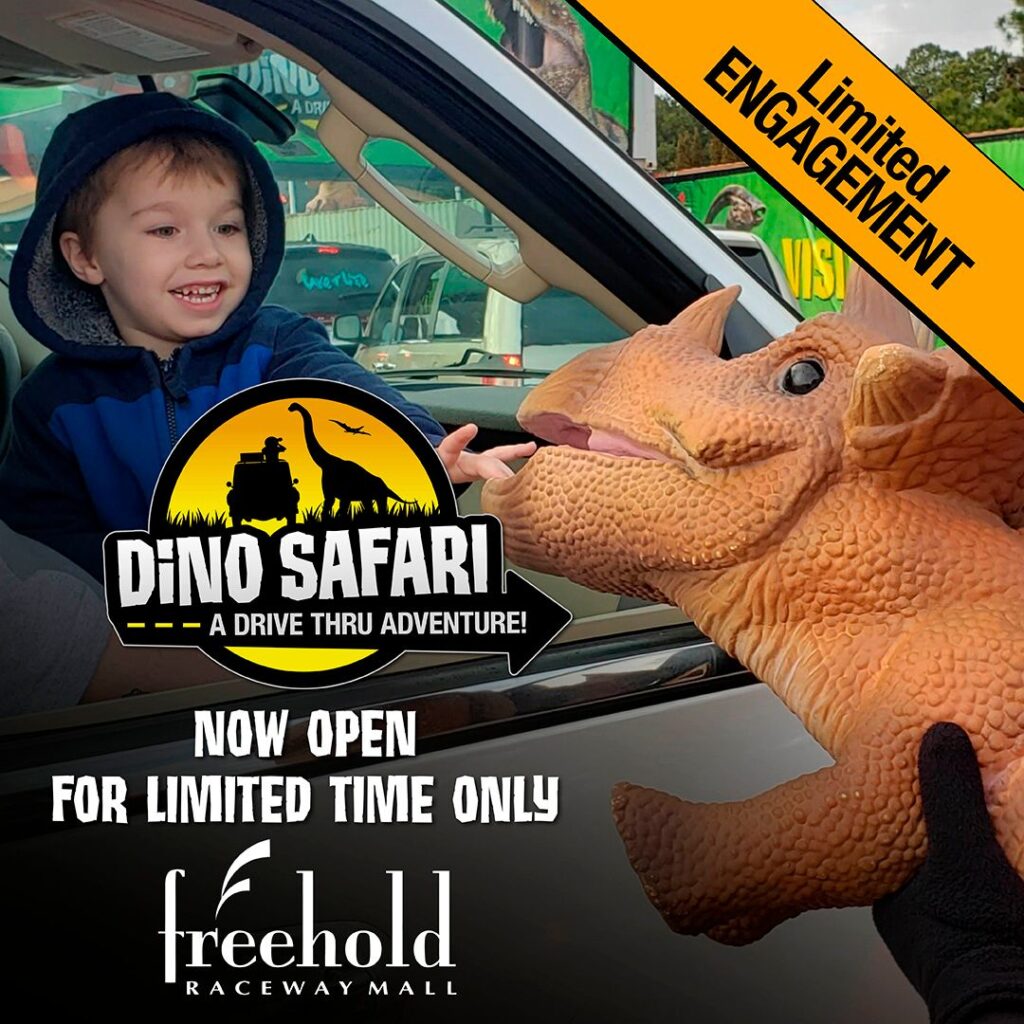 From the comfort of your car, you and your family can get up-close-and-personal with the most fascinating prehistoric creatures —from the mighty T. rex of North America to the giant amphibious Spinosaurus from Africa.
Learn how dinosaurs evolved over time, where they lived on Earth, and the discoveries paleontologists have made about how they ate, moved and behaved.
Beware: Along the journey, earthquakes might erupt, dinosaurs could battle, and your family might have to help save a baby dinosaur's life! So, buckle up for the adventure of a lifetime in this completely COVID-safe experience!
Plan Your Dino Experience — If You Dare!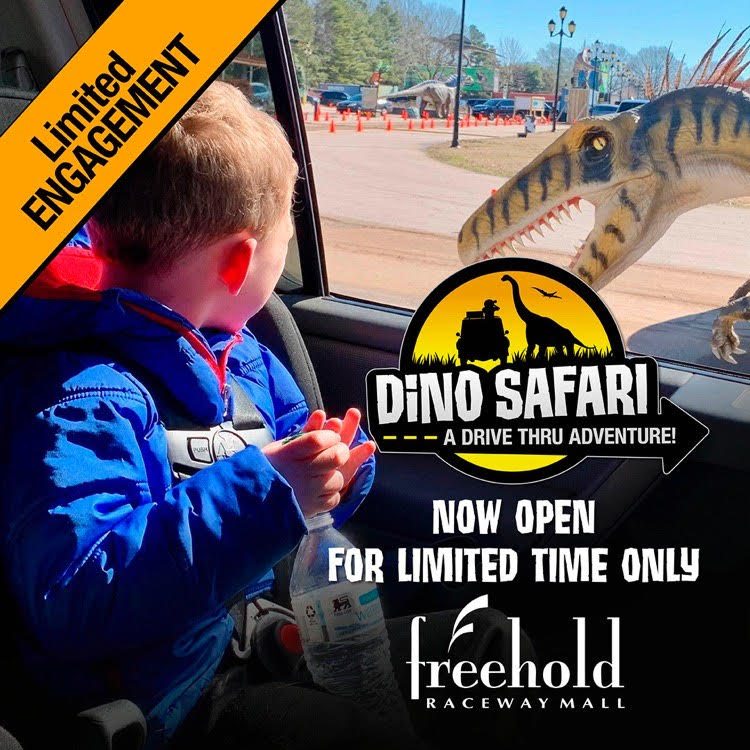 Get your tickets here for the Dino Safari at Freehold Mall.
The Dino Safari will run Wednesdays – Sundays 10 am – 9 pm. The last ticket is sold 30 minutes before closing every day. Closed Mondays and Tuesdays.
Tickets are sold on a per-car basis, meaning the more people you bring, the lower your per-person cost.
Included in the ticket are entrance to the drive-through park and a Survival Pack that features a "Park Passport" scavenger hunt and other fun surprises.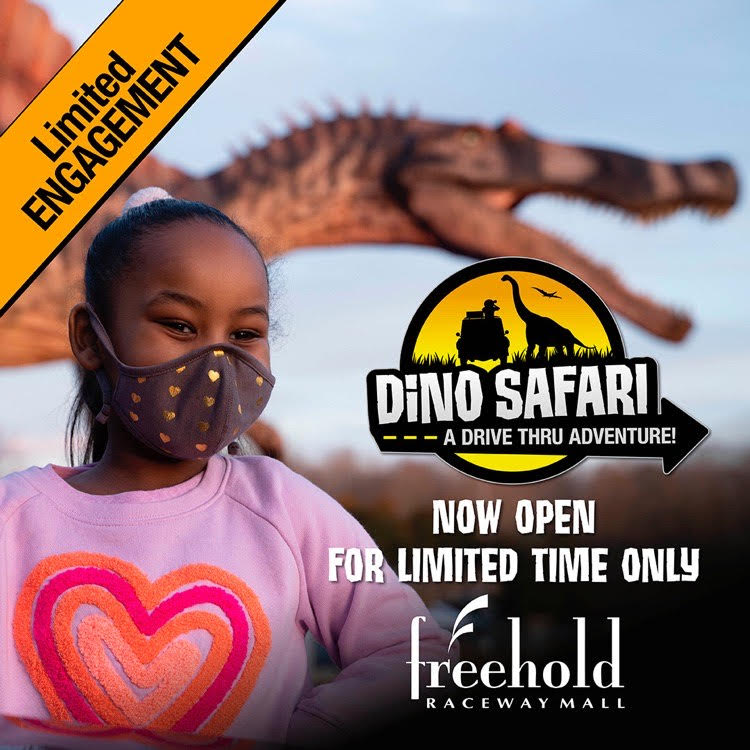 The entrance fee is $49.95 per car for up to 7 occupants, and $59.95 for large capacity vehicles.
Additional merchandise in the form of "Mystery Bags" can be pre ordered at checkout. The "Regular Mystery Bag" and "Deluxe Mystery Bag" each include a variety of themed toys and takeaways for kids of all ages — the fun is in the surprise!