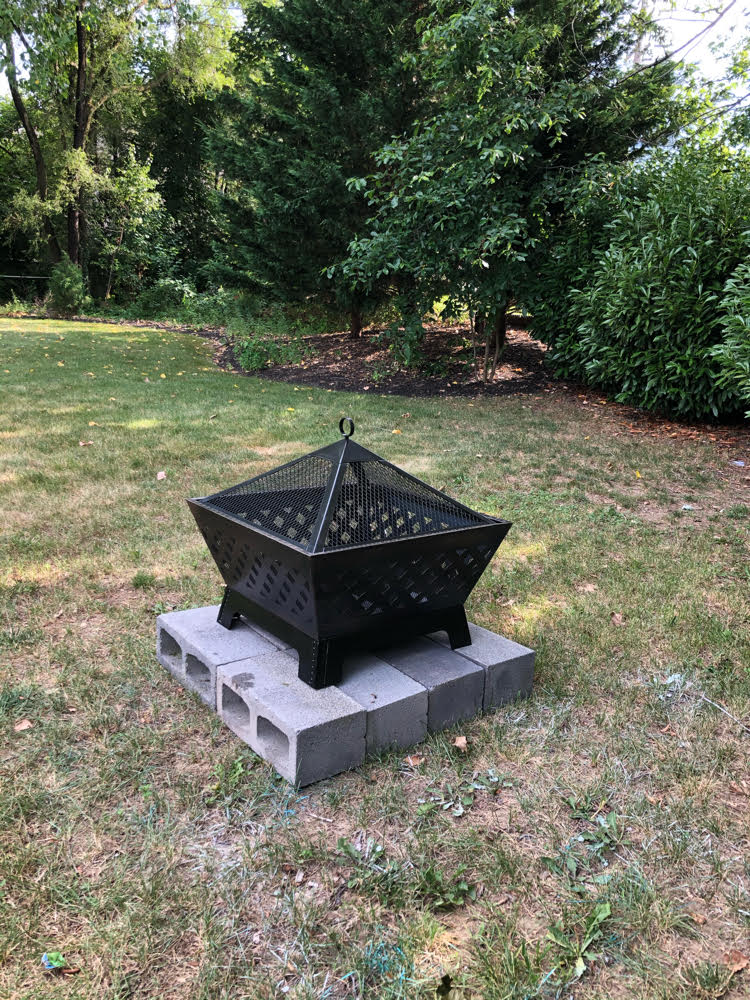 Since my state has shut down because of the pandemic, my family has mostly been sheltering at home. I've been trying to make being at home as enjoyable as possible for my husband and daughters. I recently purchased a Landmann Antique Bronze Fire Pit
from Amazon, and since then, we have been enjoying evenings around the fire pit in our backyard together. Our fire pit was a great purchase!
I had my eyes on this Landmann Antique Bronze Fire Pit for a while. One day I saw that the Amazon price had dropped on the fire pit. After consulting with my husband, we immediately ordered it! This fire pit is a much higher quality fire pit than I thought I would get for the price.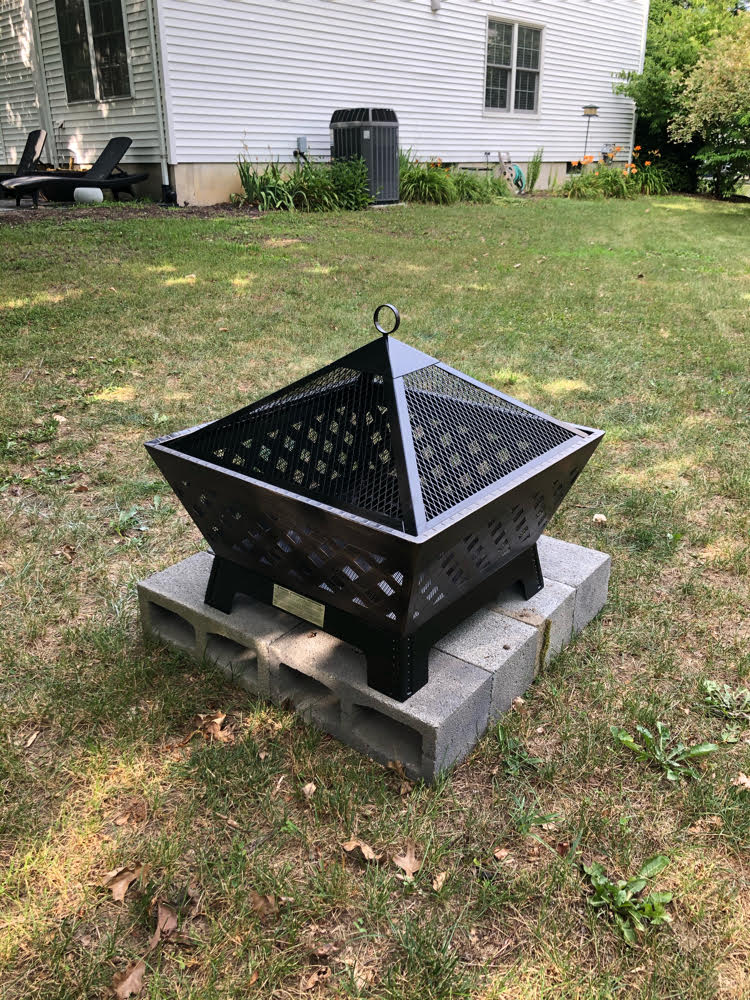 My Landmann fire pit came with a protective cover (for when not in use), a spark screen with handle, and a poker.
I love the look of this beautiful fire pit and it seems to be well made.
I was lucky enough to get this fire pit for only $86 with free shipping through Amazon Prime. (I think I'm a pretty good Amazon shopper!)
A plus is that I ordered the fire pit in the beginning of the week on Amazon, and it arrived in time for the weekend through Amazon Prime!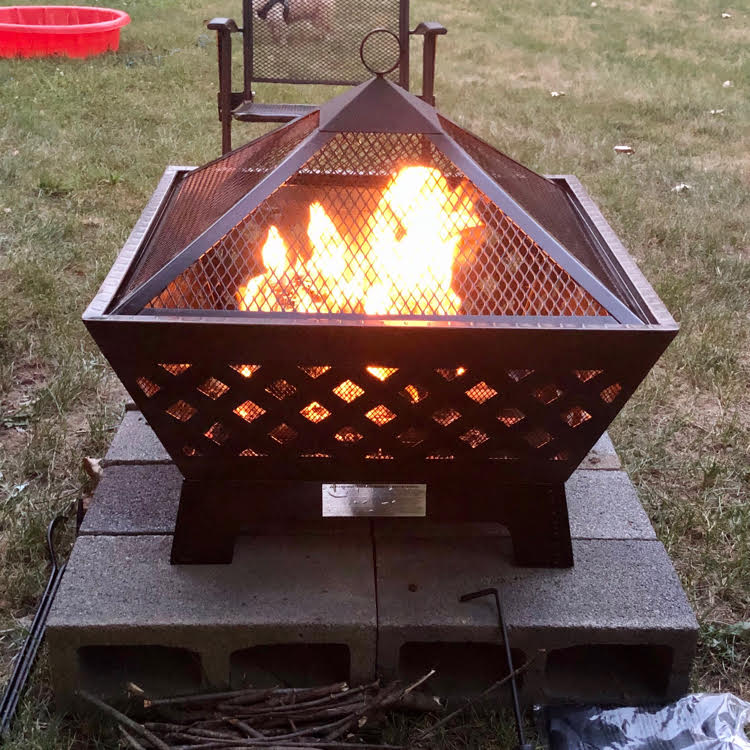 The fire pit is 10 inches deep and is 23 inches square. It is the perfect size for the enviro-friendly fire logs we purchased for our new fire pit. The logs burn for about 3 hours.
My husband used small twigs (from our yard) to keep the fire burning a little longer.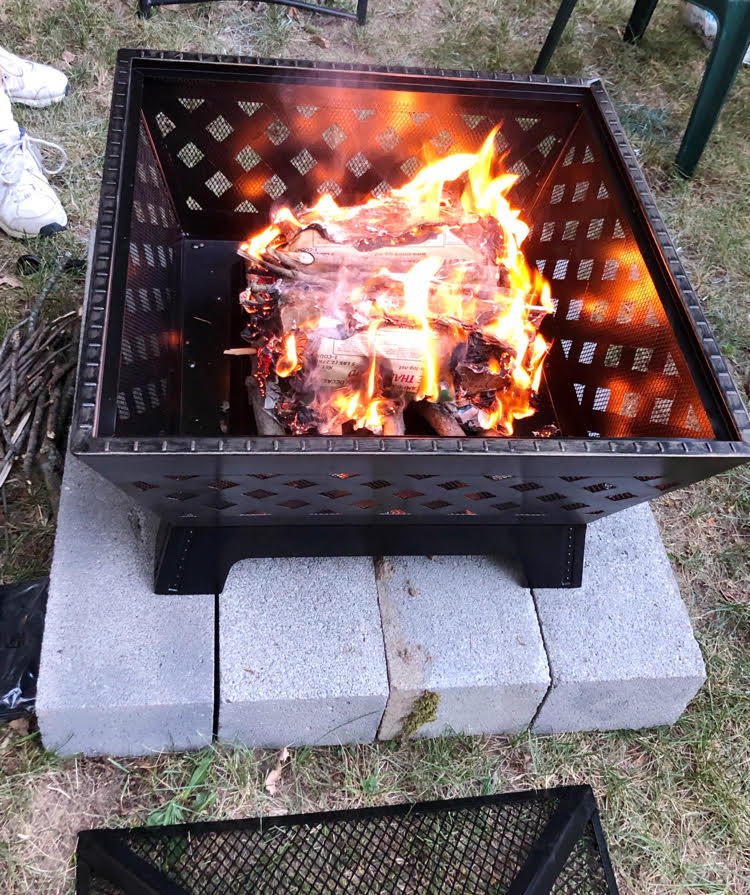 Those 3 hours give us the perfect amount of time to roast some hot dogs, veggies and marshmallows, listen to music and talk around the fire pit. My husband found a jazzy Apple playlist to play while we enjoy the fire.
We first used our fire pit on July 4. It turned out to be a wonderful night. We got to glimpse some military planes that flew overhead, sat around the fire pit and watched some fireworks that two different neighbors shot off from their backyards.
My husband roasted some mushroom, pepper and onion kebabs for us.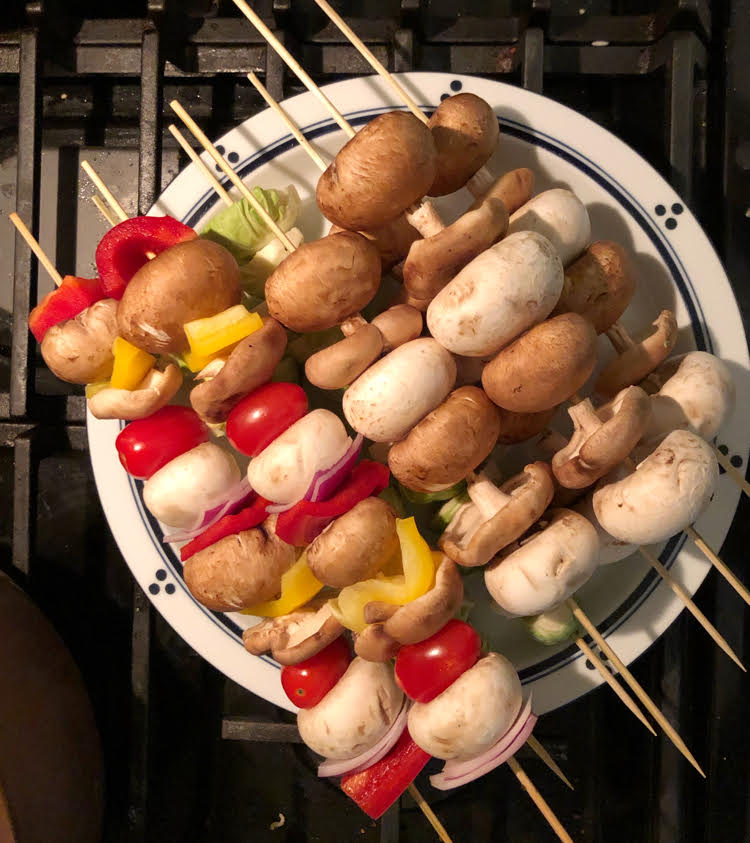 He also made zucchini, mushroom and onion kebabs.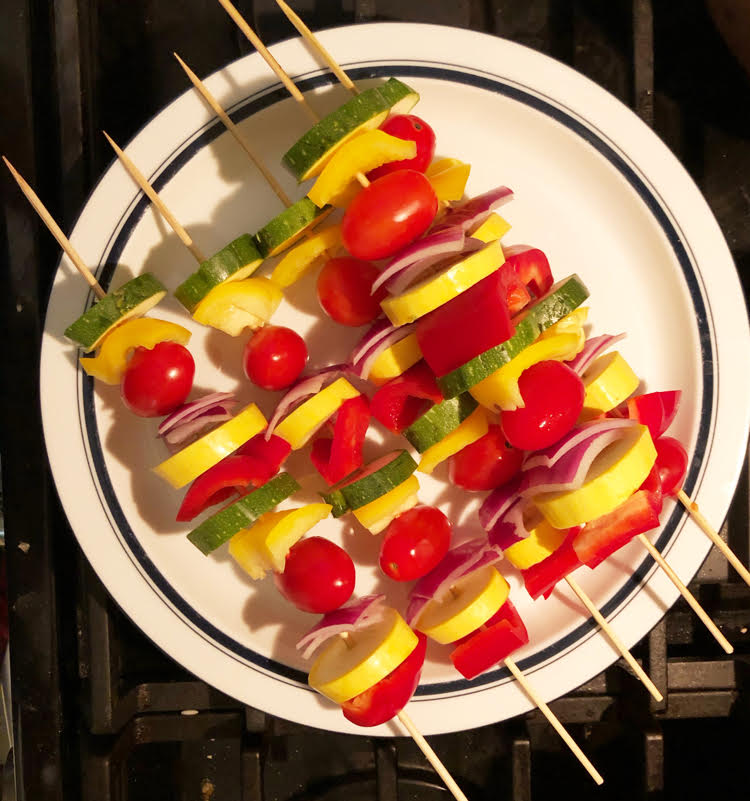 Our Shih Tzu pup sits around the fire pit with us (either at someone's feet or in someone's lap.)
DIY Backyard Fire Pit Area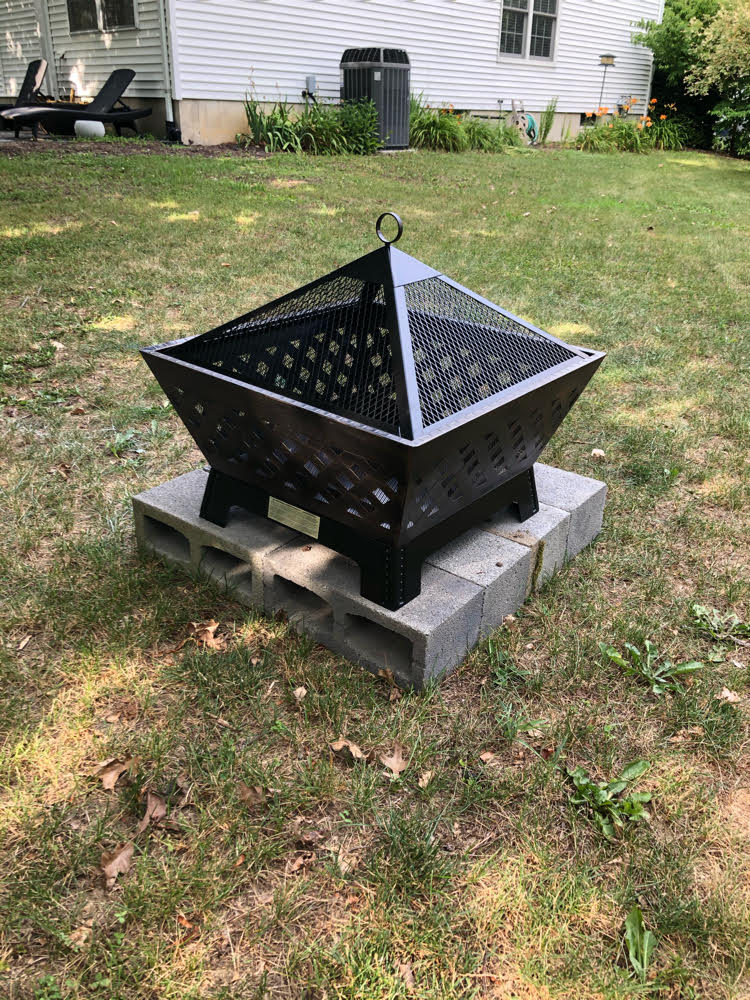 I decided to make a quick DIY backyard fire pit area for my family's new fire pit. I had some concrete blocks left over from a previous project, and it turns out they make a great base for our new fire pit.
We like how the blocks raise the fire pit up a bit. (We don't have to lean down when roasting our hot dogs!)
At some point, I'd like to make a DIY backyard fire pit area with pea gravel and surround it with gray bricks. (I would style my fire pit to be something like the DIY fire pit area by Prodigal Pieces, shown below.) We will most likely keep our concrete block base, since we like having our fire pit up a little higher.
Square Fire Pit Cooking Grate
My family and I have been enjoying our fire pit so much that we have purchased an additional square Sunnydaze X-Marks Fire Pit Cooking Grill Grate
for it. My husband picked it out — I am happy to say that it fits perfectly!
You can see the grate in the below photo — I took a quick photo of it after I put it on our fire pit, which is currently in our backyard shed. (We are keeping the fire pit out of the rain since it is forecast to rain for two straight days here in New Jersey.) The fire pit is lightweight, so moving it to our roomy backyard shed is quite easy.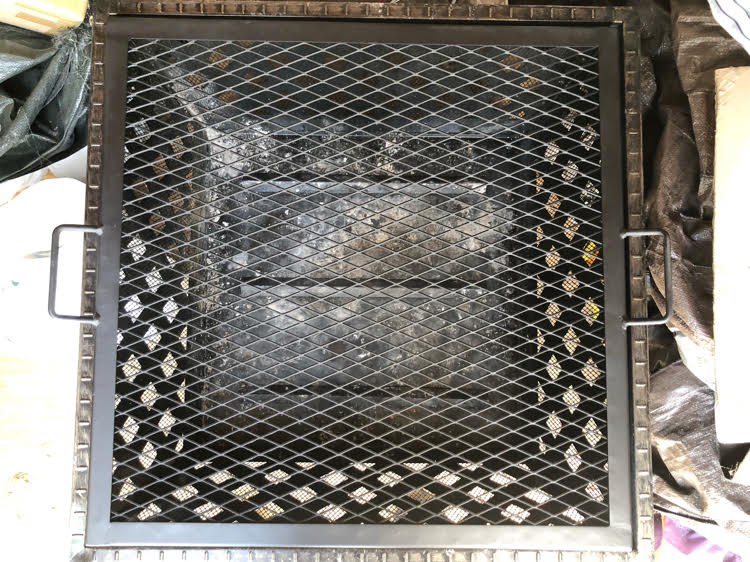 We haven't used our new cooking grate yet — it only arrived Thursday. It poured rain all day yesterday and is still raining here in NJ, so we are hoping to try it out tomorrow night! We want to make some burgers and roasted vegetable kabobs on our new cooking grate.
My daughters and I love roasting marshmallows, but I might at some point want to get a Campfire Firepit Popcorn Popper
. I think popping corn over our new fire pit would also be fun!
Fire Pit Safety Tips
When using a fire pit, it's important to take some fire precautions. I put our fire pit on a base of concrete block, since it's safer than putting the fire pit directly on the grass.
I also keep a watering can nearby (filled with water). The hose on that side of our yard is also nearby. I've read that you can also soak the ground with water before lighting your fire pit.
My plan to add a pea gravel area around our fire pit is also for safety – to make sure a stray spark can't start an unwanted fire.
My daughters are older, so they are quite aware of fire safety. It's important to watch younger children (and pets) around a fire pit.
You Might Also Like
DIY Spray Painted Cornhole Set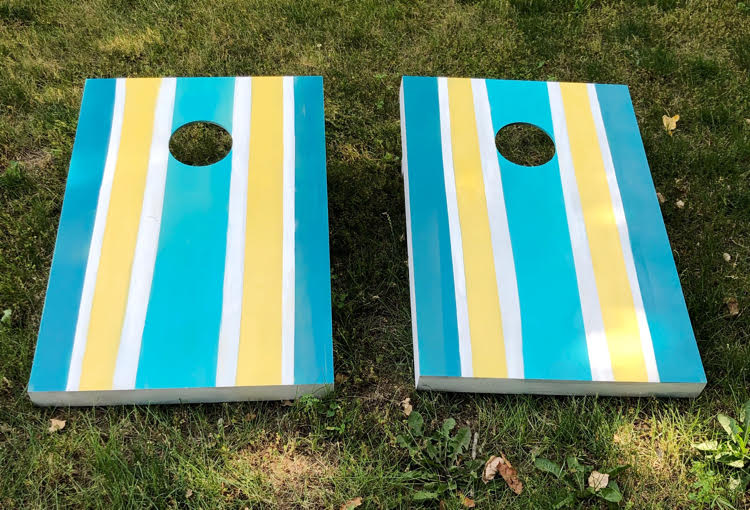 DIY String Light Planter Posts