This shop has been compensated by Collective Bias, Inc. and its advertiser. All opinions are mine alone. #DIYHolidayWithSCJ #CollectiveBias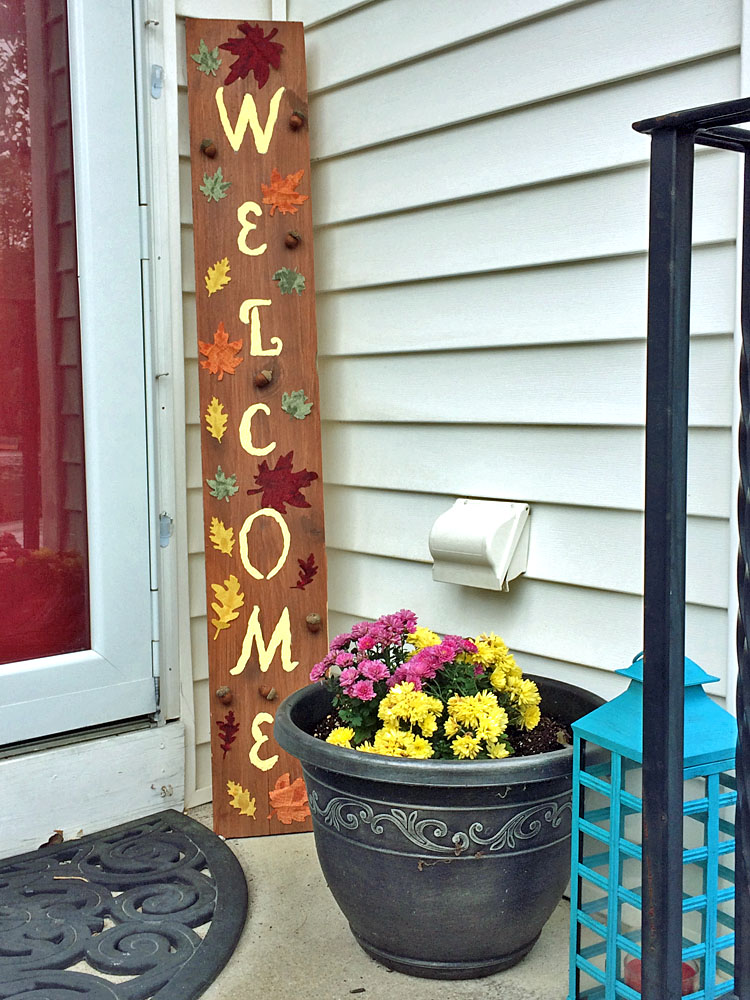 I'm so happy it's finally fall. I love this time of year – Thanksgiving, autumn colors and leaves, cooler days and get-togethers with family and friends. The long Thanksgiving weekend is a fun one for my family. Good friends have invited us to their place this Thanksgiving for dinner. So we take advantage of the weekend to host fun times at home with much loved family and friends. To prep for Thanksgiving entertaining at our house, I cleaned and decorated my home's front porch. After all – it's the first thing everyone sees when visiting my house. I like to add a special touch to my home for the Thanksgiving weekend!
My home's front "porch" is really quite miniature, so my decorations have to be small scale. I came up with a vertical fall "Welcome" DIY sign that's big in sentiment but doesn't take up much room. I've seen other tall welcome signs on Pinterest and have always wanted one. But I haven't seen any specifically fall-themed welcome signs on Pinterest.
Making my DIY fall welcome sign was really rather easy.
DIY Fall Welcome Sign Materials
(1) ¼ in. x 3 ft. x 4 ft. oak board
Walnut colored wood stain
Burlap leaves
Craft faux acorns
Glue gun and hot glue
Large 4-inch letter stencils
Yellow chalk paint
Extra small/thin craft paint brush
Rag for applying wood stain
Yardstick or measuring tape
Pencil
DIY Welcome Sign Instructions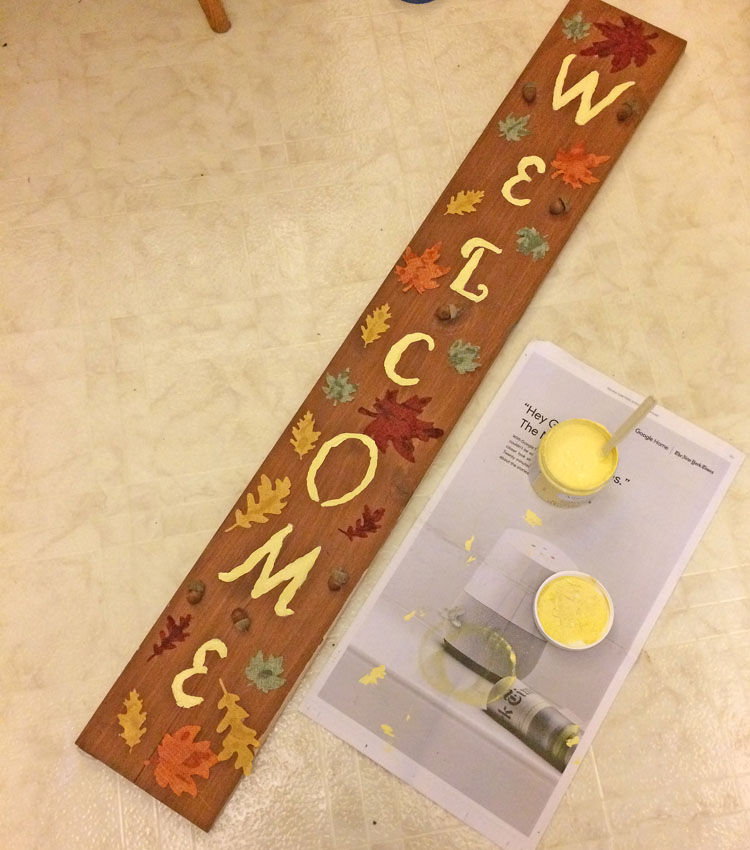 My first step was to stain my oak board. Any stain will do, but I applied some walnut wood stain with a fabric rag. I let the stain dry overnight before proceeding to the next step.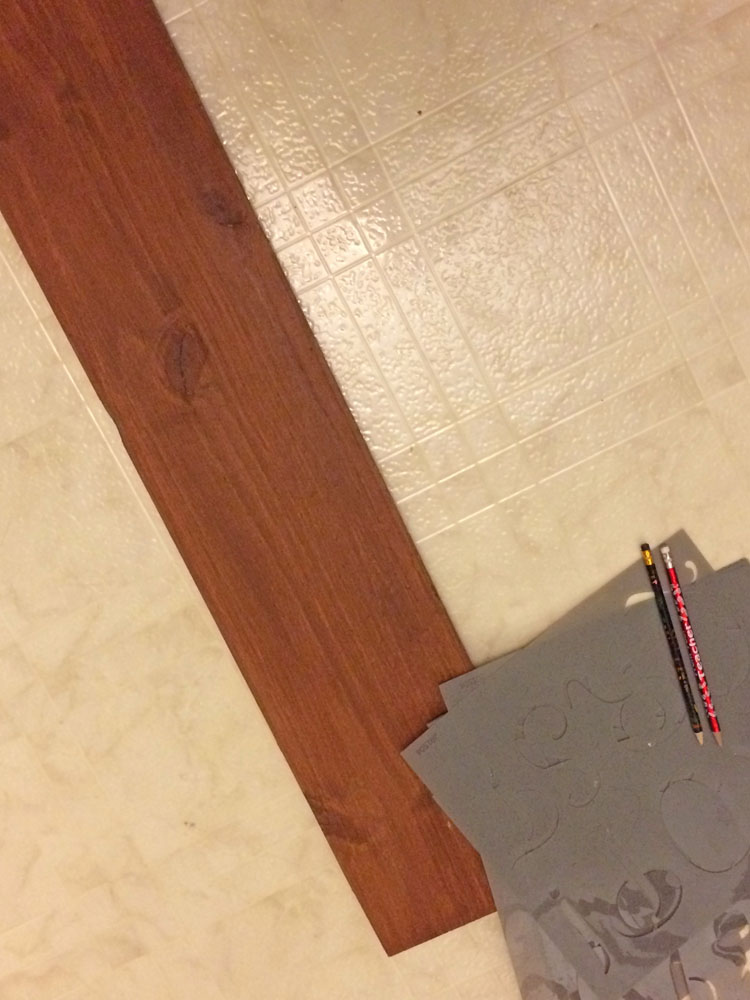 I used 4-inch letter stencils to stencil the word "Welcome" onto my stained wood plank. I measured with a yardstick to make my letters evenly spaced. I traced the letters onto the board using a sharp pencil. You might want to use a pencil that has an eraser – it took me more than one try to get my stenciled letters exactly where I wanted them.
Use a thin craft paintbrush to fill in the stenciled letters with chalk paint.
Keep your DIY welcome sign flat while the chalk paint dries.
Once the paint has dried, glue on craft acorn and burlap leaf embellishments with a glue gun. Keep your DIY welcome sign flat until the hot glue has dried. I cleaned up my front porch before setting up my DIY welcome sign outside. The porch is the first thing friends and family see when visiting my home. It's important that the porch makes a good first impression. For my cleaning project, I gathered together some Pledge®, Windex®, and Scrubbing Bubbles® Fantastik® All-Purpose Cleaner. These are all products I can count on to handle a big porch cleanup!
Fall Porch Cleanup
The first thing I tackled was my home's storm door. Quite a bit of dirt had collected there. To clean up the inside of the door, I used some Pledge® Orange Clean. (You can see how dirty the door area was in the photo below.) Pledge® did a great job at removing all the dust and dirt and adding a shine to the door. It also left behind a nice scent.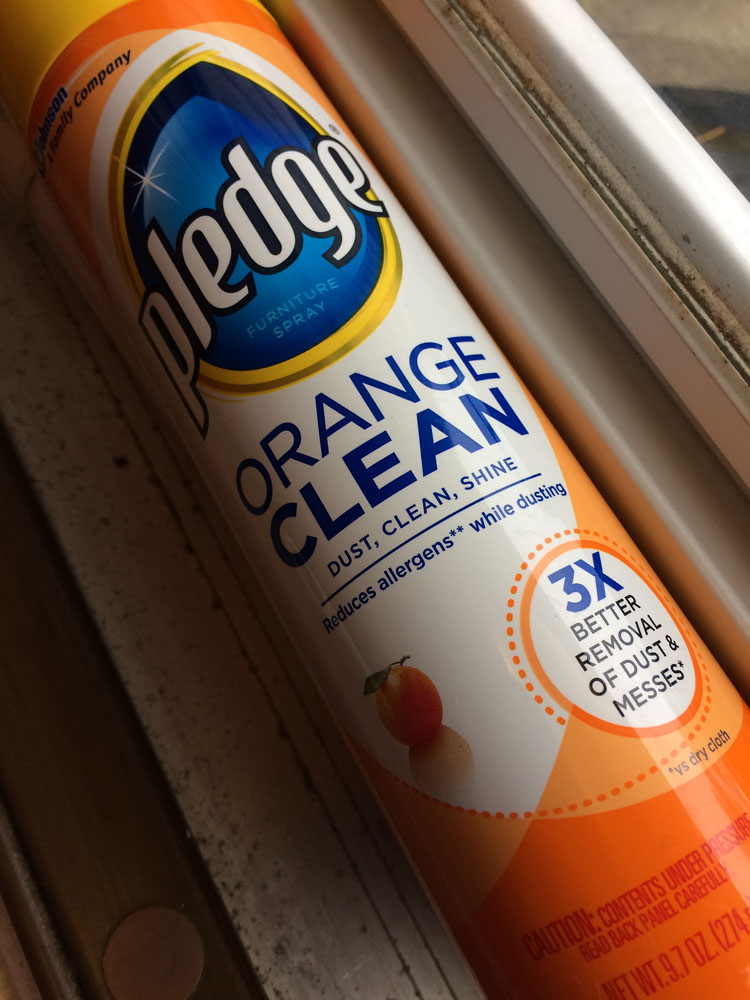 Pledge® is great at cleaning the dirt off parts of my home's storm door. (You can see how clean and shiny it now looks compared to the metal threshold of the door, where the silver has worn off in parts. I have to figure out how to fix that.)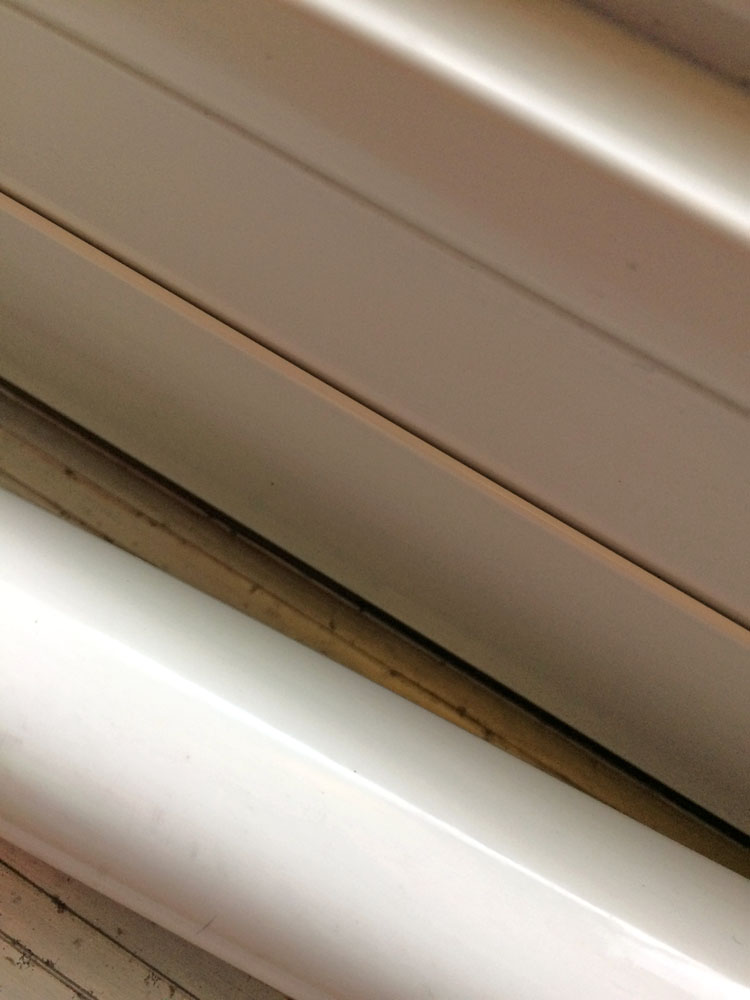 Windex® Original Glass Cleaner has long been my go-to product for cleaning windows, mirrors and glass surfaces in my home. It's great at cutting through dirt and grime. I can always count on it for providing a streak-free shine. So I used Windex® to clean the window of my home's storm door.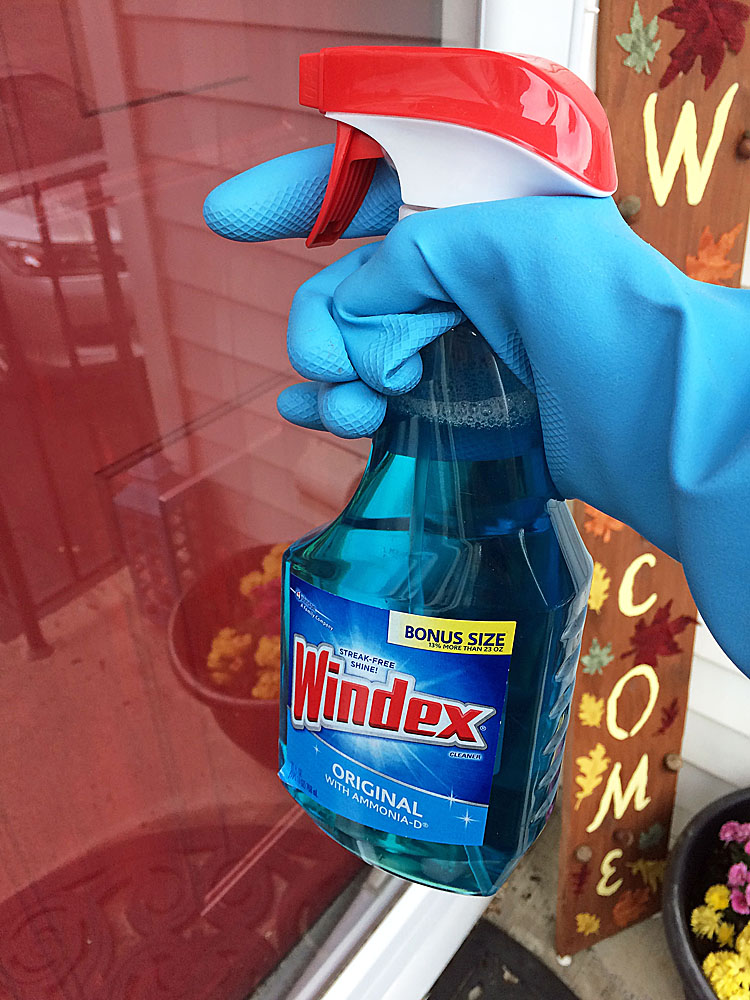 My home has white vinyl siding. Unfortunately, the siding gets quite visibly brown and dirty by my home's front door. I used Scrubbing Bubbles® Fantastik® 32 oz. All-Purpose Cleaner on the siding. Its strength and no-rinse formula make it perfect for cleaning off the siding's stuck-on dirt.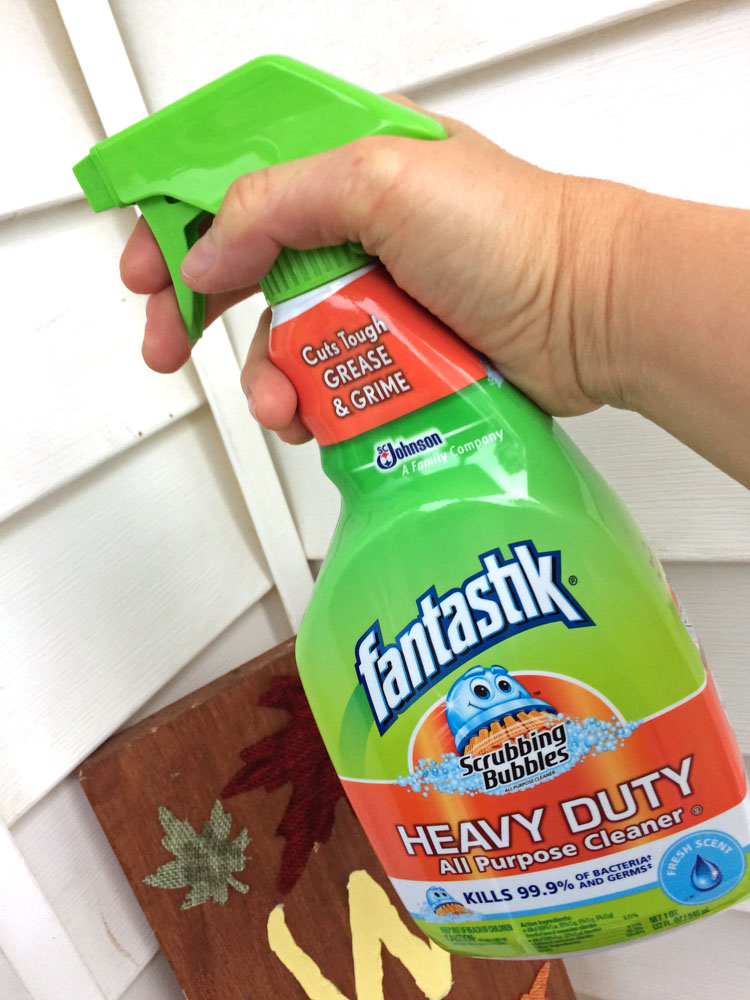 You can see the difference between where I cleaned with the Scrubbing Bubbles® Fantastik® and where I hadn't yet cleaned.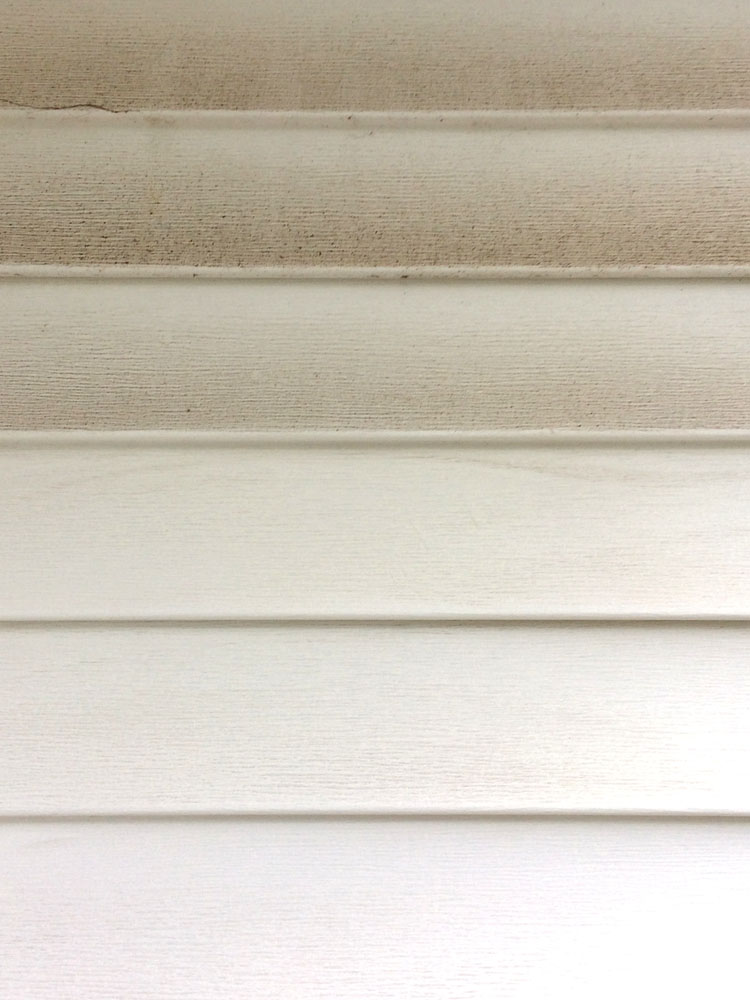 I picked up the Pledge®, Windex® & Scrubbing Bubbles® Fantastik® All-Purpose Cleaner at my local Home Depot store in the cleaning aisle.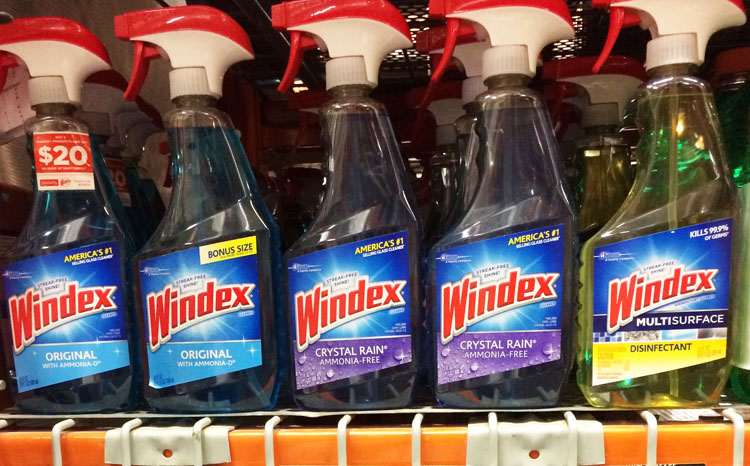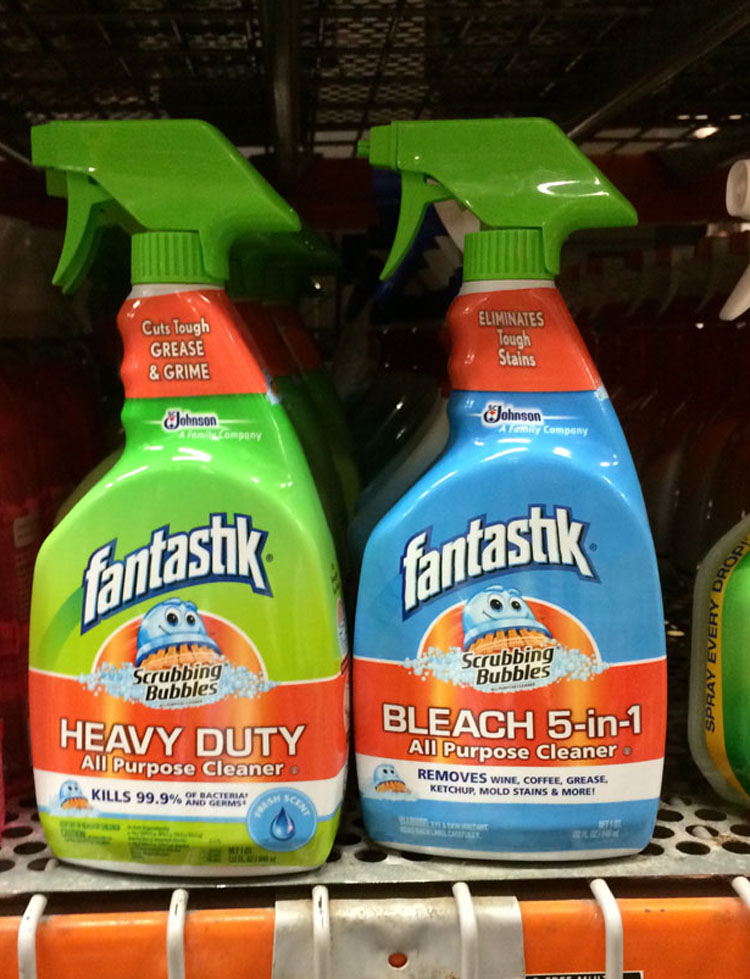 Be on the look out for Windex® and Scrubbing Bubbles® Fantastik® product promotions on display in Home Depot stores until 10/31/17, and Pledge® products on display starting 11/1/17. (Use this Home Depot store locator to find a Home Depot near you.)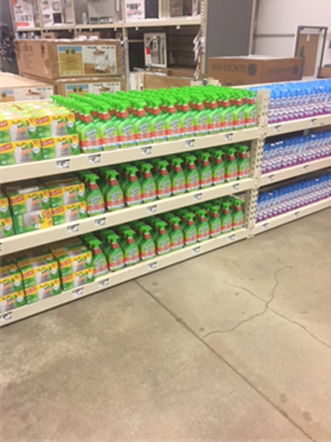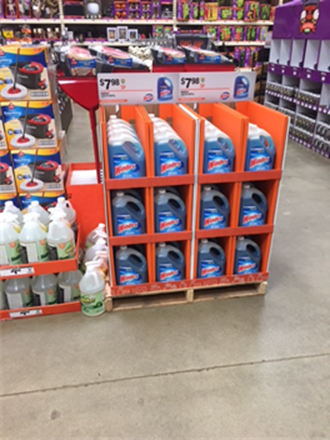 To finish up my porch project, I added a pretty blue lantern and some mums that I had potted.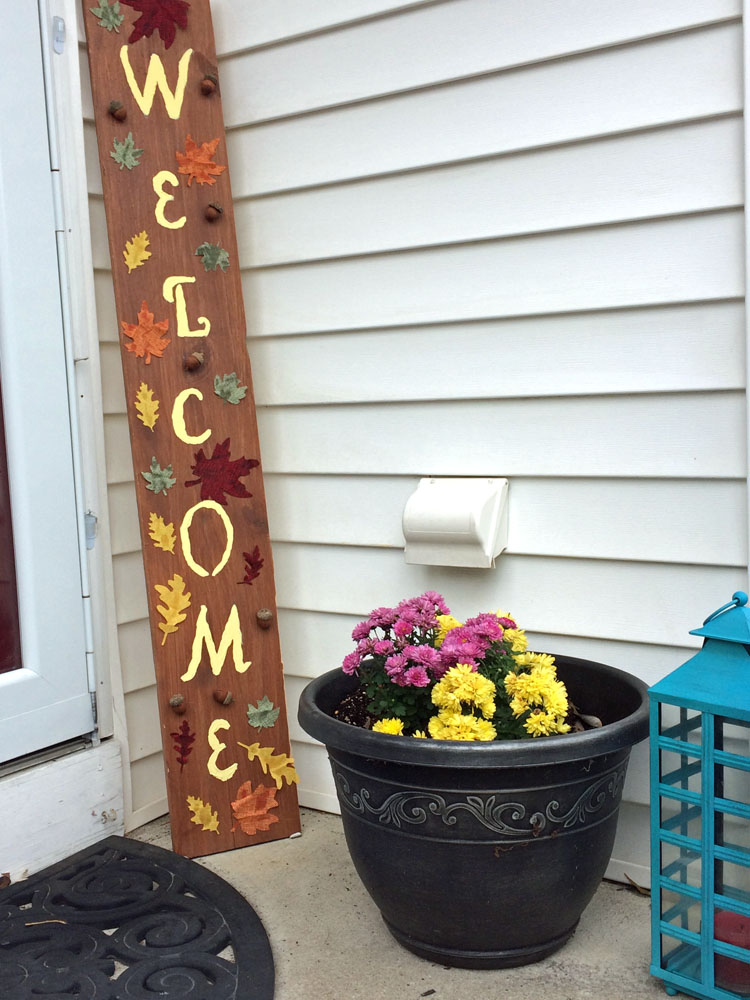 I like how my porch and my DIY fall welcome sign turned out.

Do you have plans to clean and decorate your front porch this fall? Please share in the comments.
This tutorial was shared at Tip Me Tuesday, Pin Junkie Pin Party, Tip Me Tuesday and Project Inspired.