I like to browse Pinterest for craft ideas, and I've seen a lot of easy DIY picture frame dry erase boards, so I decided to make one of my own!
I recently created a mini mudroom by my home's front door that's pretty functional. My home's mudroom area has a coat rack, a mirror (for quick checks before heading out the door), a clock (to keep us on schedule on school mornings) and a rack with bins for hiding most of our shoes.
I have a calendar that I made (on Vistaprint) that contains all our important school dates and holidays, but I really needed a place to leave notes and to-do lists by the door – I am constantly sticking Post-It notes on the door!
So when I spotted so many cute picture-frame dry erase picture frames on Pinterest, I decided to make one of my own to hang by the front door!
Dry Erase Board Materials
So the other day, I headed out to my local Joann fabric and craft store. I picked out a pretty striped piece of scrapbooking paper (in green, my favorite color), some pretty self-stick fabric buttons and a black picture frame. I didn't have a coupon, but the woman working the cashier scanned one in for me – nice!
I couldn't sleep well last night, so I got up and went to work on my frame! All I did was cut my scrapbook paper to fit the frame, insert the paper in the frame, and then stick my fabric buttons along the edge of the frame. Complete! To hang my frame, I used a 3M Command Sawtooth Picture Hanger. I love 3M Command's products because I hate putting holes in the wall! I also love that I don't have to search the house for nails and a hammer.
I love how my new picture frame dry erase board came out – I might have to make more of them! What do you think?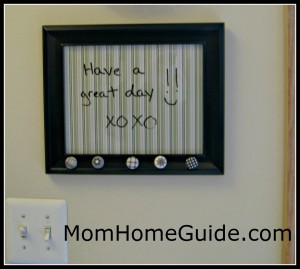 This project was shared at: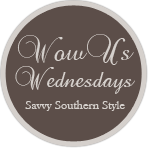 Savvy Southern Style