I am loving the yellow and green placemat pillows that I made for my brand-new La-Z-Boy sofa! These sofa throw pillows were so easy to make — I simply made them by stuffing two-sided cloth placemats with pillow stuffing!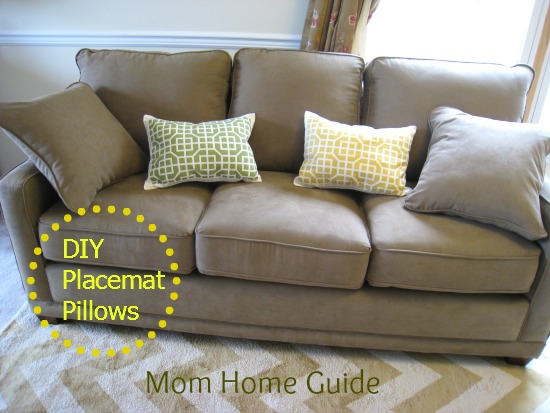 It took me only about 20 minutes to make these pillows — I actually finished stitching them when the truck that delivered my new sofa pulled into my driveway! Talk about last minute!
Simple Placemat Pillows
I love how the yellow and white and green and white and yellow pillows add pops of color to the sofa. I also adore the edging around the pillows — I didn't have to add the edging — the edging was already on the placemats! I think the edging gives the pillows a more professional look.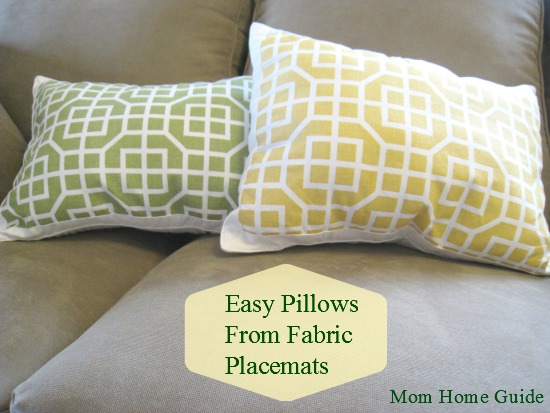 Target Home Decor
I got the idea for the pillows one day when I was shopping at my local Target (one of my favorite stores). I've seen on Pinterest that pillows can easily be made by opening up double-sided cloth placemats, so when I saw these pretty double-sided cloth placemats at Target for only $3.99 each, I scooped them up! I really like the modern trellis pattern and the bright and happy colors.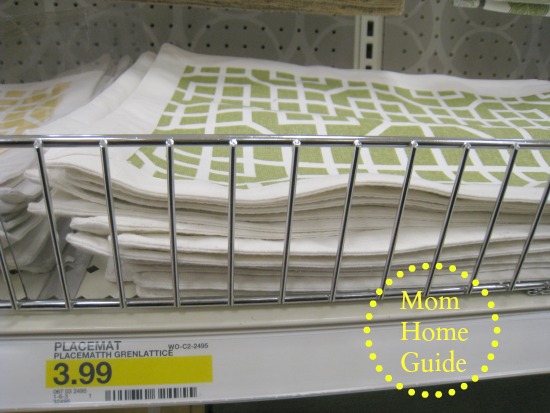 If you have kids, making pillows out of these placemats is a good deal. You can make a lot of pillows for a little bit of money, and you can simply replace them if the kids do too much damage to them! I know my kids love snuggling up on the sofa with these pillows!
Easy DIY Pillows
To make the pillows, all I did was open up a tiny bit of the seam (I made an opening that was about 3-4 inches long) on one edge of each placemat (between the front and the back fabrics). I then stuffed each pillow with Polyester Fiberfill
 and hand-stitched the opening on each pillow closed with a needle and thread. So easy! I literally completed this project in a few minutes as I rushed to complete the pillows before my new sofa was delivered! LOL!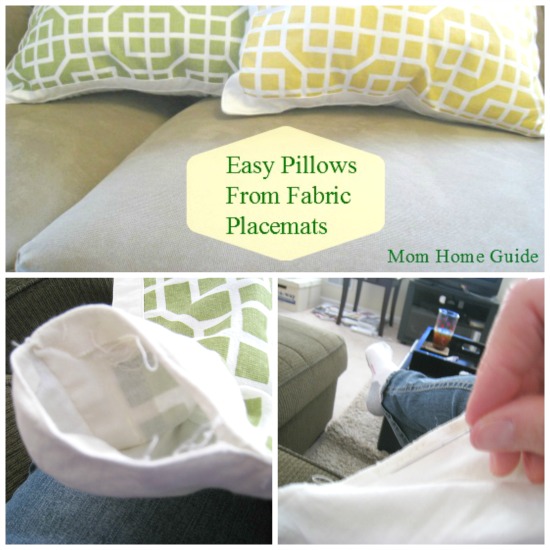 I really love my home's living room now. The room used to serve mostly as a passageway from the front door to the kitchen or the family room, and was filled with toys and toy chests. Now, it's a place where I can sit and relax  and listen to my children play music on their flutes or on the piano. My family and I can do some reading, look out at the garden just outside our living room window or watch the birds in the garden bird feeder. The room is a happy and useful space now!
What also really makes the room is my new twill woven area rug from Mohawk Home. I just love how the rug adds a fun pattern and some color to the space!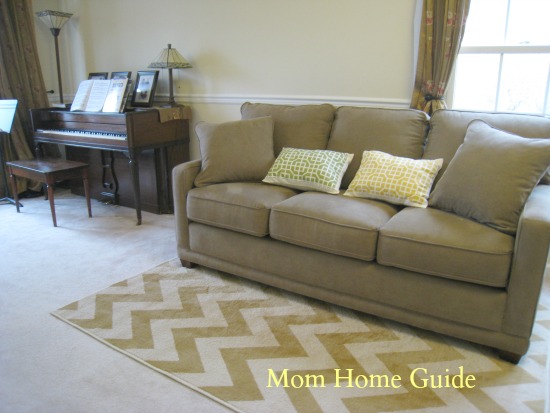 Read this post that I wrote about my new Mohawk area rug to learn more about my brand-new living room!
Editor's Note: This post contains associate links to Amazon.com and Target.com.
Come  (Linky) Party!
I've linked this project up at: