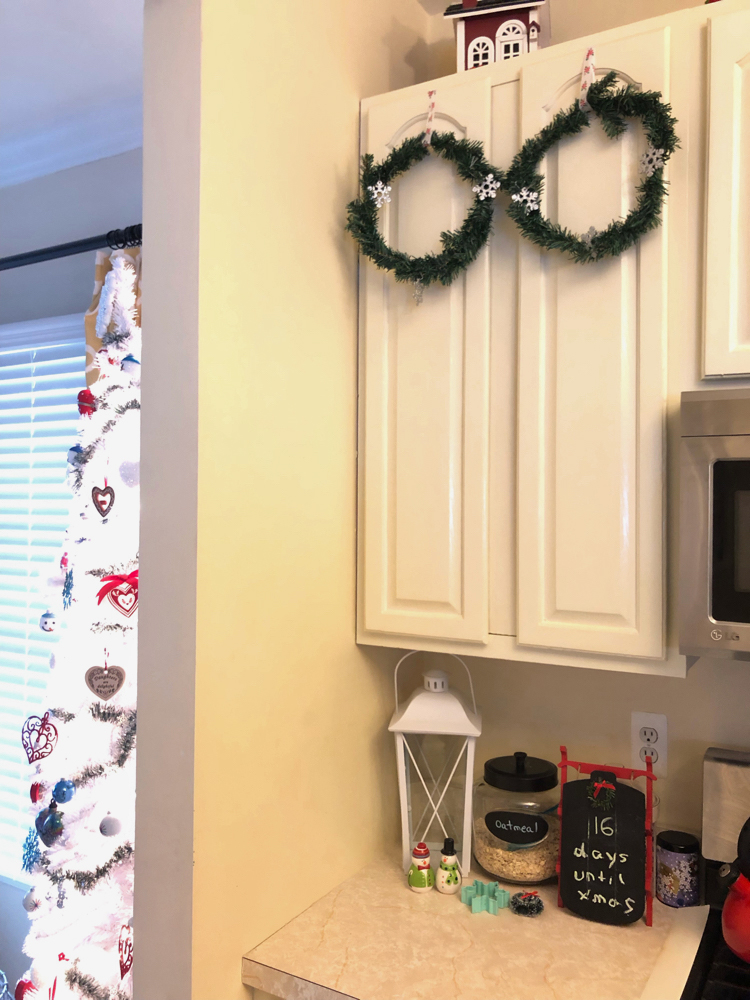 I like decorating my home for Christmas, but I usually don't want to spend a lot of money doing so. So today I'm happy to be joining my blogging friends for the Dollar Store Craft Challenge | Christmas Edition. I've always liked the look of mini Christmas wreaths on kitchen cabinets, so I decided to make that my project for this challenge. Be sure to check out the links at the bottom of this post to see all of my friends' projects!!
This is a very "light" craft project for me. In the rush of the season, I almost forgot that this blog hop is today! But luckily, it's a snap to put these wreaths together! I was able to get these wreaths up just yesterday!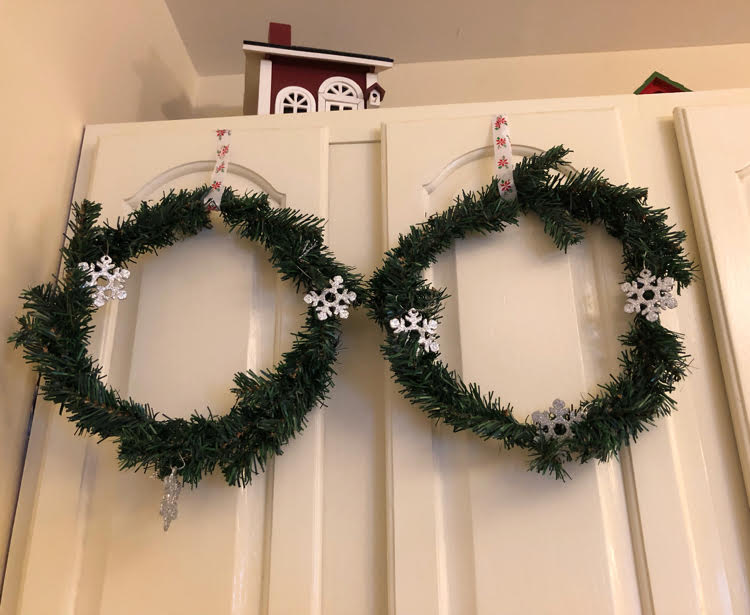 For my wreaths, I picked up 4 dollar store wreaths, some Christmas ribbon, two packages of snowflake ornaments and a package of silver bells.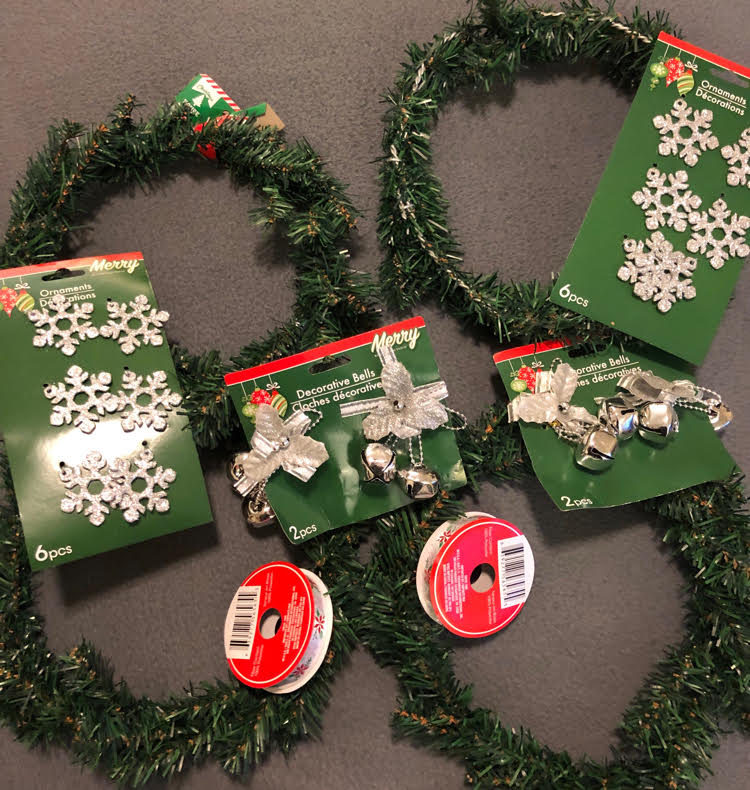 How to Hang Wreaths on Kitchen Cabinets
To decorate my wreaths, I simply hung three snowflakes on each wreath — the snowflakes each already had a loop of thin sparkly string to hang them from. To hang the wreaths, I cut 20 inches of ribbon for each wreath. I looped a ribbon around the top of each wreath and secured each ribbon with a knot at the top.
To hang the wreaths, I simply secured each wreath to the back of a cabinet door with some blue painter's tape. (The tape was left over from when I recently painted my oak kitchen cabinets white.) I then let each ribbon with its attached wreath hang over the top and front of a cabinet door. Very easy!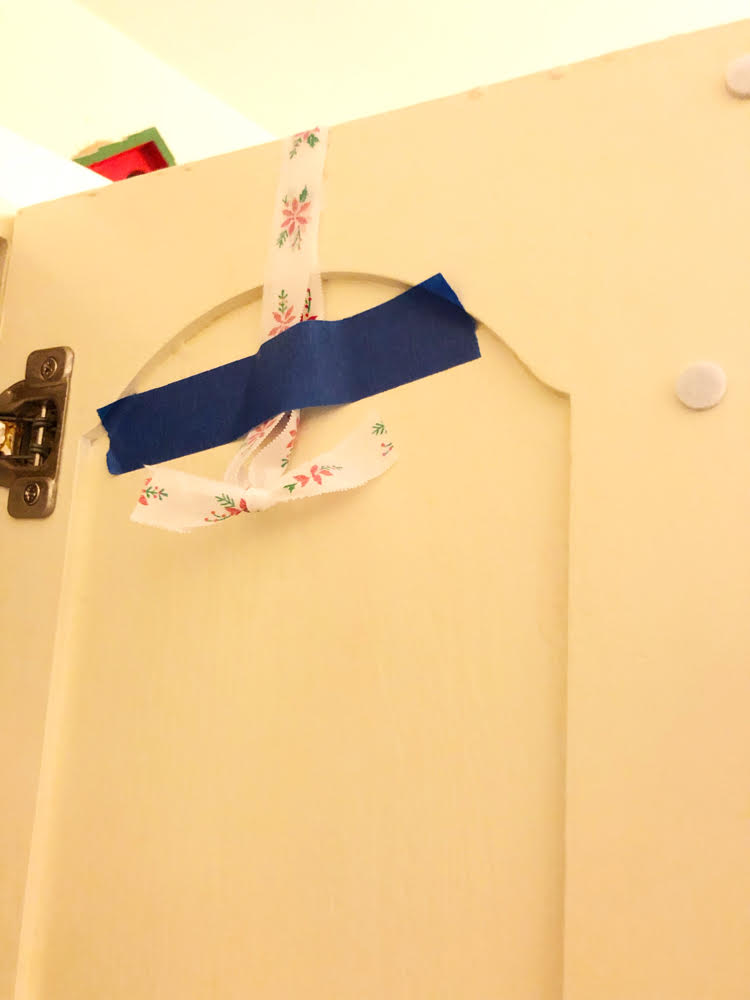 To mix it up a little, I hung a cluster of jingle bells in the shorter, center cabinets that are above my kitchen's microwave and stove. The jingle bells already had ribbon to hang them with, so I secured the ribbon to the backs of the cabinet doors like I did with the wreaths.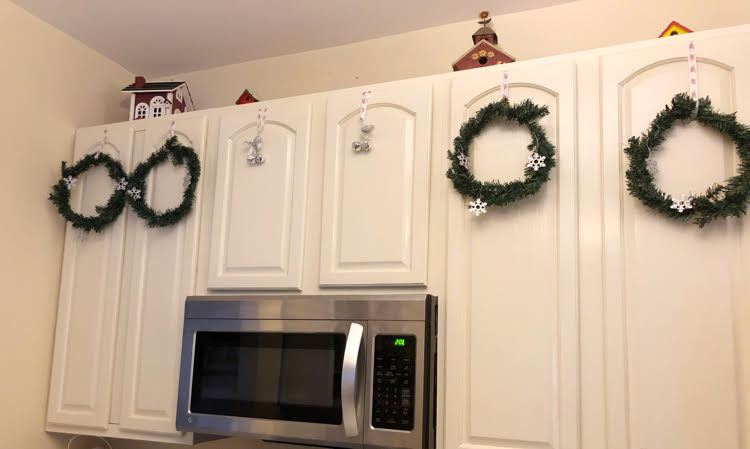 Kitchen Counter Christmas Decor
After decorating the cabinets, I took a moment to dress up a nook in my kitchen. I added a mini chalkboard sled that I use as a Christmas countdown calendar, cute snowmen salt and pepper shakers, a pretty blue snowflake cookie cutter, a lantern and a miniature wreath. (The canister with the oatmeal is a permanent fixture on the counter, as my daughters like oatmeal.)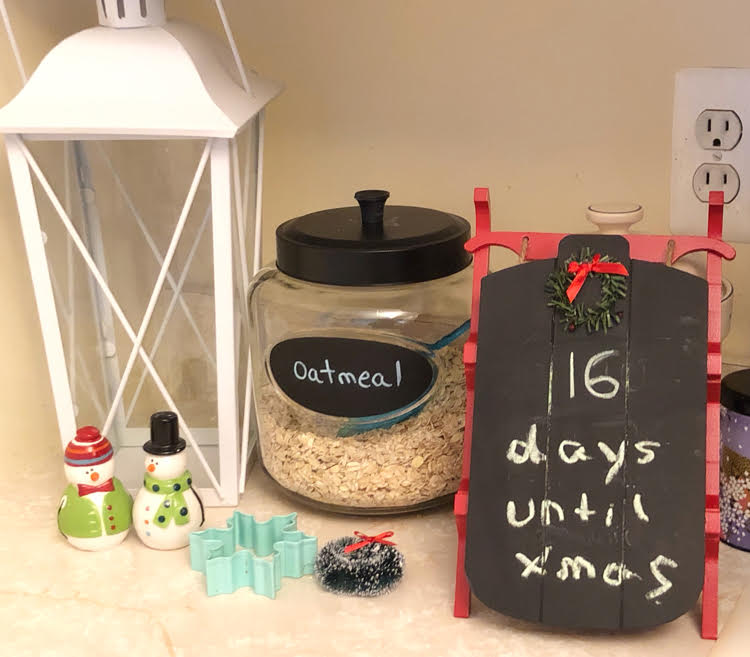 Be sure to visit my friends' blogs to see their dollar store Christmas crafts!
My Husband Has Too Many Hobbies • Across the Blvd • The Boondocks Blog
Stone Cottage Adventures • Sew Crafty Crochet • Purple Hues and Me
Cookies, Coffee, and Crafts • Domestic Deadline • Two Chicks and a Mom
Mom Home Guide • Try It Like It