This post contains Amazon affiliate links at no cost to you. Thanks to Mollie Ollie for providing me with a Mimmo Caddy for review.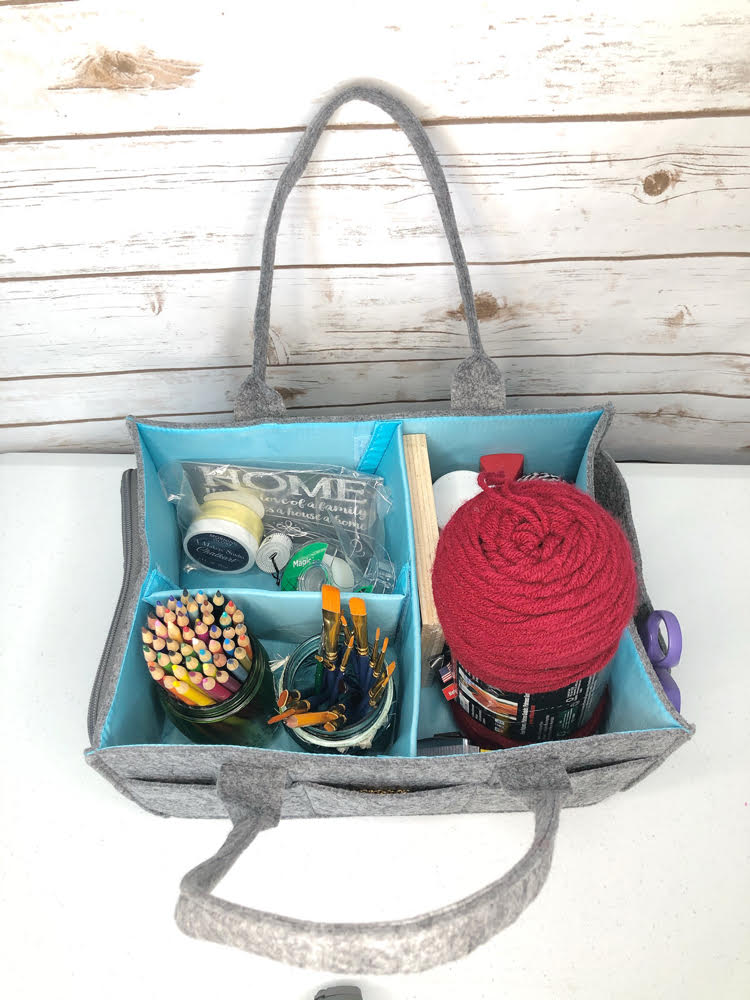 If you are a crafter, you know that crafting as a hobby means owning craft supplies. Often, LOTS of craft supplies. Organizing all those supplies can be quite difficult! (One look at my craft room would show you that.)
So, I'm quite happy today to be reviewing the Mimmo Caddy by Mollie Ollie. This adorable, sturdy and useful fabric craft caddy helps me organize my supplies – and take them along with me when I'm on the go.
For a limited time (through March 11), Mollie Ollie is offering 10% off its Mimmo Caddy to Mom Home Guide's readers with the coupon code, 10homeguide.
Versatile Fabric Craft Caddy
I use my Mimmo Caddy by Mollie Ollie as a craft caddy, but it can be just about anything I want it to be.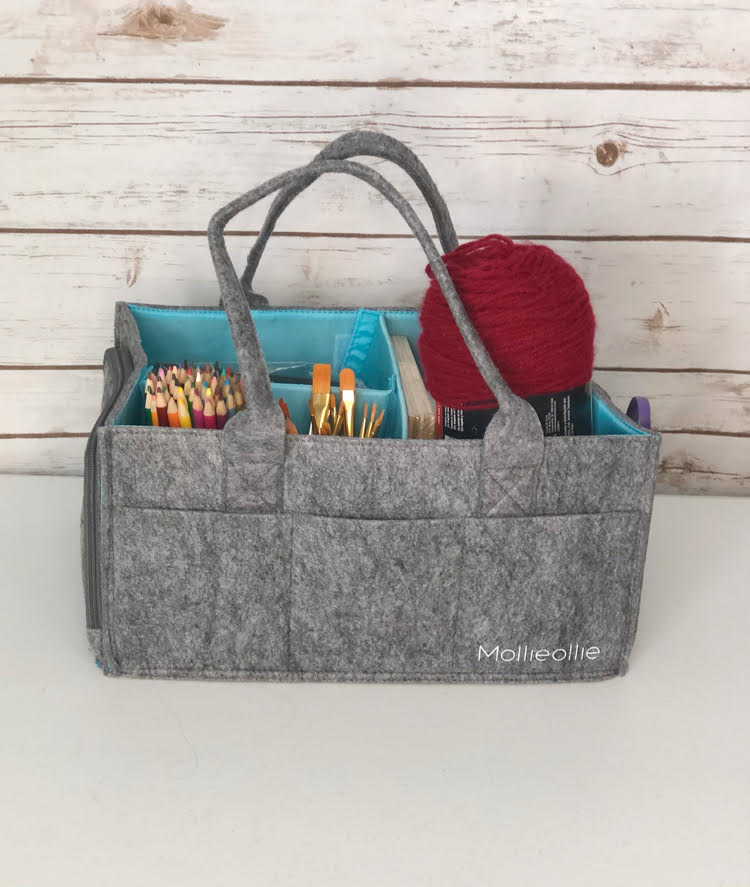 I love this caddy for corralling and carrying my craft supplies, but it can also be used as:
A diaper bag
A carseat organizer
A homework caddy
A planner caddy
A knitting basket.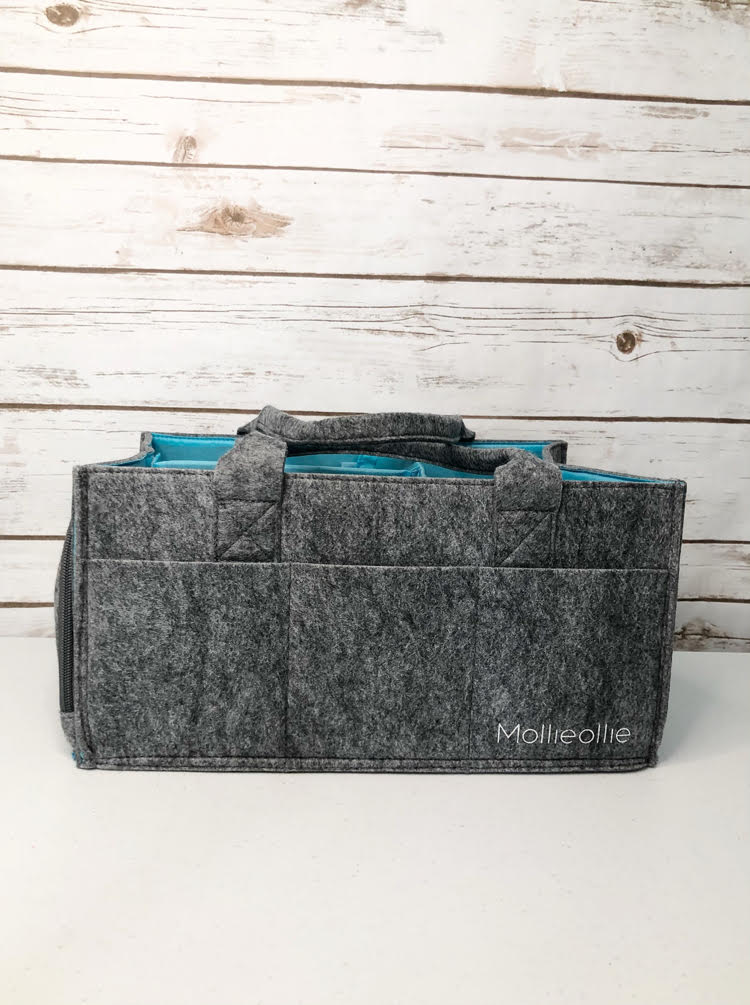 The 14.5" x 9.5" x 7" Mimmo Caddy quality is sturdy, as it is made of heavy-duty felt, has a reinforced base and enhanced stitching on the handles. The Mimmo Caddy can carry up to 50 pounds of weight.
I really like the premium felt material that the caddy is made out of, and that the smooth polyester interior of the caddy is easy to keep clean. I love the gray and turquoise blue of my caddy. The caddy also comes in mint green and rose.
This caddy holds it shape, even when empty.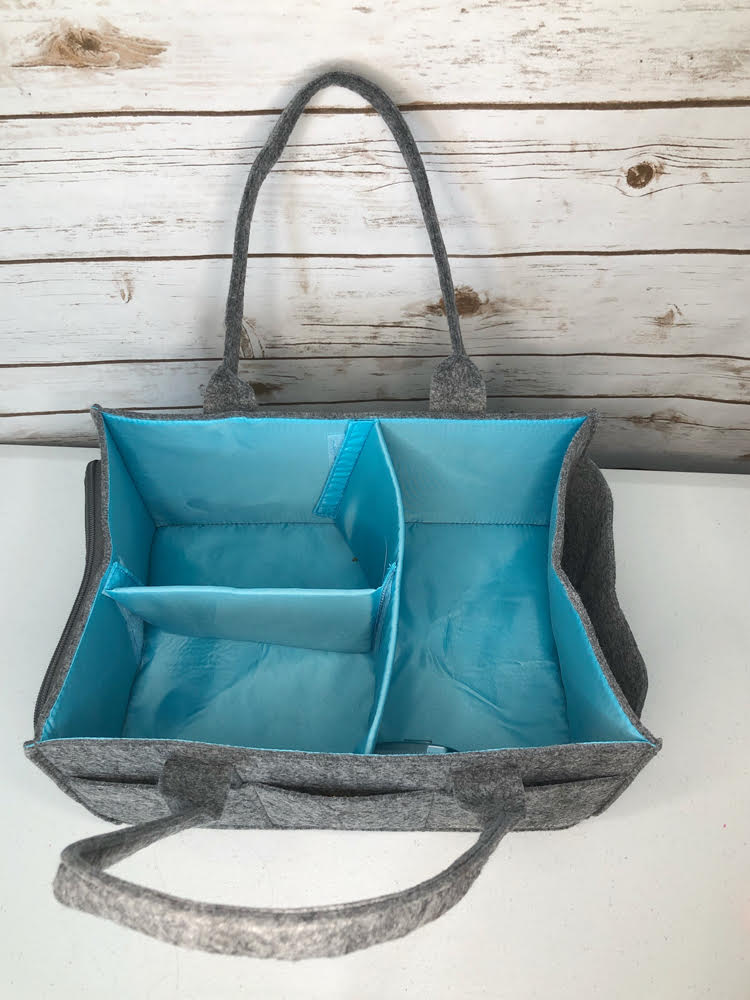 The caddy has 8 pockets of various sizes, including a zippered pocket. It also has two removable fabric dividers to better organize the caddy's contents. There is an elastic organizing band in the zippered pocket to hold small objects.
I am hoping to better organize my craft room this year, and getting this useful caddy has given me a head start!
Use the coupon code, 10homeguide, to get 10% off your Mimmo Caddy.
Follow Mollie Ollie
You Might Also Like