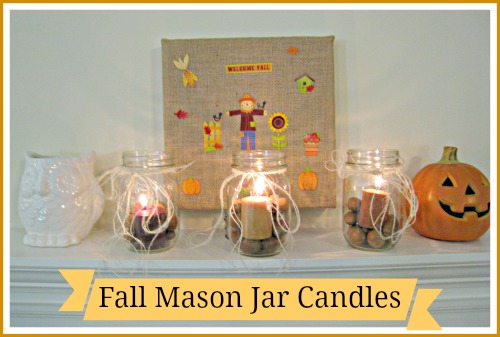 I have been loving all the fun mason jar crafts and fall mantles I've been seeing on Pinterest, and have been wanting to make some of my own! So when my daughters and I collected a whole bunch of nuts from underneath a local tree, I knew I had a project on my hands! (I think the nuts are hazel nuts, but I am not sure!)
My Fall Mantle
I had just started my fall mantle, so I thought some autumn mason jar candles would be a good addition! I first got started with my fall mantle by adding fall-themed stickers to an inexpensive stretched burlap canvas that I had purchased at my local Walmart. I think the little decorated canvas is cute, and the burlap adds a nice autumn touch to my home's fireplace mantle.
Autumn Candles
To make my fall mason candles, I tied some burlap strings around the mason jars (the strings of burlap were leftover from a burlap table runner that I made), added some nuts to each mason jar, and then nestled a votive candle in each jar. (I chose candles in related fall colors, a different shade candle for each jar.) Easy!
I like how it looks when everything on my fall mantle (including the battery-operated pumpkin) is lit. My kids adore the way the fall mantle looks, and think my new fall mantle decor is a lot of fun!