Welcome back to 12 Months of Wreaths!
Each month, I get together with some of my blogging friends to craft a new seasonal wreath!
This month I crafted a super easy owl and pumpkin seasonal wreath. Usually I come up with my wreath idea and then shop for the supplies. But this time, I just happened to stumble across my supplies and then came up with a wreath for it! (Check out my fall bandana wreath if you'd like to see my most recent wreath for 12 Months of Wreaths.)
October Wreaths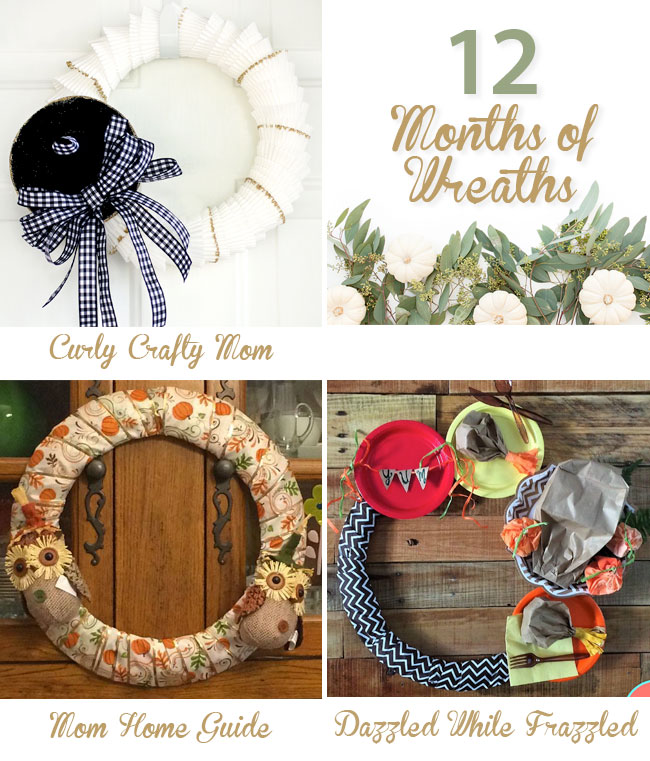 Follow your Hosts and Co-Hosts:
Easy Pumpkin & Owl Wreath Tutorial
My daughters and I were shopping in our local dollar store a few weeks back when I just happened to find two rolls of a cute fall pumpkin print wire ribbon. So I picked up two rolls. I then also spotted two cute owl fabric ornaments at the same dollar store. The dollar store also sells 12-inch wreath forms, so I had everything I needed to make my wreath!
To make the wreath, all I had to do was tie one end of the ribbon onto the wreath form and then wrap the ribbon onto the frame. I simply hot glued the ribbon on at either end to secure it.

Once the ribbon was on the wreath, all I had to do was hot glue the owl ornaments to the wreath and I was done! This wreath only took a few minutes to make.
Fall Gallery Wall
I didn't know where to hang my new wreath at first, so I simply hung it on the knobs of my kitchen's china cabinet. (As you can see in the photo above.) But eventually I decided that the wreath would be a good addition to my living room's DIY gallery wall. To hang the wreath, all I needed was a Command hook, which only took a few minutes to hang.
The below photo shows my DIY gallery wall before I added my new fall wreath. (I made all the items on my gallery wall. Check out my DIY Fall Gallery Wall Post for more details.)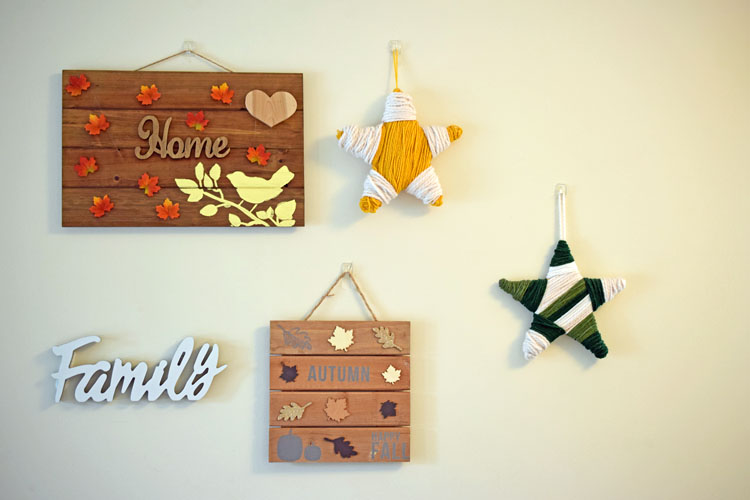 I think the new wreath is a great addition to the gallery wall. What do you think?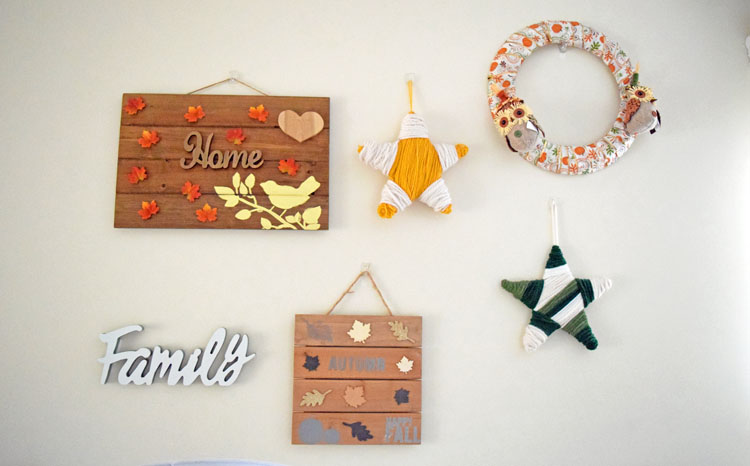 For Christmas, I hope to update the wall with a Christmas wreath.
Thanks again for joining us for 12 Months of Wreaths! We will be sharing a new wreath once a month in 2017!
Are you interested in sharing a wreath with us one (or more) months? We are accepting guest hosts! Email carrie (at) curlycraftymom (dot) com if you are interested!