This post was sponsored by Fashom. I received Fashom credit/clothing in exchange for my honest review. This post contains affiliate links.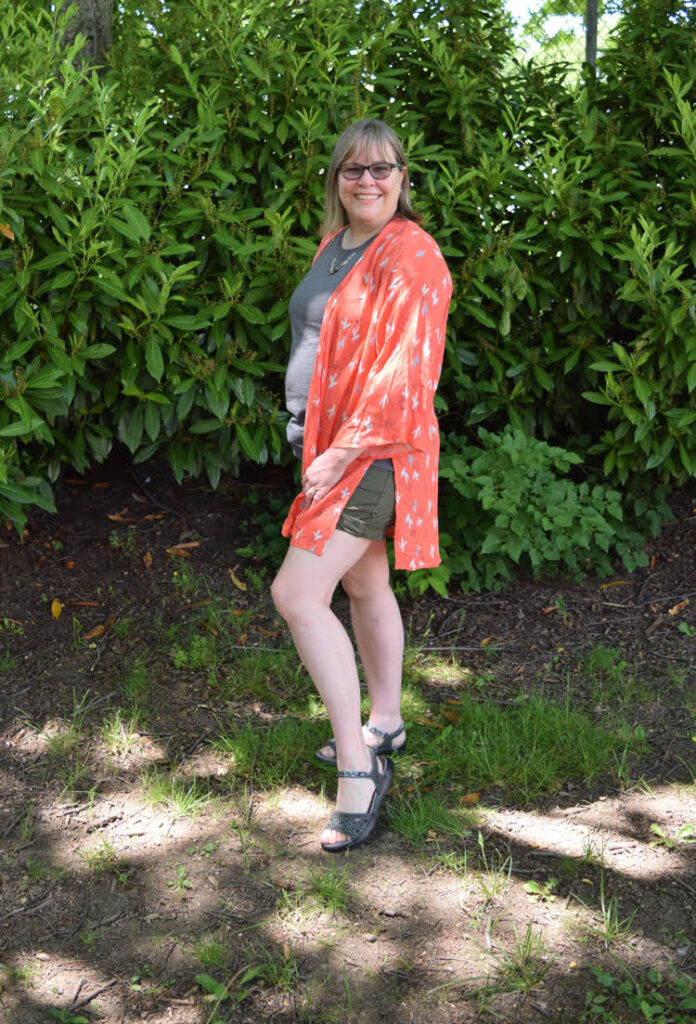 I've been wanting and needing some new summer clothes! When Fashom asked whether I'd like to review their subscription box service I happily agreed.
I had previously tried out and reviewed Fashom's fashion subscription box service about a year ago. I like fashion subscription boxes.
Fashion subscription box services like Fashom are perfect for people like me, who don't always have the time or inclination to shop. I like getting new clothes though, so having fashion items/clothing chosen specifically for me and sent in the mail is a perfect fit!
How Fashom Works
When you sign up for a Fashom box, you work with a stylist who sends you clothing items to try on in the comfort of your home. (Fashom chooses 5 pieces for you.) Before your stylist choses items for you, you fill out a fashion profile and can send a note to your stylist. In my note, I included tidbits about what I like, as well as the link to the "My Style" Pinterest board I keep.
When your stylist picks out the pieces she's chosen for you, you are sent an email that lets you know your selections are ready. You are charged a $15 styling fee. If you make a purchase, the $15 fee is applied toward your purchase. You get a discount if you purchase more pieces: If you keep 3 or 4 pieces, you will get 25% off and 30% discount if you keep all 5.
When you choose to have a Fashom box sent to you, you are only committing to trying out that one box. There are no worries since you are not obligated to order another Fashom box at any time. (Unless you choose to.)
You can review your selections either on Fashom's website or on the Fashom app. Since I had the Fashom app on my iPhone, I previewed my stylist's selections (before they were mailed to me) on my iPhone. Before my box was sent, I asked my stylist to swap out two of the items she selected.
It took 13 days between when I saw my stylist's first picks to when I received my Fashom box. I am sure things are delayed these days with shutdowns going on across the country.
Fashom Box Review
I was a little disappointed with my Fashom box. I had asked for summer clothes and a comfy pair of sweats. With my family staying home lately, I could really use some stylish and comfortable sweatpants. I also let my stylist know that I mostly wear blues and greens and don't like to wear bright colors.
But even though my stylist hadn't selected many summer tops or any sweatpants, I agreed to have the 5 items sent to me. (I didn't want to ask again for more swaps. Perhaps I should have stressed again that I wanted summer items!)
In my Fashom box I received a pair of Jade Shorts by DASH, Wide Leg Pants with a Tie Waist, a Hannah Floral Top by Manzana, the Savannah Utility Vest with Pockets by White Birch, and the Papermoon Cactus Flyaway Kimono.
Interested in trying Fashom? Use my referral link for $10 off your first box!
Jade Shorts by DASH ($48)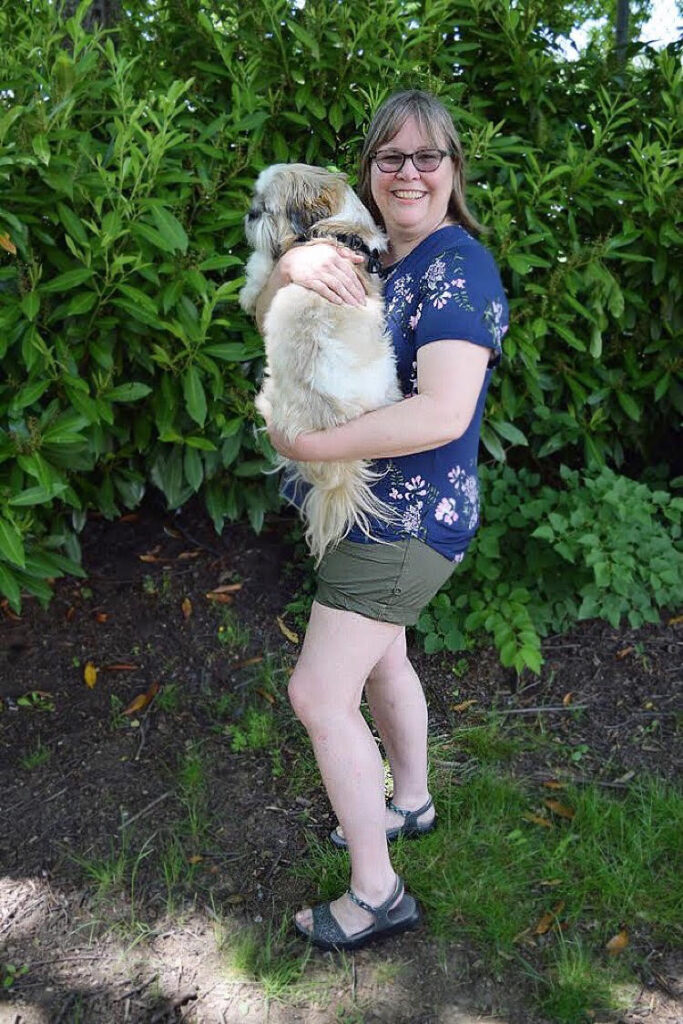 Since I could use some new shorts, I tried on the Jade Shorts by DASH first. I was disappointed that my stylist sent a size smaller than the size I noted in my profile.
One of my daughters kindly offered to take the photos for this post — thanks, sweetie!
The shorts fit but are a little tight. With my winter weight (that I tend to put on), and with all the pizzas and good food I've been making for my family during shutdown, I've put on a few extra pounds. I'm hoping to slim down for summer.
I like the color of the shorts, the fabric and the style, so I decided to keep these even though the fit could be better. (With Fashom, you can request that you stylist send an item in a bigger or smaller size, but I decided to keep my pair and try to slim down instead.)
Hopefully having these shorts will encourage me to stay on my diet! (I usually do manage to lose weight in the summer, as I am more active.) The style of these shorts really fit in with my wardrobe.
Hannah Floral Top by Manzana ($42)
I was tempted to keep the blue floral top that I wore wore with the Jade shorts – the Hannah Floral Top by Manzana. (I like the print.) But the fabric of the shirt seemed to be a polyester or other manmade fabric. I prefer to wear breathable cotton tops in the summer. The top felt quite warm while my daughter was taking my photos for me. So I decided to return the shirt.
Papermoon Cactus Flyaway Kimono ($33)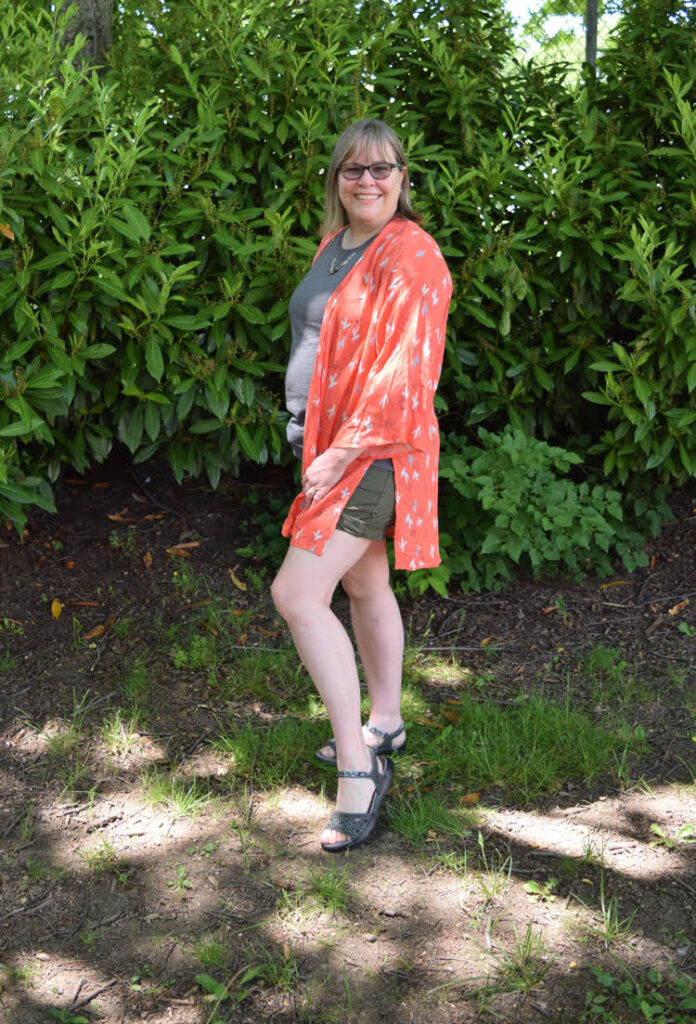 I wasn't super fond of this kimono because of the color. I am not one to wear bright colors often. But my daughter really liked the kimono on me (peach is her favorite color), so I was tempted to keep it.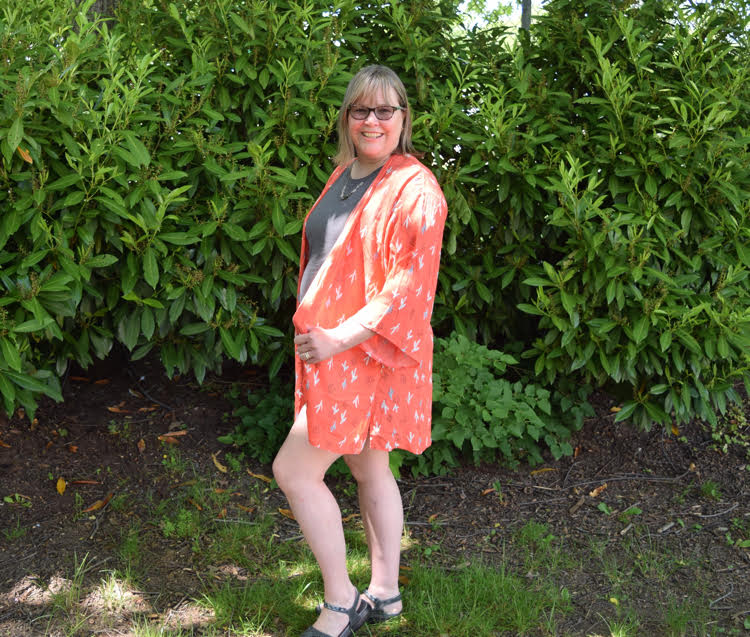 I own a few kimonos already, so I didn't feel the need to keep this one. I am sure I'd choose to wear the kimonos I already own over this one (because of the color). I returned the kimono, even though it looks cute in the photos!
Wide Leg Pants with a Tie Waist ($59)
I like the style of the Wide Leg Pants with a Tie Waist that I received in my Fashom box. These pants are a bit heavy/warm, though, and I doubt I'd wear them until fall. (You can't see the tie waist in my photos, though.)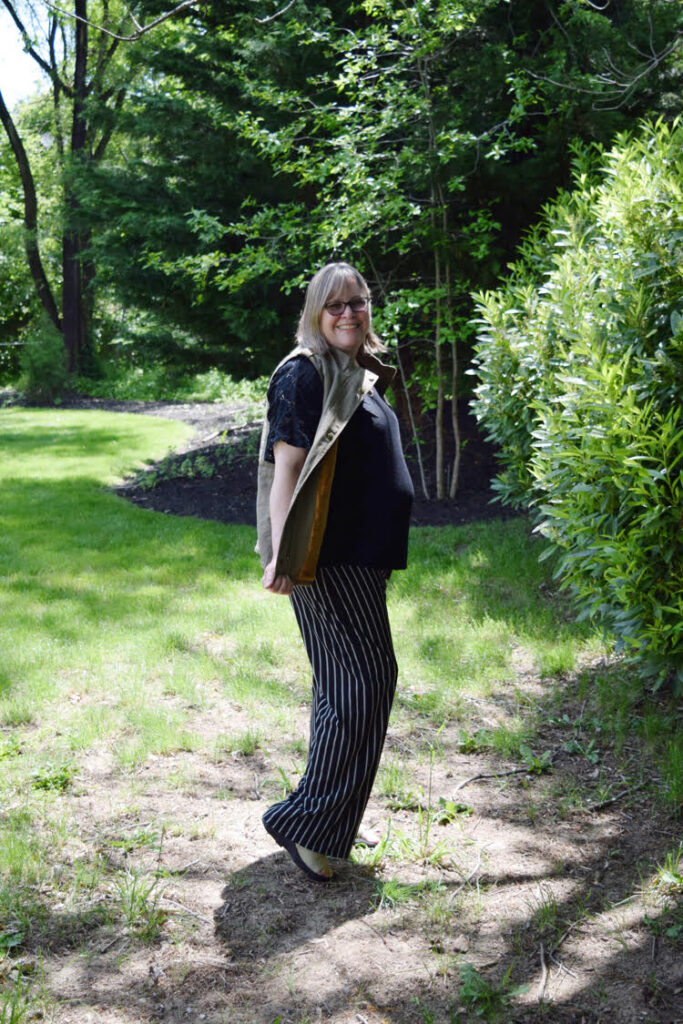 I decided to keep these, though, because my daughter and I really like the look of these pants. They are quite comfortable, too. (With these pants I can get away with wearing something comfortable and fashionable at the same time. A win win for me!)
Savannah Utility Vest with Pockets by White Birch ($47)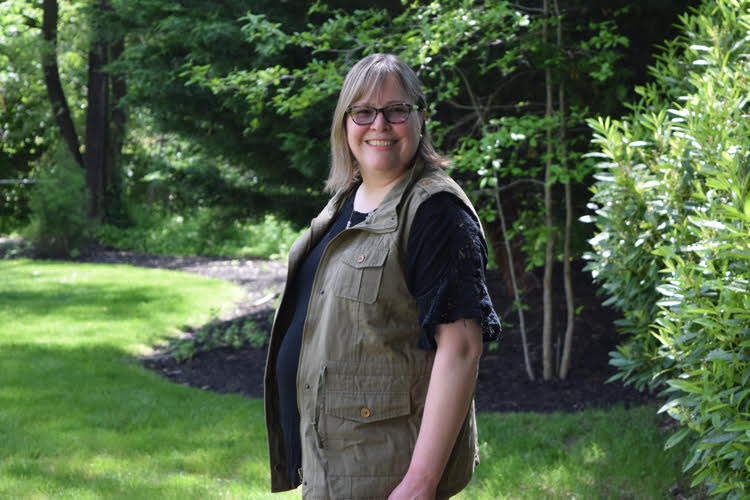 I liked the Savannah Utility Vest with Pockets by White Birch that my stylist sent. But, it is similar to another vest that I already own. Plus, with it's faux fur lining, this item is definitely something I don't see myself wearing this summer. So I opted to return it.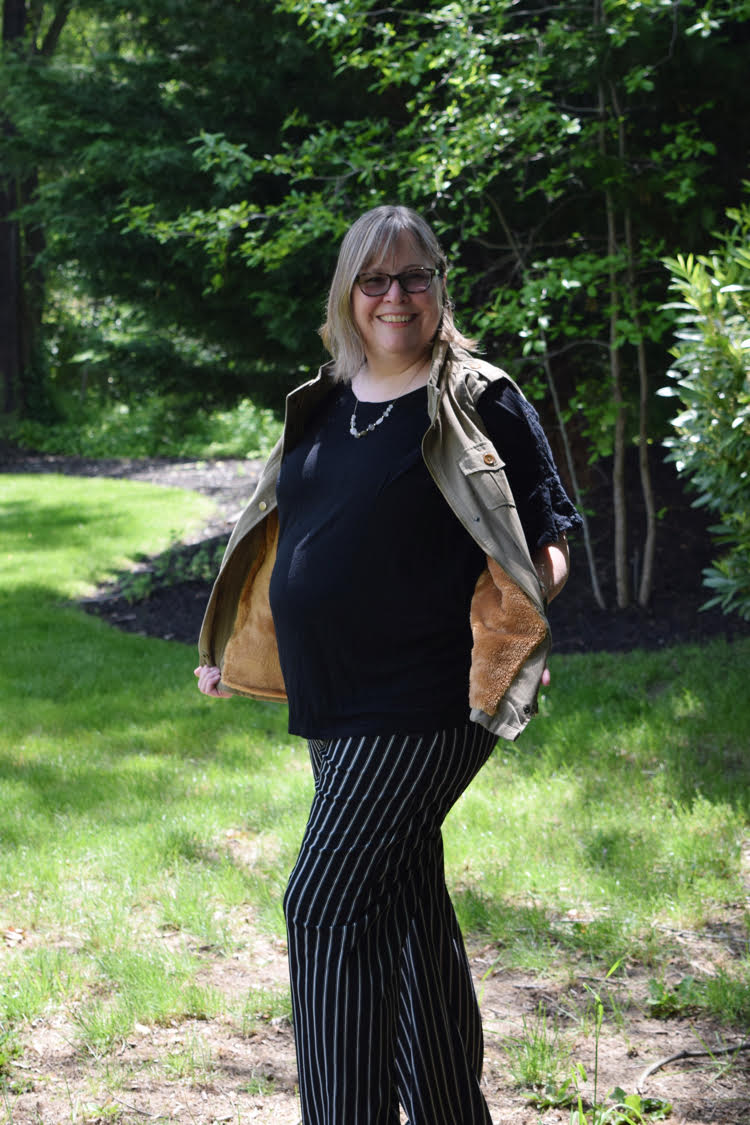 Purchasing My Fashom Items
To purchase my Fashom items, I used the Fashom app to show which items I would be keeping and which I would be returning. (Fashom already has my credit card on file as part of agreeing to a Fashom box.)
Then, all that was left to do was put the three items I opted to return into the mailer that Fashom had provided me. (The mailer is addressed to Fashom and includes the necessary postage.) I then put the mailer in the mailbox at the end of my driveway, and I was done!
Verdict
While I wasn't completely happy with he items I was sent, I could have pushed harder for more fashion picks that appealed to me. And I did end up with a pair of shorts and a pair of pants that I like. I think both of the items I chose look great and are well made. Plus, my styling fee was applied to my purchase.
I would order a Fashom box again — I'd just push my stylist harder to choose items that better suit my needs (e.g., summer clothes) and style.
Fashom is actually a great way to order and try on clothing during a shutdown period like this one — I haven't been in a clothing store for more than 2 months. So, it was nice to be able to try on new clothing items at home and get some new pieces that I like!
Interested in trying Fashom? Use my referral link for $10 off your first box!
You May Also Like