Thanks to the Careboda Neck and Back Massager for sponsoring this post. I received a Careboda Neck and Back Massager in exchange for my review.
I am a big Amazon shopper and I am always finding something new that I love! So today I am sharing some of my recent favorite Amazon finds.
Careboda Neck and Back Massager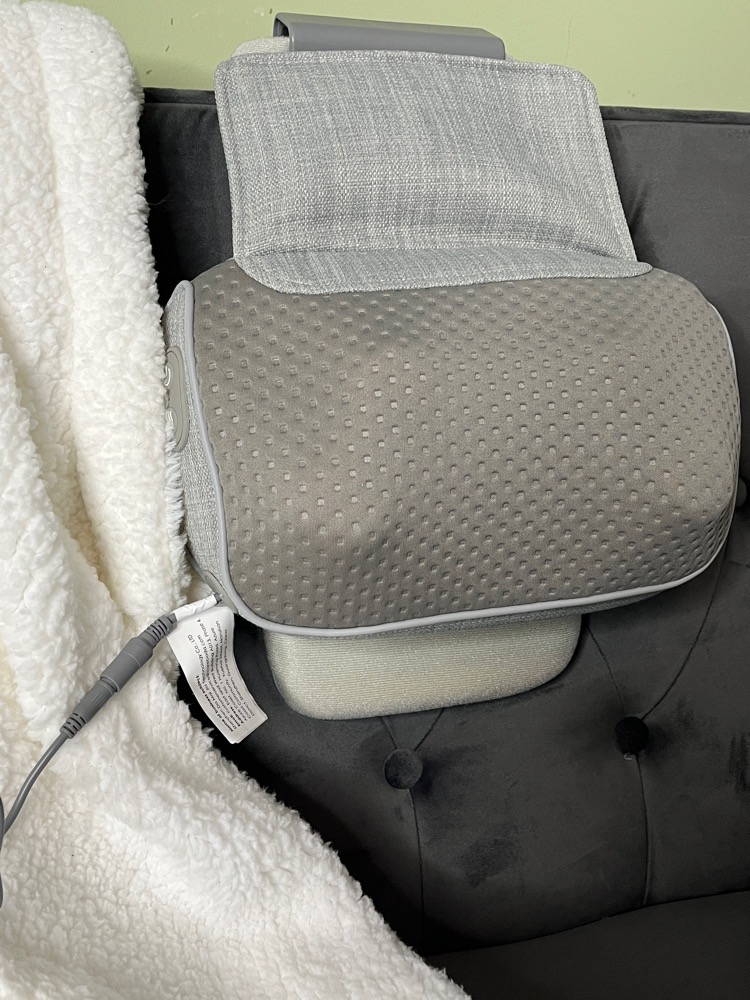 I frequently experience very sore and tight muscles, so I was very excited to try the Careboda Neck and Back Massager. The massager comes with a convenient padded back rest that has a hook on it, so I can hang it from the back of a chair. The massaging unit has two sections of a Velcro-like fabric on the back, so I can attach the massaging unit to wherever I want on the included back rest, so it can massage my neck my middle or lower back. I can also lay the massaging unit on a flat surface, such as my sofa, if I want to massage my calf muscles. It's easy to add light heat to my massage with a press of a button. I noticed that the massager even changes the direction of its massaging movements to make it more effective. I plan to put this on my office chair for some stress relief on stressful days! I was even able to hang it on the loveseat that I keep in my office.
I tried using the unit on both my neck and back, and I think it relieved some of my soreness! I also opted to use the unit on my feet, even though I don't think it's designed for that—I tend to get plantar fasciitis on the bottoms of both of them. I felt that the foot massage was good for relieving my plantar fasciitis!
The best part is that it's possible to get the Careboda Neck and Back Massager I got for 75% off on Amazon right now—for only $10.49— since it's currently discounted, and you can also use the 30% discount code: VXH66T4H. Enjoy!
Annjoe Button Tufted Loveseat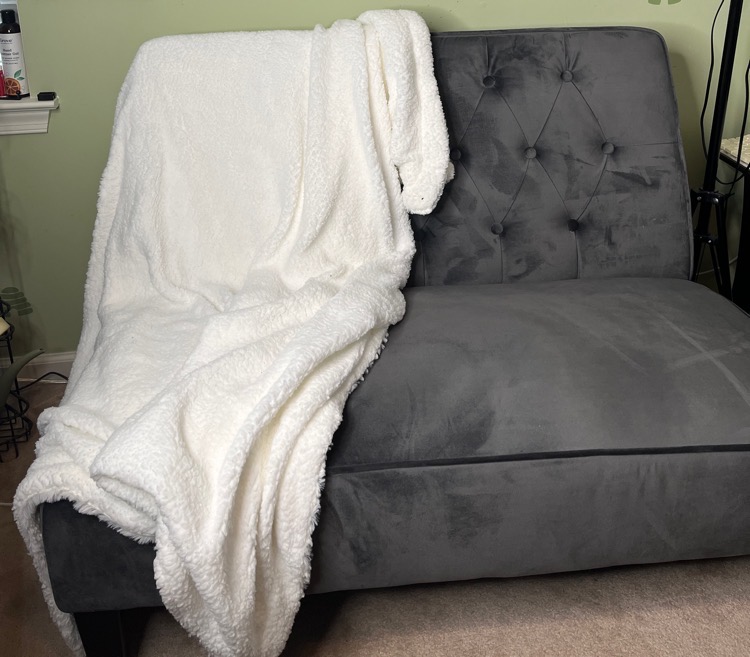 As I mentioned, my new massager works well with the loveseat I have in my office, my new annjoe Button Tufted Loveseat. I got the loveseat because my sweet Shih Tzu pup likes to snuggle up with me while I work in my home office. The mini sofa has plenty of room for the two of us and looks quite stylish, too!
I have it against the wall now so I can use my standing desk when I want, and then sit on the loveseat and use a laptop desk when I want some puppy time!
As you can see from the photo above, the loveseat is covered in a beautiful dark gray, cozy fabric. It's great for me and my pup!
I am currently making an extra cushion to put on top of my loveseat, however. Since I broke my ankle last year, I've gotten used to sitting on my plush family room sofa with my pup so I can keep my foot raised. So the new DIY cushion I'm making will add the comfort I've grown accustomed to. (The loveseat doesn't have as much padding as my family room sectional sofa does.) I will have to use an ottoman to keep my foot raised when sitting on the loveseat in my office—my foot tends to swell when not raised, even though it's been over a year since I broke it! It's quite a bummer.
I recently got a beautiful Bird Toile Brazilian Yellow Slub Linen Fabric from Premier Prints and will use it to cover my DIY box seat cushion—I am hoping to finish the cover this weekend! (I have all the corners done; I just have one more long seam to sew.)
Gnome and Sunflower Window Decals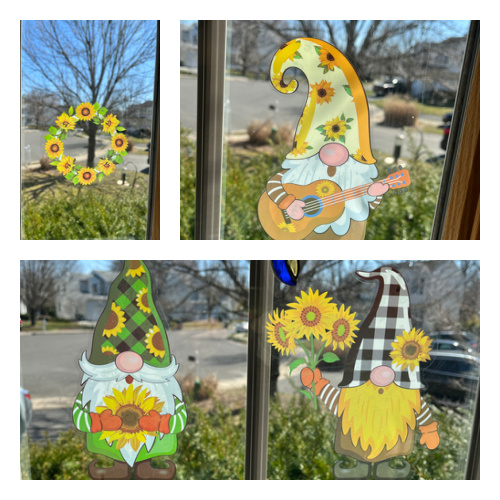 Spring started last week, so I celebrated by putting up some gnome and sunflower window decals! I love sunflowers and gnomes, so when I saw these decals on Amazon, I couldn't resist! There are several sheets of stickers (104 stickers in all) and I only used a few, so I might have to add some gnomes to my car and other places around my house! ha ha
Well, this wraps up my Amazon finds! Check back later to see my completed office box seat cushion and full DIY instructions for DIY office bench cushion!
Also, stop by here on Monday, April 3—my blogging friends and I will be sharing seasonal spring desserts!
You Might Also Like