This tutorial includes Amazon affiliate links for your shopping convenience. If you click on an Amazon link and make a purchase, I earn a small commission that helps to fund this blog. Thanks!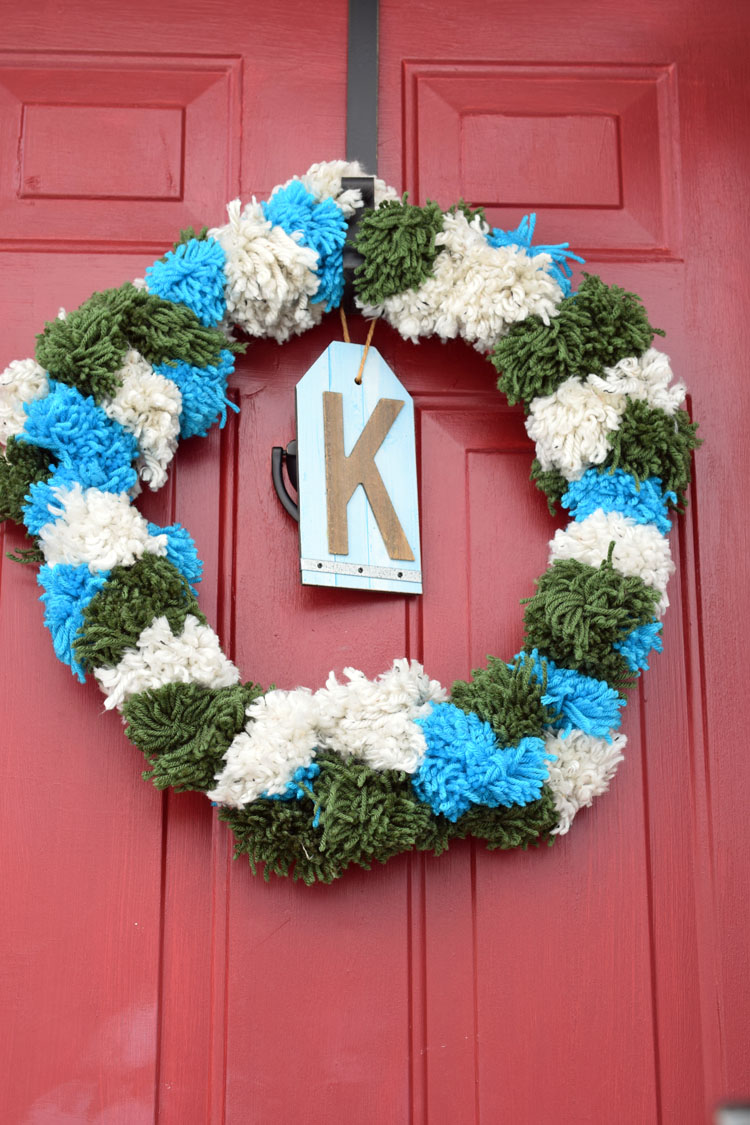 Welcome to the final installment of 12 Months of Wreaths! For the past year, my blogging friends and I have been making new wreaths and sharing them with you all every month! We have seen quite a variety of beautiful and fun wreaths this year!
This month I am sharing a very simple homemade pom pom holiday wreath. I made the wreath using a simple wire wreath form (like the wreath form I used here). This wreath is very easy to make and cost me less than $5!
At the bottom of this tutorial, look for the links to my friends' festive holiday wreath tutorials for today!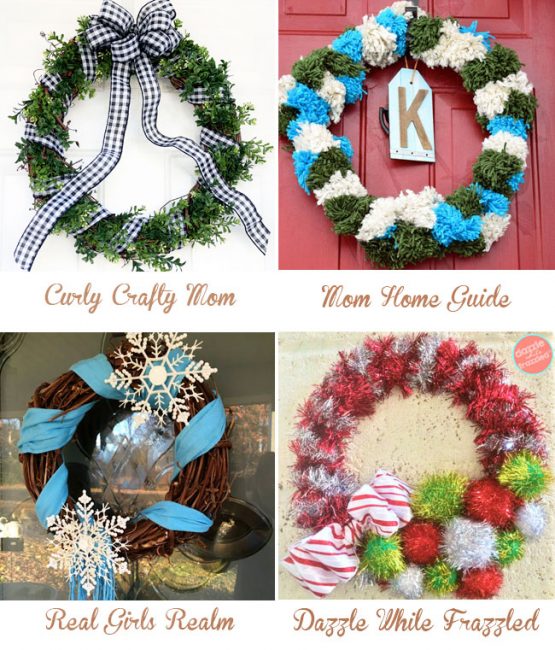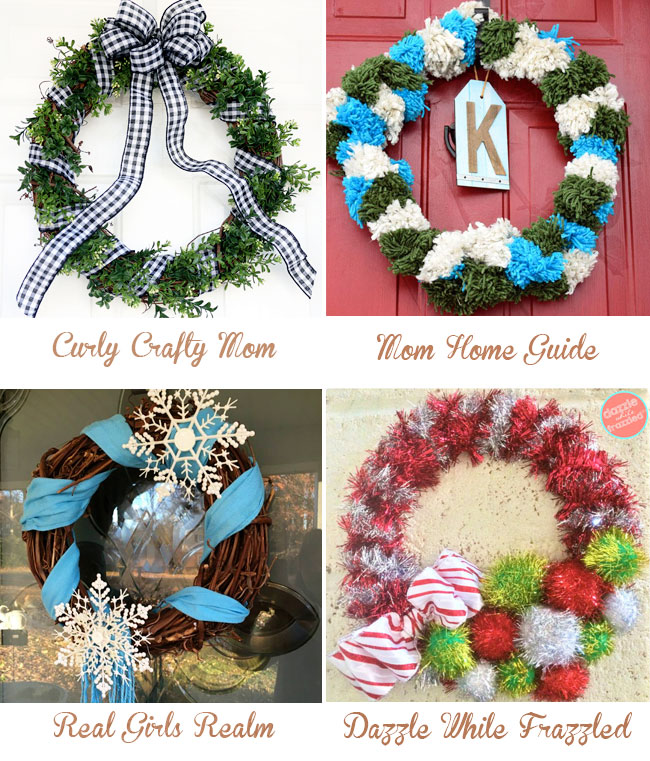 Follow Your Hosts and Co-Hosts
Carrie Curly Crafty Mom Blog | Facebook | Pinterest | Instagram | Twitter | Bloglovin'
Lauren at Mom Home Guide Blog | Facebook | Pinterest | Instagram | Twitter | Bloglovin'
Mary at Real Girls Realm Blog | Facebook | Pinterest | Instagram | Twitter | Bloglovin'
Victoria at Dazzle While Frazzled Blog | | Facebook| | Pinterest | | Instagram | |Twitter
How to Make a Pom Pom Wreath
Materials
20-inch Wire wreath form
Sharp pair of scissors
4 skeins of yarn (I used 2 skeins in white, 1 in blue and 1 in green. My skeins each had about 64 yards each of thick yarn.). I made approximately 35 pom poms.
To make this wreath, you have to make a lot of pom poms! I made about 35 pom poms. I made my pom poms by winding yarn of one color around four fingers several times until it looked like it would make a fairly large pom pom. (If you prefer, you can use an inexpensive pom-pom maker
to make your pom poms.)
For my by-hand hand pom pom making method, I wrapped the yarn around my hand about 60 times for each pom pom.
I then slip my fingers out of the loops of yarn I created, holding them tightly so I don't lose the loops. Next I slip a 4-inch to 5-inch length of the same color yard around the loops, and tie it tightly. I use scissors to cut the tops of the loops to create the fluffy ends of the pom poms. (Check out this pom pom tutorial from Miss Mustard Seed — shows all the steps for the by-hand pom pom method I used.)
I love how colorful and festive my yarn pom pom wreath looks on my home's front door for Christmas!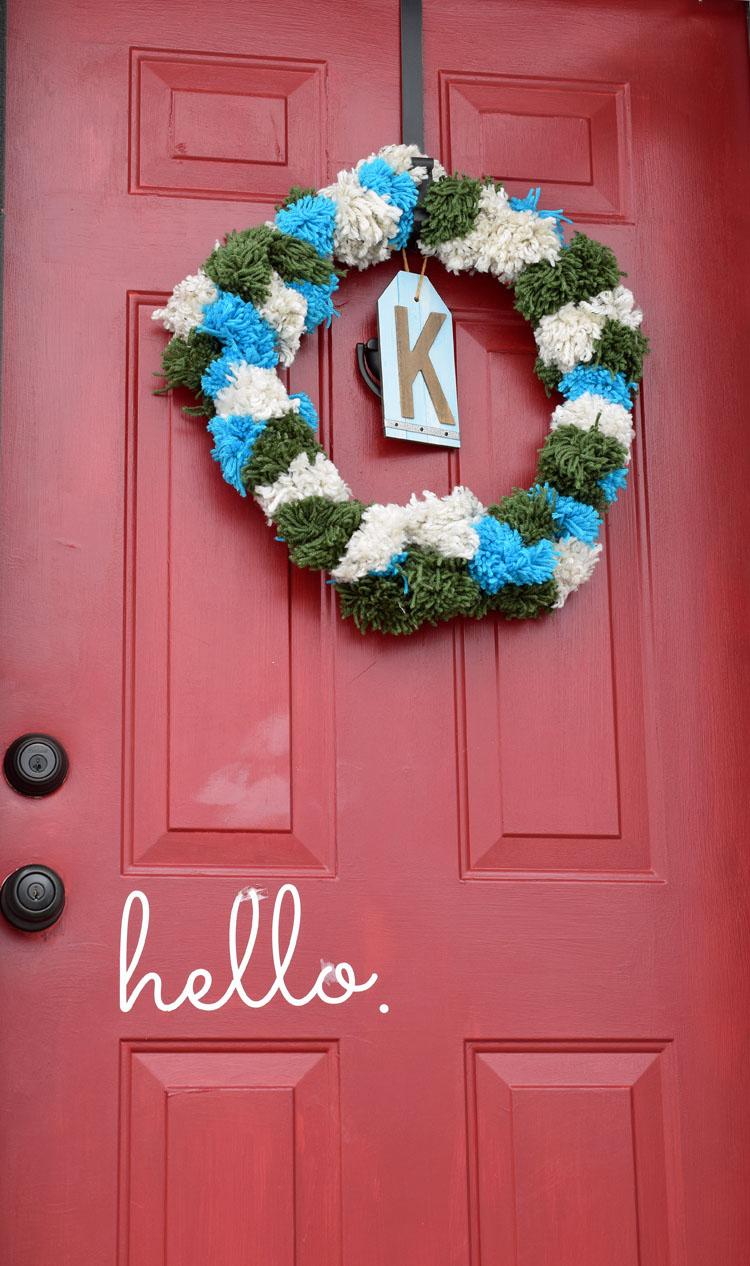 This is a closer look at my front door's bright and colorful pom pom wreath for the holidays!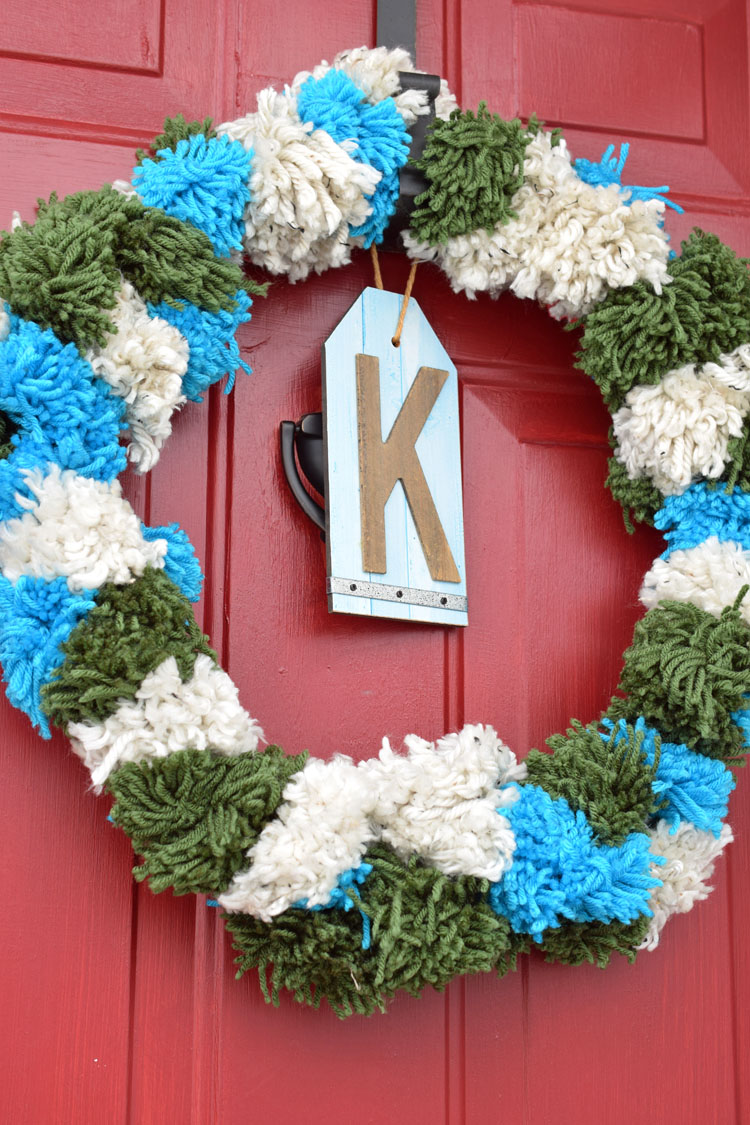 In case you missed it, the two collages of photos below show all the wreaths I made in 2017.
Snowflake & Flannel Winter Wreath
Pink & Blue Burlap Pinwheel Wreath
Patriotic Red, White & Blue Bubble Wreath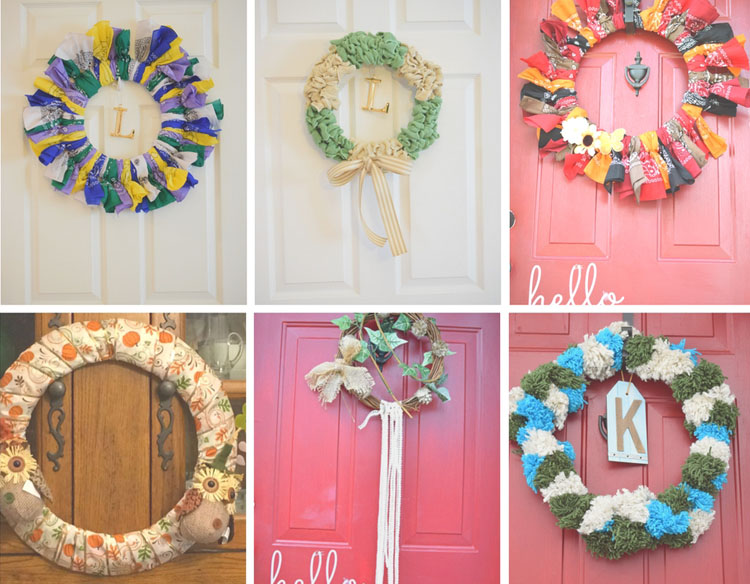 Colorful Bandana Summer Wreath
Lace & Ivy Boho Christmas Wreath
Festive Holiday Pom Pom Wreath
As you can see, I used the same "K" monogram
(for my family's last name) on my home's front door often. I might look into getting another one — there are a lot of pretty ones on Amazon!
Be sure to check out my friends' beautiful DIY wreath tutorials for this month, too!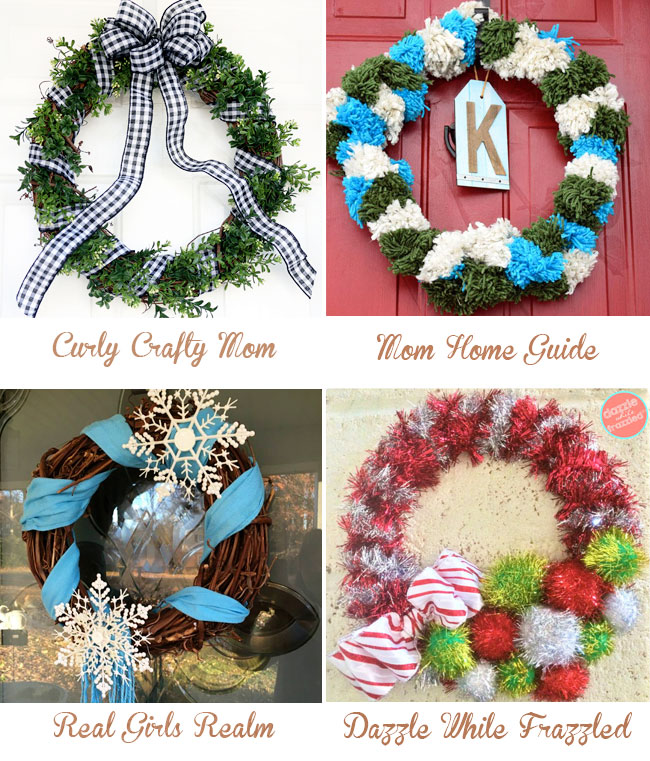 Curly Crafty Mom – Cozy & Rustic Boxwood Wreath
Mom Home Guide – Festive Pom Pom Holiday Wreath
Real Girls Realm – Easy Snowflake Grapevine Wreath
Dazzled While Frazzled –20-Minute DIY Retro Tinsel Christmas Wreath