Earlier this month, my husband, kids and I enjoyed a wonderful "staycation" week of New Jersey day trips. We are lucky that we live in a great location in Central New Jersey that allows us easy access to so many fun places and things to do. Where we live in New Jersey, we are only 1 hour to about two hours away from New York City, Philadelphia, New Jersey beaches and the Pocono Mountains in Pennsylvania. Come take a look at some of the great New Jersey day trips we took, and plan your next New Jersey day trip!
Ocean City, NJ
Until this summer, my family and had never been to Ocean City, NJ, a beautiful beach town that is about two hours away from our home. We first visited Ocean City in June of this year for a cousin's beautiful wedding on the beach. (Congratulations, Amanda!)
My family and I came down a day before the wedding and stayed at the Homewood Suites by Hilton in Egg Harbor Township, NJ. We really love the hotel there — it's about only 20 minutes away from the beaches in Ocean City, it has a fun indoor pool and a hot breakfast buffet every morning (the price of the buffet is included in the price of the room). Our studio sweet had a queen bed and a pullout sofa bed, so my husband, kids and I could all share a room.
The day before the wedding, we went to the beach. Ocean City is a great family beach with lots of things to do for the whole family. My kids had a great time jumping the waves and riding their boogie boards. After the beach, we hit the wonderful Ocean City boardwalk and had dinner (there is a great food court on the boardwalk with everything from pizza to seafood to pierogies). After dinner my kids went on the rides on the boardwalk and had a great time!
We loved Ocean City and the Hilton so much, that we enjoyed two other mini trips there this summer! This has been a great summer for our family, as we've been having a lot of great days at the beach!
Cape May, NJ
This summer, my family also were able to spend a wonderful weekend with good friends in Cape May, NJ. I love going on getaways with the people we love most!
Cape May is a beautiful beach town with beautiful Victorian bed and breakfasts, a fun pedestrian downtown, and great eateries. We stayed in a cottage just outside Cape May, and enjoyed a wonderful day kayaking with our friends in Delaware Bay.
We also spent an afternoon on the beach, and our children enjoyed playing in the waves together. We wrapped up the day by enjoying a dinner together in town at
On a separate trip, my husband, kids and I went down to Cape May and visited the wonderful Cape May County Zoo, and Historic Cold Spring Village.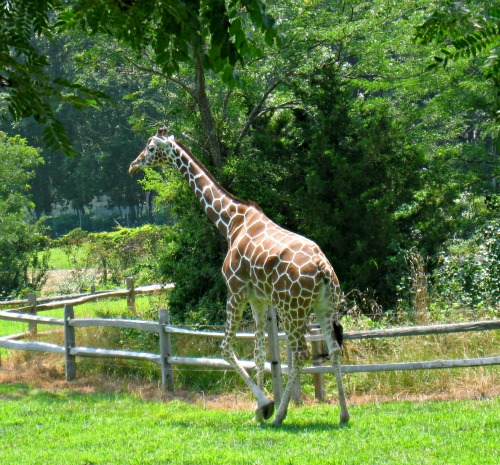 At the village, my kids got to see what it would be like to go to school in a tiny (and hot!) historic schoolhouse, try out some old-fashioned childhood games, visit a tinsmith, learn how old-fashioned pottery was made and learn from a bookbinder at a bookbindery. It was a very interesting and informative day! My children also got cute doll kits that they can make at the village's general store that are just adorable!
Manhattan
A New Jersey staycation wouldn't be complete without a day trip to New York City. Since train and bus fare from my town in New Jersey actually costs more for the whole family costs more than just driving in, my husband just drove us in one day for an awesome day in one of the best cities in the world! Door to door, Manhattan is only just about an hour away from my home near Princeton in Central New Jersey.
One of my daughters just loves artists Vincent Van Gogh and Claude Monet, so our first stop was to the Museum of Modern Art (MOMA), which has The Starry Night by Van Gogh and Monet's Water Lillies on display. My daughter was over the moon to see The Starry Night in person! We bought her a print of the painting, which we plan to hang in her bedroom.
My daughters are big American Girl fans, so after the museum, we then went to the nearby The American Girl Place. My daughters had so much fun! One daughter got her doll's ears pierced, they picked out new outfits for their dolls, and we all shared an afternoon tea with their dolls in the store's very cute restaurant. At the tea, we enjoyed a variety of refreshments, including tea, finger sandwiches (my favorite was the Boursin cheese and cucumber sandwich) and mini desserts. The cutest thing was that the American Girl provided little tea sets and seating for my daughters' American Girl dolls, so they really enjoyed dining with their dolls!
After a few hours at The American Girl Place, my husband needed a break from all the estrogen there, so we walked to the nearby The Lego Store in Rockefeller Center. My husband and kids had a blast there looking at all the super cool Lego displays, and the girls and I enjoyed using the bin or supplies to make our own mini Lego people!
Bushkill Falls, Pennsylvania
I wanted to take my family to Niagara Falls (in New York and Canada) this summer, but since I couldn't line up our passports in time, we went to Bushkill Falls, the Niagara of Pennsylvania!
Located in Pennsylvania's beautiful Pocono Mountains, the park features eight beautiful waterfalls nestles in scenic woods. We hiked the entire forest, crisscrossing the park's scenic and fun to walk trails and rustic wooden bridges! I just love the day, as the scenery was just breathtaking, my kids had a blast, and I just love being in the woods! The day was peaceful and physically strenuous at the same time!
My family and I hope to travel back to Bushkill Falls in autumn, as we think the fall foliage will be just spectacular!
Like what you see?
Follow along: